Bold engineering meets unparalleled audio quality for a refined musical experience, presented in marble and leather for that extra touch of class.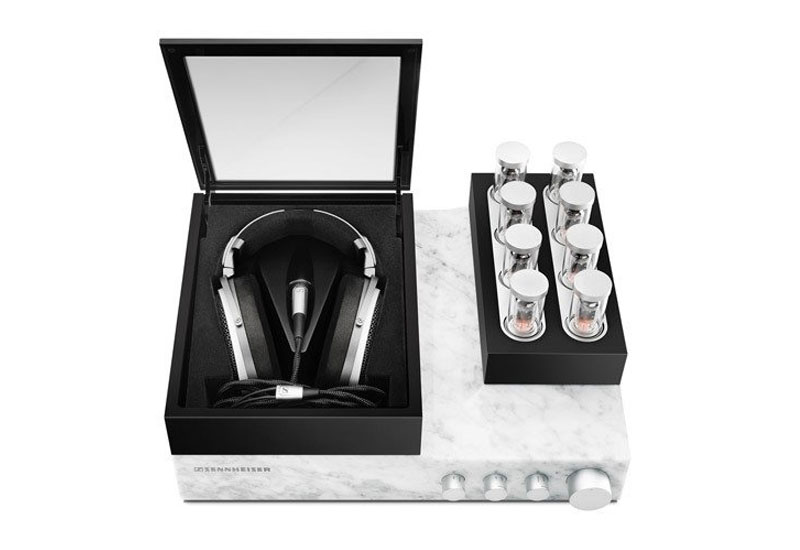 Building on 70 years of excellence, German sound master Sennheiser has released the new-generation Orpheus HE 90/ HEV 90 – the Sennheiser HE1, claimed to be the best earphones in the world.
The product of a decade's innovation, Sennheiser HE 1 features a built-in amplifier using vacuum tubes, which sits on a glass-crafted housing mounted on a solid block of fine Carrara marble. These vacuum tubes are wrapped in high-quality quartz bulbs to prevent sonic influence, surrounded by vibration-proof marble that dampens structure-borne noise. Sound fidelity is further enhanced by 99.9% silver-plated copper cables.
Thanks to these, the headphones deliver an exceptional sound range of 8Hz to 100kHz, paired with the lowest distortion ever measured in a system of its kind.
Each of its 6,000 individual parts were selected and processed by hand – a manufacturing of such precise craftsmanship that the factory takes an entire day to produce just one unit. The devil is in the details right down to each control dial, crafted with a layer of chrome encasing a single piece of brass.
As with all finer things in life, comfort is paramount. These headphones are cupped in solid aluminium and fitted with leather and velour ear pads for that typical Sennheiser coverage, with gold-vaporised ceramic transducers in between for electrical and acoustic performance you'll find almost impossible to tune out of.
By now, you must be wondering what the Sennheiser HE 1 costs – close to RM 300,000, it would seem. If the brand's reputation is anything to go by, we expect nothing less than top-quality audio delivery that catapults musical appreciation out of this world… or galaxy, rather.
Dive in to the details on the official site.
Images courtesy of Sennheiser.