Acollection of books from the private library of the late Ruth Bader Ginsburg, consisting over 1,000 books, are set to go under hammer at Bonhams this month.
From January 19-27, 2022, about 165 lots will go on an online-only auction, including heavily annotated law books, works of fiction, first editions and ephemera gifted to the late Supreme Court Justice and her husband Martin.
A modest estimate puts the whole collection at a figure of $60,000, says Catherine Williamson, director of fine books and manuscripts at Bonhams. The low number is due to the fact that the books are valued as books, not collectibles, although Williamson expects the sale to do many times that amount.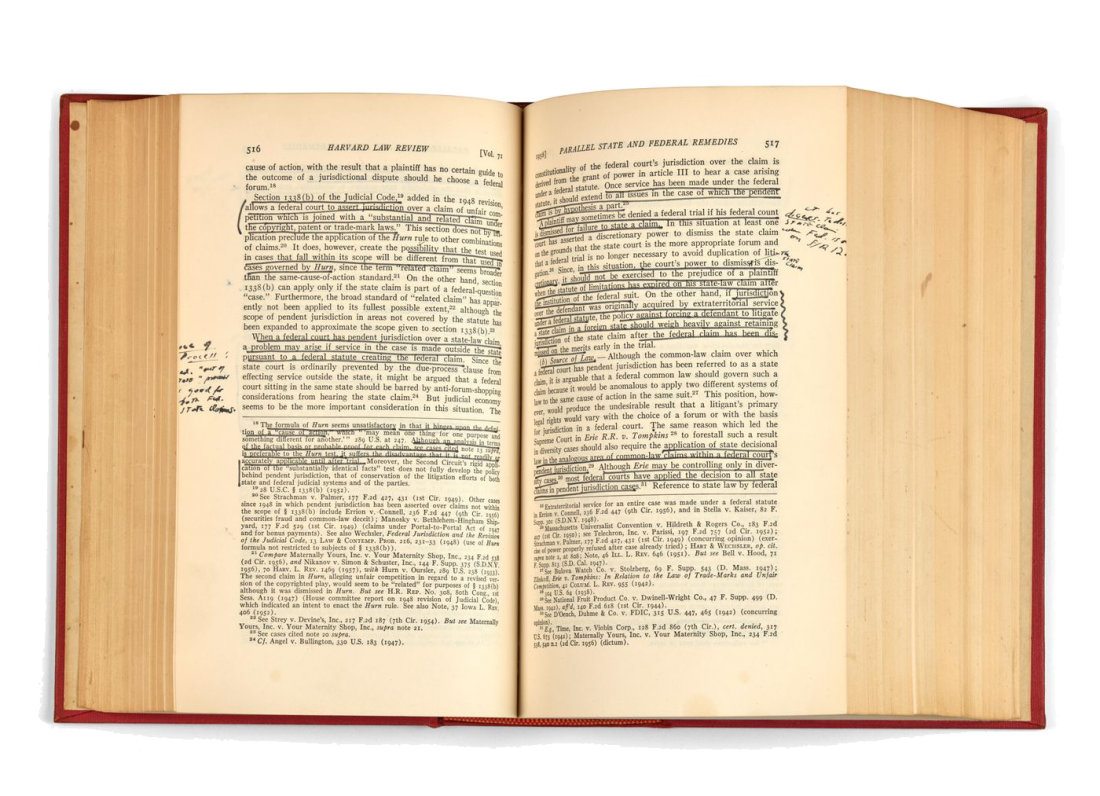 Inside the collection
Upon her death in September 2020 at the age of 87, Bader Ginsburg left behind a surmountable collection of reading materials that she grew with her husband over the course of 60 years. Although not collectors, the couple were known to be voracious readers, who apparently read to each other in the early stages of their relationship, tells the couple's daughter Jane to Bloomberg.
A big bulk of Ginburg's paperbacks were donated to prison libraries while art books were distributed to family members. Her music related books went to the Washington National Opera, along with her collection of opera-related CDs. After family members picked what they want, the rest went to Bonhams.
The collection with Bonhams are books that reflect Ginsburg's intellectual and personal interests, including a personal copy of her 1957-58 Harvard Law Review, the year she was a member. There are also books given to Ginsburg from equally renowned names, including a signed copy of a book by Jane Goodall, Al Gore and Toni Morrison. Most of the books contain bookplates.
The lots currently carry attainable prices. For instance, Toni Morrison's Beloved, signed and inscribed to "Ruth and Marty Ginsburg", carries an estimate of US$500, as does Gloria Steinem's My Life on the Road, inscribed to "dearest Ruth". There's also a copy of Antonin Scalia's Making Your Case: The Art of Persuading Judges, priced at an estimate of US$700.
Log on to the official Bonhams website here to view the lots.
(Source: Bonhams)