Ruinart, the first established House of Champagne in 1729, continues to lead the way when it comes to champagne innovation.
It has announced what it calls the Second Skin case, an all-white eco-designed sleeve alternative giftbox that's meant to serve as a case to preserve Ruinart champagne's taste integrity until serving, as well as the wellbeing of the planet.
Inspired by its ancestral savoir-faire and the soil that cultivates its exceptional wines, the Second Skin presents the maison's commitment to sustainability and its capacity to meet the needs of the ever-growing environmental challenges of today on a global approach.

An eco-designed packaging
The Second Skin is a result of two years of research and development, bringing forth a 100% paper and entirely recyclable case carefully moulded to the shape of the bottle.
It is nine times lighter than its predecessor and produced without incurring any airfreight, effectively reducing 60% of its carbon impact according to the Bilan Environnemental des Emballages (BEE) and Agence de l'environnement et de la maitrise de l'energie (ADEME) methodology.
Manufacturing partners Pusterla 1880 and James Cropper came together to develop it. James Cropper lent its family business know-how of producing paper that respects the landscapes, especially in regards to the use of water drawn from its base in the Lake District National Park between Scotland and England. Its know-how allows for 91% of the water to still be clean enough to be released back into the river after manufacture.
The case itself is made of a unique material of cellulose fibres or pulped paper, composed 100% from natural wood fibres. This sustainable innovation extolls a return to nature and to the natural.

A tribute to the maison's heritage
A direct homage to the Crayères, the historic wine cellars of the Maison in Reims classified as a UNESCO World Heritage site since 2015, the minimalist paper case features a silky yet textured surface finely engraved.
The shape of the case perfectly enhances the curves of the iconic bottle, inherited from the 18th century, while highlighting the roundness of the wine.
Light, aesthetic and functional, the second skin case suggests a new set of gesture: it is inspired by the manner in which maîtres d's wrap a white serviette around bottles of champagne.
Suitable for storage for several months in a fridge, the case can withstand the humidity of a cellar, and up to three hours in an ice bucket. Resultantly, rather than being disposed of immediately, the case may be retained until serving or longer to maintain the integrity of the wine.
Imprinted with the Maison's monogram, the paper's closure system is at once discreet and intuitive.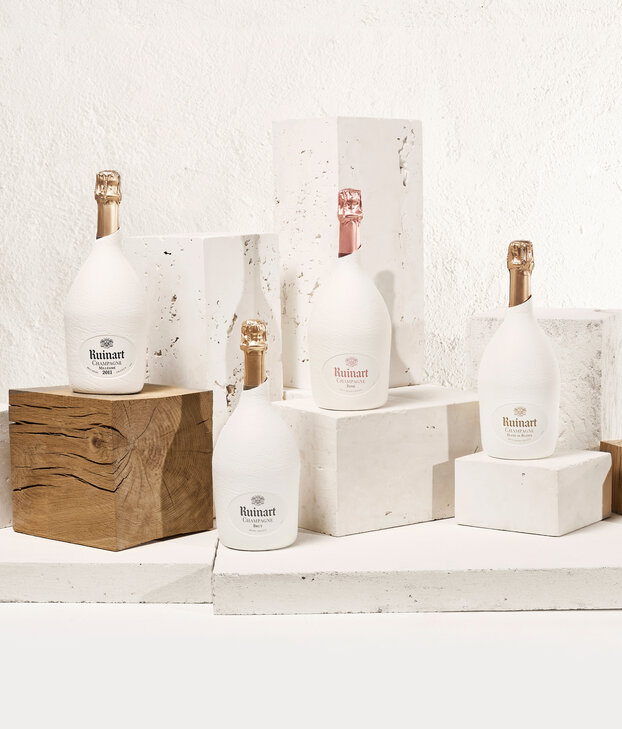 Learn more at the official website here.
(Source: Ruinart)