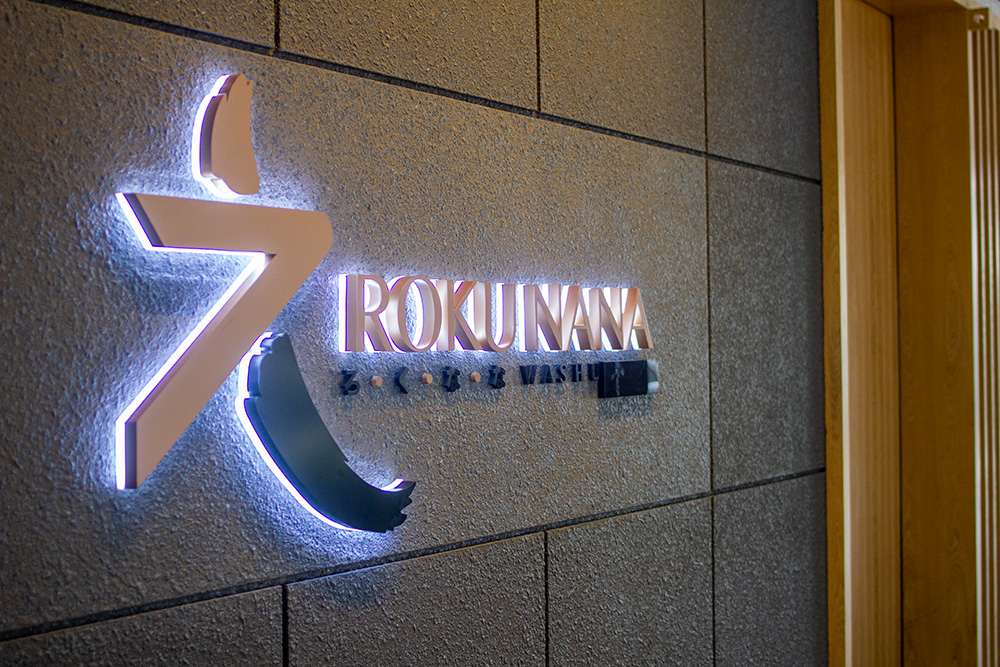 While Publika is no stranger to Japanese establishments, RokuNana Washu Bar stands out from the rest as a shrine dedicated to nihonshu, or what we usually know as sake. Whether you're uninitiated or a sake aficionado, it's the quintessential spot in KL to discover a fine daiginjo amongst their impressive collection.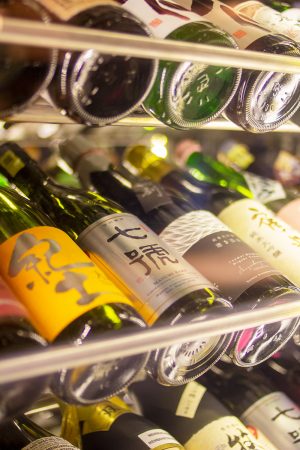 Manager, co-founder, and sake sommelier Gino Lin (a.k.a Gino-san) is a more than welcoming host, whose passion for sake is apparent the moment you make his acquaintance. After being in the car industry for over 13 years, his passion for Japanese cuisine and sake led him to pursue a sommelier sake course. Around the same time, he also realised that Malaysia was still not too familiar with proper sake bars, and decided to open one up himself.
"I really think Malaysia is ready for this place now," Gino-san expresses. "Because it's kind of an omakase style, where the guests sit in, listen to us, and trust us to choose the sake for them."
RokuNana is home to over 180 labels of sake, alongside selections of shochu and whisky. However, his aim is to eventually bring in 300 labels to Malaysia – a part of his quest to bring more knowledge about sake and its craft to locals. He still continues his journey in discovering new and fascinating sakes to enjoy and share.
"If I were to spend a lot of money on sake, I rather spend it on something new and try it out!" he laughs.
Those who wish to nosh while sipping on sake won't be disappointed with the culinary offerings at RokuNana, whose kitchen and young local team are helmed by Head Chef Vincent Lai, who brings with him over two decades of experience in Japanese cuisine.
While the food menu only fills up a single page, it's definitely not limited to just simple "bar food" or snacks, and instead include creative dishes worthy of the many reputable establishments in Malaysia. RokuNana also includes seasonal, off-menu items such as sashimi and oysters – which you're welcome to ask Gino or Chef Vincent about.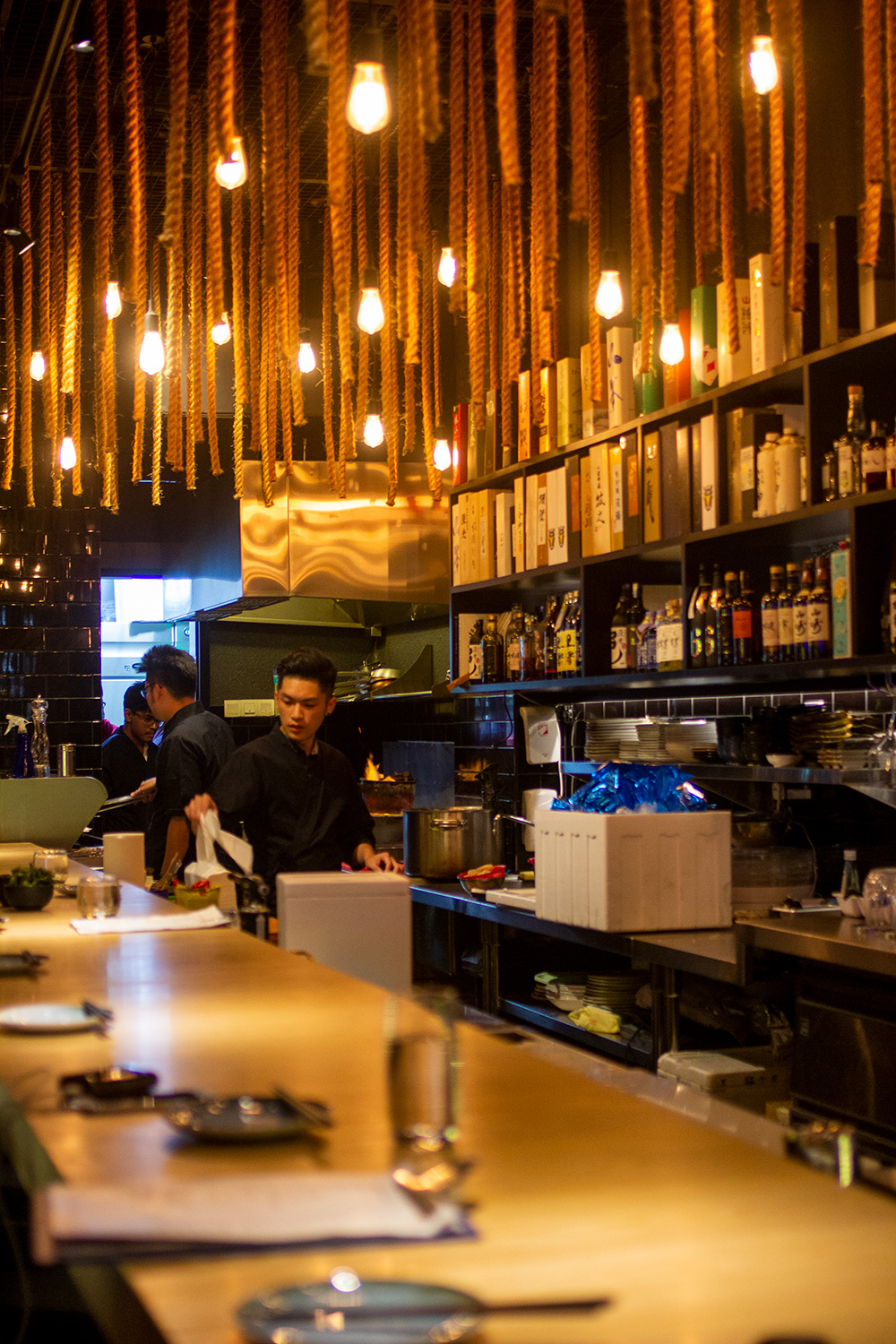 "We have a lot of off-menu items because we don't want to force ourselves to always have it," Gino-san explains. "We bring in whatever is fresh and seasonal from Japan, but in small quantities, and we make sure they're all sold off within the next two days – instead of stocking them up for a long time. We believe these amazing ingredients shine the best at their freshest."
The finest the terroir has to offer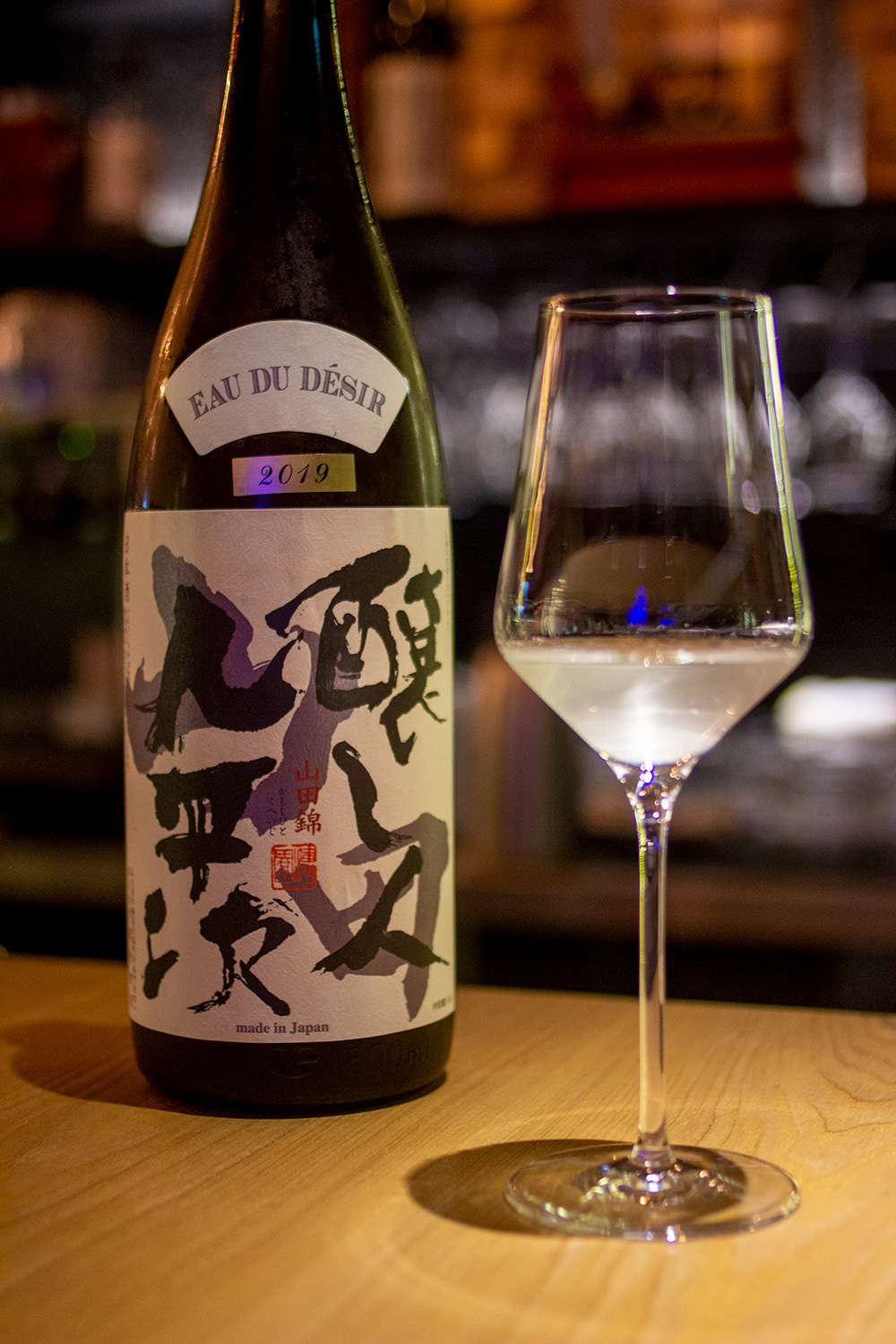 We begin with a glass of Kamoshibito Kuheiji "Eau de Désir", a Junmai Daiginjo made with Yamada Nishiki rice with 50% polishing ratio. It's journeyed through 3-star Michelin restaurants in Paris, and beloved for its mellow sweetness and soft minerality. It immediately presents a floral bouquet on the nose, a juicy pear fullness and hints of grapefruit. It sits like a cushion on the palate, bringing in light, honeyed flavours and a gentle creaminess that extends in its long finish.
Gino-san explains that he prefers to serve this particular sake in a wine glass to allow its perfume to aerate and bloom, enhancing the tasting and drinking pleasure.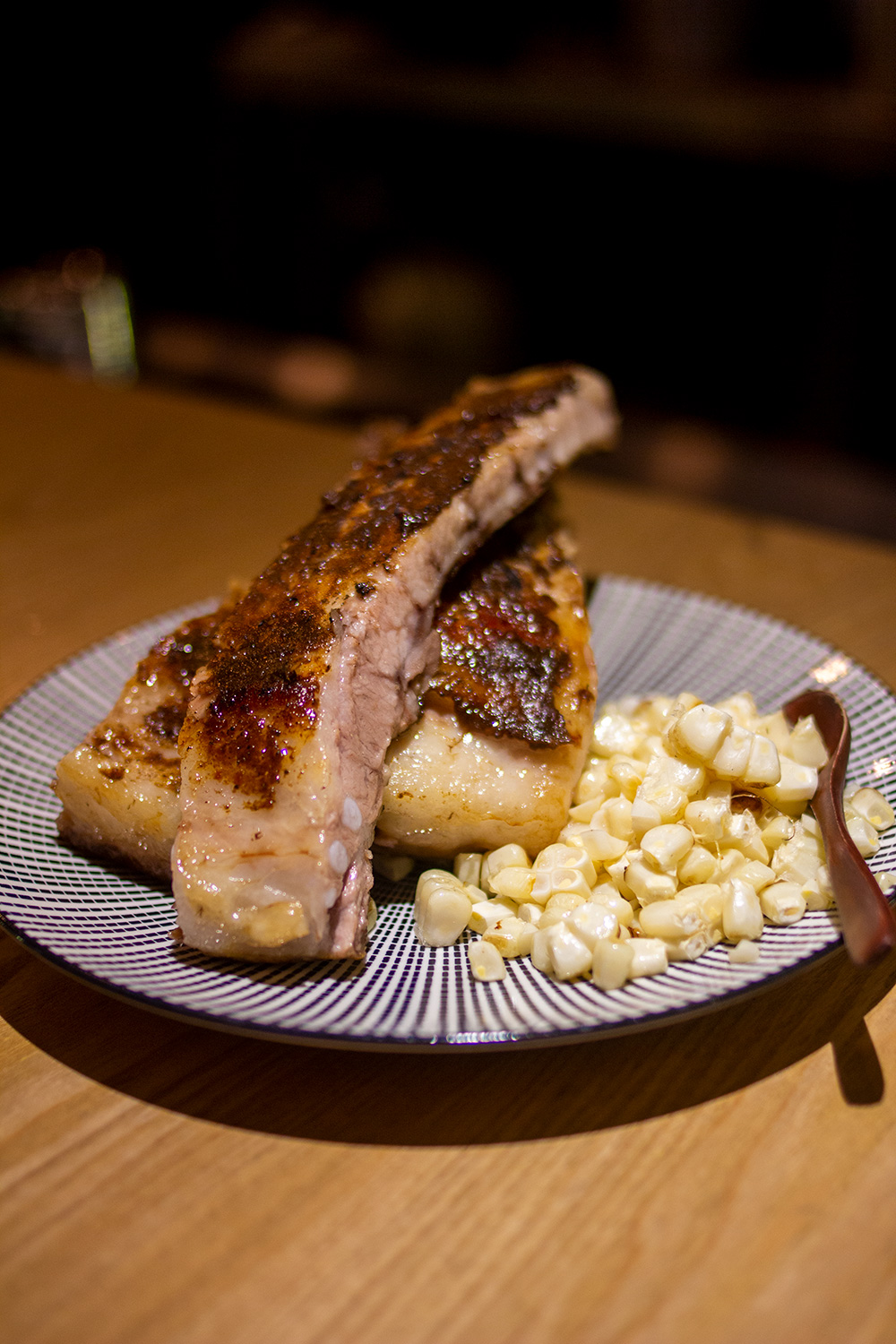 As for the food, we start strong with a trio of Iberico ribs that's slathered with a housemade miso mix, served with a side of grilled Japanese white corn. The ribs bring a fine balance of lean and fat, the latter melting like butter onto the tender meat with each bite. Its smokiness is elevated with the tangy, umami-rich miso, which also brings a hint of sweetness to the dish. As for the corn, its natural crisp sweetness is so addicting that, according to Gino-san, there's no need for it to be fully cooked through. Be armed with your own stash of tissues, as things can get deliciously messy – and you'll gladly welcome it.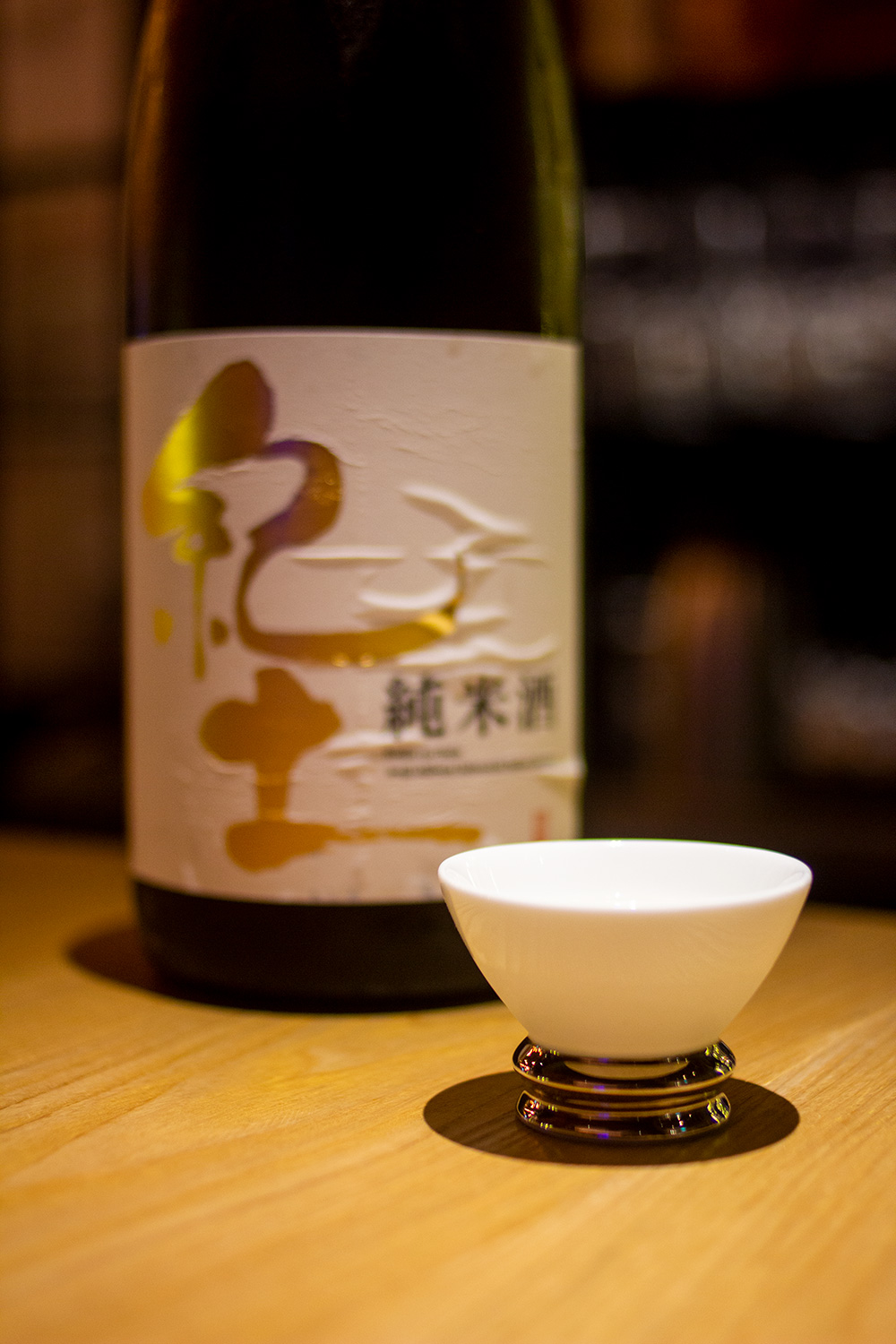 To balance out the unctuous savoury flavours and meatiness, Gino-san brings us a cup of KID Junmai, which boasts a stronger, headier flavour than the Eau de Désir. This particular sake is chosen for its brighter, fruitier notes, which makes it a bolder contender to meat dishes and bold flavours.
Following the Iberico theme, we're presented with a platter of Iberico Gyoza. The soft and delicate dumplings come with a light, crisp sear on one side, which contrasts the pillowy texture of the filling. Little seasoning is needed for the gyoza, making way for the fresh cabbage and juicy Iberico inside to truly shine.
Jewels of the sea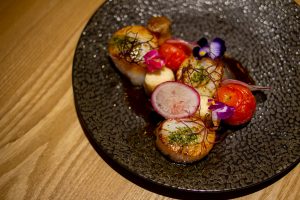 We proceed to explore the earth and sea with pan-seared Hokkaido scallops for the next dish, served with grilled vegetables and a kombu butter soy sauce emulsion. The natural sweetness from the succulent scallops dance with the bold umami from the emulsion. The latter acts as a sensuous, earthy dress for the scallops, dripping with richness that doesn't outshine nor overpower. Even if it does for more sensitive palates, a pop of the candy-like Chitose cherry tomatoes will do wonders in cutting through such a sinful sauce.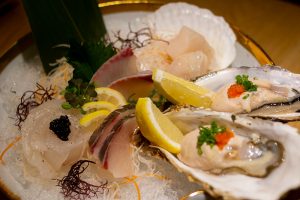 Chef Vincent then brings in a glorious treat in the form of fresh sashimi, comprising of kampachi, hamachi, hirame, scallops, and Hokkaido oyster atop a bed of shaved ice. Chef Vincent also provides us with a small dollop of freshly grated wasabi, which is full of verdant sweetness and a hint of nuttiness that will have you eating the condiment all on its own.
Each slice of sashimi practically melts in the mouth, with the kampachi and hamachi offering clean and mild flavours. The hirame almost has a hint of creamy character to it – but is no match for the oyster.
The Hokkaido oyster easily outshines the rest of the sashimi, with its incredibly meaty and creamy texture, matched by a complex marriage of sweet and briny flavours. A few sprinkles of lemon and spring onions give the oyster a zesty kick.
The perfect bar food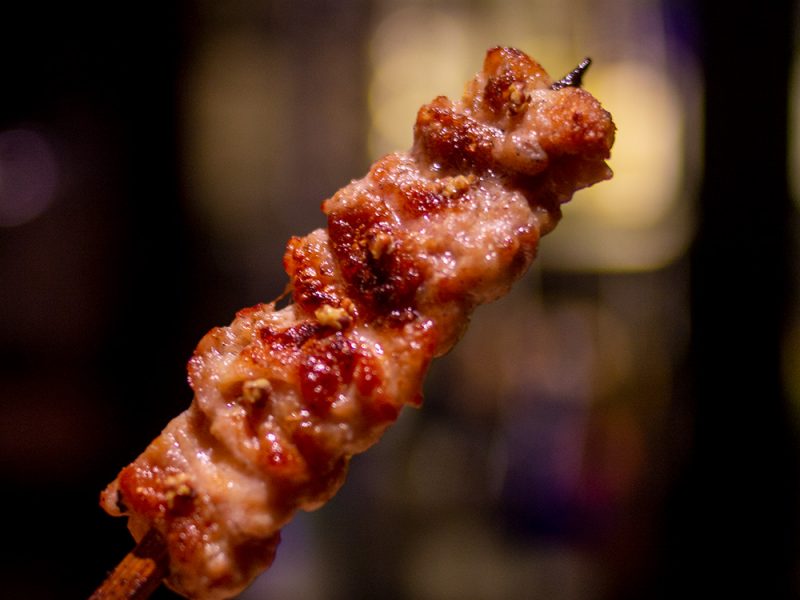 Lower neck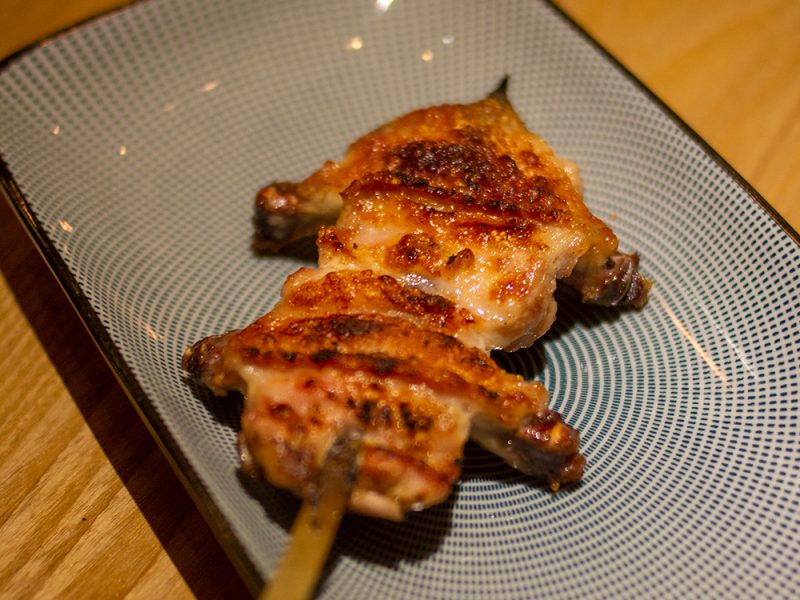 Chicken wings
Upper neck
(Swipe left for more)
Now we move on to yakitori, which ranges from the mild and juicy chicken fillet (sasami), to the unique, crisp gizzards (sunagimo). For those who like strong flavours without the gaminess should get their hands on the neck parts (seseri) or the chicken wings (teba). If you like a touch of game, opt for the chicken hearts (hatsu).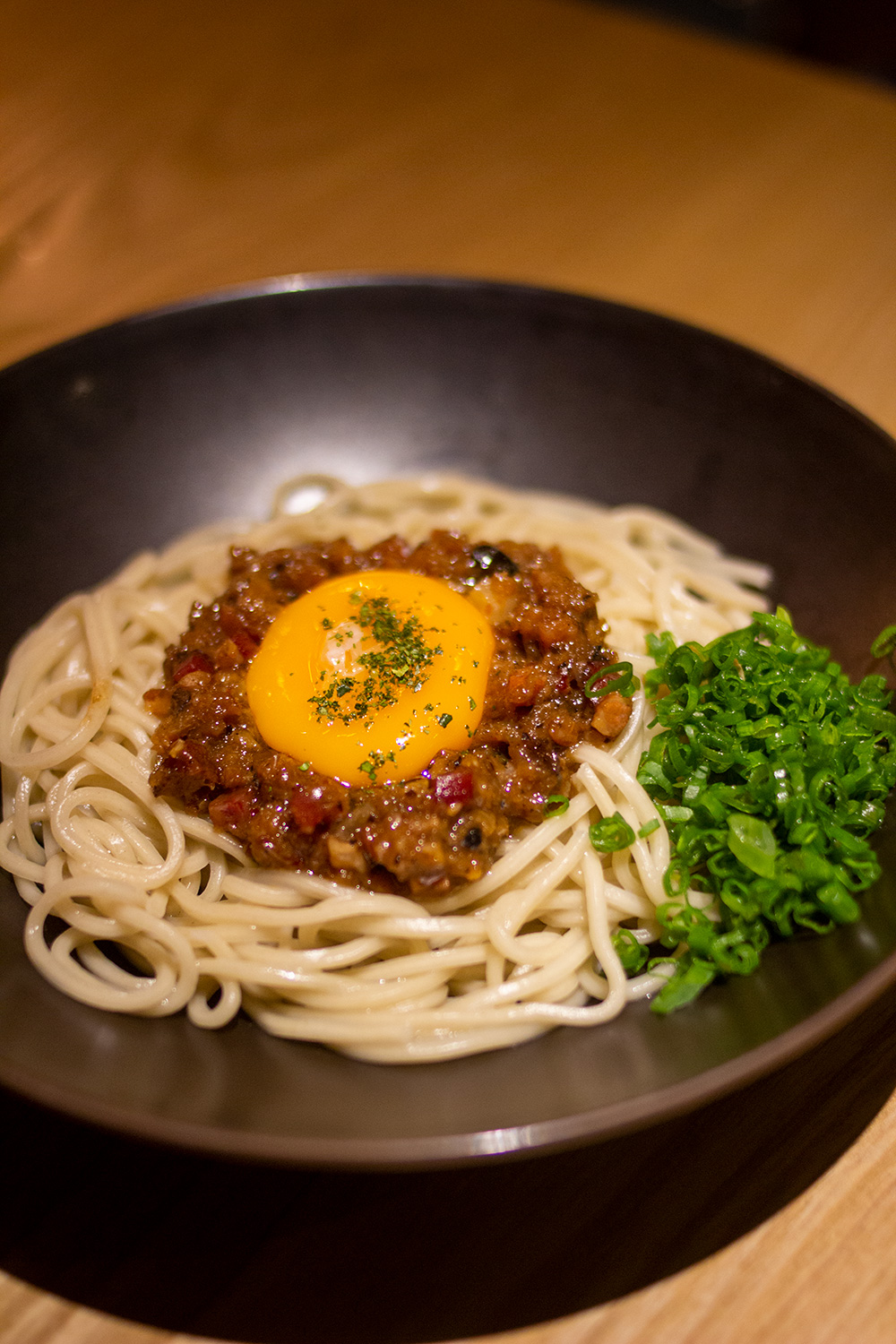 Our meal at RokuNana comes to a bittersweet close with the perfect dish to accompany an enjoyable drinking session – the XO Ramen. The egg yolk nestled in the centre is broken and mixed into the ramen, creating a rich and velvety sauce to carry the chunky XO relish. The ramen noodles themselves are bouncy and light while providing a satisfying bite, making it the perfect vehicle to carry the shrimp-forward XO.
Be sure to make reservations if you're planning to visit RokuNana, as the space often finds itself packed especially with those fancying a tipple after work. Visit their Facebook or Instagram page for more details, and call +60 16 296 3777 for bookings.
RokuNana Washu Bar is located at D5-G3-2, No.1, Jalan Dutamas, Solaris Dutamas, 50480 Kuala Lumpur, Wilayah Persekutuan Kuala Lumpur. 
Photography: Anson Siau