The Excalibur One-Off is named so because literally only a one-off edition of it was created as a collaboration between watchmaker, Lamborghini and Pirelli.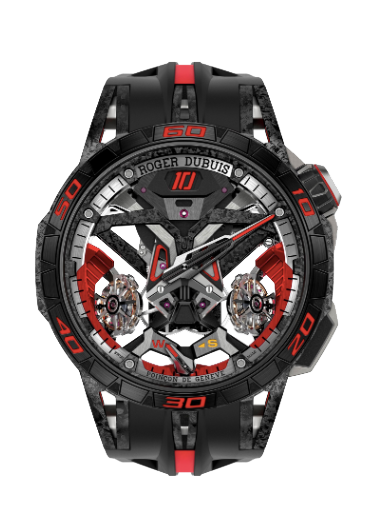 At SIHH 2019, many watchmakers premiered one-of-a-kind timepieces that pushed the boundaries of horology. Of them all, we dare say none was as one-of-a-kind as Roger Dubuis' special debut.
Its Excalibur One-Off is named so because literally only a one-off edition of it was created as a collaboration between watchmaker, Lamborghini and Pirelli. This three-way effort combines the best of everything each brand has to offer – Roger Dubuis' hyperhorology, Lamborghini's adrenaline and Pirelli's precision in performance.
Inspired by Lamborghini's SC18 Alston supercar and Pirelli's tires that deck them in particular, the Excalibur One-Off is a design born at the crossroads of modern art and innovative architecture, brought to life by a calibre worthy of the most complex engine.
Here's a closer look.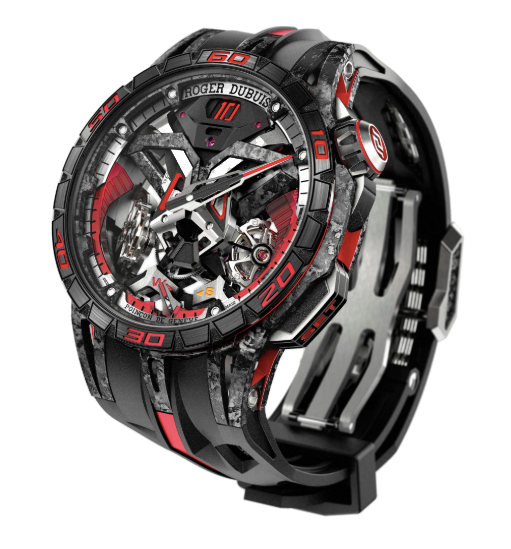 Hyper car to hyper watch
The entire timepiece is meticulously engineered to emulate Lamborghini's aesthetics codes. The design is aggressive, but clean, marked by precise lines, great depth and an eyecatching show of lights. Most notably, the compact calibre was developed from a single frame of material, just like the structure of the supercar.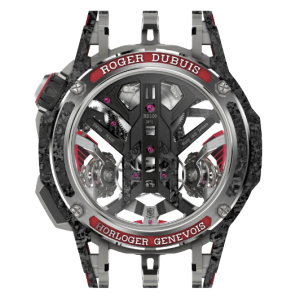 That's not all. The mechanical movement inside is also built like an engine. The RD 106SQ – the third calibre to be produced within the framework of this iconic three-way partnership – features a double flying tourbillon inclined to a 90 degree angle, reminiscent of the V-shape geometry of Lamborghini engines. To compensate for gravity, they are assembled on two planes and linked with a differential.
At 12 o'clock the Excalibur One-off timepiece features a double disc jumping hour with one hand for the minutes and a jumping hours counter (like on a Lamborghini, in which a single hand gives the number of revolutions and a counter shows the speed). The movement is framed by two sapphire components symbolising the rev counters of a car.
Further tribute is paid to the Lamborghini SC18 Alston supercar with a function selector reminiscent of a supercar mode selector which allows the user to choose the watch settings (W = wind the watch, S = set the time) – a brand-new and playful function for a super watch. A construction of this complexity required rethinking and adapting every tool used in the finishing of each piece to comply with the criteria of the Poinçon de Genève.
Precision in performance
Since 1963, tyre king Pirelli has equipped every Lamborghini produced and currently manufactures bespoke tyres designed for the best performance, handling and safety of specific car models. Marked with an "L", they are designed with the purpose of enhancing the car's performance while ensuring a unique driving experience, both on and off the track.
The Excalibur One-off timepiece features this distinctive L-branded strap with distinctive large air intakes and shaped to maximise breathability and resistance. The design and colours of this complex three-dimensional creation were also inspired by the interior of its supercar alter-ego. In addition, the mesh of this strap consists of nylon fibres that are exactly like those embedded in the inner structure of Pirelli tyres.
The expertise of the Pirelli engineers thus helped Roger Dubuis enhance the quality of its strap by endowing it with very good torsional and traction resistance. This in turn makes it possible to achieve an authentic skeleton effect through extensive openworking.
This literally one-of-a-kind timepiece has unfortunately been taken up by a private buyer but it still makes for a story to tell.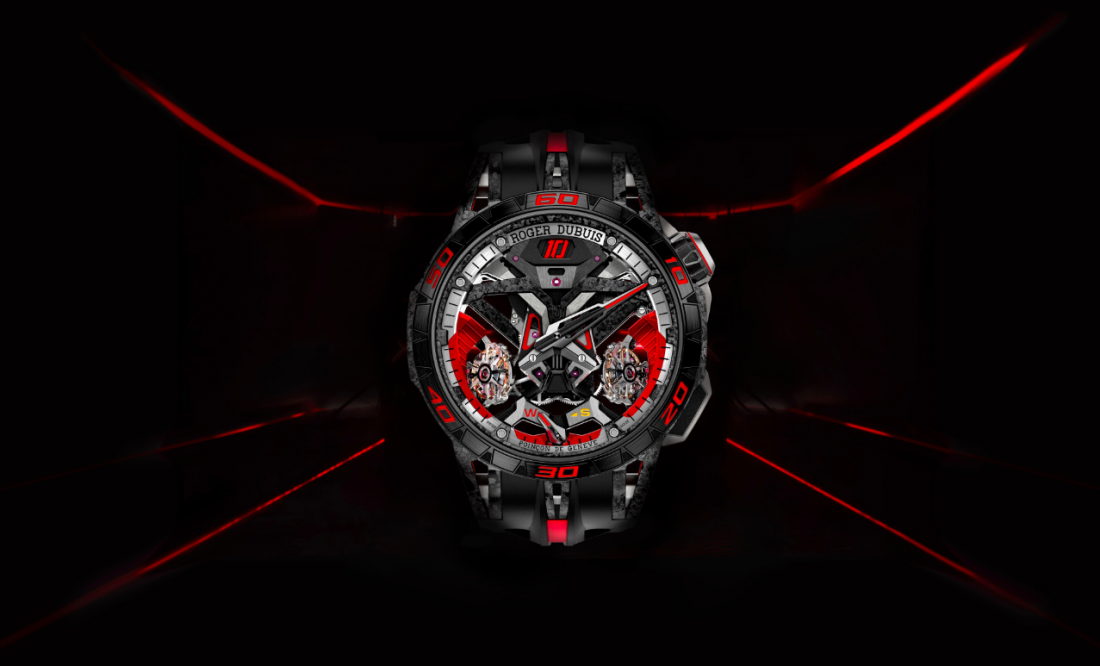 (Photos: Roger Dubuis)