The Lamsam family needs no introduction to native Thais, for various reasons. Among their many areas of influence include the banking and insurance sector, most notably as the founders of Muang Thai Life Insurance and Kasikornbank. Having been around for more than five generations, their financial portfolio and accumulation of wealth has led the Lamsam name to become a colloquial for "rich".
One of the most prominent figures of the household is Madam Nuanphan Lamsam, a fifth-generation scion who has carved a name for herself in addition to managing the family businesses.
Fondly known as Pang, she holds the respectable titles of CEO of Muang Thai Insurance, Chairman of the Port Authority Football Club and Honorary Consul of the Republic of Lithuania in Thailand. Her cousin, Banthoon Lamsam, is the CEO and chairman of Kasikornbank – named alongside his family as the 31st richest in Thailand.
What might the life of one with such connections and wide-ranging passions look like? Follow alongside more than 557,000 followers on her Instagram feed to find out.
---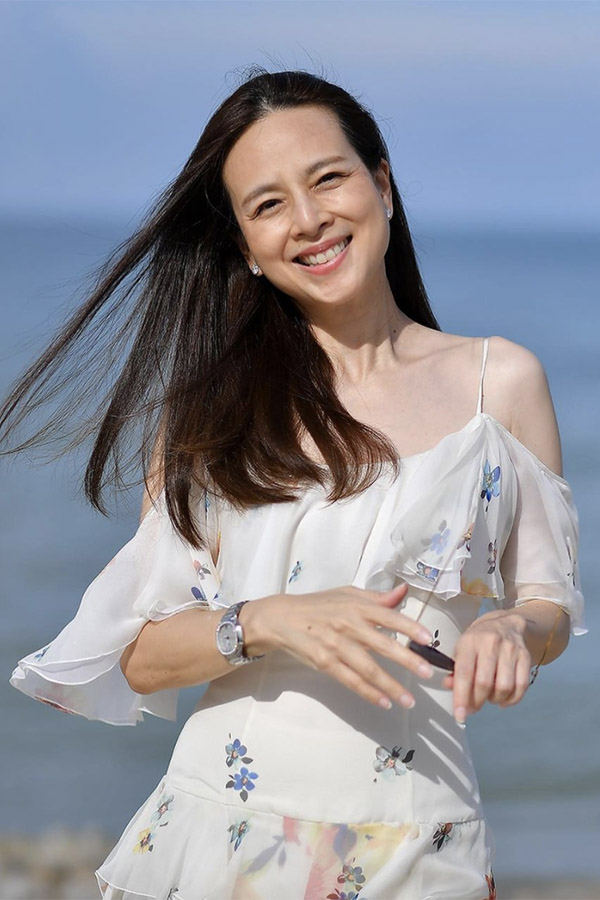 While she can easily pass for 40, Pang is in fact 54 years old and still full of life and zeal. Born in 1966 in Bangkok to Photipong and Yupa Langsam, she graduated with a marketing degree from Chulalongkorn University, one of the oldest institutes of higher education in the country. She later pursued a master's degree in management at Boston University.
Pang has two younger siblings who are also accomplished in their own right: Wannaporn Phornprapa, who runs her own landscape architecture firm, and Sara Lamsam, who shares her designation at Muang Thai Life Assurance.
View this post on Instagram
View this post on Instagram
She has a daughter from her first marriage, which ended in 2005. Almost a decade later in 2014, she remarried to Corrections Department Director-General Police Colonel Narat Sawettanan. Her second love story has been a testament to those hoping to find love later in life, proving that age is really just a number and there's no telling when you'll find your life partner.
View this post on Instagram
View this post on Instagram
View this post on Instagram
View this post on Instagram
A family person at heart, you'll find many posts of the stylish mom with her parents, siblings and cousins on her feed. Here's one of Pang with her mother and daughter – three generations showing off their fresh, unfiltered faces!
View this post on Instagram
Domestic life aside, Pang is evidently a woman of ambition. She has led plans and campaigns – most recently one titled "Believe Pang – at her primary role at Muang Thai Insurance, one of the leading non-life insurance companies.
She is also touted a football matriarch in Thailand, despite not knowing how to play the game. This is largely owed to her position as the president of Thai premier league team Port Football Club. You'll find her at most, if not all of the club's games, cheering them on enthusiastically from the benches.
Previously, she had led the women's national team into the FIFA Women's World Cup in 2015 as their manager – a feat she considers one of her proudest until today.
View this post on Instagram
View this post on Instagram
View this post on Instagram
When not managing teams or heading down to the field, Pang enjoys what most self-professed shopaholics do: shop! Not to play favourites, but she has confessed to be a loyal fan of Hermes – not surprising, considering that she's the honourary president of Hermès Thailand and owns the Maison's distributor, Saint Honorè.
Regardless of what label Pang wears though, she manages to exude confidence and effortless elegance with every look. Now that's what we call aging with grace!
View this post on Instagram
View this post on Instagram
View this post on Instagram
View this post on Instagram
Follow Pang Lamsam on Instagram @panglamsam for more updates.