Heirloom vegetables and ethically farmed chicken make the menu at Entier even more meaningful (and tasty) than it already is.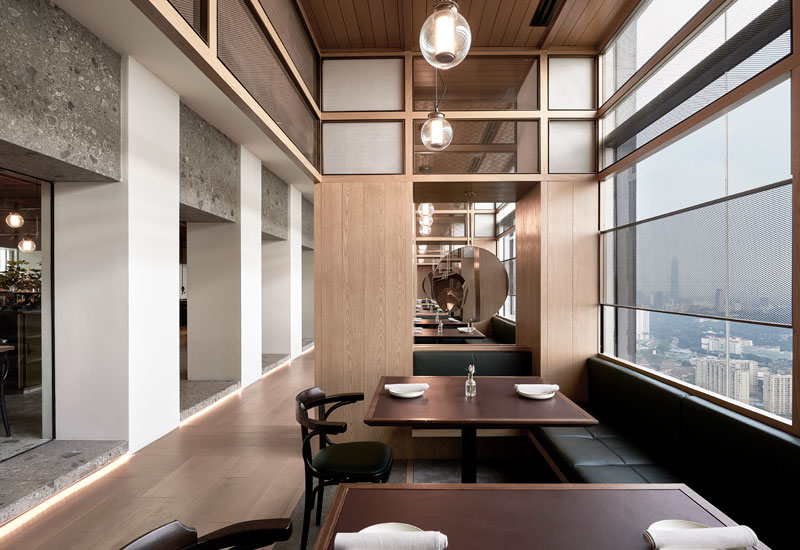 Despite it being almost a year into its opening now, the revere around Entier and its home hotel Alila Bangsar has not shown any signs of receding.
Top notch service and an immaculate eye to detail are among the key contibutors to its enduring appeal, on top of both hotel and restaurant's tasteful setup from the start. On Entier's end, constant innovation for new flavours adds to the delicate equation, and we were lucky enough to be among the first to sample its latest dinner menu.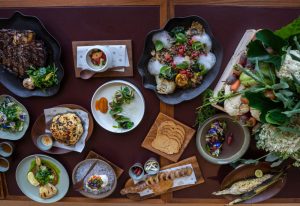 The new rendition is quintessentially Entier – authentic French cuisine inspired by Malaysian terroir. Like its debut menu, it also retains its promise to not let any ingredients go to waste, encouraging the complete consumption of all produce from nose to tail through clever cooking methods and a communal shared plate concept.
From our review feast that lasted four good hours, here's what to order the next time you pop by.
Josper oven-baked beetroot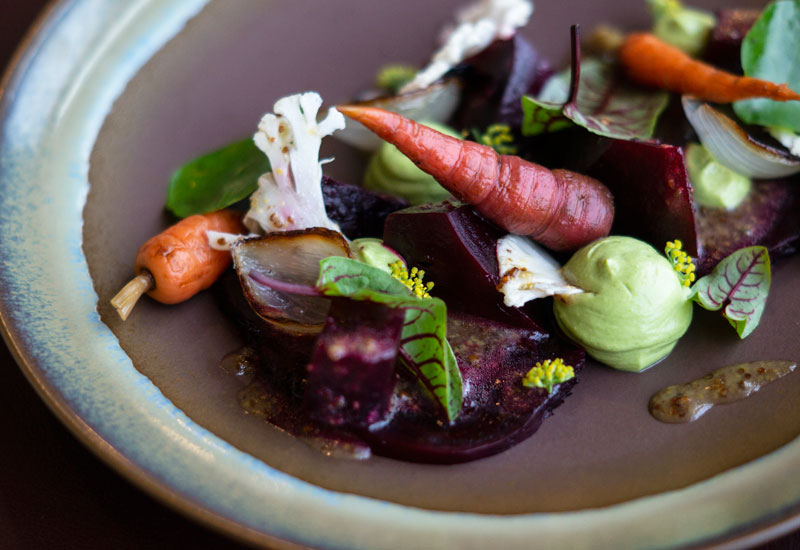 If you love beetroot, this has beetroot baked and pickled so you get both chewy and crunchy, savoury and tart versions of it. The baked beetroot comes in thick juicy slices, is fragrant with a spiced touch and bursts with flavour in the mouth. Its firm tenderness is well balanced out by the crunch of organic highland vegetable pickles, which include more beetroot, sliced cauliflower, baby carrots and chargrilled onions. Tying them all together is a dash of dijon mustard vinaigrette for a starter salad that can only be described as invigorating.
Duck head paté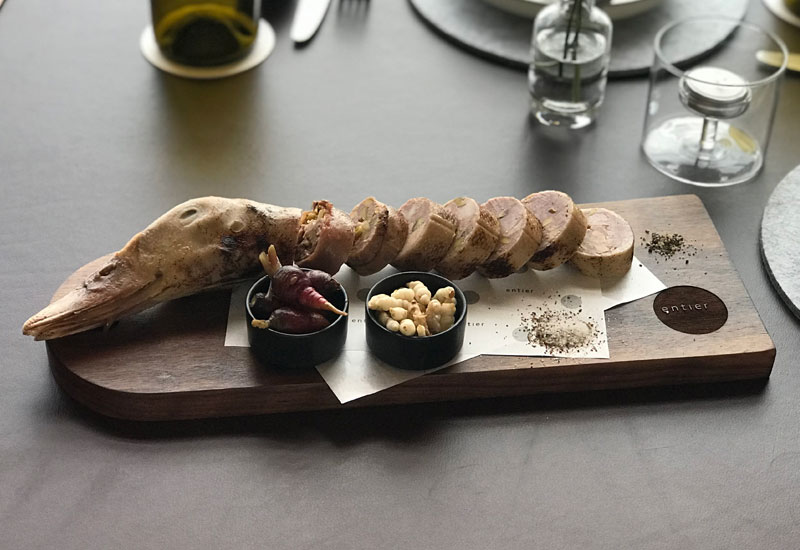 The presentation may be quite a shocker, but it only sets precedence to the textures and flavours you're about to experience. Moist duck liver paté brings the creamy texture we've come to love, wrapped into Entier's version of cou de canard (stuffed duck neck) that comes loaded with chunks of cured duck meat for extra chew. Had with thin toast as we did, it is the perfect combination of crunchy, creamy and chewy in the right amounts of fattiness. Waiting to cut through all that rich saltiness are sides of more pickled highland vegetables for a touch of acidity.
Josper-grilled cauliflower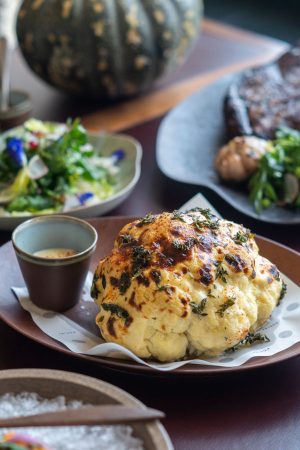 One of Entier's proudest aspects of its menu comes from its vegetables, freshly sourced from Weeds & More, a boutique farm from Cameron Highlands specialising in heirloom and soil-grown produce. We can see why with this cauliflower dish. Flown in just the day before it is served to us (as with the beetroot and pickled vegetables too), it is bursting with natural sweetness, so much so that it required no more than a little cheese and thyme sprinkled atop it before being baked for a dish that still explodes with flavour. Mornay sauce is served on the side, but it didn't need it, in our opinion. Our knife sliced through it like butter, through even its stalk with little effort.
In the mouth, it is juicy and tender, with a smokiness that adds further dimension to the saltiness of the cheese.
Josper-grilled highland white sweet corn

We weren't kidding about Entier's vegetables. Even something as simple as corn simply grilled in an oven outdoes itself. Granted, this version comes tossed with generous lashings of seaweed butter, the chef's secret mix of seasoning and topped with cheese, but even without them, the sweetness of the corn undoubtedly holds its own. Its sweetness is matched by the crunch of each grain of corn, before flavours melt off to a delicious piquant tail the longer you chew.
Josper-grilled whole Turbot fish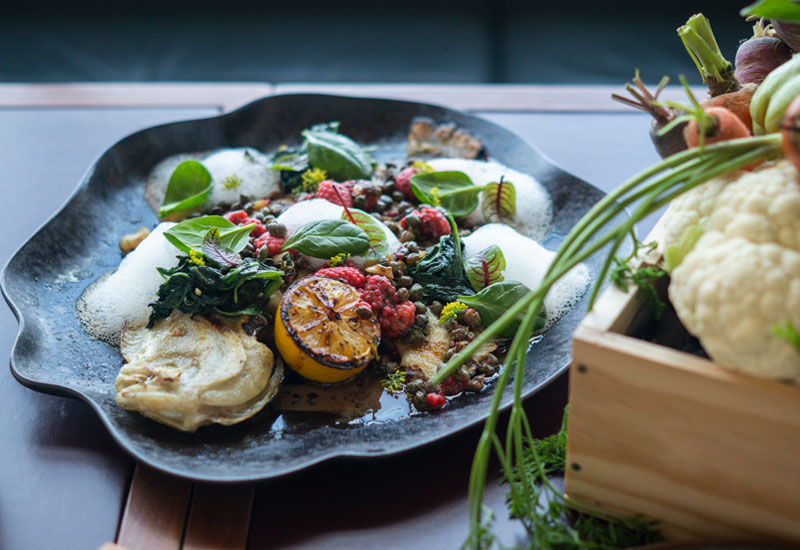 Many places do a good fish dish but not many know how to bring out its flavours quite like Entier. Raspberries are Entier's weapon of choice – the chef draws out the natural sweetness of the day's Turbot fish with the tartness of the berries and deepens the fish's brine with herbed butter and lemon dashi. A spritz of lemon and a scattering of peppercorn intensifies the flavours without stealing from the sweetness of the Turbot.
Cold mud crab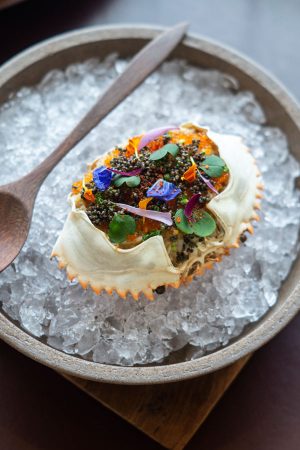 Shredded cold mud crab meat is given an infusion of spice in this dish, being mixed with dark crab meat marinated with curry mayonnaise for a mouthwatering spread of a dish, perfect to be had with toast or crackers. That's not all, it gets an extra touch of glam too with crunchy flying fish red caviar (tobiko), chives and 'mountain caviar'. The last is actually a plant-based 'caviar', being actually the seeds of a plant commonly found from the Akita region in Japan. Upon boiling, the seeds take on the crunch and granular textures of caviar but with an added herbaceousness to its flavour that draws out the bitter-sweetness of the crab meat.
Cold, silky and absolutely delicious with the explosion of sea sweetness of the crab, this dish will check all the boxes for fans of umami foods.
Whole chicken in salt crust dough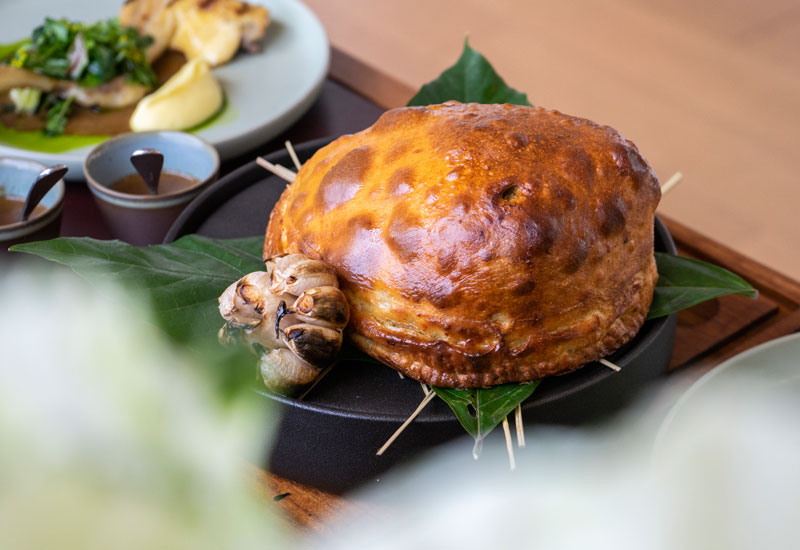 Chicken doesn't usually get most people excited but this will at least make you sit up and pay attention. Ethically sourced from Anxin farms (where chickens are respectfully farmed in natural environments with ample natural light and zero antibiotics and growth hormones), the chicken is done two-ways when you order this dish. The breast is roasted with black truffle in a salt crust dough while the legs are cooked confit-style to ensure the chicken is served with all parts cooked to the best tenderness. The result is chicken that is tender and juicy where it needs to be and crispy skinned and flavourful in others for a variety in texture and aroma.
Hazelnut crème brulee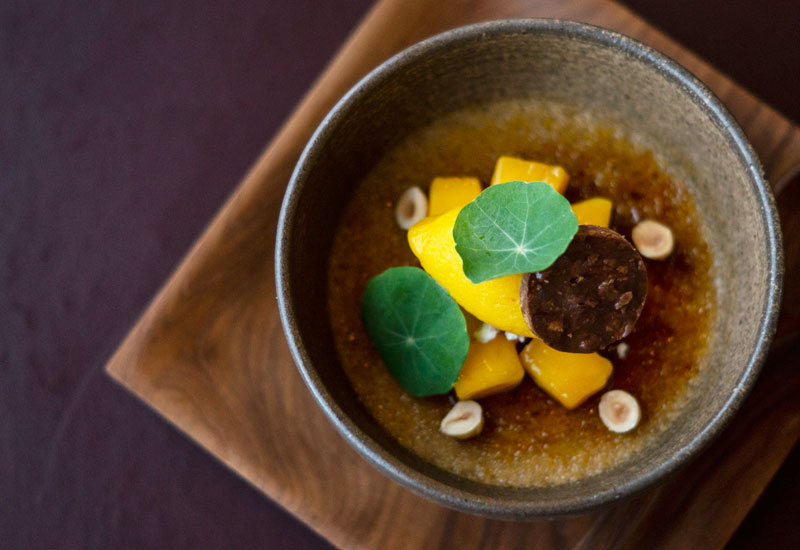 Bonus: dessert! The previous menu already shows us Chef Masashi's prowess with crème brulees, yet he's come around and upped the game with a hazelnut version of it that has all the goodness of its predecessor but now has a smoky touch of hazelnut. The slight addition transforms the dish into a bolder, deeper version of the crowd favourite, sweetened with mango sorbet and cubed fresh mango. Not to worry, the dark chocolate souffle is still on the menu, too!
Entier French Dining is located at Level 41 of Alila Bangsar and is open daily for breakfast, lunch and dinner. For reservations, please call +603 2268 3819 or do it online here. For more information or if you have any enquiries, log on to the official website here.
(Photos: Entier French Dining)