If cocktails are innovations of spirits and flavours in a glass, then the latest addition to the KL bar scene, Reka:Bar in Bukit Damansara, is shaking up the definition of the term and distilling their own meaning into it. Taking its name for the Malay word 'mereka' for 'creation', its name is also a play on the term Eureka, inviting all for a taste of the joy of discovery with each of its cocktails.
Step foot into the hidden space located above a flight of unassuming stairs and you'll be greeted by a futuristic looking lounge with neon lights lining the ceiling. It leads past a long bar before stopping at a counter, where a Rotovap (rotary evaporator) stands, with which the bar's own distillates are bubbled, boiled and filtered to be used in the making of its drinks.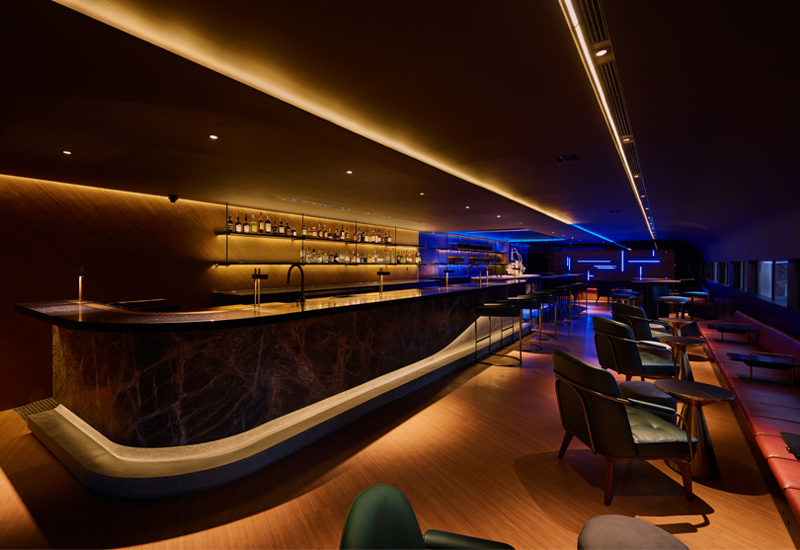 The wall behind it showcases the kind of flavours to expect. Passionfruit kefir sits alongside chilli padi distillates and banana peel essences – extracts, concentrates and tinctures that make for exotic blends of flavours you'll be hard to find anywhere else.
After a welcome drink, get ready to delve into a smorgasbord of tastes, delivered in a menu designed to warm up your palate and lead you right to the next drink with ingredients that borrow from each other.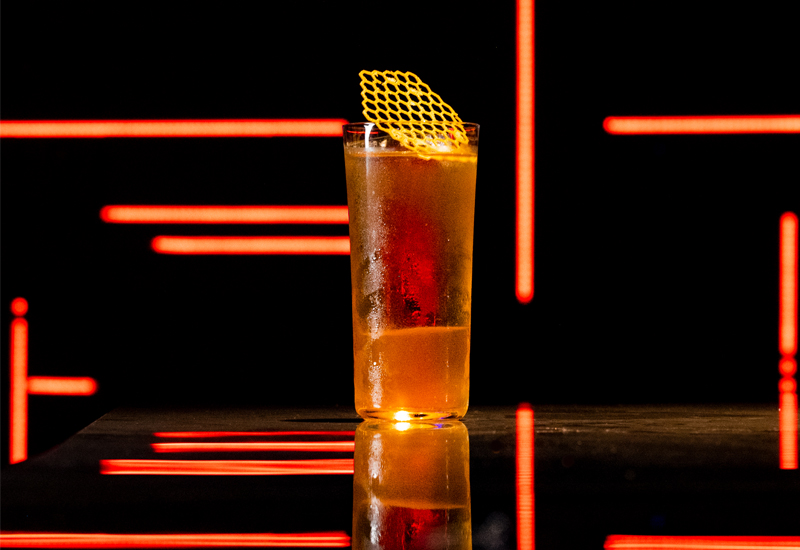 The Domino Effect
The main arch of a night at Reka:Bar is its Domino Effect menu, where 12 cocktails play a game of tag team, bringing flavours that fall one into the other like dominoes. Fruity, savoury or creamy, they are mixed to make way for the next, with local ingredients wherever possible.
An easy introduction is the Better Together, an invigorating cocktail of beautiful orange colour borrowed from papaya and tomato. Widges gin, Chalong Bay rum and Tio Pepe dry sherry are given a refreshing tartness from basil and calamansi juice, presenting a cocktail that will sit well with lovers of sour flavour profiles. A fruit leather of dehydrated papaya puree crystallised by sucrose makes for a crunchy snack on the side as additional texture.
Moving clockwise, the natural progression is the Watermelon Sugar High, a sweet and pleasant concoction that steers from the fruity and sour of the previous to crisper, fresher tastes. The botanical greenness of Roku gin is pulled out further with tarragon and ripe cucumber while watermelon shrub and Shining sake give it a veil of bittersweetness that envelopes the mouth for a dry finish.
View this post on Instagram
From that, move on to the (C)loud & Clear, a tall glass of wispy sips matching the cloud of foam it comes served with. Michster's American whisky comes together with Diplomatico Planas rum and Gonzales Byass Pedro Ximenez sherry for a drink that is surprisingly light in profile, with sweetness heightened with additions of salted caramel, oolong milk tea and a dash of citrus.
A Celebration of Malaysia
A second menu awaits called The Primary Colours: A Celebration of Malaysia. From this, the bar interprets the colours and meaning of the Malaysian flag, the proud Jalur Gemilang, into drinks you can taste.
View this post on Instagram
From this, indulgence comes with immense creaminess in the Drink Your Toast, an homage to the childhood memory of all Malaysians – a breakfast of kaya butter toast in a kopitiam. Brown Butter Bols Genever, a decadent fat washed butter rum coats the mouth in the silkiest sweetness, made richer with crumbs of toasted white bread, pandan essence, local goat's milk and cascara dried skins of coffee cherries.
Something fresher is the Dusun, which as its name suggests in Malay, brings the best of Malaysian orchards. Arquitecto Blanco tequila ties together the sweet jackfruit essence, pungent durian tempoyak extract, sharp passionfruit juice and local tuak for a drink that brings you right into the deepest forests of Malaysia.
Reka:Bar is located at 67M, Jalan Setia Bakti, Bukit Damansara, 50490 Kuala Lumpur. For more information or reservation enquiries, contact 010-287 8908. Keep updated with them on their Instagram page @reka.bar.
(Photos: Reka:Bar)