The stories behind festive favourites ketupat, rendang and more, with tips to enjoy them with a significantly smaller guilt trip – and festive belly.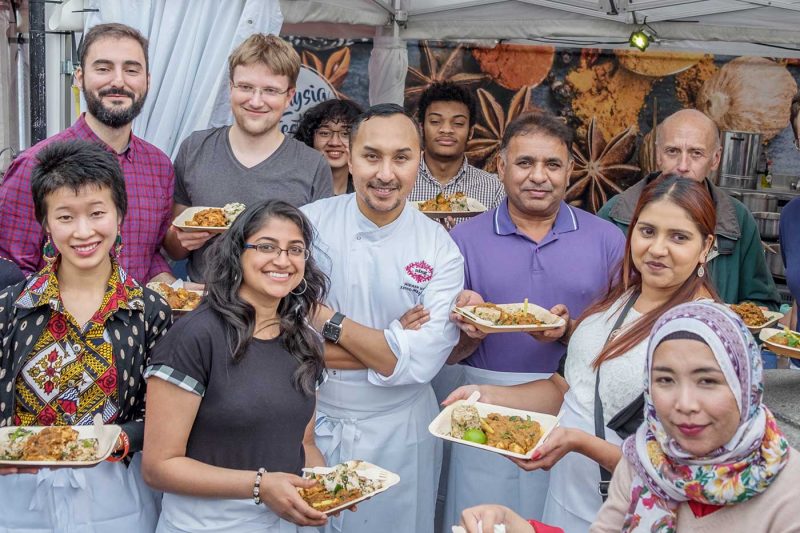 Having a deeply personal introduction to Malay cuisine built the foundation for award-winning chef/entrepreneur Norman Musa's love for cooking. Throughout his childhood, he saw his parents work hard in the food business, starting with a small stall selling nasi lemak and growing to a successful canteen serving more than 2,000 people weekly.
He muses that learning from Michelin-star chefs is incomparable to the experience of taking kitchen lessons from loved ones.
"Learning with so much passion and love around you makes a difference when you recreate the dishes because you are not only recreating the dishes, but the memories that come along with them," tells the UK-based chef. "I never got the chance to fully celebrate Hari Raya abroad in the 23 years I have been away, but I serve lemang and rendang in my restaurant to commemorate the celebration."
Growing up in Butterworth, Penang, Raya was a time when young Norman got together with the family for a celebration with kampung games, firecrackers, and of course, food.
"It's all about balancing the food you serve. There is no harm in creating a delicious salad to go with our ketupat and rendang."
The food eaten during this festive period are typically Malay dishes with heavy Javanese influence. It has been said that many of the tasty treats we know and love were staples aboard war ships, when food had to last the crew their time at sea.
"Migration brought the influence of culture and food to Malaysia, and years later these dishes have evolved – we have our own type of rendang now, even though the ingredients are very similar. The same goes to daily curries we eat here, which are influenced by curries from Sri Lanka and Southern India," says Chef Norman.
In this Raya special, we got the chef to share some ways to make our favourite cuisine a little healthier. Avoid a case of festive remorse by practicing portion control, and replacing certain ingredients in classic dishes.
Ketupat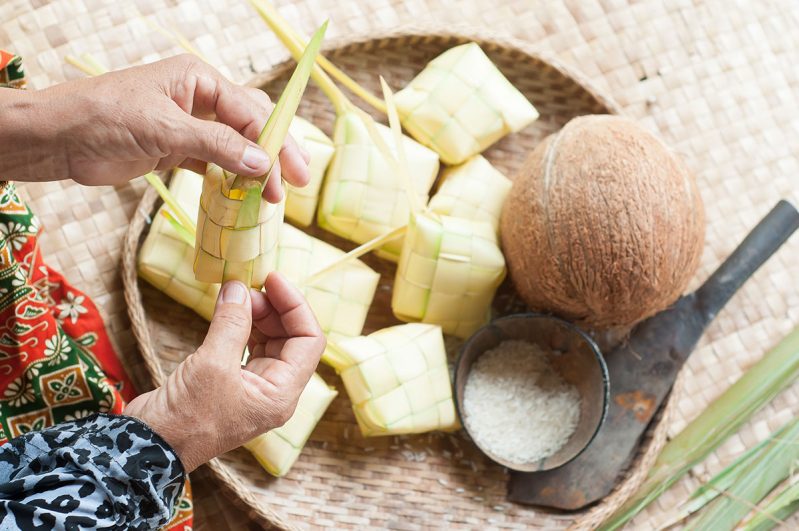 Why we love it: There is no other food as synonymous with Hari Raya than these diamond-shaped rice cakes wrapped in woven coconut leaves. It is the quintessential representation of tradition, with the weaving skill being passed down to new generations by older women. Ketupat celebrates the tradition of forgiveness, and is traditionally made a week after Raya and is eaten with kuah kacang (peanut sauce) and satay.
Chef Norman's tip: Coconut milk is the secret to a delicious ketupat or lontong, but it is high in fat. Together with the ridiculously high fat content of glutinous rice compared to white rice, these Raya staples can easily make you feel bloated and add on the kilos."Mix glutinous rice with wild rice to give a bit of texture to it."
Rendang

Why we love it: Our favourite Raya delight hails from West Sumatra, and originally used water buffalo meat! A person or community who could afford to sacrifice a water buffalo for consumption was considered well-off. Since this meat is tough, the dish was cooked on low temperature with coconut milk and spices over a long period of time, resulting in the dry curry that is a celebratory favourite.
Chef Norman's tip: Coconut oil is known to be a healthier alternative to ordinary cooking oil, so why not use it in your Raya cooking? Chef Norman's late mother even taught him to cook rendang without cooking oil, with the oil separating naturally from the coconut milk. He also recommends removing the skin of chicken and the fat from beef. "You can also make your own kerisik (roasted coconut). I've noticed the store-bought one was not a proper kerisik because it contained grated coconut and cooking oil."
Satay & kuah kacang
Why we love it: Satay is a Raya favourite which is also widely enjoyed by Malaysians all year round. Chicken, beef, mutton and lamb meat are wood-skewered and traditionally grilled over an open fire, bearing resemblance to the Middle Eastern kebab.
Chef Norman's tip: The best you can do to better prepare the satay itself is to use lightly seasoned lean meat. Additionally, Chef Norman points out that scooping out excess oil from the kuah kacang (which contains ground peanuts and spices) can also lower the fat content of this delicious, versatile sauce.
Masak lemak cili api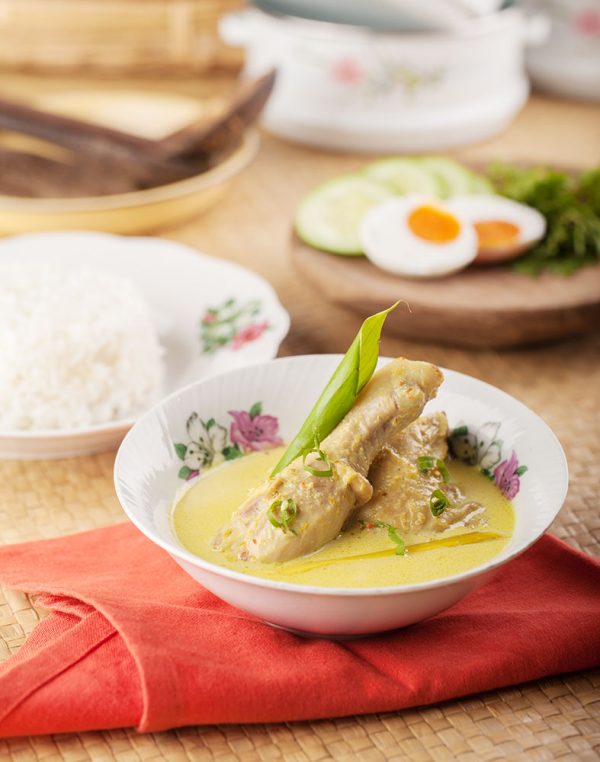 Why we love it: The rich gravy of masak lemak cili api becomes thicker and more decadent with the addition of coconut milk; as you can imagine, this is where the health risk lies.
Chef Norman's tip: "Thin coconut milk by adding water to it. If you want to create something different, add yoghurt in your masak lemak instead – it works well, and your guests won't notice the difference."
Serunding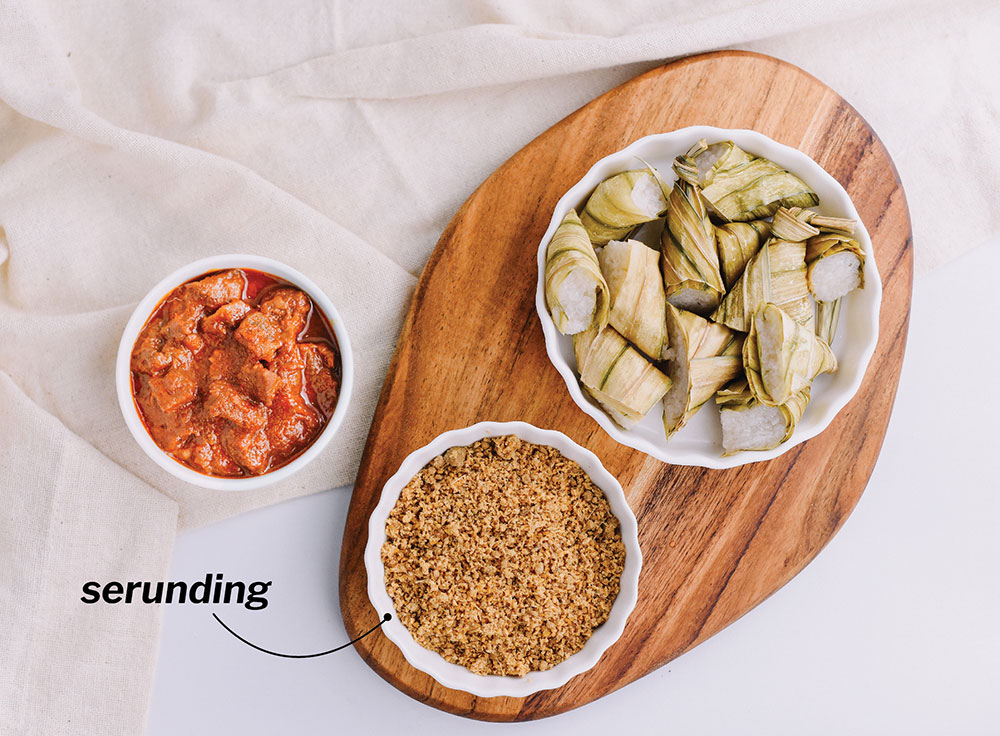 Why we love it: Serunding is a long-lasting food commonly found aboard ships of old. Serving this and other typical Raya dishes are also a form of thanksgiving for the struggles of soldiers and sailors. Resembling meat floss (and often made together with beef), these coconut flakes are seasoned with spices and leaves before being fried to golden brown perfection. Chef Norman likes the fact that serunding is created to last longer than rendang, so it doesn't go to waste. However, it still has a high fat content from the oil although it loses moisture when cooked till dry.
Chef Norman's tip: "Watch the portion and your consumption every time you eat this with ketupat. While cooking, scoop out the excess oil when you notice it separating before getting dry."
Dodol & other sweets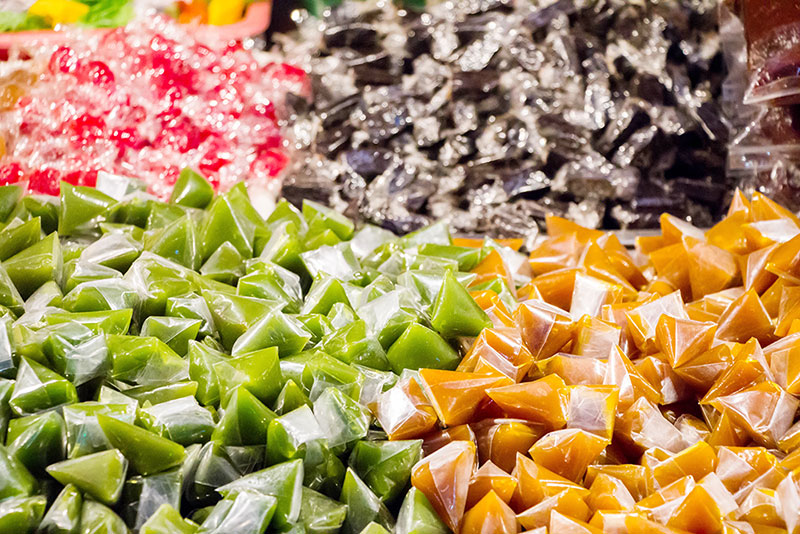 Why we love it: No celebration is complete without desserts, sweets, and biscuits, but these treats are often loaded with sugar.
Chef Norman's tip:  Use healthier sugar replacements such as honey or stevia."I've never tried using them in dodol but it's worth a try. If that doesn't work, then cut your sugar consumption!"
As the end of the fasting month approaches and Muslims around the world prepare for a meaningful celebration, let's remember to eat responsibly and avoid wasting food whenever enjoying these festive delights.