Get into the festive Ramadan spirit and buka puasa while staying safe at home. 
Every year, millions of Malaysians look forward to the festive season such as Ramadan and the slews of delicious food at Bazaar Ramadan. Unfortunately, not thanks to a certain novel virus, it looks like the festivities will have to be moved indoors this year.
Since families are not able to balik kampung and savour their annual family dishes during buka puasa and Raya, these hotels have got you covered. They've crafted special Ramadan menus infused with rich local flavours and plenty of nostalgia, and you can now enjoy them through food delivery, takeaways, or pick-ups. Check out our list below to find out which hotels are bringing the festivities to your doorstep this Ramadan.
St. Regis Kuala Lumpur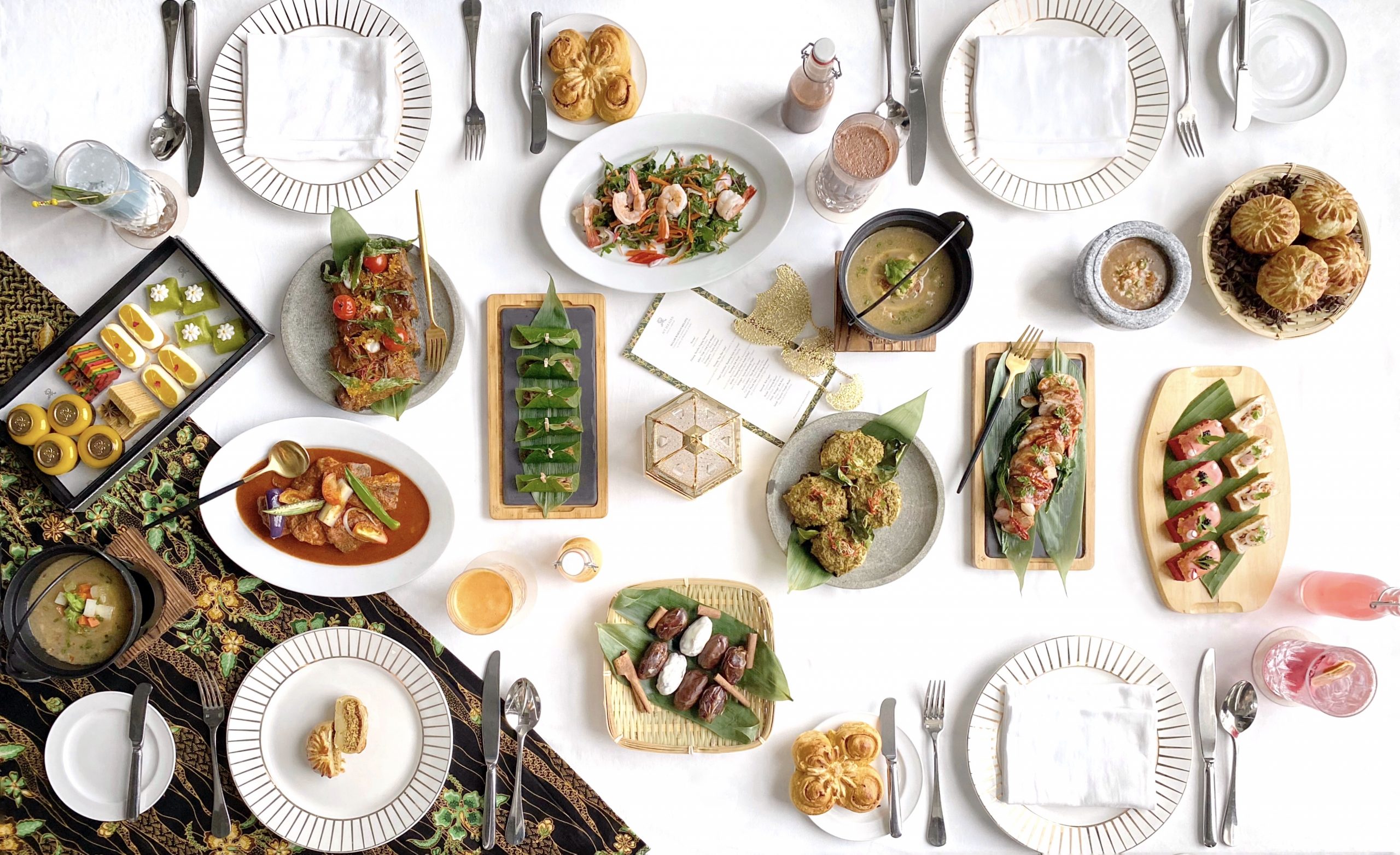 You can savour the variety of signature dishes from the 14 states of Malaysia from April 27 to May 23. From Pahang's Kerabu Daging Daun Kadok to Negeri Sembilan's Kambing Salai Air Asam and Sarawak's Kek Lapis, St Regis KL is offering a taste of balik kampung as we continue to practice social distancing during the festive season.
Prices start from RM428+ (serves up to 4 people) and RM798+ (serves up to 8 people). All prices quotes are subject to 0% SST, and orders are required to have a 48-hour advanced booking. Place your orders by calling +6012 280 1303 or email dining.kualalumpur@stregis.com. 
InterContinental KL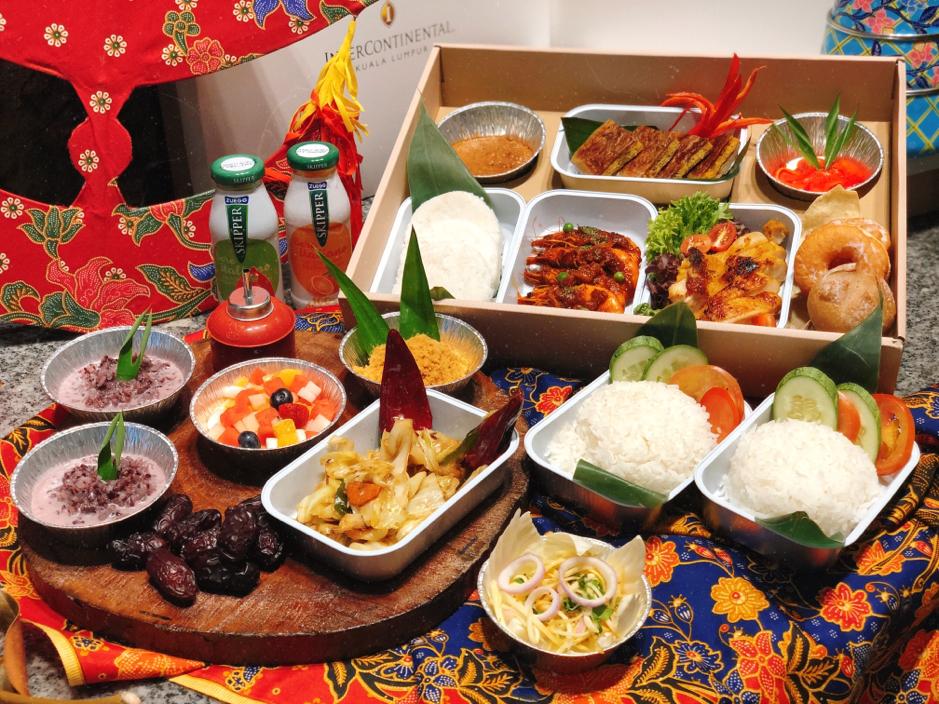 The culinary masterminds at InterContinental KL are dishing out a variety of traditional family set meals that you can order for delivery or takeaway from April 24 until May 22 to celebrate your Ramadan at home. They're even offering Sahur Sets which start at RM20 per person, while their full spread sets start at RM55 per set for 2 people.
To place your order, you can call 03 2782 6000 or 03 2782 6185, or WhatsApp 016 202 4623 and provide your Name, Contact Number, E-mail Address, Collection Time and Date or Delivery Time and Date, and the Delivery Address. Orders are to be made from 9am to 7pm daily, while collection and delivery time is from 4pm to 7pm daily. If you need to place any large orders, do keep in mind that you'll need to order one day in advance. 
Mandarin Oriental
Mandarin Oriental offers a vibrant selection of Raya delicacies alongside three Ramadan sets – Kompang, Rebana and Gamelan – starting from RM88 onwards per person. A small family can easily tuck into a Whole Roasted Chicken Percik, while larger families can share the Roasted Lamb Leg Carving. They're also offering sweet Raya Delights hampers, filled with cookies and sugary delights you can snack on or have as desserts.
All Raya goodies and orders will start from 24th April to 23rd May, just make sure you place your orders minimum 12 hours in advance! View the menu and place your orders here.
Shangri-La Hotel
From April 23 to May 23, Shangri-La Hotel KL is urging those celebrating Ramadan this year to stay home and have their Iftar dishes delivered to their homes or offices. Their team of chefs have put together three different Iftar sets: The Feast, The Horizon, and The Shangri-La, with prices starting from RM40 nett per person. They're also offering Hari Raya Hampers via online, in three different content customisations – Raya Delight, Lebaran Treasure and Aidilfitri Platinum priced at RM688, RM888 and RM1,288 respectively.
All Ramadan delivery sets will be available daily from 10am to 4pm, with a minimum order requirement for three persons, while a minimum of two days' pre-order time is required for the Raya hampers. Place your orders via call at +603 2074 3900 or WhatsApp +6019 390 2257. If you have the Shangri-La Specials Mobile App, you can also place your orders there. Delivery charges will apply, which you can refer to on their website. If you don't already have the Shangri-La Specials Mobile App, they're available via Google Play and Apple Store.
Sunway Resort Hotel & Spa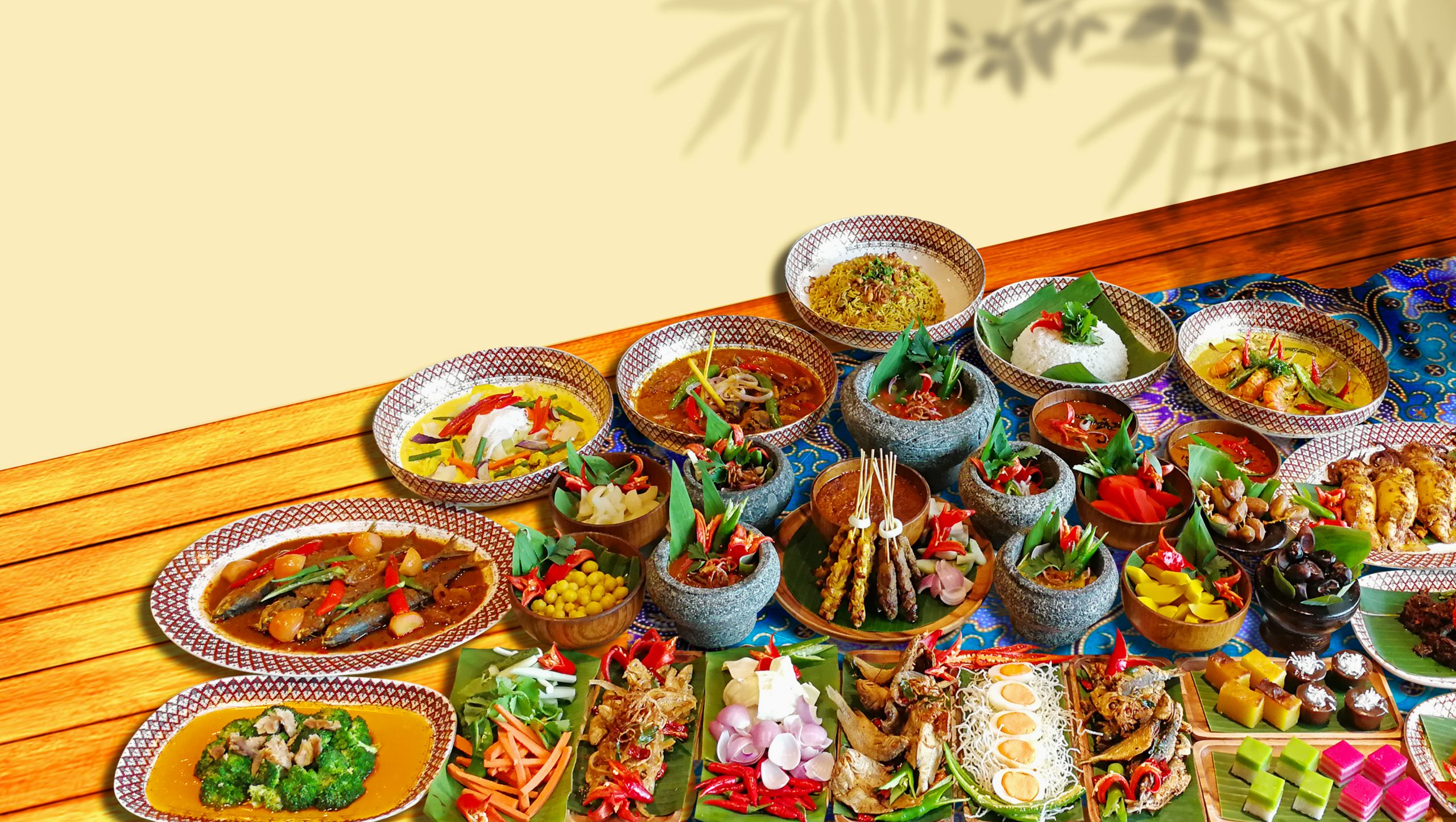 Sunway Resort Hotel & Spa's annual Jemput Makan themed food offering at The Resort Café is returning from April 24 to May 21 to help Malaysians celebrate food and culture in the safety of their own homes this year. Large families can savour various main dishes with their Bazaar-to-Go menu, which features a mix of the chef's signature dishes and nostalgic favourites from their a la carte menu. Items must be ordered at least 24 hours in advance, and 48 hours in advance for their Whole Grilled Lamb. Those who prefer customisation can opt for the Selera Kampung Set menu, where customers can choose four main dishes and two vegetables, accompanied by complimentary appetisers, side dishes, homemade sambals, rice and drinks for RM238 nett. This menu requires a 4-hour advanced booking.
Bazaar-to-Go delivery is possible via Grab Delivery or Lalamove, and those ordering within Sunway City can enjoy free delivery. The last delivery or pick-up is by 6pm daily, and Sunway Pals members can shave 15% off their total food bill and earn 5X points based on the total amount after discount. Place your orders by calling +6037495 2009 or WhatsApp +6019 381 5568.
Hilton Hotel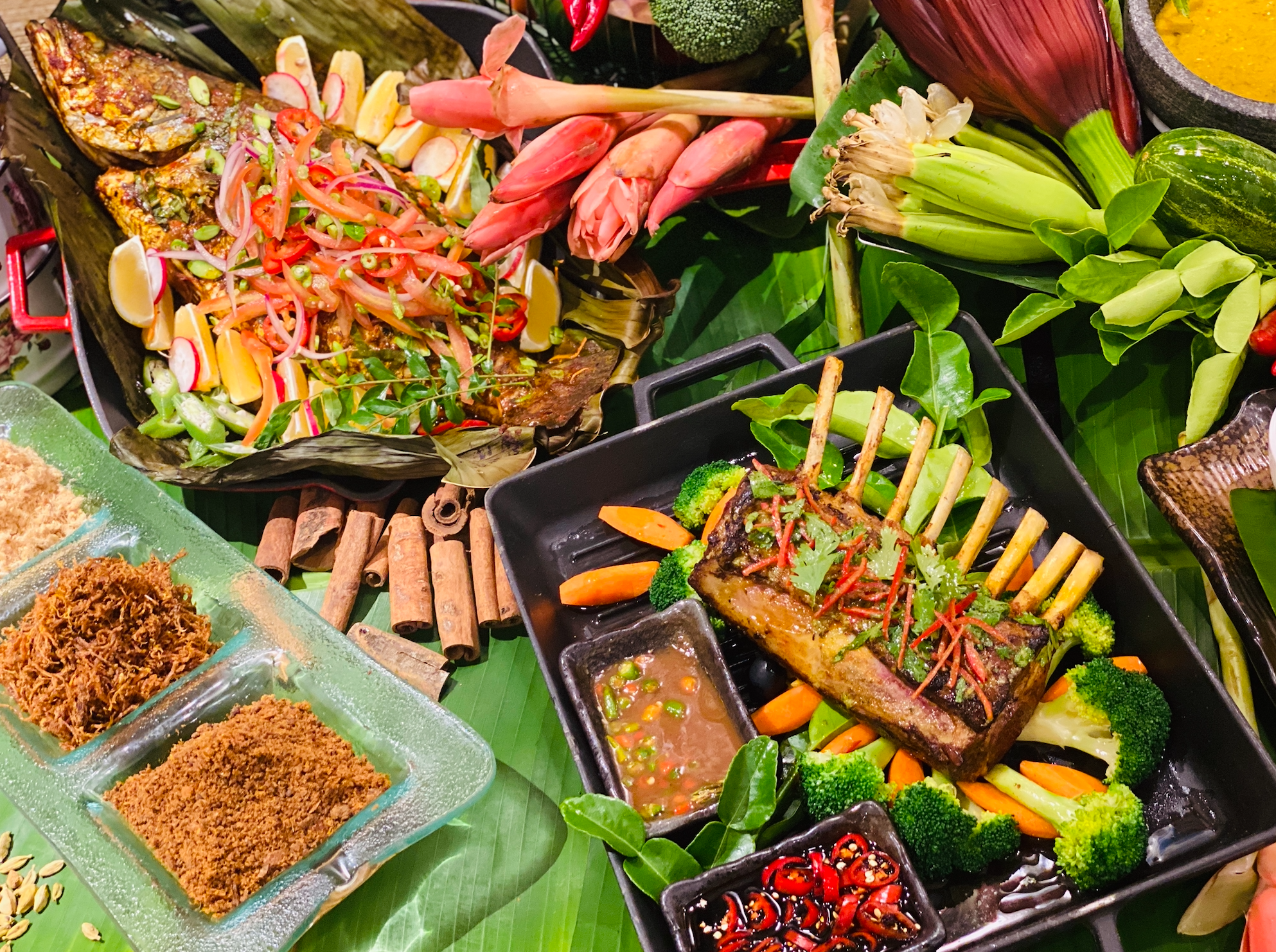 From April 23 to May 23, Hilton Hotels in Malaysia are presenting their 'Chup! Makan Dulu' takeaway menu that comprises all-time favourite dishes across the hotels' restaurants for Ramadan. Starting from RM30, participating restaurants include Makan Kitchen, Vasco's, Paya Serai, Garden Grille, Urban Kitchen and Waterfront Cafe to serve a variety of traditional kampung-style dishes, alongside other varieties of cuisine such as Chinese and Indian. The menus are available for pick-up and delivery everyday from 8am – 8pm. Check out the links below to place your orders at the participating Hilton hotels.
Hilton Kuala Lumpur | Hilton Petaling Jaya | DoubleTree by Hilton Hotel Kuala Lumpur | Hilton Kota Kinabalu | Hilton Kuching | DoubleTree by Hilton Hotel Melaka | DoubleTree Resort by Hilton Penang | DoubleTree by Hilton Hotel Johor Bahru | Hilton Garden Inn Puchong
YTL Hotels

YTL Hotels are also bringing you specially curated festive sets from 24 April to 23 May. Their four hotels will be dishing out feasts that echo the rich culinary heritage of Malay cuisine and traditional authentic dishes to bring the happy memories and flavours of your hometown to you. All orders must be placed and paid from 10am to 3pm daily, while deliveries will be made from 5pm to 7pm. For free delivery, a minimum of 4-people order is required within a 10km radius of each hotel, if not it will be subjected to a RM20 delivery fee.
The Majestic Hotel Kuala Lumpur
WhatsApp or call +6018 341 2800, or e-mail contago@majestickl.com.
Place your orders online here.
The Ritz-Carlton Kuala Lumpur
WhatsApp or call +6018 929 2174, or e-mail dining@ritzcarltonkl.com
Place your orders online here.
Hotel Stripes Kuala Lumpur
WhatsApp or call +6018 702 3202, or e-mail brasserie25@stripeskl.com.
Place your orders online here.
AC Hotel Kuala Lumpur
WhatsApp or call +6018 688 0019, or e-mail enquiry@achotelkl.com
Place your orders online here.
Chef Wan's Ramadan Feast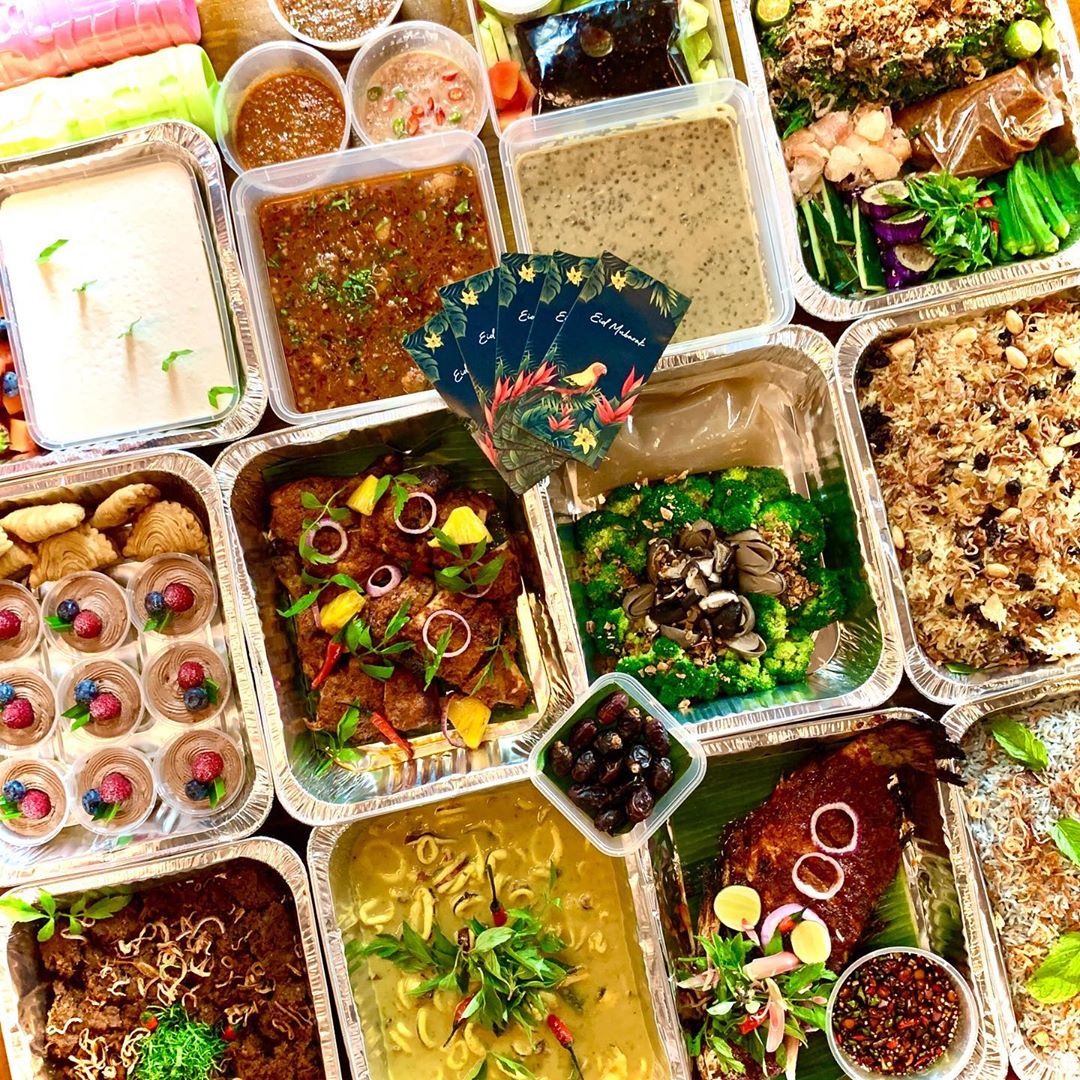 Our very own Chef Wan is not hearing any excuse for families to miss out on a sumptuous Ramadan buffet – even though you need to stay home and avoid social gatherings this year. His restaurant De.Wan 1958 will be delivering your Ramadan Buffet in a box instead, so you can still buka puasa while practising social distancing. The buffet sets start from RM58+ per person, and each order must be made a day before by 3pm. Place your orders here.
Marriott International
Hotels under the Marriott International group will be feeding homebound Malaysians celebrating Ramadan this year with a medley of family-style cuisines, featuring classic Iftar dishes alongside international favourites. Aloft Kuala Lumpur Sentral, Element Kuala Lumpur, Le Méridien Kuala Lumpur, Marriott Putrajaya, Sheraton Imperial Kuala Lumpur and Petaling Jaya Hotels will all be dishing out their own vibrant Raya menus – leaving you pretty much spoiled for choice. You can find the contact details to each hotel below:
Aloft Hotel – Makan Yuk!@Nook
Sets starting from rm168 nett, each serving 4-5 people.
Takeaway and pick-ups are available via concierge from 7am to 9pm daily, and free delivery available within a 1km radius. Reserve by calling +603 2723 1188
Element Kuala Lumur – Selera Malaysia
Iftar menu available from April 27 to May 25, with each menu priced at RM25, RM35 and RM45 serving one adult. A minimum of two orders is required, along with a 48-hour advanced booking. The standard delivery charge is RM20, but free delivery is available within a 5km radius, with a minimum spend of RM80. Deliveries will be made from 2pm to 7pm daily, and pick-up times are from 11am to 7pm daily. You can place your oder by calling TRACE at 03 2771 3355 or WhatsApp +010 267 0338, or e-mail TraceRB.ElementKL@ElementHotels.com
Le Méridien Kuala Lumpur – Santapan Muhibbah
Menus are priced from RM50nett per person from April 24 to May 23, with pick-up and delivery options available via TableApp. You can also call the Dining Specialist at 03 2263 7543 or 012 215 8782
Marriott Putrajaya – Ramadan Delivery
The hotel's chef is serving signature dishes starting from RM19 nett, with a takeaway menu available from April 24 to May 23. No prior booking is required, and guests are able to book via e-hailing apps which the hotel has tied up with from 11am to 7pm daily. You can also call +603 8949 8888 ext 1322 or WhatsApp +6012 393 0172.
Sheraton Imperial Kuala Lumpur Hotel – Fiesta Rasa Muhibah
Delivery and takeaway options are available for their Raya sets. The a la carte dishes begin from RM8 nett while the Rasa Muhibah set is priced at RM222 which serves up to 5 people. The prices exclude any delivery fees. You can contact their Dining Specialist at 012 527 7010.
Sheraton Petaling Jaya Hotel – Bazaar Ramadhan
Find recreations of dishes you usually find at Bazaar Ramadan with four different menus and a la carte items. Prices start from RM35 nett and will be availbale from May 2 to May 23, with takeaway and delivery options available via concierge. Free delivery applies to purchases above RM100 within a 5km radius. Call 03 7622 8888 or email dining.spj@sheraton.com
Photos courtesy of the respective hotels.