The fasting season is only a week away, so now's a good time to start planning your buka puasa get-togethers. After the restrictions on dining out last year, you can count on Malaysians to seize the opportunity this time around to celebrate the holy month at the best places in town. For ideas on where to have iftar with your nearest and dearest, we've rounded up a list of restaurants offering buffet spreads for this Ramadan.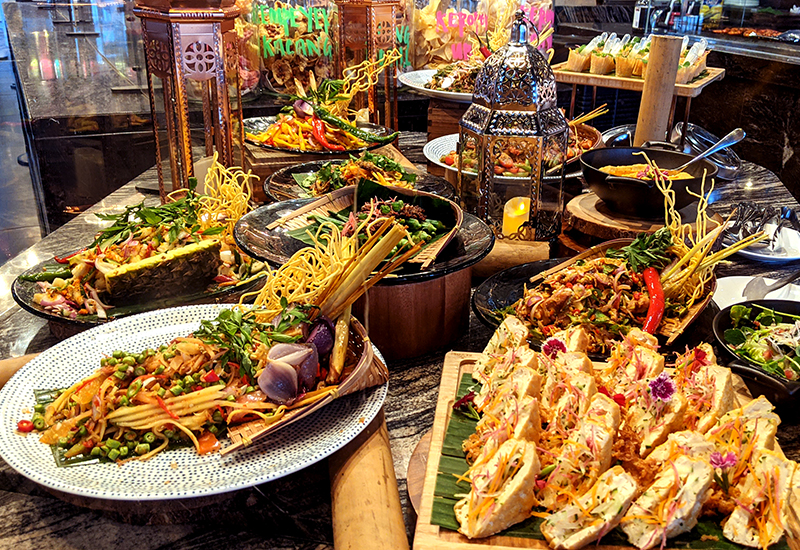 Inspired by the hustle and bustle of a night bazaar, Flock has been transformed into a lively "Bazaar Malam" featuring vibrant food stalls that serve local fare. Executive Chef Haznizam Hamzah and team have prepared an extensive selection of dishes, including Ulam-ulaman (foraged greens from local growers), Kuih-muih, Goreng-goreng (deep-fried fritters), and grilled meats and seafood. Other perennial favourites in the spread include Ikan Asam Pedas, Sambal Tumis Udang and Mamak Soup, alongside stalls serving Roti John and Hainanese Chicken Rice.
13 April 2021 to 13 May 2021
6:30pm onwards
RM198 nett per adult
RM99 nett per child aged between 6-12
Kids below 6 eat for free* (1 kid per paying adult)
For reservations and enquiries, please call +6012 3479088 or email b&f.wkualalumpur@whotels.com. W marriott.com
Mandarin Oriental Kuala Lumpur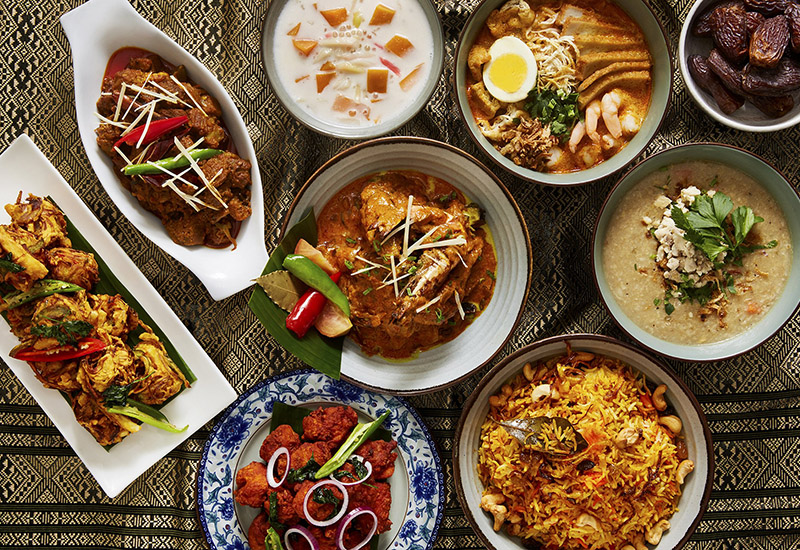 A Grand Buka Puasa buffet is coming to Mandarin Oriental KL this year, which will be celebrated across three venues: Mosaic, Lounge on the Park and the Diamond Ballroom. The buffet will take customers on a tour around the 14 states in Malaysia, with dishes inspired from each locality. Those who are content with the classics can opt for the Jom Berbuka Puasa menu, consisting of kerabu, a BBQ Live Station, and traditional Malay recipes.
Mandarin Oriental Buka Puasa
13 to 18 April 2021; 3 to 12 May 2021
6pm to 10:30pm
RM188 per person
Grand Buka Puasa Buffet
19 April to 2 May 2021
6pm to 10:30pm
RM238 per person
Bunga Raya Set Menu
RM432 for four persons, only for takeaway and delivery
Bunga Melur Set Menu
RM592 for four persons, only for takeaway and delivery
For reservations, please call the Dining Reservations Desk at +60 (3) 2330 8798 or email mokul-fb@mohg.com.
The Brasserie, St Regis Kuala Lumpur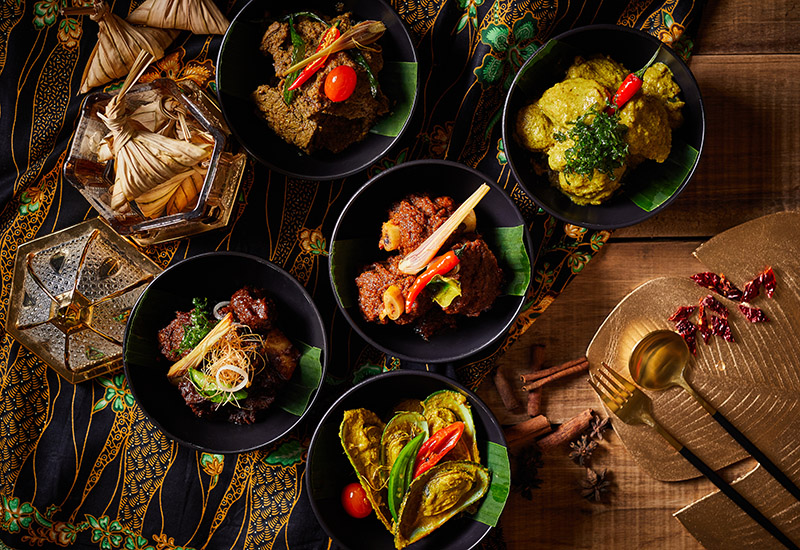 In case interstate travel (read: balik kampung) is still not an option, St Regis Kuala Lumpur is offering a taste of your hometown with a menu incorporating dishes inspired by each Malaysian state. The signature dish to look out for is Executive Sous Chef, Norazizi bin Taslim's heirloom Perak Braised Beef Short Ribs, on top of indigenous rendang dishes like Kelantan Mussels Rendang or Malacca Beef Lung Rendang, each served with Lemang. Those who prefer to stay home for iftar can also order the hotel's takeaway Malam Warisan Melayu Box, featuring all signature dishes.
Malam Warisan Melayu Buffet Dinner
19 April 2021 to 7 May 2021
6:30pm to 10:00pm daily
RM238+ per person
Malam Warisan Melayu Box
RM448+ (serves up to 4 persons) / RM888+ (serves up to 8 persons)
Customers are recommended to place orders 24 hours in advance
For reservations, please call +60327276696, WhatsApp +60122801303 or email dining.kualalumpur@stregis.com.
Lemon Garden, Shangri-La Kuala Lumpur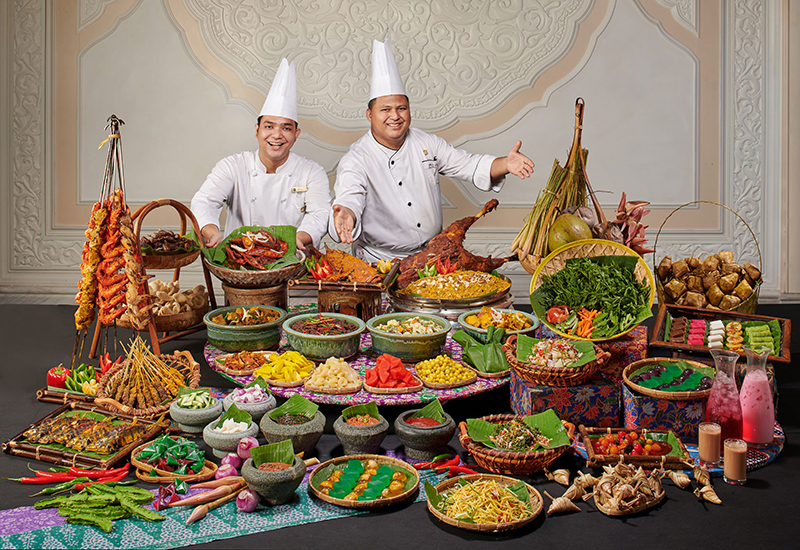 This Ramadan, Lemon Garden will be serving a seafood assisted buffet featuring traditional Malay cuisine along with its signature selection of seafood and international delicacies. There will also be live cooking stations and a dessert pavilion, with highlights including Daging Rendang Minang, Kambing Masak Kurma, Udang Masak Sambal Petai and Onde-onde Cupcakes. Alternatively, customers can order their preferred Sajian Istimewa dishes to be delivered and enjoyed at home.
Sajian Istimewa Seafood Assisted Buffet
12 April 2021 to 12 May 2021
Lunch – 12pm to 3pm, Tuesday to Sunday
RM148 nett per person
Dinner – 7pm to 10pm daily
RM178 nett per person
For online orders, click here. For reservations and enquiries, call +603 2074 3900 or WhatsApp +6019 390 2257.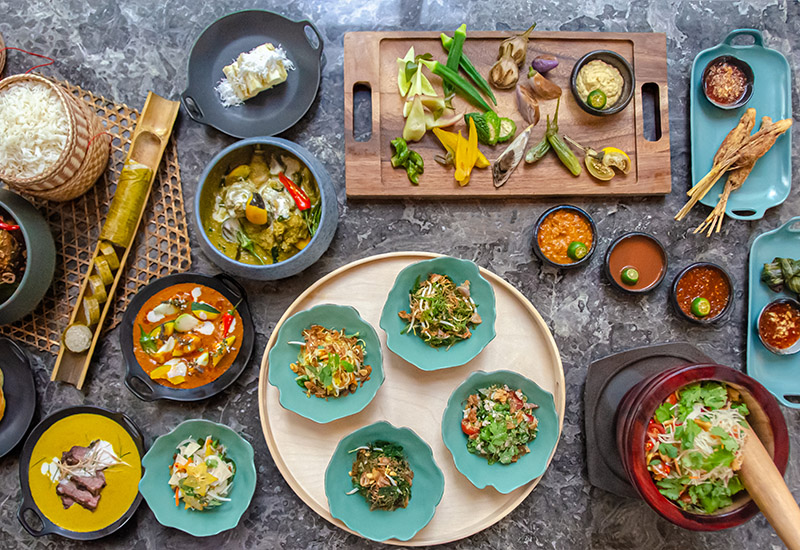 Dig into over 100 Malay and Southeast Asian dishes at EQ's Nipah, where the menu will be rotated weekly throughout the promotional period. Among the assortment are classics like Kerabu Limau Bali, Udang Harimau dan Kacang, and the signature Kari Laksa Nipah. The dine-in experience will be complemented by traditional music performances, whilst takeaway signature sets will come in exclusive 3-tier tiffin carriers.
Citarasa Nipah Buffet Dinner
13 April 2021 to 12 May 2021
7pm to 10:30pm
RM188 per person
Early bird vouchers available for RM148 and RM168 per person, from now until 13 April
3-Tier Tiffin Carrier Sets
13 April 2021 to 12 May 2021
RM128 for signature individual set
RM508 for signature family set
For reservations and enquiries, call +603 2789 7839/7840, WhatsApp +6012 278 9239 or book through TableApp here.
Latest Recipe, Le Meridien Kuala Lumpur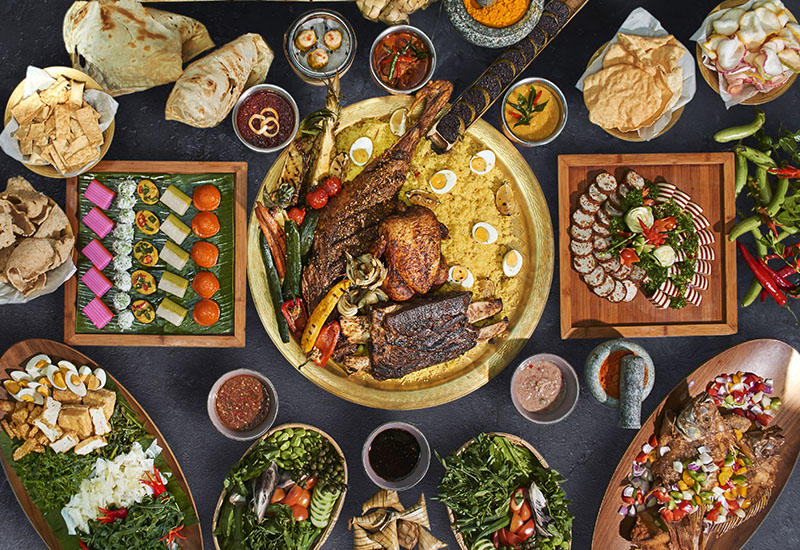 After an overwhelming response last Ramadan, Latest Recipe is bringing back its Santapan Muhibbah buffet spread, consisting of 7 rotational menus. Executive Sous Chef, Chef Budiman has prepared an array of traditional Malay dishes with a twist, such as Rendang Ayam Pencen and Ikan Keli Berlado Asam Keping, as well as Indonesian-style terung balado, Thai som tam and more. Set menus are also available for delivery and pickup options.
Santapan Muhibbah 2.0
13 April 2021 to 12 May 2021
RM178 nett per adult / RM89 nett per child
Set menus 1, 2, 3 and 4 (per person basis)
RM80-90 nett per person
Orders can be made up until noon on the day, for the day (3 hours' notice required for delivery/pick-up)
Set menus 5 and 6 (for 4 persons)
RM300 for four persons
(24 hours' notice required for delivery/pick-up)
All delivery and pick-up orders can be made via ODDLE here. For reservations and enquiries, contact +603 2263 7434, email dining.lmkl@lemeridien.com or click here.
The Courtyard, Pavilion Hotel Kuala Lumpur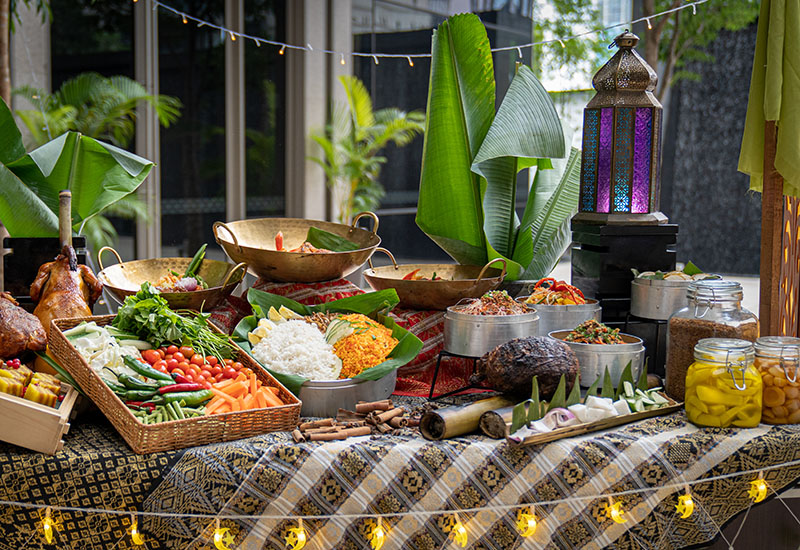 Celebrate the Muhibbah spirit at The Courtyard's al fresco setting, highlighted by a bountiful buffet spread and festive music. Expect live-action and carving stations, well-loved homecooked dishes and hawker favourites including Shawarma, Ayam Golek, Bubur Lambuk, Satay and Rendang Tok Perak, as well as desserts like Apam Balik, Ais Kacang and Cendol. Delivery set menus are also available, inspired by Malay, Chinese, Arabic or Western cuisines.
Muhibbah Malaysia Buffet at The Courtyard
16 April 2021 to 12 May 2021, 6:30pm to 10:00pm daily
RM148 per adult (early birds pay RM108 from now until 12 April)
RM74 per child or senior citizen (early birds pay RM54 from now until 12 April)
Muhibbah Feast At Home – Delivery by The Courtyard
From RM180 per set for four persons
For reservations and enquiries, call The Courtyard at +603 2117 2821, WhatsApp +6017 206 8805 or email thecourtyard-pavilionhotel@banyantree.com.
Vasco's, Hilton Kuala Lumpur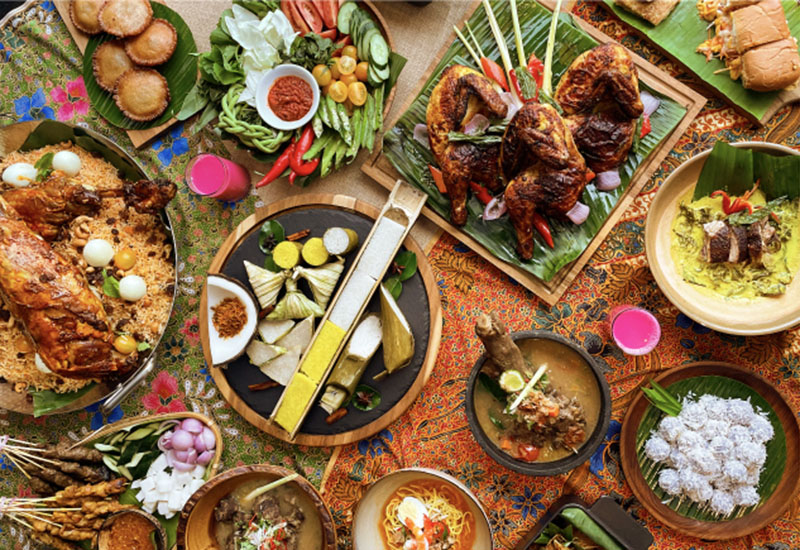 Chup! Makan Dulu (Pause! Eat First) at Hilton Kuala Lumpur, where a hearty Bazaar Abang Jaguh Buffet Dinner awaits. Curated by a team of experienced chefs who call themselves Abang Jaguh (champion), the spread showcases each chef's specialty dishes to be served at their respective stations. Customers can also enjoy a special Pok Din Rambai live presentation while enjoying their Iftar here.
13 April to 11 May 2021
6:30pm to 10:30pm daily
RM188 nett per adult / RM100 nett per child aged 6 to 11
For reservations and enquiries, please call +603 2264 2264, email KULHI_CustomerService@hilton.com or visit www.eatdrinkhilton.com.
Kwee Zeen, Sofitel Kuala Lumpur Damansara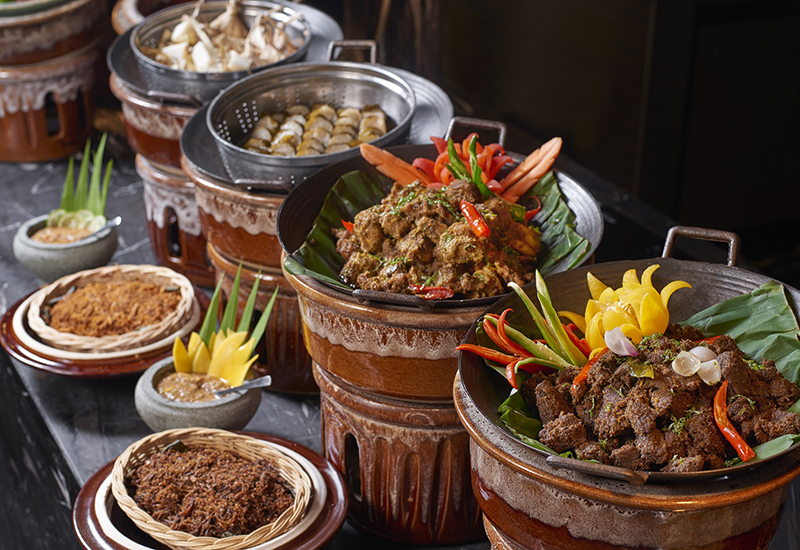 Satisfy your cravings for traditional Malay cuisine with Kwee Zeen's generous lineup of culinary delights from the 14 different states of Malaysia. Take your pick from dishes such as Ayam Percik Kelantan, Gulai Tempoyak Ikan Patin and Paru Goreng Berlada, to name a few, with 3 menu rotations throughout the fasting month. Plus, the buffet also boasts more than more than 200 Chinese, Indian, Japanese and Western favourites for variety.
Selera Serantau
14 April 2021 to 12 May 2021
RM178 nett per adult
RM89 nett per child
Early bird vouchers are available from now until 12 April 2021 at RM124 nett per adult.
For reservations and enquiries, please call 03 2720 6688, WhatsApp +6018 873 2028 or email HA123-FB2@SOFITEL.COM.