The new partnership puts to rest the rumours on Prada's succession plans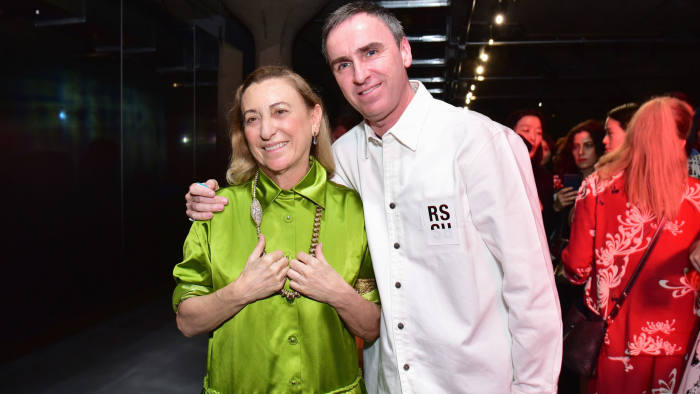 It's official: as of April 2020, Belgian fashion designer Raf Simons will be joining Miucci Prada as co-creative director.
The announcement was made at a press conference in Milan on 23 February, stating that Simons and Mrs Prada will work together "with equal responsibilities for creative input and decision-making." The partnership was also made in hopes that interest will be reinvigorated in the luxury leather group, as well as attract the new generation of high-end shoppers. Their first co-designed collection will be a Spring/Summer 2021 womenswear collection, and expected to debut in Milan in September 2020. 
The Prada Group also issued a press release, emphasising that the collaboration was born from an ongoing mutual admiration. "This partnership, encompassing all creative facets of the Prada label, is born from a deep reciprocal respect and from an open conversation – it is a mutual decision, proposed and determined by both parties. It opens a new dialogue, between designers widely acknowledged as two of the most important and influential of today." 
Raf Simons has long been an admirer of Prada's work, and attended many of her shows in the past. "Prada is a brand I've been interested in all my life. I always look for new challenges," he said in Sunday's press conference. He also admitted to identifying in Miuccia strengths that he did not possess as a designer. "I prefer not the discuss [our differences]. A good political party is usually a collaboration between people that's then offered to an audience. At this point it's just: Let's do it." 
Prada also expressed her admiration for Simons, and showed optimism in making the partnership with Simons a permanent arrangement. "I always loved everything he did, so there's not the possibility that I don't like what we figure out. The contract is forever, there is no end date to the contract." 
"It's maybe the first time in the history of fashion that two individual designers decided to work together and collaborate," commented Patrizio Bertelli, the Prada Group's chief executive, who is also the husband of Prada. He first met Simons in 2005 in Antwerp when the designer first joined Jil Sander. 
It should come as no surprise that Simons and Miuccia would make such an ideal pair. Both of them not only share a distaste for never-ending growth, but also the sacrifice of aesthetics for the sake of commercial gain. "One of the main reasons why Miuccia and I have been talking a lot over many years is that we question the position of creativity in general, in a climate in fashion that is more and more becoming, and more and more focuses, on the business aspects," Simons said. He also commented that although he and Prada was aware that commercial sales were an important consideration, he pointed out that both of them "feel the need to join as creative people in dialogue to create emotion." 
The future seems to heading in the right direction for the duo – now we can only wait with bated breath if their first collection will live up to expectations. 
Featured image: Prada
Photo: Sean Zanni © Getty