From jewellery boxes to tiffin carriers and tote bags.
Ahead of the Mid-Autumn Festival this October, brands and hotels have come up with custom-made mooncake boxes and packaging that are perfect for the season's gifting. As per annual tradition, we've been on the hunt for the prettiest mooncake sets to share our love for the lunar-inspired cakes with loved ones.
From jewellery boxes to tiffin carriers and tote bags, these are the ones that caught our eye – doubling as keepsakes of this year's mooncake season!
Shangri-La Hotel, Kuala Lumpur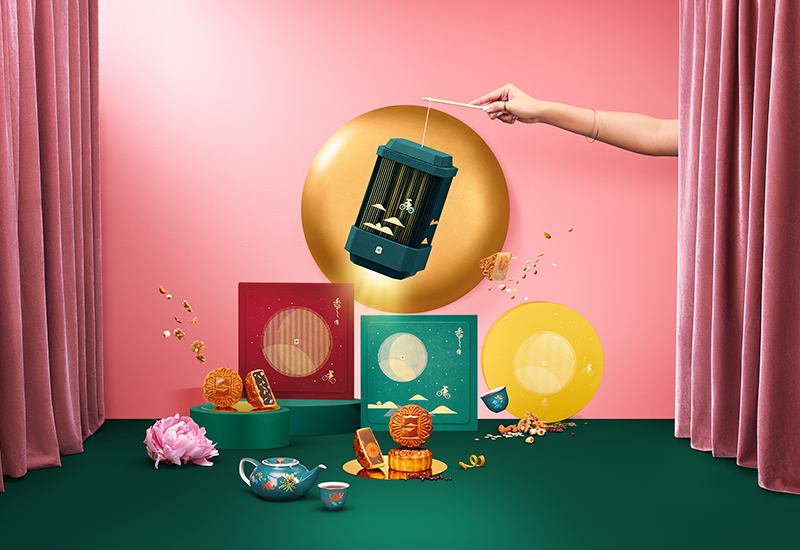 Representing a full moon that symbolises prosperity and reunion for the whole family, Shangri-La Hotel's 2020 mooncake boxes are specially designed with an oversized moon and an adorable bunny cycling towards it. Aptly called "Over The Moon", the collection comprises of a selection of four boxes including the Signature Gift Box and Horizon Gift Box which come with four pieces of either baked or snow skin mooncakes. There's also the Premium Gift Box, which comes with six pieces of Mini Golden Ping Pei with Musang King Durian; as well as the Masterchef Gift Box, featuring eight pieces of Chef John's Pandan Lotus Paste with Black Sesame and Bird's Nest. The boxes are available in prosperity-inducing red or green.
Corporate orders of 50 boxes and above on a single receipt can also be customised with the brand's name or logo with three days advance notice. For more information on the mooncakes and boxes, view the official flyer here. To purchase, call +60320743900, email restaurantreservations.slkl@shangri-la.com or order online at www.shangri-la-specials.com.
Sheraton Petaling Jaya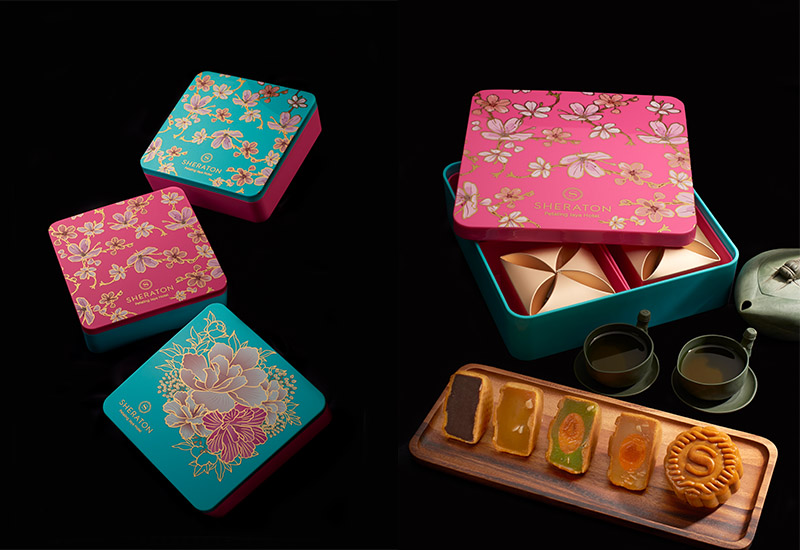 After two years of modern LED-Light Box designs, the Sheraton Petaling Jaya team goes back to basics with three stackable floral-designed mooncake boxes in a vibrant mix of fuchsia and tiffany blue. Each box features a unique floral motif: Peony, Plum Blossom or Tiffany Blossom, housing 4 mooncake flavours – Pure Lotus Paste, White Lotus Paste with Single Yolk, Baked Pandan Paste with Single Yolk and Baked Red Bean Paste.
Sheraton PJ's mooncake box is priced at RM138 each and is available for purchase from Level 3 of the hotel from 3 August to 1 October, 2020 or at Mid Valley South Court from 4 September to 1 October, 2020. For more information on the mooncakes, view the official flyer here. To pre-order or purchase, call 03-76228888 or email dining.spj@sheraton.com.
Hilton Kuala Lumpur
Paying tribute to the Chinese tradition of watching the moon in belief that it brings good luck and happiness, Hilton KL's "Royal Midnight" mooncake series comes in an attractive navy blue box resembling the night of the Mid-Autumn Festival. The box features a lunar medallion and silver embroidered clouds that add to its allure, making for an elegant case to store your trinkets or precious mementos.
Besides the Royal Midnight set, customers can still purchase last year's Hilton X Christy Ng handbag cum mooncake box. All mooncake collections are available for purchase at the hotel lobby or online at www.takehome.hiltonkl.com from now until 4 October 2020. For more information, call +603 2264 2264.
Mandarin Oriental Kuala Lumpur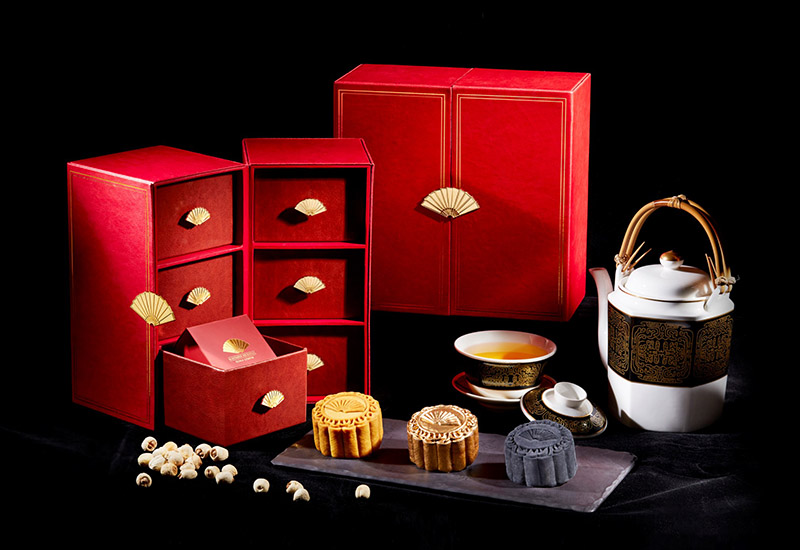 This year, Mandarin Oriental KL's signature fan logo adorns a red triple-tier box lined in gold, resembling an opulent, mini wardrobe that pays homage to traditional Chinese culture. Each box encases six mooncakes, which are offered in classic and contemporary flavours including snow skin and Malaysian single origin dark chocolate varieties, on top of special-edition mooncakes sprinkled with edible gold dust.
Volume discounts are available for corporate clients interested to purchase in large quantities. For more information or to make a purchase, visit the Mandarin Oriental Online Shop Kuala Lumpur or the Mid-Autumn Festival Desk from 9am to 9pm daily at the hotel's lobby. For more enquiries or orders, please email mokul-lpoheen@mohg.com.
W Kuala Lumpur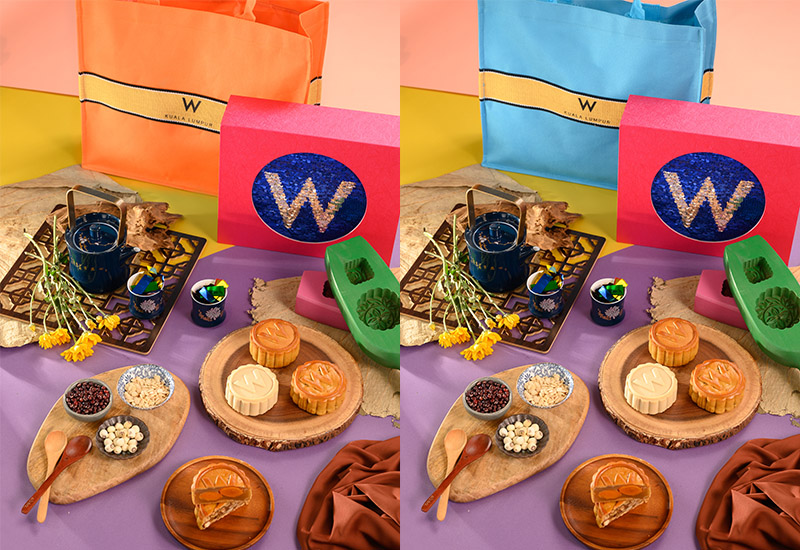 True to its bold, out-of-the-ordinary style, W Kuala Lumpur presents a pop-orient-inspired "Go Over the Moon" collection to celebrate Mid-Autumn Festival 2020. Designed in collaboration with gallery curator Edith Ho and artists Jonny Zerox and Lim Kok Hong, who form the Gung HO collective, the collection features whimsically-designed individual mooncake boxes with colourful Asian influences. The complete set features 4 mooncakes of your choice packed in a dazzling reversible sequined box that comes with a tote bag in either bright tangerine or sky blue, which you can carry around even after the festival.
The "Go Over the Moon" set is available at W Kuala Lumpur from 15 August till 1 October 2020 and at Pavilion Kuala Lumpur's Mid-Autumn Festival showcase from 9 September till 1 October 2020. For more information or to purchase, email bf.wkualalumpur@whotels.com or contact 012-3479088.
EQ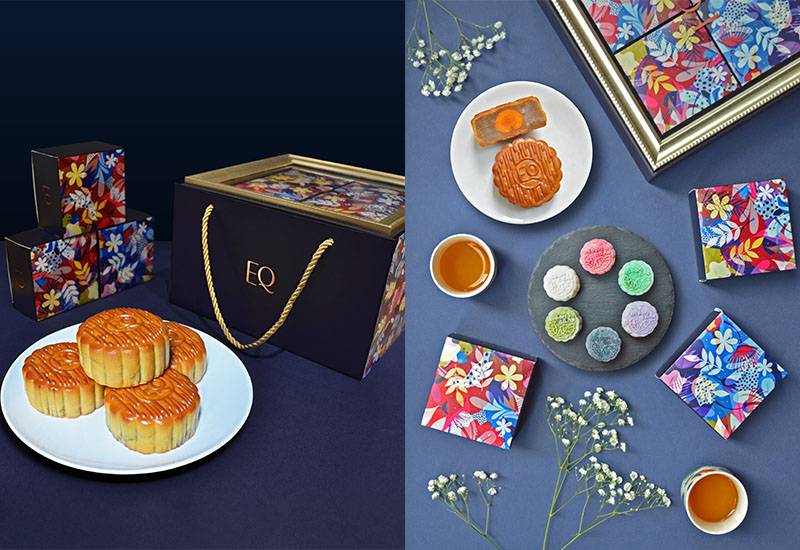 Dubbed Celestial Treasures, EQ's mooncake collection includes two limited-edition mooncake boxes that are convertible into photo frames upon disassembling. Each box features vibrant floral patterns that symbolise the joy of coming together during this season and carries either four or six mooncakes handcrafted by the hotel's culinary team.
The Celestial Treasures collection is available for dine-in, takeaway and delivery at the hotel's all-day dining restaurant, Nipah, from 3 August to 1 October 2020. Early bird promotions apply for orders from now until 31 August 2020. View the full mooncake selection here. For more information or to make a purchase, email dineateqkl@kul.equatorial.com or call +603 2789 7839.
New World Hotel Petaling Jaya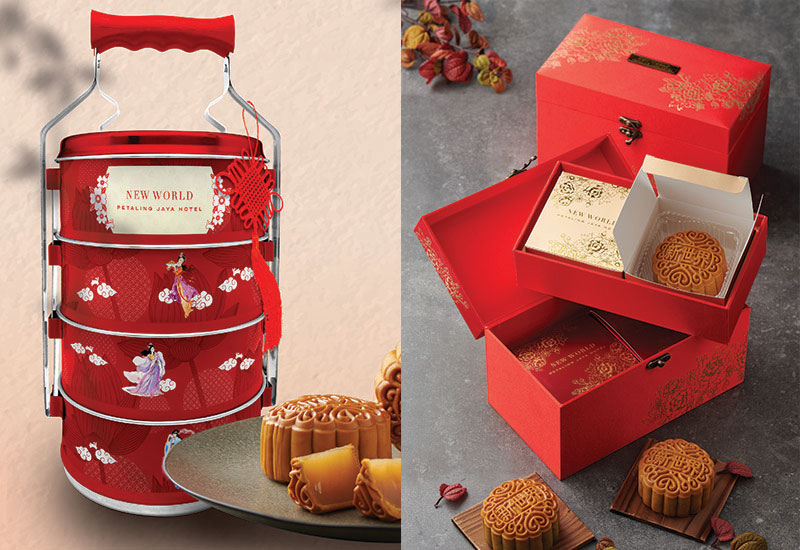 If you're looking for a pretty yet practical mooncake set, New World Hotel PJ's four-tier tiffin carrier set might just tickle your fancy. Inspired by Peranakan traditions and culture, the "Timeless Traditions" tiffin is decked with intricate Chinese artwork and comes with four traditional or limited-edition mooncakes. Alternatively, the hotel is also offering an elegant red mooncake box which can be reused for jewellery storage.
Prices start from RM128 nett per gift box of four pieces and are available from 1 August to 1 October 2020. For more information or to purchase, call 03-7682 0000 / 010-216 3810 or visit the official website here.
Photos courtesy of respective hotels