It's been quite a month for super-SUVs on both the international and local fronts. Whilst the former sees two particular Italian rivals stealing the headlines (more of these on FirstClasse soon), the latter saw the much-lauded arrival of the Aston Martin DBX707 just recently, and here's what's in store for keen prospects.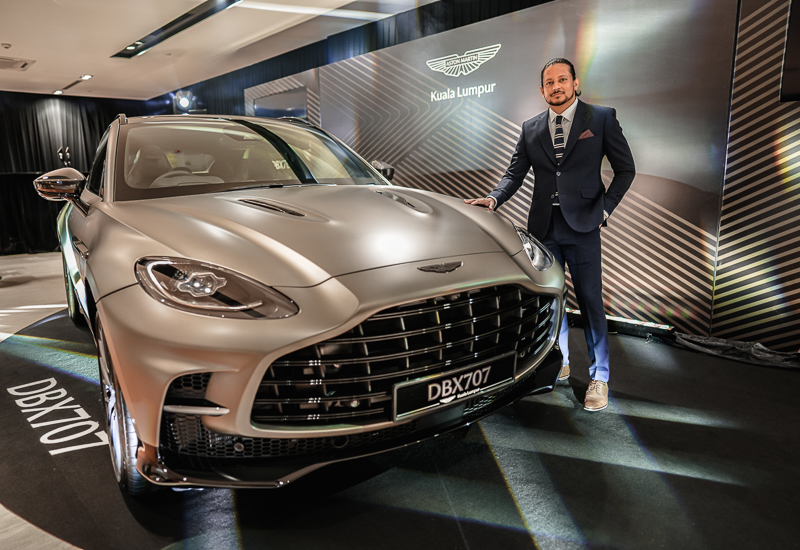 As it stands, this British offering is the fastest and most powerful super-SUV on sale in Malaysia currently. As its DBX707 naming implies, this is the much hotter version of the famed Aston Martin marque's groundbreaking first SUV model, which packs an enhanced powertrain that outputs 707 PS (697 HP) and 900 NM. In contrast, it makes the base DBX's 550 PS (542 HP) and 700 NM readings look somewhat 'tame'.
Much of the extra oomph was made possible by Aston Martin's own in-house tuning of the Mercedes-AMG-supplied 4.0-litre V8 twin-turbo mill powering the DBX. It's also paired with a specially-tuned 'wet clutch' 9-speed automatic transmission plus all-wheel-drive (AWD), the former now primed with a shorter final drive ratio and working in tandem with a trick electronic differential suite.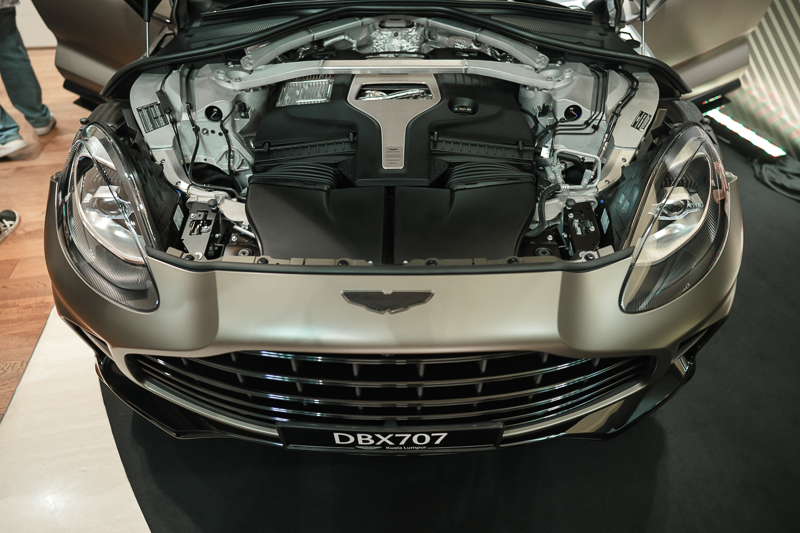 Altogether, the DBX707's uprated powertrain and enhanced driveline grant incredible performance and speed, with 0-100 KMH taking just 3.3 seconds whilst a V-Max stands at a figure of 310 KMH. Yet again, these also make the base DBX's respectable 4.5 seconds 0-100 KMH sprint time and 292 KMH V-Max figures seem somewhat 'tame'.
To match its heightened performance abilities, Aston Martin has also brimmed with DBX707 with carbon ceramic brake rotors as standard, and they're one of the largest ever fitted to any road-going car – 420mm up front and 390mm at the rear. These discs are grabbed by six-piston callipers that offer tremendous bite and halting ability, with the whole system also contributing to overall weight reduction too.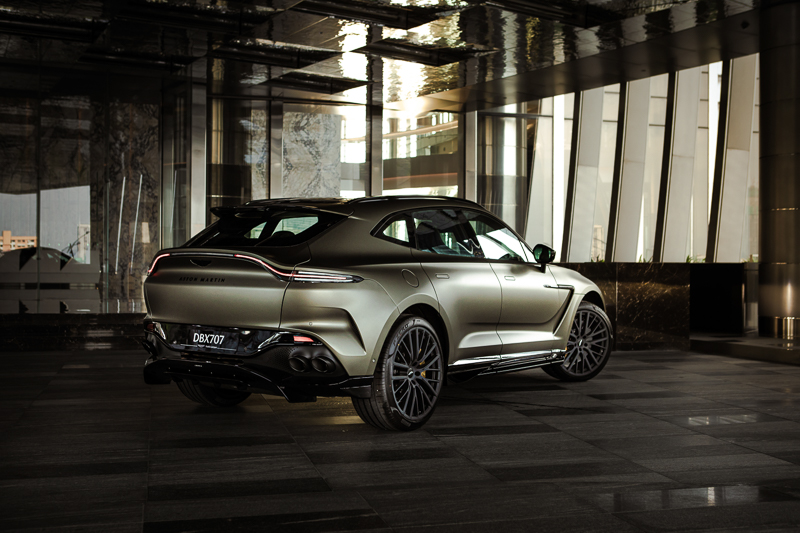 As a driver-focused offering, the DBX707 comes laced with a few other notable enhancements to back its performance claims up. Highlights include "Race Start" (Aston Martin brand lingo for launch control), the addition of new 'GT Sport' and 'Sport+' driving modes, as well as revised active logic in the AWD transfer case that enhances control between the driveline and ESP system to deliver a more natural, sports car-like drive experience.
As if these weren't enough, the monstrous powertrain mentioned earlier is also matched with a new and specially-tuned quad-exhaust system. This, according to Aston Martin, has been tuned to deliver a unique sound signature that creates greater emotional engagement on the move. The fact that these are fitted with a svelte satin black finish only adds further to their welcomed presence.
Speaking of aesthetics, this is also another area where the DBX707 stands significantly different from the base DBX it underpins. That's because, in this form, it sports a mean new stance thanks to the sharp and aggressive full aerokit it wears, which Aston Martin says were specially crafted to improve the DBX707's overall aerodynamics.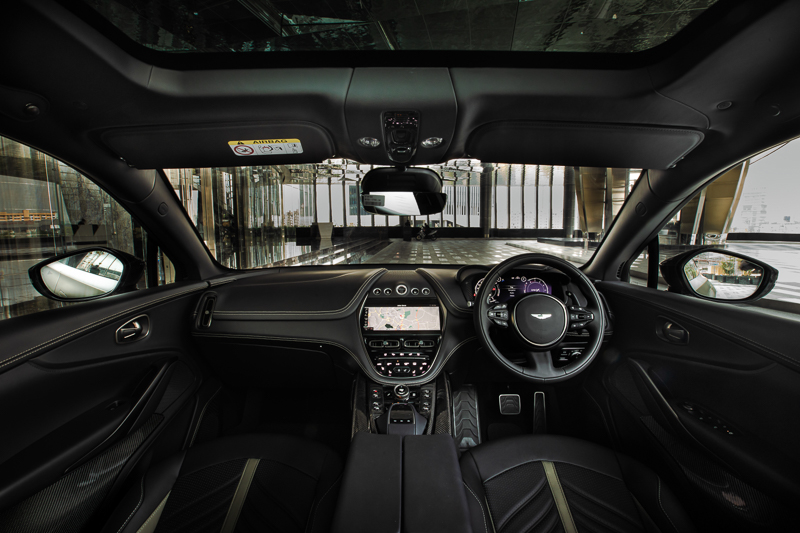 Other noteworthy changes can be seen with the front fascia too as the DBX707 gets a larger new front grille with a pair of redesigned horizontal LED DRLs flanking it. At the rear, things still look familiar, though there's now both a new massive rear spoiler and rear diffuser assemblies to set it apart.  Together, these give the DBX707 a much more distinct look, thus making it unmistakable for its lesser sibling.
Yes, while this may be an all-out performance special of sorts, no amount of luxury was traded off for the DBX707 in its quest for more speed. Past the soft-close doors, the DBX707's cabin can be trimmed in any of the three packages Aston Martin offers – Comfort, Inspire and Sport. All seat options come with 16-way electric adjustment plus heating, as well as Piano Black veneer that drapes across the cabin.
If these aren't what you seek, then fret not as carbon fibre and bronze metal mesh finishes are also available as options. Apart from that, avid prospects with eclectic taste and flair for design will be glad to note the option to commission the DBX707 through the Q by Aston Martin bespoke personalisation service present.
So what's the price of the DBX707's delivery of high-speed style and luxury? Well, it's no bargain to say the least. Pricing starts at RM1,098,000 and that's excluding duties, taxes, options, customisation, and the optional 20-year extended warranty coverage the brand has on offer.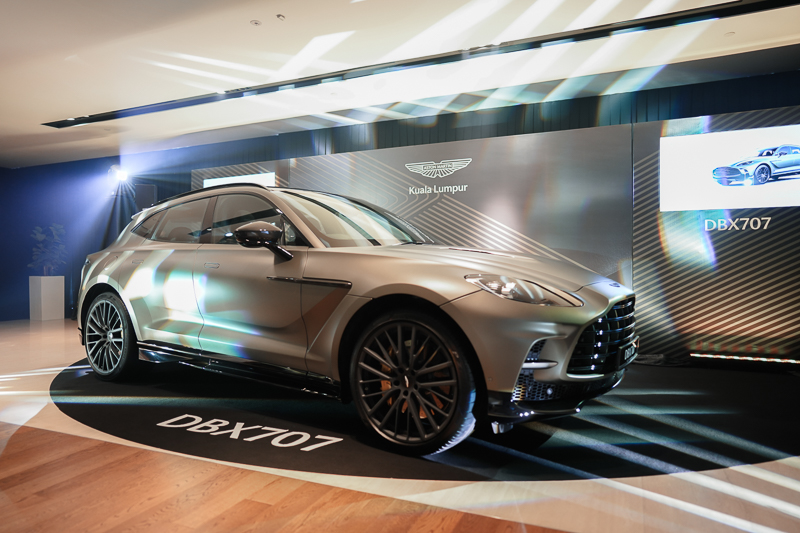 Orders for the Aston Martin DBX707 can now be placed with Aston Martin Kuala Lumpur (Wearnes Quest Sdn Bhd) via its flagship brand showroom that's nestled within the lobby of the Etiqa Twins Tower off Jalan Pinang, Kuala Lumpur.