Come Chinese New Year, there will be a few key staple dishes on the dinner table. Between the festive tossing of yee sang and the hearty digging in to a feast of luxurious ingredients like prawns, abalone and scallops, one can't miss the poon choi.
Literally translated to mean a "big bowl feast" in Cantonese, the poon choi is the literal amalgamation of all things festive. Its vast dish welcomes all to share the joy, its deeply layered ingredients is a nod to the depth of familial ties and its variety in ingredients serves a reminder of the many bountiful luck and good things one has in one's life.
"The dish and its name are symbolic of fortune and having this served during Chinese New Year reunion dinners is a sign of the wealth and affluence of the family," shares Executive Sous Chef Tan Tzaan Ling from EQ Hotel. "It is particularly popular during Chinese reunion dinners because it is a great way to have each individual family member's favourite foods served together at once with mouth-watering homemade sauces. It represents festive reunions with chatting and laughing and, of course, delicious food. The food is full, blessing those who eat it to earn large sums of money for the coming prosperous year."
The story of how the poon choi came to be is equally rich in fable. According to Chef Tan, the poon choi traces it roots all the way back to the Song Dynasty (AD1132-1279) when General Wen TianXing and his army retreated to the Dong Guan province, today known as Shenzhen.
The villagers, without much to offer the General, collected all their best produce and seafood in a large basin, cooked them together and served it as a revered offering to the General for his patriotism. The practice continued for every special occasion and a new tradition was soon born.
With time, the way of serving poon choi also evolved. The wooden pots made way for antimony pots that were stewed over small hot stoves and today, one can find poon choi served in metal or even clay varieties of pots.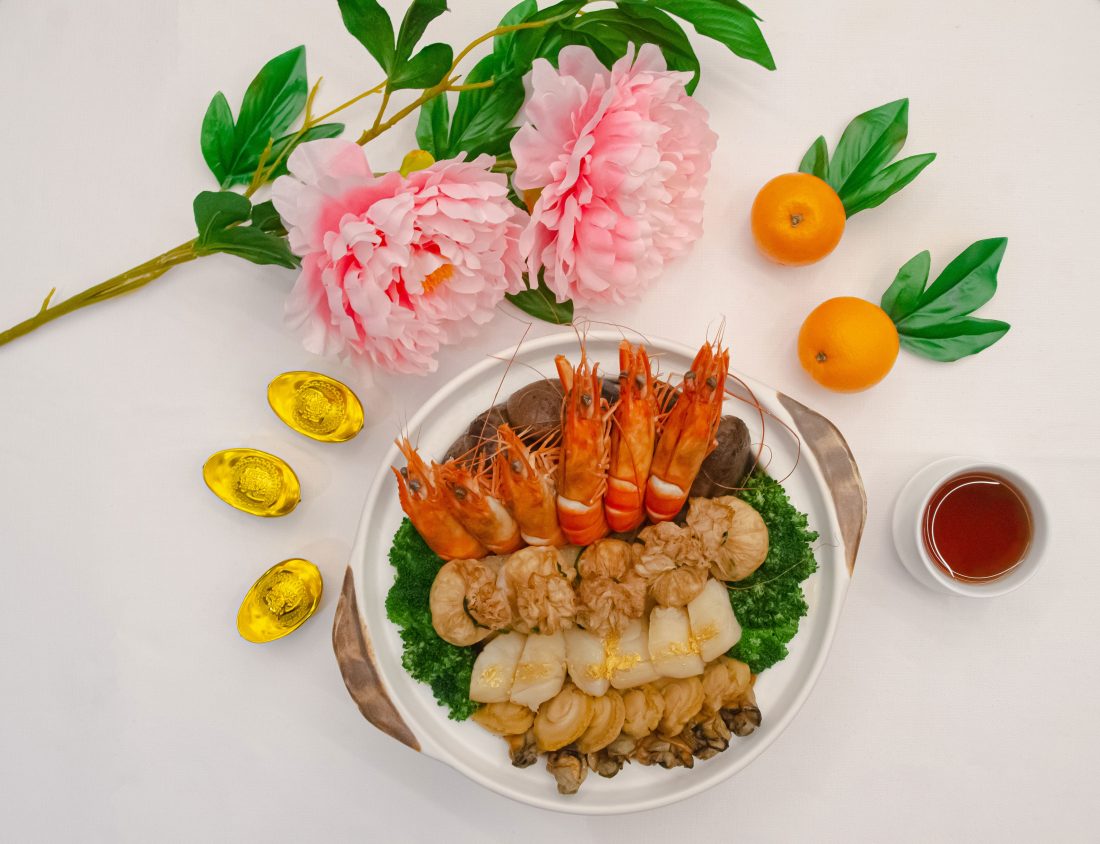 Delicious and auspicious
Regardless of its vessel, a good poon choi meets a few characteristics.
"An authentic poon choi should be able to elevate the flavours of the simple ingredients," tells Chef Tan. "It should also be layered properly with drier ingredients on the top and other ingredients that are better at absorbing flavours at the bottom."
The key in getting it right is in the layering. Chef Tan shares: "There is usually white raddish, long cabbage, free range chicken, roasted duck, pork, dried oysters, abalone, fish maw, sea cucumber, mushrooms and occasionally money bags. Occasionally you might find some with lamb, shark fin and even squid. Each ingredient has an auspicious meaning, for example, radish symbolises good luck, bamboo branches represent contentment and happiness, and fish balls represent more than a year."
Chef Tan says, "The typical eight seasonings include red wine leeks, preserved bean curd, oyster sauce, soya bean paste, superior light soy sauce, fennel seeds, dried lohan, cinnamon and clove. The preparation involves eight techniques that are consistently found in Hakka cooking – simmering, thickening, quick-frying, deep-frying, braising, pan-frying, boiling and pot-stewing. Stacking from the bottom to the top is white radish, Chinese mushrooms, dried bean curd, free range chicken, roasted duck, fish maw, sea cucumber, fresh scallops, fresh prawns, grouper fillet and 10-head abalone"
While the early poon choi consisted of humble ingredients like garden and root vegetables, it has become increasingly expensive as families try to show their appreciation for neighbours and associates with luxury ingredients. A bowl of poon choi can go up to a high three figures.
"When gifting, the higher the quality of the ingredients shows more appreciation to the receiver," Chef Tan says. "Affluent families will put in expensive ingredients like abalone, dried scallops and shark fin. It is believed that the more abundant the poon choi, the more luck they bring in to the new year."
No matter the evolution, no matter the elevation, the true appeal of poon choi returns to its simplicity. It is a flavourful bowl of togetherness, with something to offer to everyone gathered around the dinner table.
As Chef Tan puts it, "My favourite part of poon choi is the bottom most layer where all the white radish, long cabbages, mushrooms and bean curd skins have absorbed the juices and seasonings from the meat and seafood ingredients to be packed with delicious flavour. You have to wait and leave the best for last!"
EQ Hotel's poon choi offerings this year is priced at RM888 for 6 persons. Log on to the official website here for more information or to place your orders. 
(Photos: EQ Hotel)