If his previous string of Deadset Arvo popup dining experiences are anything to go by, one can safely hazard a guess that doing things the conventional way is not Chef Joeri Timmermans' modus operandi.
He's set up shop in a hole-in-a-wall cocktail bar, he's taken over one of Kuala Lumpur's tallest towers. Now, he's found an enclave that's all his own to smoke, grill and barbecue to his heart's content his repertoire of meats, seafood and unconventional produce. They don't come paired with your typical wine list either – expect a medley of craft beer, sparkling sake, natural wines and even small-batch umeshus.
The next time you're driving by Jalan Tun HS Lee, spot the obscure fuschia circle on a stretch of unsuspecting glass pane wall. Push past the hidden door and be greeted by a dining room dripping with character of pared down industrial décor, centred around a 5.8m long wooden table. Right at the back, you may or may not find Chef Joeri already plating his next plate of mischief at his kitchen counter.
There will be no signboard to your evening at Pixies, just good old intuition on what tastes and feels good. You have been warned.
To start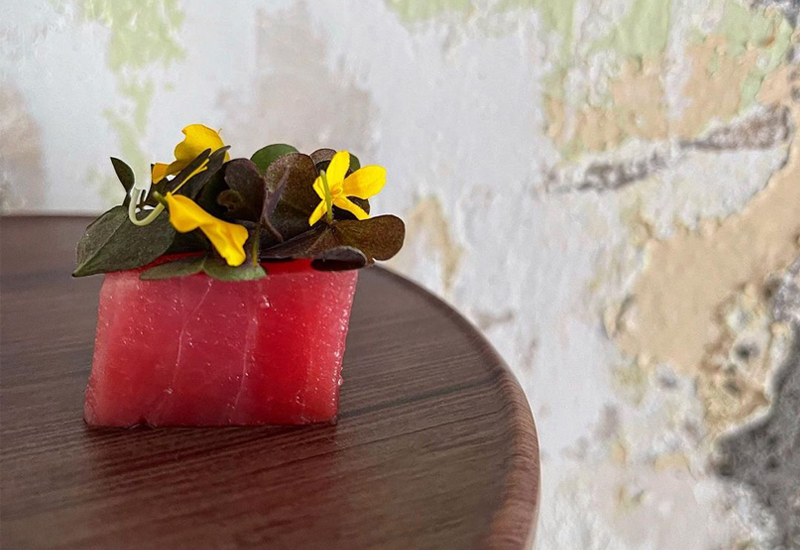 Upon seating, a good old fashioned glass of negroni is pushed in to your hand to start you off on the right note. Sit back, sip up and relax while the starter of the night gets put together.
Dainty cubes of lean akami tuna make for easy bites, topped with pickled ume for a touch of brightness and sorrel leaves for herbaceousness. For crunch, it is accompanied by crispy potato fritters dressed in the prized brine of the caviar on top, tied together by crème fraiche. To tickle the palate awake, a Shichiken Yamanokasumi sparkling sake washes the creaminess of the tuna and fattiness of the caviar down with just the perfect hint of bubbles.
To ease in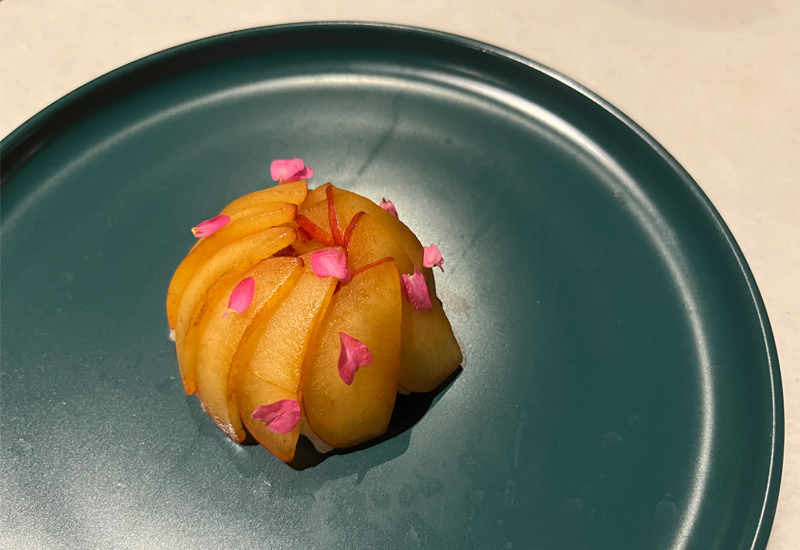 A cold plate comes next, presented in a visual feast that's equally delicious for the eyes, Instagram feed and eventual lips. Gold Band snapper is served sashimi-style, cubed and tossed in crème fraiche. The sweetness of the fish is further drawn out by slices of fresh plum, arranged to cover the fish like a small blooming flower, dotted with more edible flowers for visual flair. All but a smudge of yuzu kosho pepper is added to lend a small punch of spice. The delicate flavours of fish and plum are met note for note with a Chill Bill Mosaic IPA beer, locally brewed and bursting with wholesome rounded flavours of hop, berries and tropical fruits.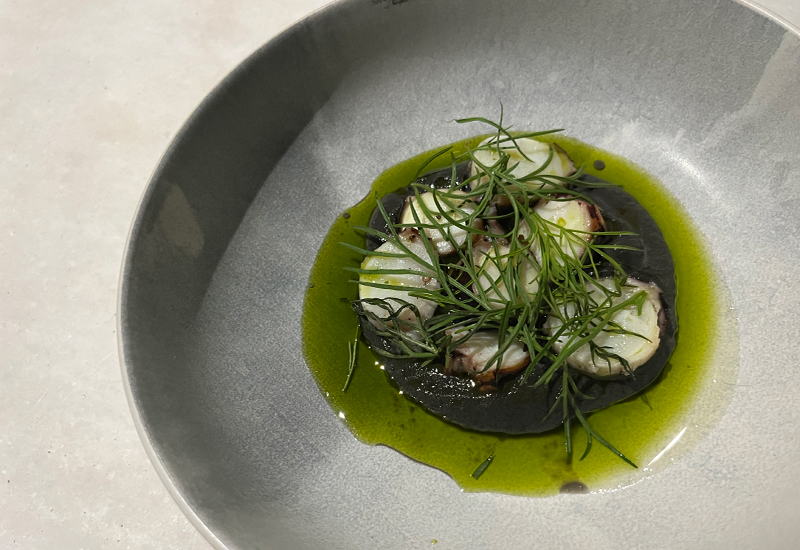 Chef Joeri teases a small sneak peek into his dexterity with a charcoal open fire grill with a Hokkaido octopus dish next, flash seared to just the right tenderness and then sliced into coins and served on a bed of bittersweet daikon puree. Tinting the puree with the octopus ink lends it a minerality that only further highlights the natural sweetness of octopus and daikon while a drizzle of roasted herb oil lengthens all the best flavours to a delicious lingering tail. To match, the octopus is served with a Chitosetsuru Tanrei sake, a gentle sake with a body reminiscient of powdery soft snow that is the product of a long patient fermentation from the oldest brewery in Hokkaido.
To warm up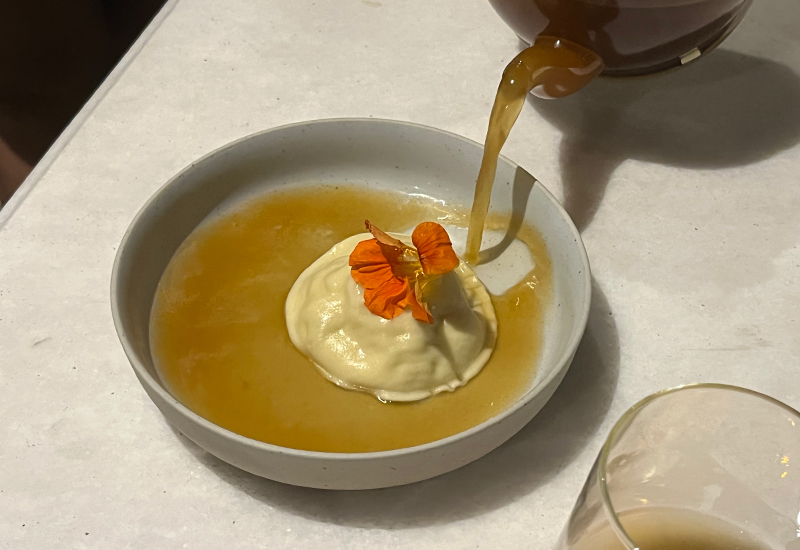 A heartier dish that warms the stomach presents itself next, served as ravioli stuffed with minced meat and ricotta cheese. The meat pillow  bites into bursting savouriness that is further intensified in flavour with a broth of burnt onion dashi. The dish's unique earthiness from cheese and burnt onions is matched with a natural Chateau Fabre Gasparets Le Camin Viognier 2019 orange wine, made by mixing with Viognier grapes that were fermented on vine.
To wow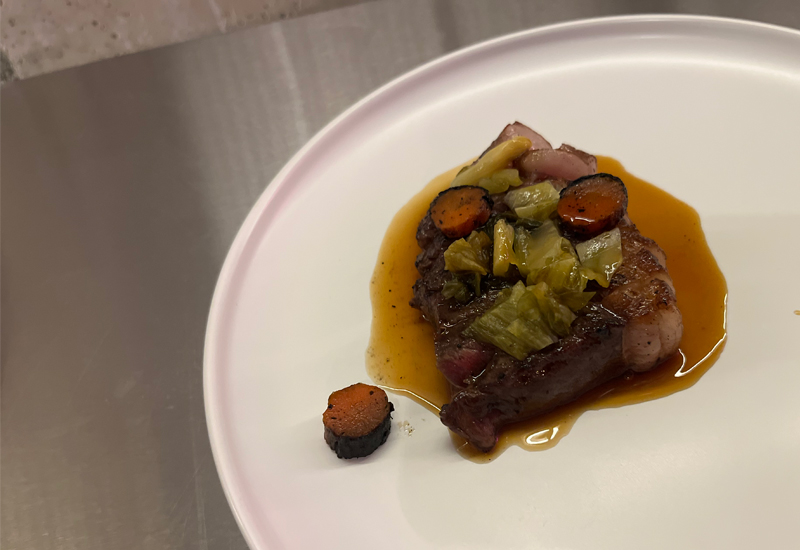 Anyone who's been to any of Chef Joeri's previous Deadset Arvo popups will be familiar with his love for charcoal fire grilling underlining his brand of contemporary Australian barbecue. This makes a stark return with the Wagyu main, flame-grilled to the perfect medium rare. A smoky bark disguises a tender pink inside, juicy to the bite and intensifying in flavour the longer you chew. It is served with burnt carrot to continue on the elements of smoke and pickled mustard greens for bite. To match the boldness of the beef's flavour, a French red Fabre Gasparets 'Les Jumelles' 2018 wine is selected to pin flavours up a notch
To end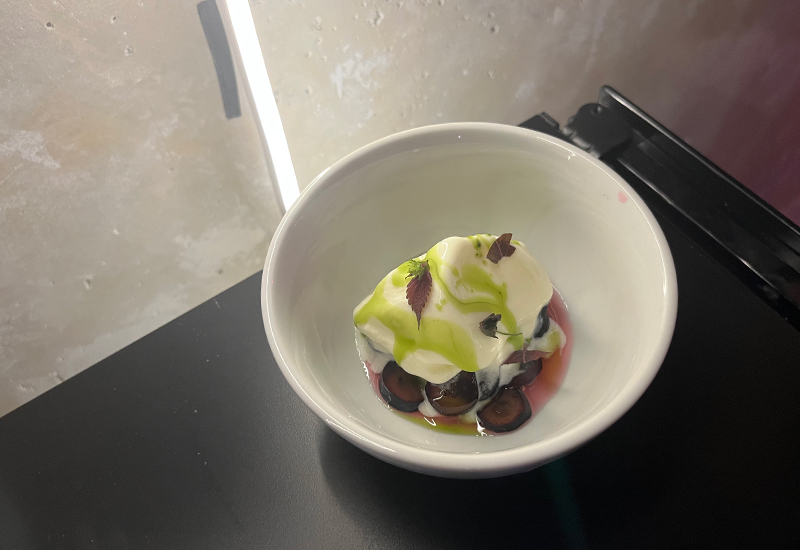 For a sweet end, Chef Joeri looks to the comforting milky sweetness of yoghurt which he turns into a sorbet. Sweetening the tartness of yoghurt are fresh yuzu grapes. A thin coat of shiso oil coagulates  into a delightful butter upon contact with the cold of the yoghurt sorbet, resulting in a delightfully contrasting dessert that bursts with fresh flavours amidst the creamy textures. Lifting flavours is the Tsuruume Kanjuku Ume that's sweet, round and whole, made from ripe plums in a brewery that's over 1000 years old in the Wakayama prefecture.
Pixies' 7-course menu is priced at RM388 for food only and RM488 with drink pairing. For more information or to make your reservation, visit its official Intagram page @pixies_kl. Reservations are available via direct message only.