Since Piaget debuted its Piaget Polo in 1979, it has held its own as the maker's celebrated incarnation of the luxury sports watch. It is sporty enough to not be stuffy, yet dressy enough to grace one's more elegant events that require a touch of formality.
It stands tall among the great sport watches with its exceptional aesthetics and dependable functionality. This year, one of Piaget's most important names strips down and goes skeleton to reveals its beating heart in all its mechanical glory.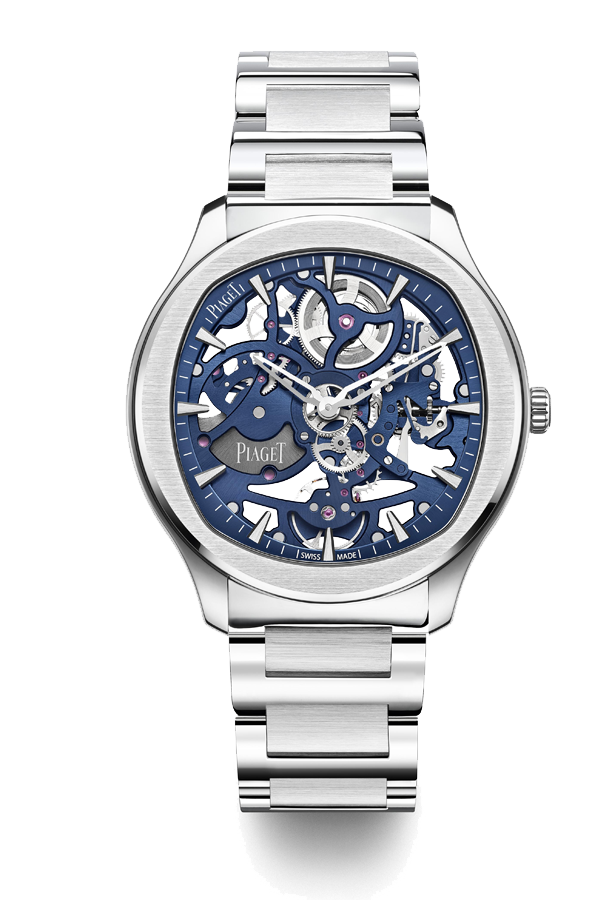 Piaget Polo Skeleton
The new timepiece is as striking as the straightforwardness of its name: It's a fully skeletonised version of its celebrated Piaget Polo,yet remains fully recognisable by means of its curved case surmounted by a round bezel, its cushion shaped dial opening and its slim profile.
We dare say it's nothing short of a wearable work of art. It is a 42mm steel-cased sports watch measuring just 6.5mm thick and powered by Piaget's 1200S1 self-winding, manufacture movement – entirely developed and produced in-house – which is a wafer-like 2.4mm thin.
Despite the intricate appearance of the pared- down components, the Polo Skeleton remains just as robust, reliable and practical as the other models, featuring 44 hours of power reserve and water resistance down to three atmospheres.
Additionally, the polished and satin-finished 'H' design integrated bracelet that has become synonymous with the Piaget Polo has also been revised in order to provide an interchangeable function. This enables it to be swapped effortlessly for the additional interchangeable leather strap supplied with each watch, adding to its versatility and lending an extra dimension to the Piaget Polo Skeleton's already distinctive character.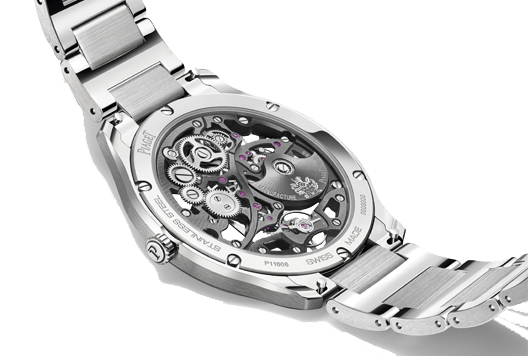 Getting it ultra-thin
Piaget has long been renowned for creating mechanisms of exceptional slimness. With this new Piaget Polo Skeleton, it set-out to marry its two signature disciplines by developing calibres that were both exquisitely thin and meticulously skeletonised.
In order to successfully develop this, Piaget's designers and engineers had to create a case that was a remarkable 30 percent thinner than existing versions, and an evolution of the Piaget 1200S self-winding skeleton movement powered by an off-centre micro rotor engraved with Piaget coat of arms. The challenge was to maintain the bold and unmistakable look that gives the Piaget Polo its strong personality while simultaneously achieving an unprecedented combination of elegance, usability and comfort through the thinnest case ever seen on the model.
This was a challenge Piaget met exemplarily, resulting in two highly individual designs – the first with a movement in Piaget Blue PVD, the second in a slate gray finish.
In each version, the famous Piaget Polo case has been reduced to a mere 6.5mm thick (almost 3mm slimmer) while the intricately skeletonised movement and even the hands themselves have been pared-down for the ultimate in transparency. A clear sapphire crystal case back, meanwhile, allows the meticulously finished and highly detailed movement to be seen and appreciated from both sides of the watch.
Less is more they say, and it certainly rings true with the Piaget Polo Skeleton.
Learn more at the official Piaget website here.
(Source:Piaget)