Parmigiani does not believe in specialisation. In fact, it strives for inclusivity and sharing of knowledge, a spirit that can be found in the very roots of its founding as a restorer.
Watches, even those of the grandest complications, are made for the simple purpose of telling time. With time being a universal scale, watches should hence, like the element they measure, be universal by transcending trends, appealing to anyone and everyone, and appreciated across the board of consumer.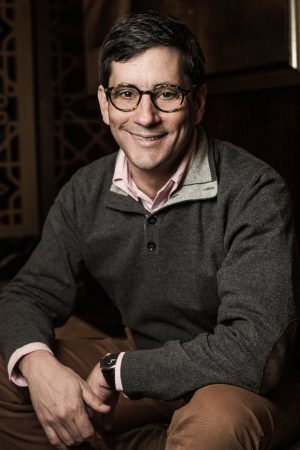 Such is the belief of Swiss watchmaker Parmigiani Fleurier, at least. Credit it to the brand's more forward thinking DNA due to its youth in the oldest industries in the world – Parmigiani was only founded as late as 1976 – but it's made a name for itself as a maison that has a little something for everyone with a certain horological maturity.
"It's not a question of age. Some people start collecting very young, some people only start buying high end watches when they retire," tells CEO Davide Traxler. "It certainly is something for a consumer who is self-knowing, who is confident and who is aware. He makes a really prepared choice."
Parmigiani does not believe in specialisation or brand superiority. In fact, it strives for the opposite of inclusivity and sharing of knowledge, a spirit that can be found in the very roots of its founding as a restorer.
From restoration workshop…
Parmigiani's history as a restorer is one of the main reasons that drew Davide to the brand.
"I'm a person who really likes history and I think that history is all a piece of us," Davide tells. "It's always been fun for me throughout my career when I see all these pieces coming in through after sales. They may have an engraving from a president or a dictator who gave it to a politician. You see that 'oh twenty years ago, they were close friends!"
The maison has seen pieces that were once owned by a Tsar of Russia to a Sultan of India. They come from sources just as varied, from retailers without the know-how on how to restore them or other brands who have not the expertise or tools.
"We have constant demands – some are very old pieces, complicated pieces, cylinders of 100-200 years old," Davide shares. "Some are just simple pocket watches that have real emotional value to a person. We treat them all the same."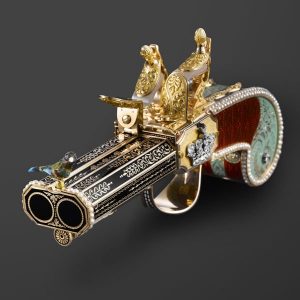 Considering longevity, Parmigiani also restores them in a way to ensure future restorers will be able to do what it does. That sometimes means recreating the traditional way of rebuilding certain parts down to the tools used.
Davide elaborates: "We want to make sure that in 100 years when someone else restores it, they can go back to the original design. A lot of effort is made to ensure that every piece is built the way it was made. For example, sometimes if something can be cut with laser, we don't want to cut it with laser. We want to cut it the way it was originally cut. That sometimes means recreating tools to work certain craftmanship but if that's what it takes, that's what it takes."
From each restoration is also an opportunity for Parmigiani to study and learn what worked and what doesn't, what has lasted the tests of time – literally – and apply that knowledge to their pieces.
"When we get a product, we're constantly learning. We apply what we learnt and make sure that everything we make is restorable. We don't use some contemporary method or material that we have no guarantee can be restored by the next generation,' says Davide.

… to a global inclusive brand
All that they've learnt hence brings them to be who they are today, a brand that is global, inclusive and always listening.
"In our trade, a mistake that was made was not listening to the market enough, not listening to the retailers enough, not listening to the consumer enough," Davide opines.
The clearest instance is a trend for all to see – the inclination of watch brands to focus a lot more on the gentlemen's offerings as compared to the ladies'. When there is something for the female clientele, it often leans more towards aesthetics than function, again painting the collection as more a sideline, an extension, a complementary supporting act rather than the star itself.
Not Parmigiani.
"We've always had a strong lady component. We've never been gender-focused," Davide tells confidently. "For many years, the watch trade merely took men's watches and put diamonds on them. Then we created jewellery pieces with quartz movements. Then around 2007 the market shifted and ladies wanted mechanical."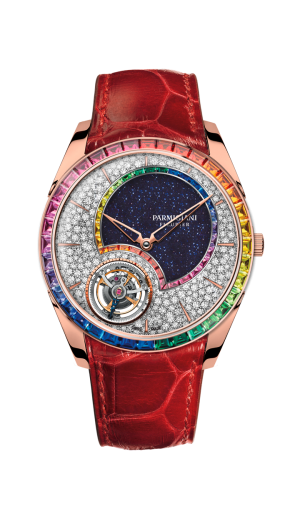 Enter pieces like the Tonda 1950 Rainbow Flying Tourbillon, a haute horlogerie masterpiece featuring double gradients of extraordinary coloured gesmtones set into a diamond snow-set dial. It's not just pleasing on the eye – it is powered by ultra-thin PF517 movement, comprising a platinum micro-rotor and flying tourbillon, the thinnest in the world.
"This is the kind of thing we're doing for ladies," Davide proudly exemplifies. "We're doing very high level of mechanical watches with depth and at the same time, an aesthetic approach, that is feminine."
Each design that gets released from Parmigiani is also a unanimous decision from the entire company.
"We don't see the idea of a vision coming from the sky or on top of a mountain," Davide gives an insight. "When we develop a product, it's always a shared idea. I will send an idea out to the market, we'll discuss it with the key markets, come back with counter ideas and it becomes an open conversation. It's very easy these days – you can message or write an email and it goes from California to Kyoto and feedback come from everywhere, everyone comes on board and everyone is part of it.
His insistence on this open discussion method is simple: "When everyone is part of it, that means when the product comes out, everyone is a co-actor of making it. So everyone's onboard."
The result are watches that appeal, are appreciated and understood by everyone, regardless of age and gender. Such is how Parmigiani strives to be a global, timeless brand that speaks to everyone.
"We are who we are, this is what we know how to do, let's do it together," Davide concludes.
Learn more about Parmigiani Fleurier at the official website here.
(Photos: Parmigiani Fleurier)