Fashion can be empowering – here are the highlights from Paris that demonstrate the fact.
The controversial Fall Winter 2020 Fashion Week has finally come to an end. What a rollercoaster ride it has been this season from the diminishing of New York's calendar, to the Extinction Rebellion march blocking traffic in London, to the coronavirus causing cancelled shows and lower turnouts in Milan.
Still, Paris carried its course with shows that did well to inspire awe and optimism amidst these uncertain times. Kanye West even managed to squeeze in his "uplifting" and "charismatic" Sunday Service (as described by attendees) over the weekend.
Fashion can be empowering – here are the highlights from Paris that demonstrate the fact.
Chanel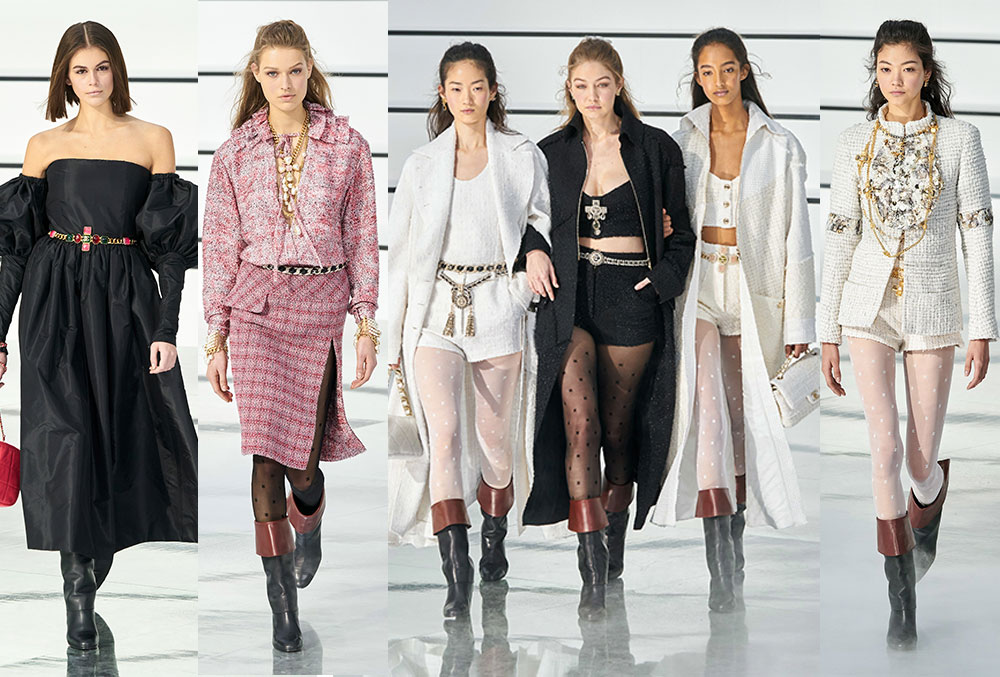 The late Karl Lagerfeld's reign at Chanel was synonymous with grandiose themed sets and showmanship – but it's Virginie Viard at the helm now. And her new direction favours ease over excess; freedom over frills. Hers is a more youthful Chanel, where models walk down the runway arm-in-arm in pairs or trios with an air of nonchalance.
Of course, Chanel's house codes were still evident in the collection: tweed jackets and suits, signature logos adorning coats, button-down dresses and a generous dose of costume jewellery. On the other hand, some might think they'd never see the day where jodphurs with snap closures and hosiery tights with interlocking Cs resembling polka dots would appear on the brand's runway. It's different in a refreshing way, and we can't wait to see more.
See also: Remembering Karl Lagerfeld through his many firsts
Christian Dior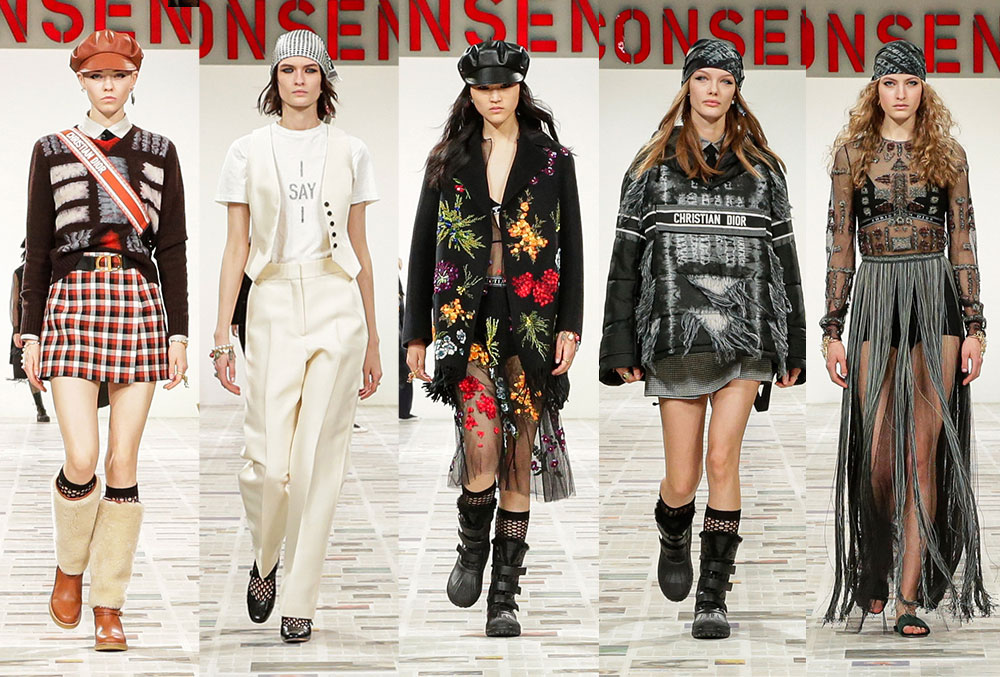 Maria Grazia Chiuri will never tire of using fashion as a voice for feminism, as her Fall 2020 presentation for Dior attests. "When women strike the world stops." "Women raise the uprising." "Consent. Consent. Consent." These were among the flashing neon signs making up the show's scenography, designed in collaboration with the Claire Fontaine collective. But there was something more personal about this collection; the designer had mapped out a teenage visual diary of her own feminist awakening dating back to the '70s.
This explains a bias-cut check ensemble inspired by Marc Bohan's tenure at the house – an era she identifies closely with. Checks appeared frequently across the collection in various styles, as did fringes, on skirts, dresses, jackets knitwear. The statement tee for the season reads "I Say I", translated from the Italian phrase 'Io Dico Io' by Carla Lonzi – which, if we may interpret in millennial speak, would mean "you do you". Indeed, the collection provided the freedom for clients to do just that.
Loewe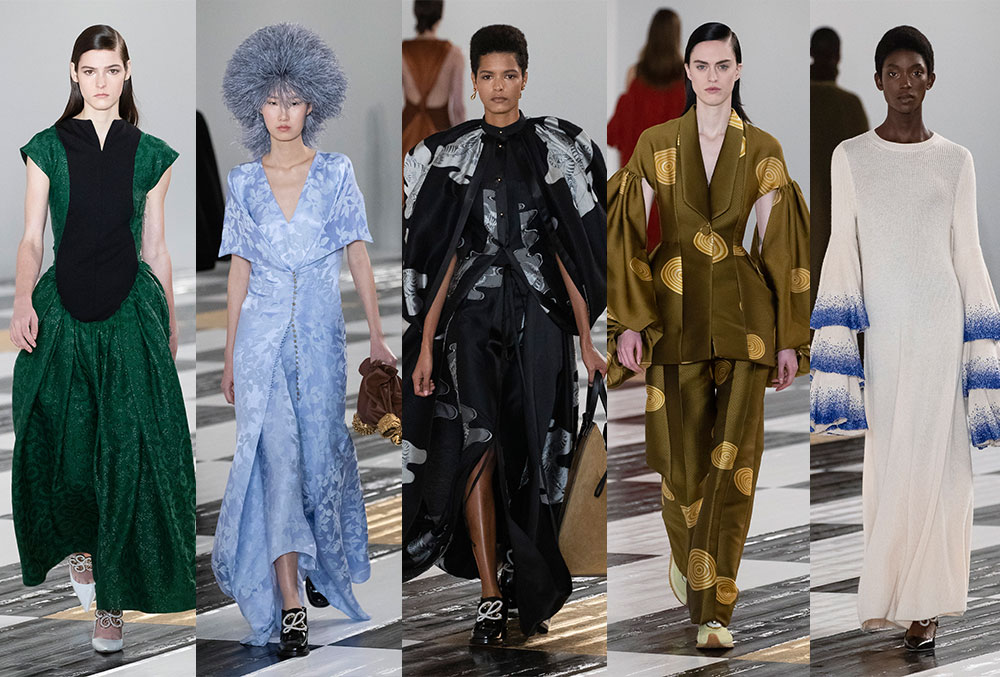 There are many ways to play with textures and silhouettes in fashion, and Jonathan Anderson is on his way to mastering them all. Collaborating with Japanese ceramicist Takuro Kuwata, the designer combined art, craft and fashion to create dramatic, regal pieces for Loewe's Fall/Winter 2020 collection that – in the words of Marie Kondo – sparked joy.
Takuro's ceramic pieces made its way onto dresses and the drawstring of Flamenco clutches. Exaggerated sleeves, narrowed waists and bold motifs were part of the fun, whilst the fusion of wool and brocade as well as cottons and jacquards offered excitingly bold contrasts. A few looks, including the opening brocade dress, reappeared in different colourways. When you've managed to create collectible, wearable pieces of art, who wouldn't want more than one?
Louis Vuitton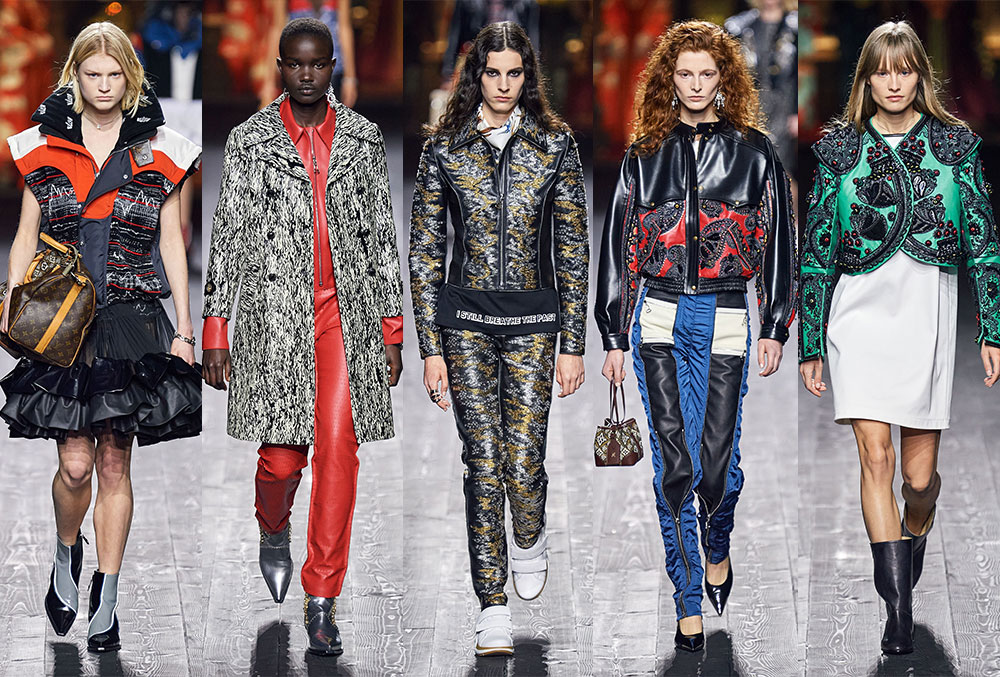 Some 200 choir singers decked in historical costumes dating from the 15th to 20th century set the tone (both musically and figuratively speaking) for Louis Vuitton's Fall 2020 show. "I wanted to imagine what could happen if the past could look at us," Nicolas Ghesquire explains of the atmosphere. How does that translate into a collection?
True to his futuristic language that draws inspiration from the past while mirroring the present, Nicolas' answer includes: athletic parkas paired with petticoats, tailored vests paired with parachute pants and embellished boleros paired with pieces that looked inspired by a sci-fi movie. For a show that would mark the end of Fall 2020 Fashion Week, this was a brilliant ode to the history of fashion – and how we're still writing it.
Saint Laurent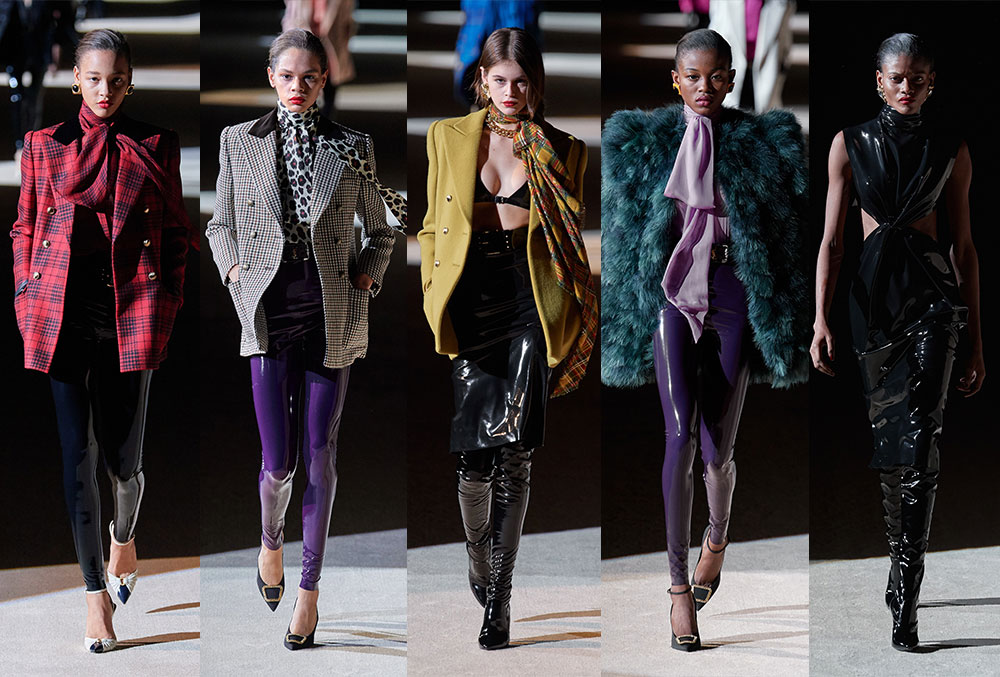 Anthony Vaccarello's latest collection for Saint Laurent can be summed up in one word: latex. But to leave it at that would undermine his intentions to celebrate women and their power to dress freely – if that meant skin-tight latex that oozes sex appeal, so be it. There was a focus on 'bourgeois elegance', a quiet tension between pleasure and restraint.
This explains why those latex tights were paired with pussy bow tops, double-breasted blazers and feathered coats. On the sensual side, there were (more) latex bra tops, thigh high boots and body-hugging dresses – surprisingly, in a variety of vivid hues in addition to the standard black. There's a sense of "I want to be my own definition of sexy" rather than "sex sells" – and that's worth celebrating.
Valentino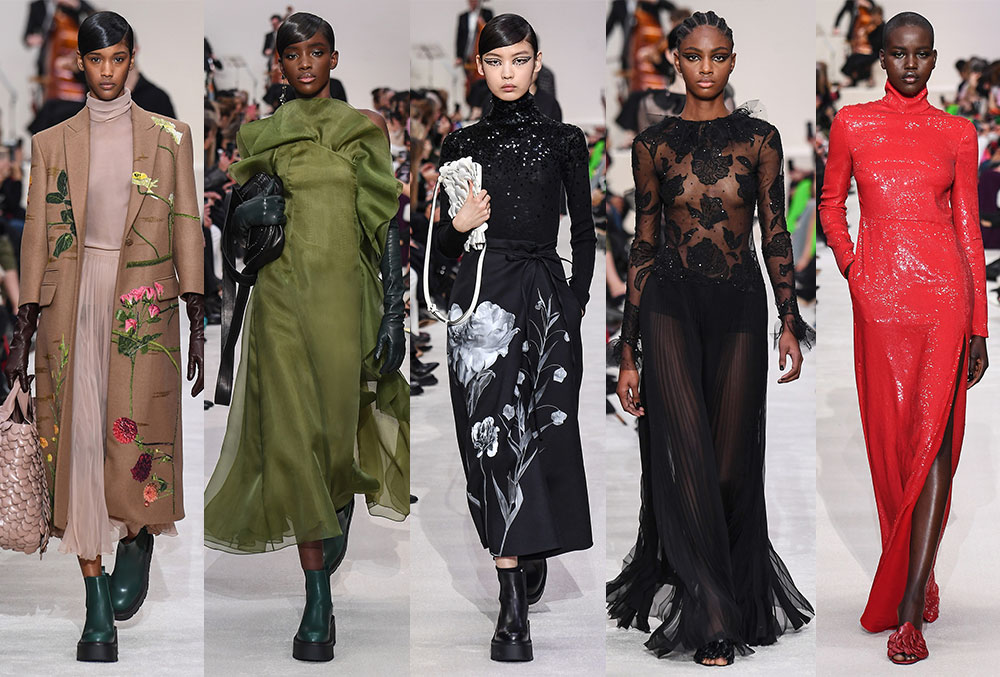 "All humans are different, and are all the same" reads the first statement in Valentino's show notes. In other words, Pierpaolo Piccioli believes it's our collective individuality that brings humanity together as one. To underscore this concept, the collection focused on uniforms consisting of tailored wear in various textures and silhouettes.
The colour palette was made predominantly of blacks, dark blues and greys, although the classic Valentino red appeared occasionally alongside neutral tones. Signature house florals were used more sparingly in this collection, either embroidered on gowns or printed in large motifs. These neo-minimalist looks served to allow the individuality of the customers wearing them to allow through –explaining the inclusive cast of transgenders, male models and curvier body types this season.
Photos: Respective brands