What's better than a collaboration between two renowned brands? A collaboration between three! Bringing together the worlds of fine tableware, fashion design and pastry art, Noritake Japan has partnered with Celest Thoi on a fine chinaware collection that's highlighted through an Afternoon Tea specially curated by the culinary team at Mandarin Oriental, Kuala Lumpur.
Meticulously prepared by Pastry Chef Suzana Anwar and her team, the Noritake X Celest Thoi Afternoon Tea invites those with an eye and palate for finer things to revel in a mid-day tete-a-tete at Lounge at the Park.
"This collaboration is our way of celebrating local designers and presenting an elevated tea experience, not just with our selection of premium teas but having our afternoon tea presented on Japan's foremost name in fine chinaware, Noritake," said Christian Tavelli, General Manager of Mandarin Oriental, Kuala Lumpur.
The collection marks the first collaboration between the Japanese chinaware brand and a designer outside of Japan, which will be exclusively sold in Malaysia. Conveying her signature design aesthetic onto the collection, Celest has beautifully incorporated delicate florals into the selection of fine china teacups and saucers, tea pots, plates and mugs.
Each flower serves a unique purpose: the Ranunculus, also known as Buttercups, symbolises charm and attractiveness; the Lupine embodies happiness, creativity and imagination; and the Hypericum, also known as St. John's Wort, represents protection and rebirth. These symbolisms are Celest's way of capturing the essence of life's beauty and purpose, and immortalising it with exquisite and exclusive chinaware.
Just as pretty are the sweets and savouries presented on the collection for the Afternoon Tea. Inspired by the flavours of Japan, highlights from the menu include a Sakura blossom yoghurt milk pudding featuring an edible flower blossoming through the transparent layer of pudding, a flower-shaped mochi snowskin raspberry cheesecake, and a unique BBQ eel with soba noodle on the charcoal bun, to name a few.
Discover the full menu below:
PASTRIES
Lychee rose macaron
Green tea Adzuki vanilla roll
Honey ginger persimmon tart
Sakura blossom yogurt milk pudding
Japanese strawberry shortcake
Mochi snow skin raspberry cheesecake
SANDWICHES
Egg sandwich with white bread
Japanese style chicken salad on green tea bread
Crab mayonnaise with cucumber salad & rice cracker
BBQ eel with soba noodle on the charcoal bun
Black sesame seed scone and green tea scone
Homemade strawberry jam, Orange Marmalade, Clotted Cream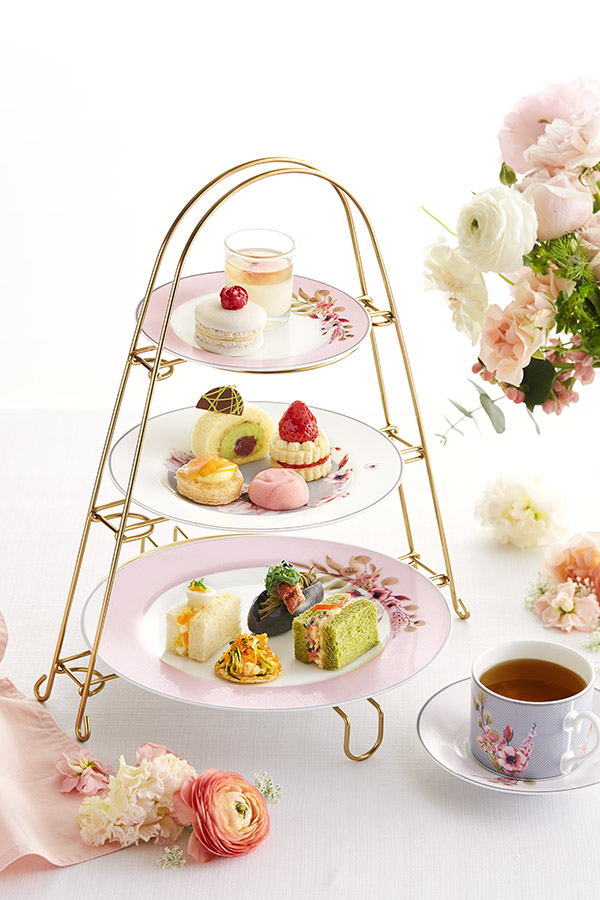 Priced at RM158 per person, the Noritake x Celest Thoi Afternoon Tea is available from 15 March to 31 May 2021 from 2.30 to 6pm, Mondays to Saturdays, and from 3 to 6pm on Sundays. For reservations and enquiries, please call +60 (3) 2330 8798 or email mokul-fb@mohg.com.