When fashion conglomerates first tapped into the world of watches, watch enthusiasts didn't really bat an eye. After all, most fashion watches back in the '90s were simply carbon copies of Swiss-made watches, only with their logo stamped on the dials to justify a premium.
That's not to say they weren't beautiful pieces; but they lacked the fine touches and distinguishable qualities of established luxury watch counterparts – or even compared to their own fashion collections.
Brands like Chanel, Dior and Hermès have come a long way since, with timepieces that pay respect to horological advancements whilst incorporating a more distinctive design ethos. This progress stems from the acknowledgement that it takes more than plain branding to be taken seriously in the upper echelon of watchmaking.
With that, here are five new 2020 watch releases from the top luxury fashion houses that are worth your attention.
Chanel J12.20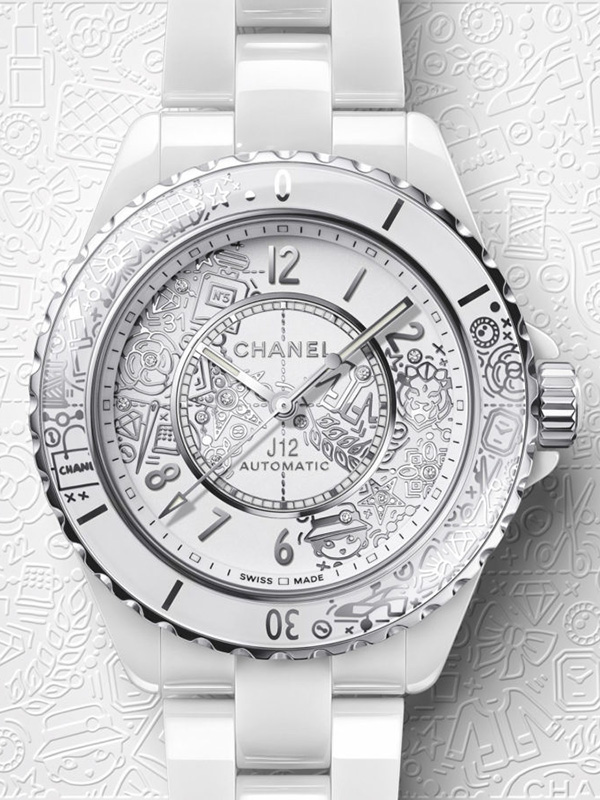 For 20 years, the J12 has been Chanel's most compelling gift to the horology sphere. To celebrate the model's 20th anniversary this year, the brand launched the exclusive J12.20 model that pays homage to the house's most iconic symbols. Think the N°5 perfume, signature tweed jacket, 2.55 flap bag and a graphic of Coco Chanel herself – all embossed in polished rhodium-plated motifs on the dial. It comes equipped with a Calibre 12.1 self-winding movement manufactured exclusively for Chanel. Other elements remain true to the watch heritage, such as the ceramic case, rotating steel bezel and lacquered dial. The watch comes in two case sizes: 33mm and 38mm, limited to 2020 pieces. W chanel.com
Dior Grand Bal Jardin Fleur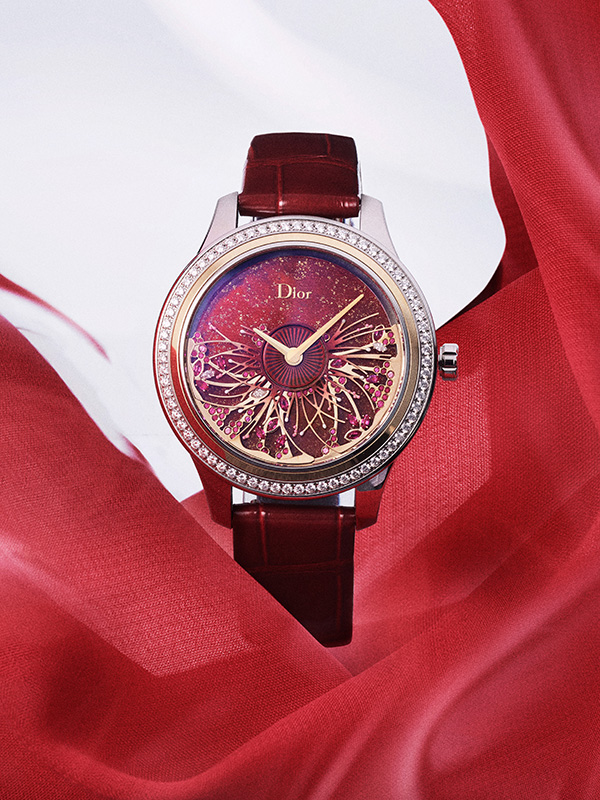 Crafted in conjunction with the holiday season and New Year festivities, the Dior Grand Bal Jardin Fleur is the latest to join Dior's family of watches. Paying tribute to Monsieur Dior and his admiration for nature, the 36mm watch is highlighted by dazzling diamonds, pink sapphires and rubies that evoke flowers on a red mother of pearl dial. A pink gold oscillating weight and faceted hour and minute hands juxtapose the red dial, which is garnished with yellow gold specks. Powering the watch is an automatic movement exclusive to Maison Dior: the Dior Inversé 11 1⁄2" calibre, featuring a 42-hour power reserve. The watch comes with a red alligator strap and additional pink satin strap, with only 88 pieces available worldwide. W dior.com
Hermès Arceau Heure De La Lune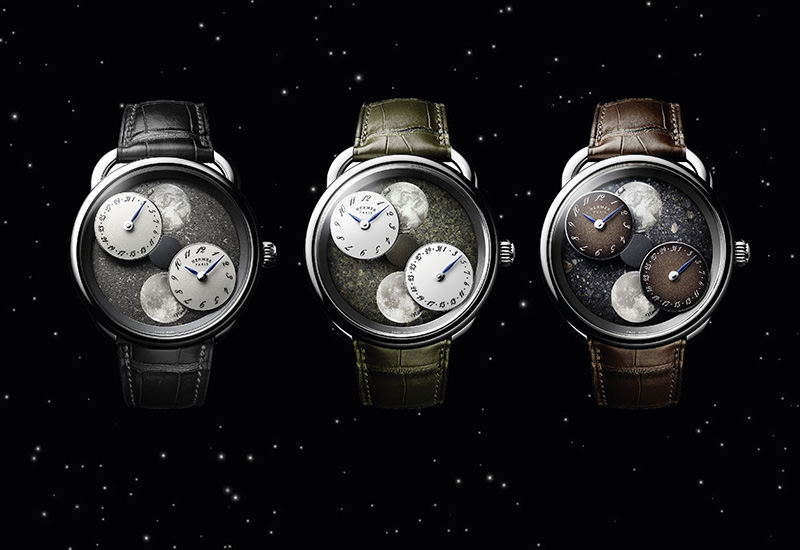 First introduced in 2019, Hermès' Arceau Heure De La Lune watch is a true testament to the house's watchmaking capability. This year, the Maison has introduced not one but five new dials that are out of this world – literally. Well, three of them at least, with their dials made of real meteorite: Lunar, Black Sahara and Martian. Yes, Hermès now has limited-edition watches that allow you to wear a piece of the moon or Mars on your wrist. The final two models are made of lapis lazuli and a hard stone called Blue Pearl, which will join the permanent collection. Just as impressive is the in-house movement that powers a pair of discs showing the hours/minutes and date. The discs rotate over a dial with two mother-of-pearl moons, effectively acting as a dual moon phase indicator for the northern and southern hemispheres. W hermes.com
Louis Vuitton Tambour Damier Graphite Race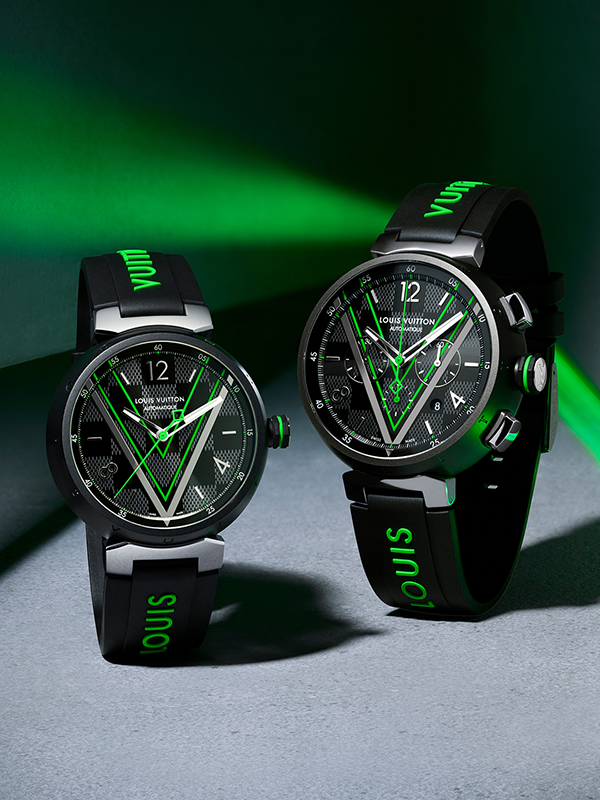 Fans of sporty watches may take a liking to Louis Vuitton's latest iterations of the Tambour family: the Damier Graphite Race. Inspired by the House's signature canvas of the same name, the watch features a checkered dial with neon green printed V logo for strikingly modern twist. The sandblasted stainless steel case is complemented with polished stainless steel lugs and an overmolded green rubber crown. It houses an automatic movement that's visible through the semi-skeletonised tinted sapphire back, etched with a black printed LV logo. The watch comes in a 41.6mm model or 46mm chronograph model, with interchangeable straps made of black and neon green rubber to match. W louisvuitton.com
Gucci Grip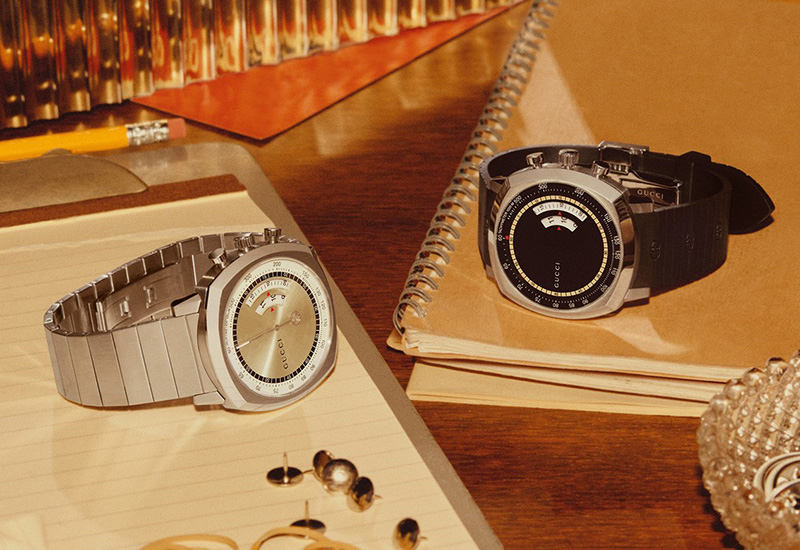 The Gucci Grip is far from your conventional luxury watch, but who can expect any less of Gucci under the helm of Alessandro Michele? For the unacquainted, the name signals its inspiration from the world of skateboarding in the way sneakers stick on to the grip tape on a skateboard. Following the collection's launch last year, new additions have been added, including a 40mm chronograph model. Designed to be gender neutral, the watch face features two windows displaying the hour and minute as well as a chronograph function around the edge of the dial. The watch houses a Ronda quartz movement encased in a steel G logo-adorned case back. It is available in three variants, distinguished by their straps and dial colourways. W gucci.com