Game of Thrones may have aired its last episode two years ago, but its fire certainly hasn't died down. Fans of the series continue to await the completion of George R.R Martin's book series, while those who prefer visuals over words can look forward to the various spinoffs, such as the Targaryen-centric prequel House of the Dragon.
Then there are collectors, who will be pleased to know that Royal Selangor has expanded its line of collectibles to now include a Game of Thrones-inspired range, in an ongoing collaboration with Warner Bros. Consumer Products, in honour of the fantasy epic's 10th "Iron Anniversary". The collection is comprised of majestic drinking vessels featuring motifs from the series, so you can drink like the Kings and Queens of Westeros.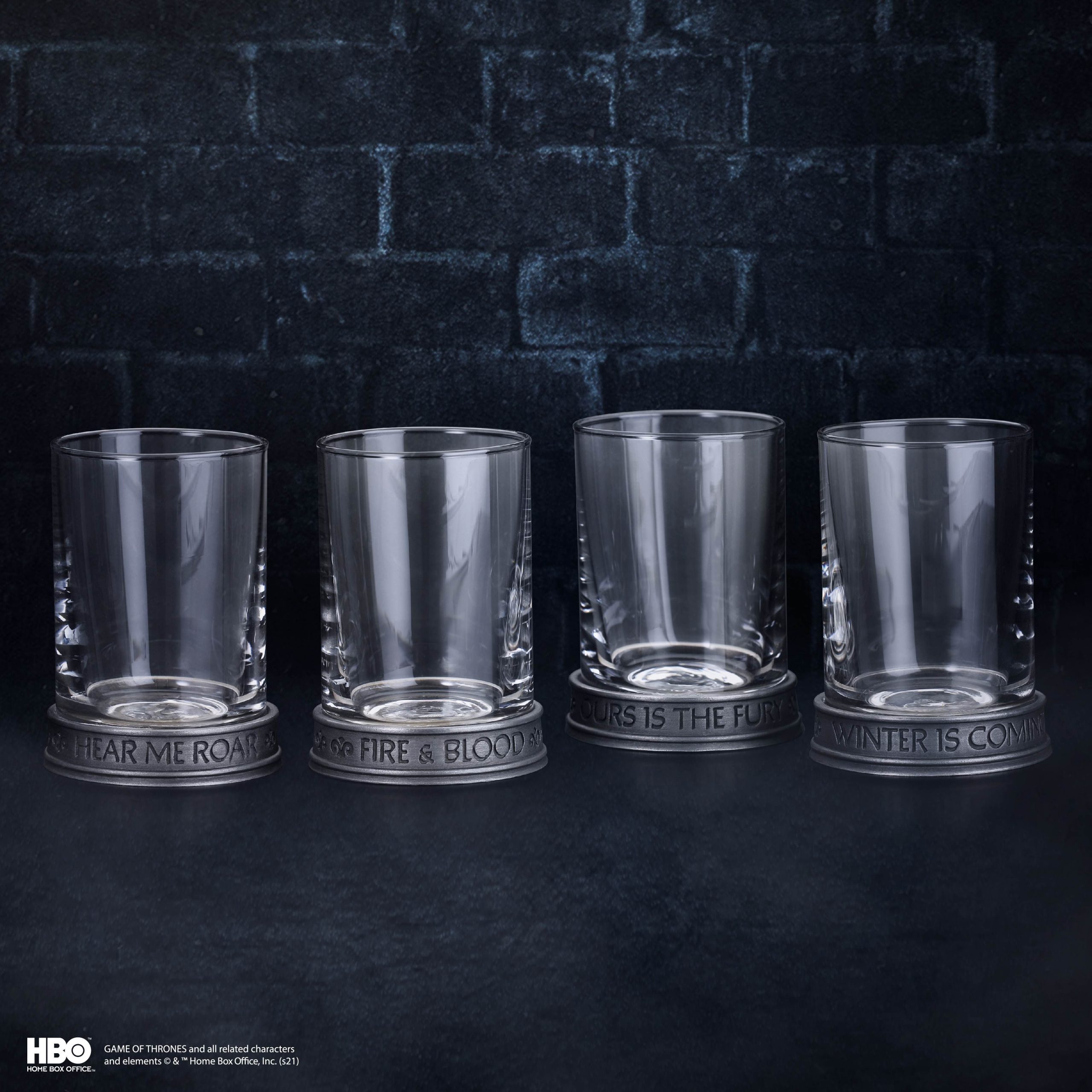 Perfect for your next Zoom party, the House Sigils Shot Glass Quartet features the crowned stag, lion rampant, snarling dire wolf and three-headed dragon – representing the Houses Baratheon, Lannister, Stark, and Targaryen. At the bottom of each shot glass, pewter plinths are inscribed with the memorable words of each House.
Whether you're downing the blood of your enemies or sipping on your latest natural wine find, you'll no doubt feel badass regardless with the Drogon Goblet, modelled after Daenerys Targaryen's largest and most aggressive dragon. This glorious goblet features the legendary creature crouched menacingly on a rock pillar with outstretched wings, sculpted to great effect in Royal Selangor's fine pewter. There's also a Limited edition Gilt Drogon Goblet available, with only 1,000 individual numbered pieces worldwide.
In honour of the iconic moment when Sansa Stark was crowned Queen in the North, a pewter replica of her coronet and two growling dire wolves with scale-like fur encircles her title's namesake glass goblet. The goblet sits on a stem wrapped in pewter leaves from the weirwood tree, a deciduous tree that's native to the north.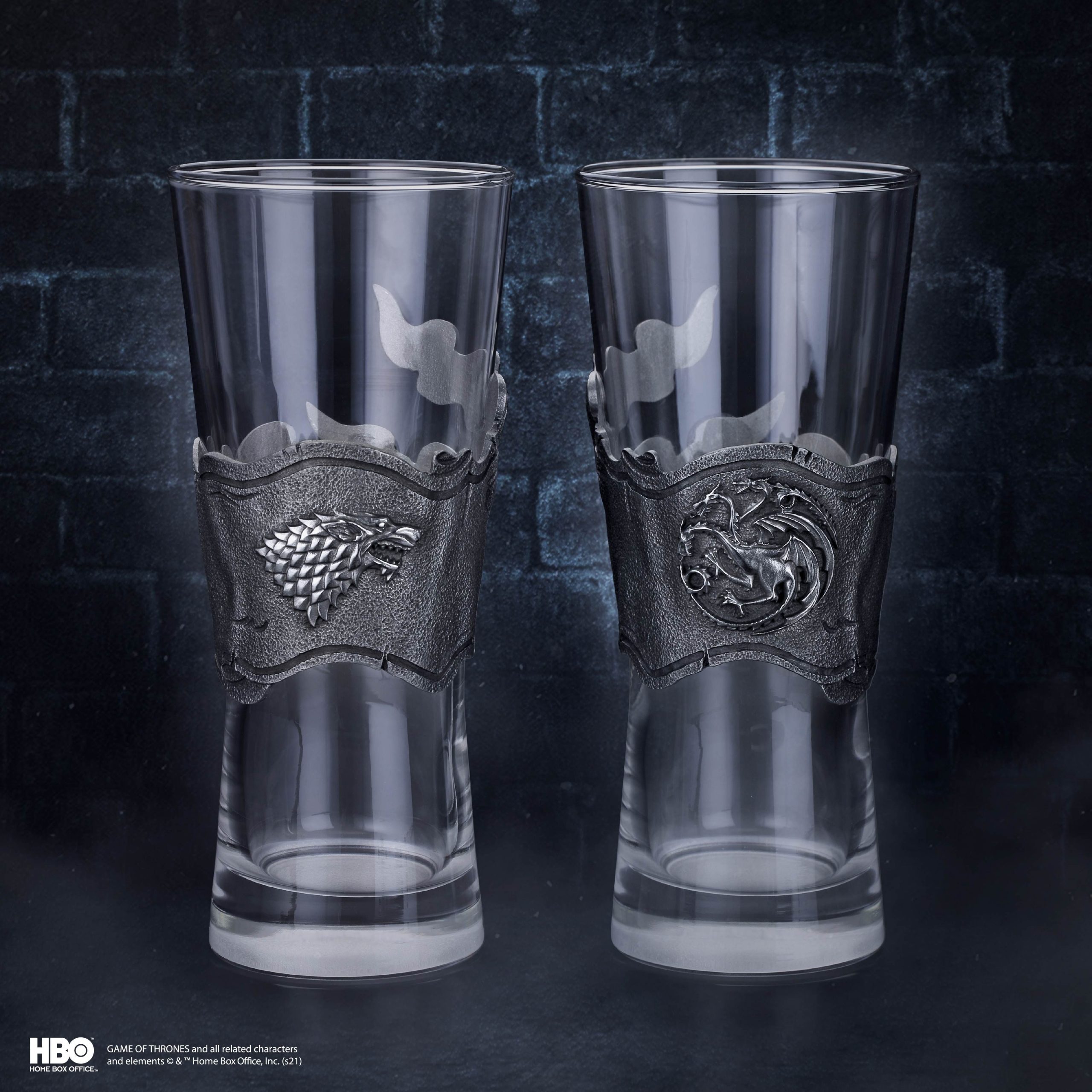 The union of two great elements and families come together in the Ice & Fire Pilsner Pair, where the glasses are dressed in the pewter banners of the Stark dire wolf and the Targaryen three-headed dragon. The final drinking vessel unveiled in this collection is the Iron Throne Hip Flask, shaped like a stylised wineskin. The flask's reverse presents the sigils of the Houses Baratheon, Lannister, Stark, and Targaryen.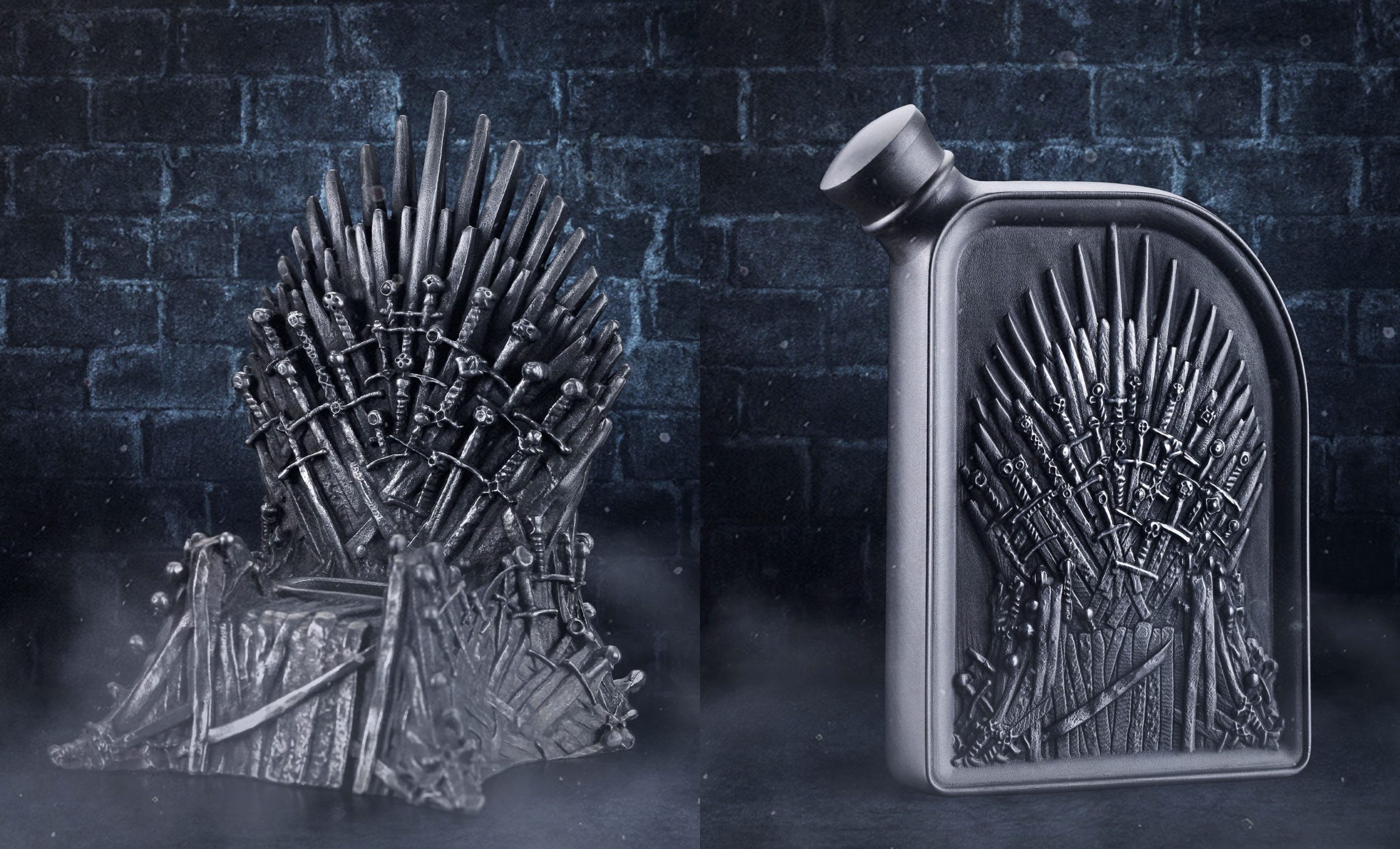 Keeping up with the Iron Throne theme is the Iron Throne Phone Cradle, a pewter replica of the seat of Kings and Queens, but with a gentler seat for your mobile phone whilst charging. It can also serve as a holder for business cards.
The Royal Selangor Game of Thrones collection launches on 20 August, 2021. Pre-order the collectibles at any Royal Selangor retail store, authorised dealers, or online here. And if you wish to relive the adventures of Game of Thrones, the series is available for streaming on HBO GO.
Photos: Royal Selangor