Heads up folks, the local Electric Vehicles (EVs) market space recently grew slightly bigger following the arrival of Chinese upstart brand BYD. In case you're wondering, those letters stand for 'Build Your Dreams' and, having sized up its first offering, called the Atto 3, in the flesh recently, there's much to look forward to.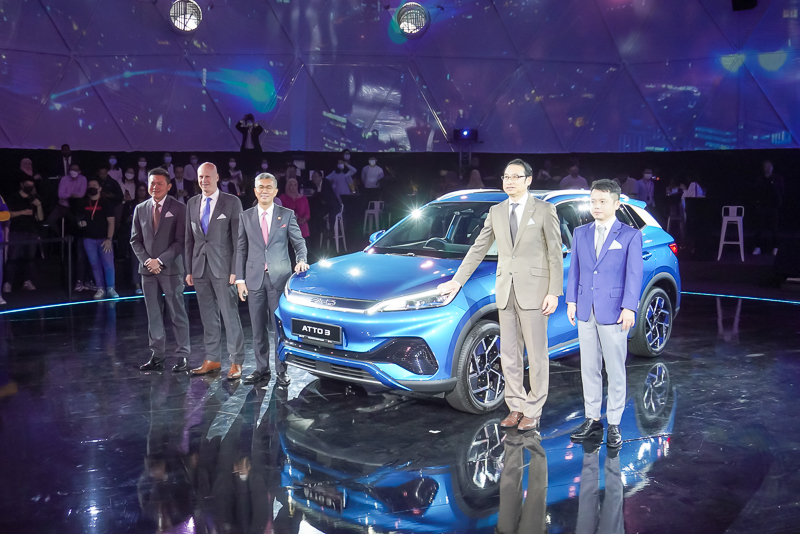 The brand, carried by distributors BYD SD Motors Malaysia (a division of Sime Darby Motors), saw its debut in the local market through a rather glitzy soiree to present the Atto 3. Amongst the attendees here was the newly appointed Minister of International Trade & Industry, YB Tengku Zafrul Aziz.
Touted as a mid-sized 'premium' crossover SUV, the Atto 3 comes in two guises, those being a 'Standard' and 'Extended' variants. Both share the same modern and sleek exterior designs that sport notable touches such as LED lighting, shiny aluminium brightworks, and snazzy 17- and 18-inch wheels respectively.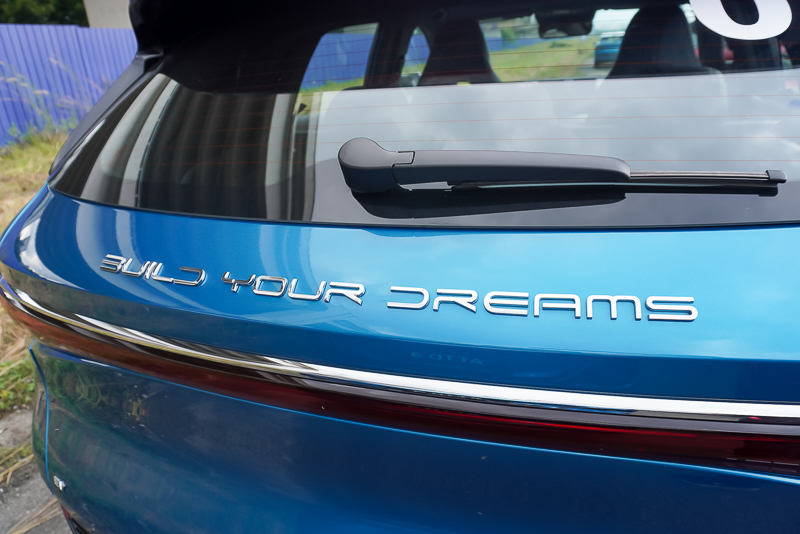 What separates the two properly are the equipment levels primed in both, as well as their respective battery capacities. Regarding the latter, both harness the BYD brand's proprietary and innovative LFP 'Blade' battery packs that take up less space compared to conventional battery layouts seen in other EVs.
In the Standard Range trim, the Atto 3 gets a 49.9 kWh version of said battery pack, whereas the Extended Range variant benefits with a larger 60.4 kWh unit instead. Both regular AC and rapid DC charging are accepted, offering a claimed range of 410 KM (Standard) and 480 KM (Extended) on a single charge.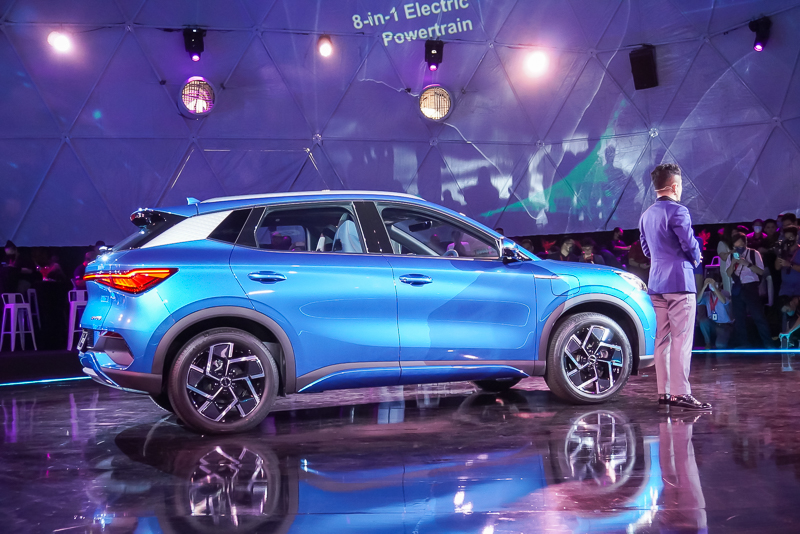 Said battery juices up a single front-mounted electric motor primed in both variants, and it delivers 203 HP and 310 NM. Stemming from this setup are the Atto 3's respective performance abilities, the most notable of which is its century sprint time of 7.3 seconds.
On board, both variants share the same sleek, modern, and minimalistic cabin design adorned with several high-tech and funky features. Headlining the former bit are the digital instrument panel and 12.8-inch central infotainment touchscreen that can swivel from portrait to landscape display modes too.
As for the latter part, the Atto 3's interior's plush ambience stems from the rich use of faux leather upholstery and soft-touch fabrics lining most parts of the cabin. What catches the eye are the intricate designs of the climate control vents, wrench-shaped armrest, as well as door storage bins shaped like a guitar complete with strings for you to strum a few notes on too.
Like any 'premium' EV, BYD has also primed the Atto 3 with a host of advanced driver assistance systems (ADAS), thus keeping this Chinese up-start on par with even pricier Korean and European alternatives. Highlights include Adaptive Cruise Control (ACC), Autonomous Emergency Braking (AEB), Blind Spot Detection (BSD), Front and Rear Collision Warning (FCW & RCW) amongst many others.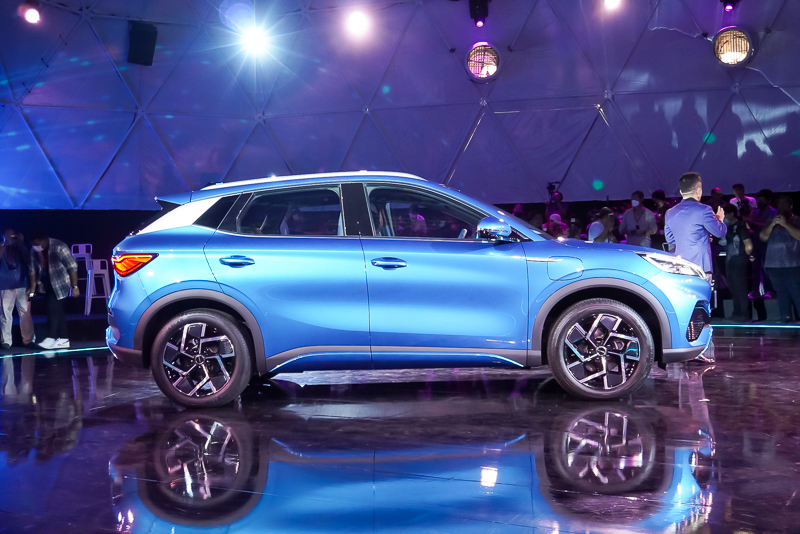 As for price, the RM149,800 (Standard) and RM167,800 figures the Atto 3 is tagged at make it a tempting proposition, especially considering the sleek aesthetics and high-tech features it packs. Adding to that is the inclusion of both a 6-year or 150,000 KM general vehicle warranty, as well as separate 8-year or 160,000 KM battery warranty and 8-year or 150,000 KM EV driving unit warranty coverages.
Moreover, for a limited time only, BYD SD Motors Malaysia will include a complimentary portable home charger and V2L extension cable, as well as free charging credit worth RM1,000, to early bird customers.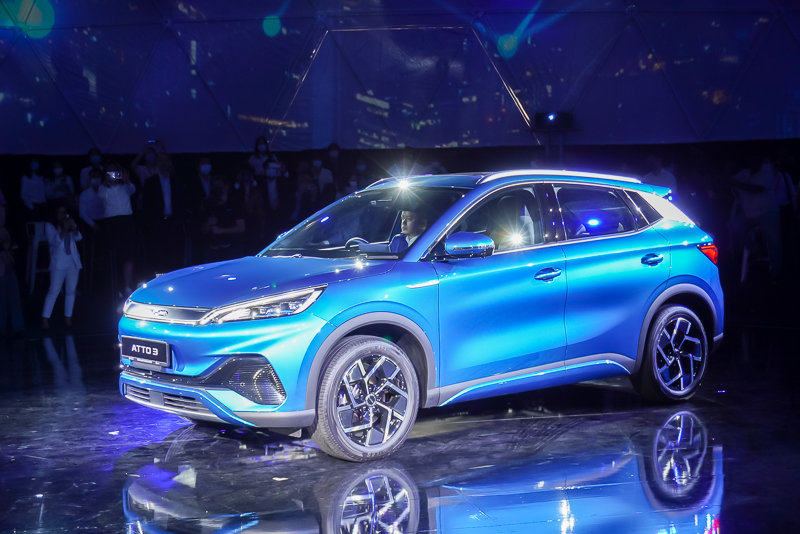 You can now view and place your orders for the Atto 3 through BYD's first flagship showroom located at TREC KL. Said outlet will be joined with similar outlets located in Ara Damansara, Penang, and Johore that will open their doors throughout 2023 as the brand targets to have 20 dealerships up by the end of 2023 too.
So, what do you reckon, folks? Are you tempted to charge up with this 'premium' Chinese upstart offering?