Fresh and approachable Italian cuisine is guided by infectious passion for excellent quality in this versatile, contemporary-classic spot.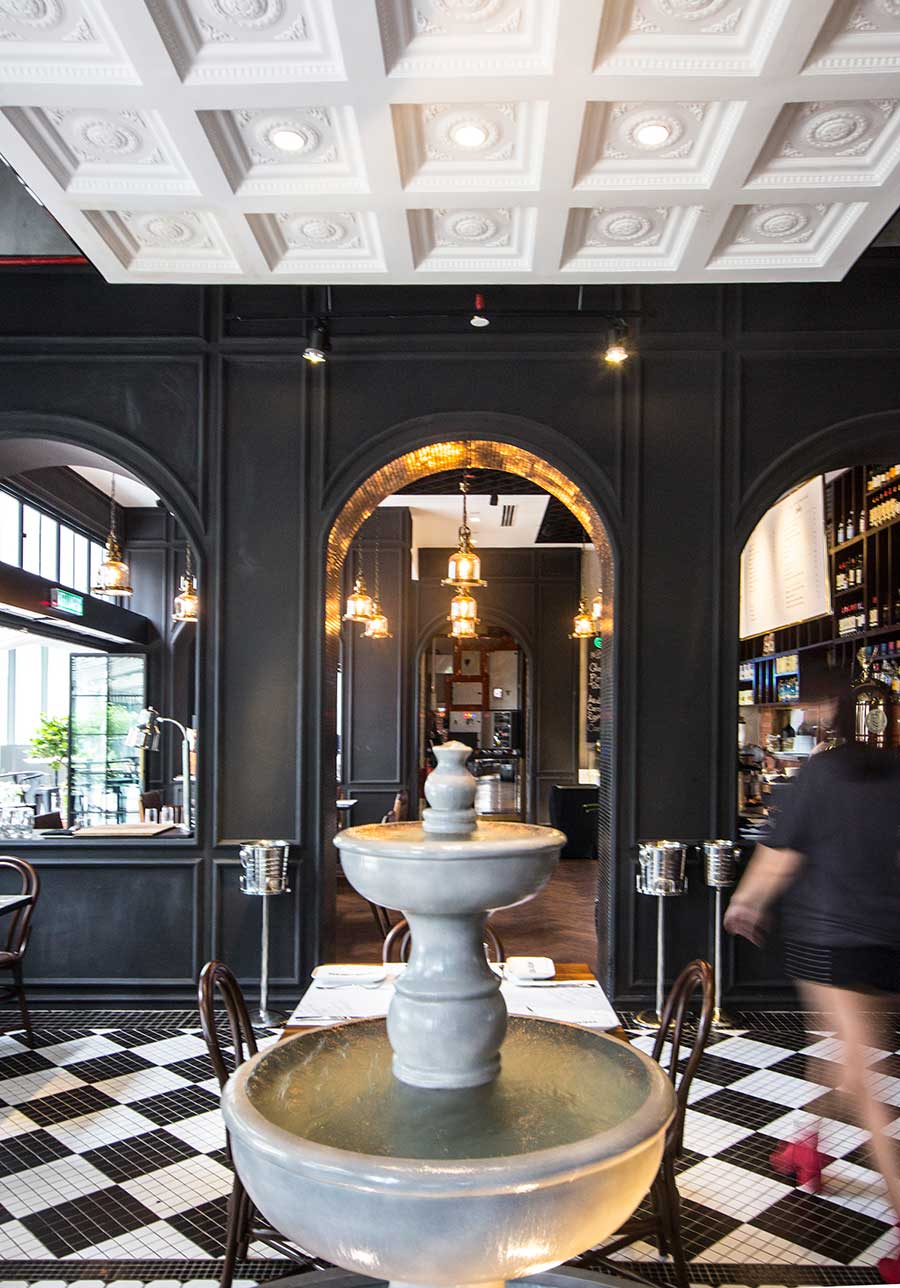 The interior features a lovely marble fountain that stands out against nero/bianca interior.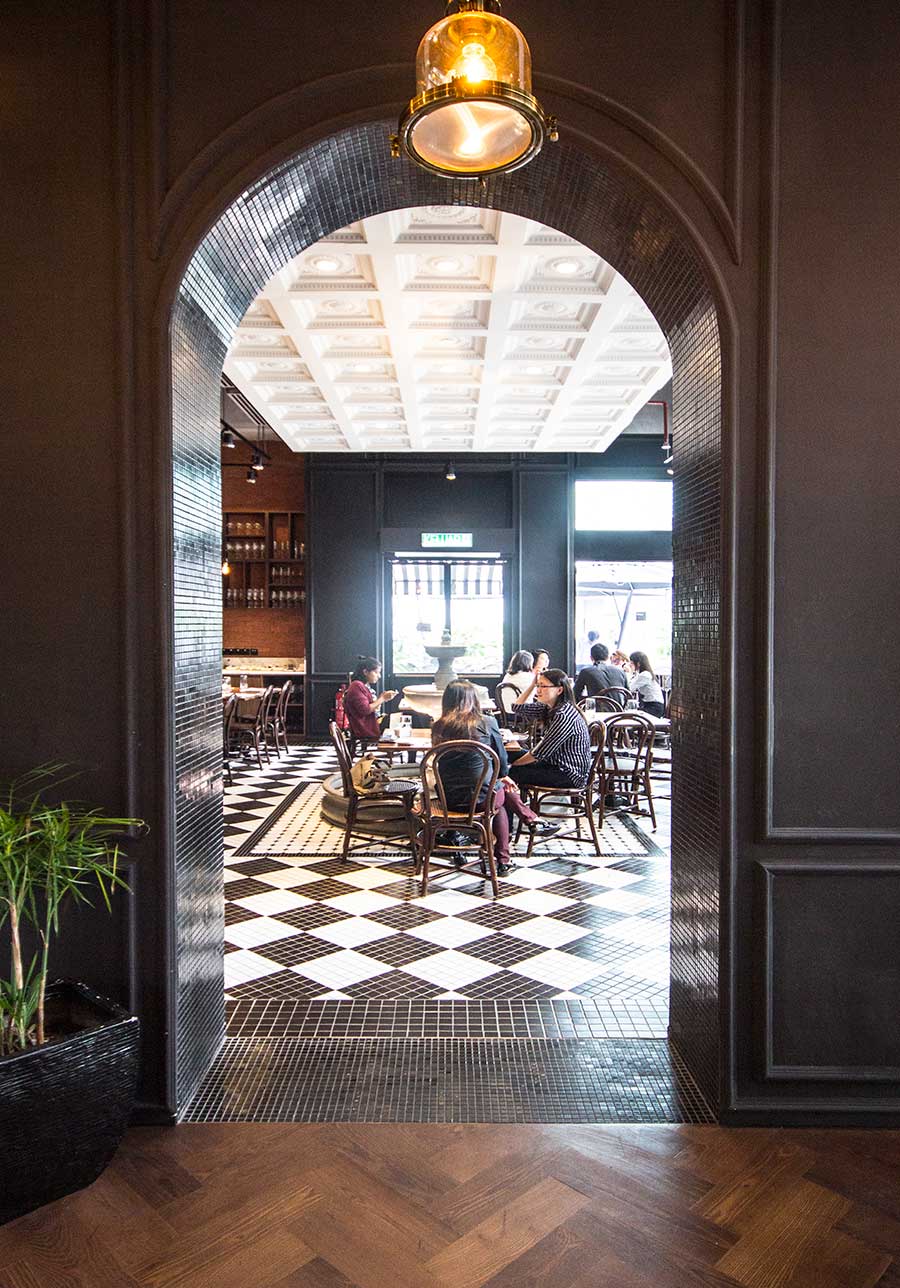 Should you prefer dining outdoors, there's also a breezy alfresco area perfect for a cup of coffee or long weekend meal.
(swipe left for more)
As with almost anything affiliated with Italy, its cuisine embodies a rich, brash spirit that translates perfectly through its flavours.
That's certainly the deal you're in for at Nero Nero, a new California Italian restaurant at DC3 (third floor) in Damansara City Mall. Our first impression is a modern vibe, apparent in minimal black-and-white decor, and accentuated by chandeliers, golden mirrors and checkered mosaic tiles for a touch of stylish class.
Nero Nero caters to a diverse crowd with a pork-free menu and flexibility to dietary requirements. The deli/ take-away counter are adjacent to a tall espresso bar, opposite which is a grand Barolo long table that seats up to 14. Walk through the gorgeous, quintessentially European archway into the indoor dining area, centred by a grey, marble water fountain.
The restaurant brings together all that is good about classic Italian cuisine for a cool, 21st century makeover, creating an experience elevated by uncompromising quality and service. The driving force of this pursuit?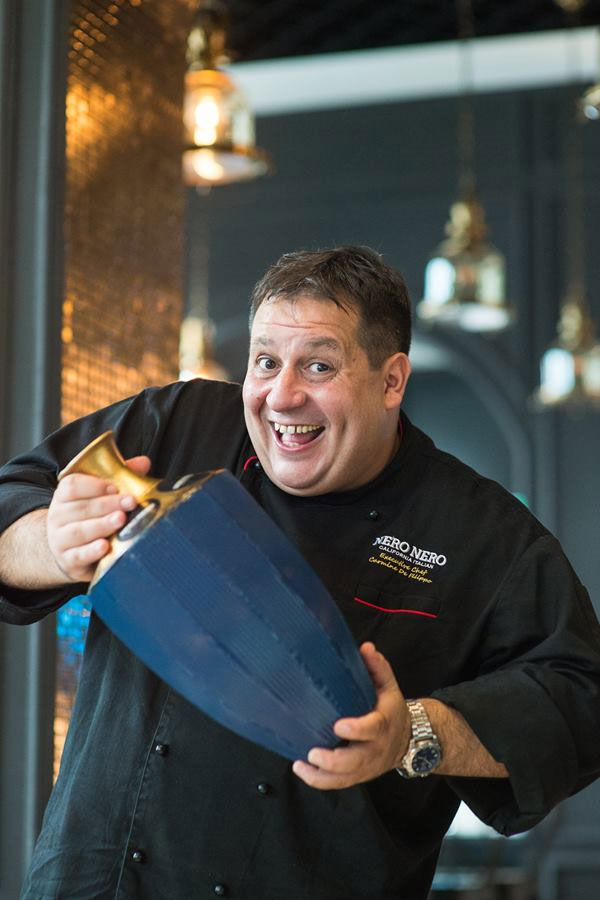 The world started in Italy, and he's going to give us the best taste. This is the spirit Chef Carmine De Filippo brings to his interpretation of his nation's cuisine, using only the freshest ingredients with simple, classic seasoning and preparation that allows the quality of the food to speak for itself.
Bringing decades of experience from professional kitchens in hotels and luxury cruise-liners, Chef Carmine is a Napoli native at heart. Getting his start as a pizzeria dishwasher, he is fluent in warm, hearty traditional cuisine of the poor (seen in his ability to craft a delicious meal of the simplest ingredients), given a twist through his years of exposure to international cuisine.
Everything about Chef Carmine strikes us as simply Italian, and he taught us a thing or two about appreciating the cuisine through a lengthy, no-frills lunch.
Appetizer – Melanzane alla Parmiggiana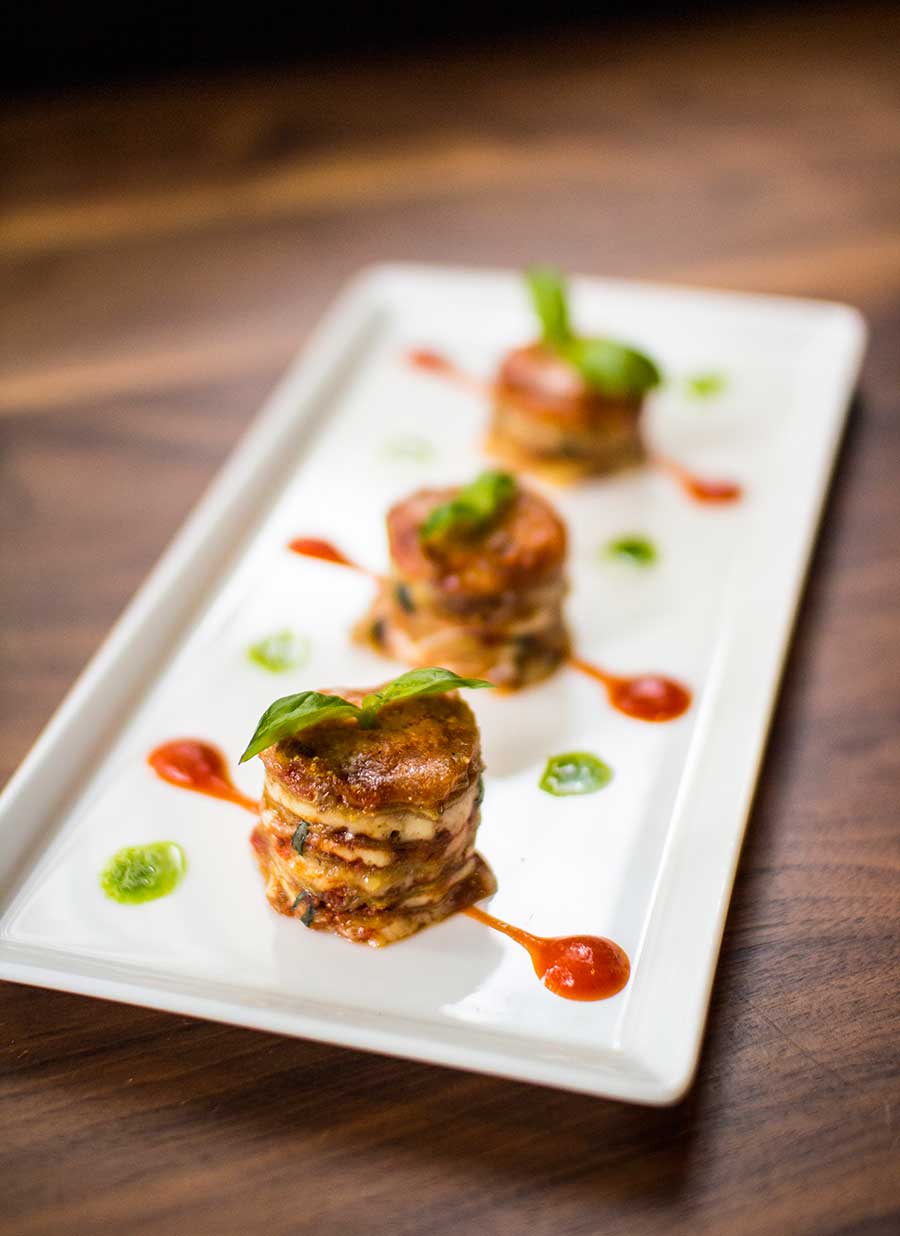 We were definitely excited to taste this neatly-arranged eggplant timbale triplet, a thorough delight to savour from the initial effortless cut to the delicious burst of tomato and mozzarella in your first bite. Chef Carmine proved that less can be more with Italian cuisine, combining basic ingredients with classic finesse to produce the perfect balance of soft and savoury – a fitting introduction to our lunch spread.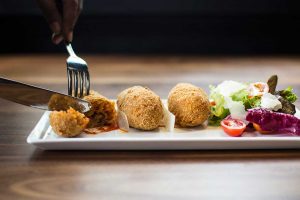 Also worth mentioning is the Arancini al Ragu: a crisp, breaded risotto stuffed with beef ragú and mozzarella, best bit into warm for a delicious tease to the senses.
Arancini is essentially a deep-fried rice ball, but this version was not oily or overwhelming in any way, making it easy for us to enjoy the rich flavours in a crisp shell.
Salad – Insalata di Polpo
Octopus is the last thing we expected to find in our salad but this dish served as a lesson that fresh seafood is something Nero Nero takes pride in, deriving from Chef Carmine's specialty in meat and fish preparation. Curiosity ignited, we were blown away by how the mix of potato, rucola, black olive, and capers elevated the flavour of the refreshingly-textured octopus to a different level altogether. When an unassuming salad makes this much of an impression, you know it's prepared with a real insight into the complexity of simple flavours – and skill for bringing them together.
Pizza – Margherita Classica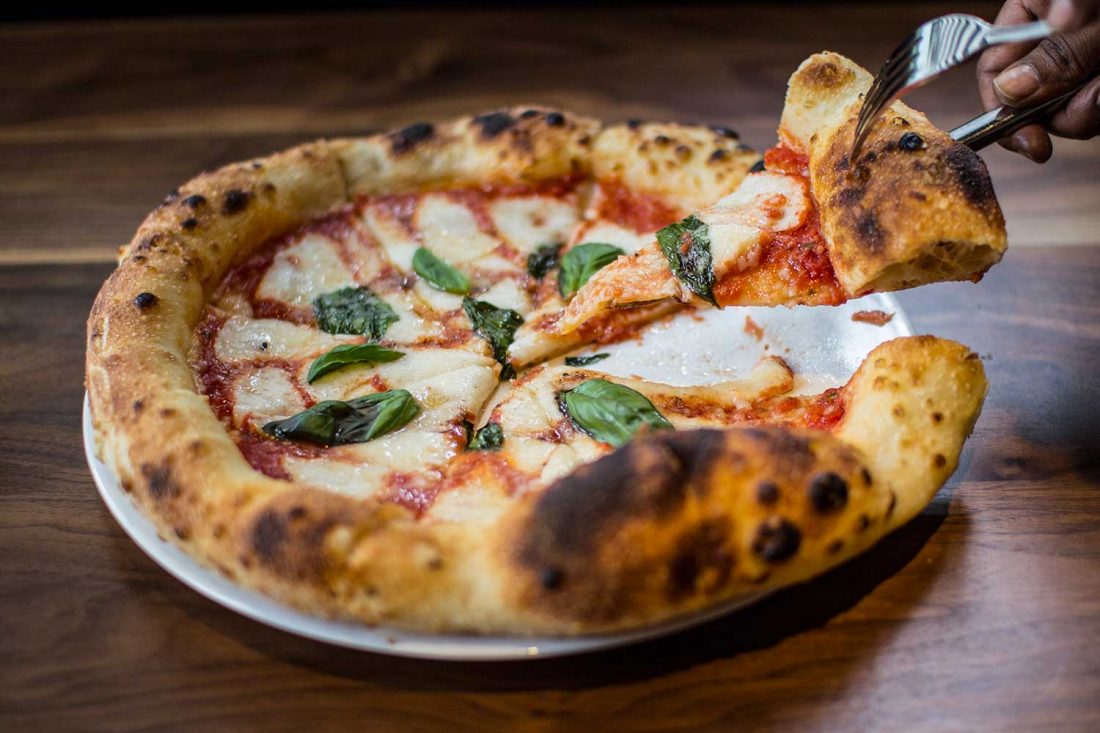 With its roots deep in Napoli culinary culture, this classic pizza was unlike any we've had in KL – with dough incredibly stretchy, light and fluffy thanks to 24-hour fermentation. This Margherita echoes the restaurant's classic Italian spirit in every way, with rich tomato paste, fresh basil, and generous chunks of mozzarella making the rare, perfect bare pizza that can't be put down once started on. We'll be thinking of this version when we think of pizza from now on.
Pasta – Gnocchi alla Crema di Tartufo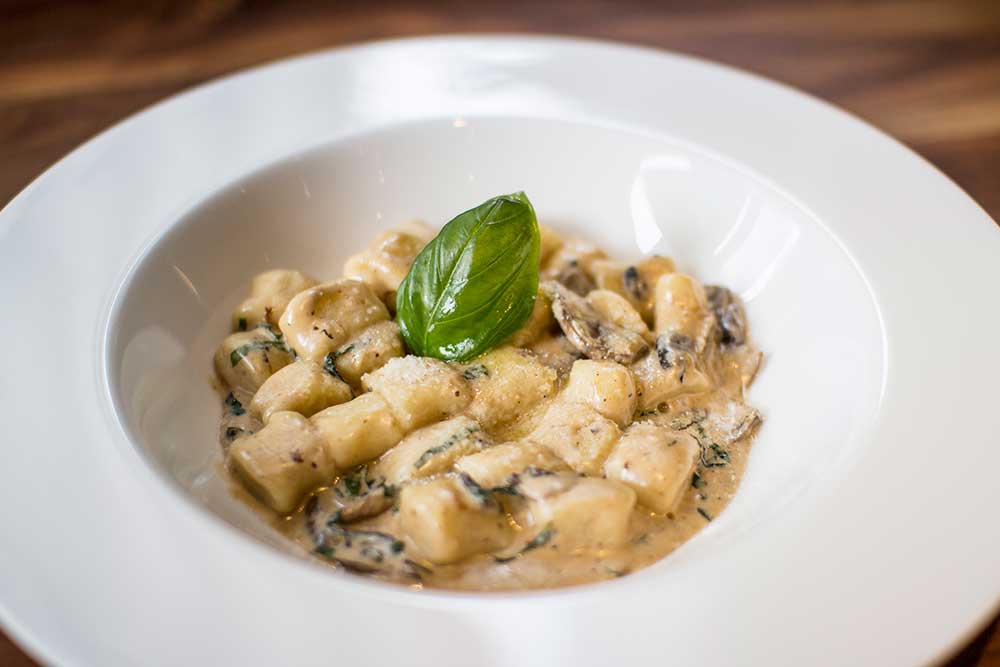 Our lunch steadily building up to the heavier dishes, next we welcomed the decadent flavours of this thick, creamy black truffle sauce that glazed the homemade potato gnnocchi ever so innocently. Though we would have preferred smaller-sized pasta, it barely distracted from the wonderful, almost heartwarming dish, peppered with complementary slices of mushroom for flavour and texture.
Main – Branzino alla Ligure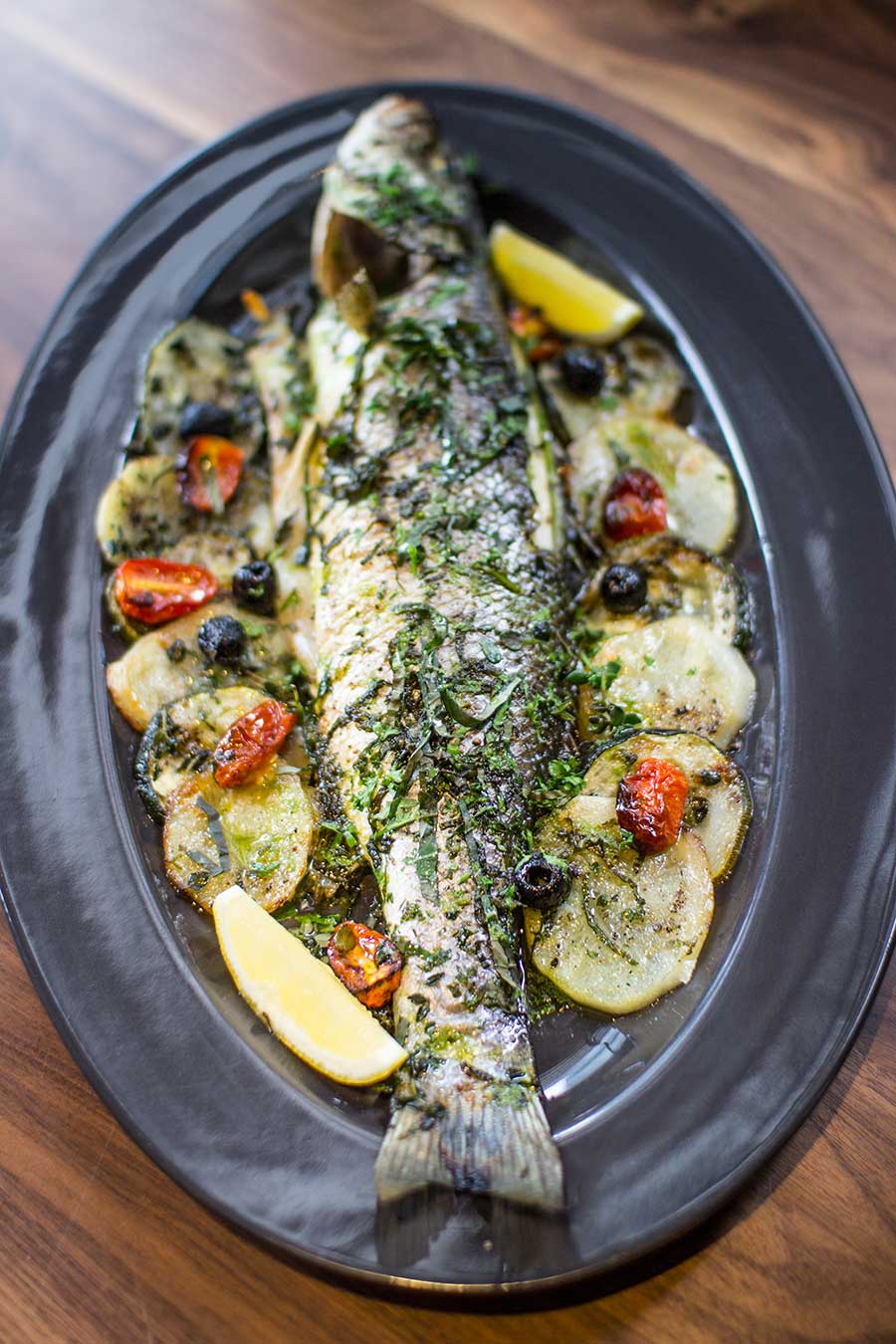 The baked Mediterranean seabass is presented in all its glory. (swipe left)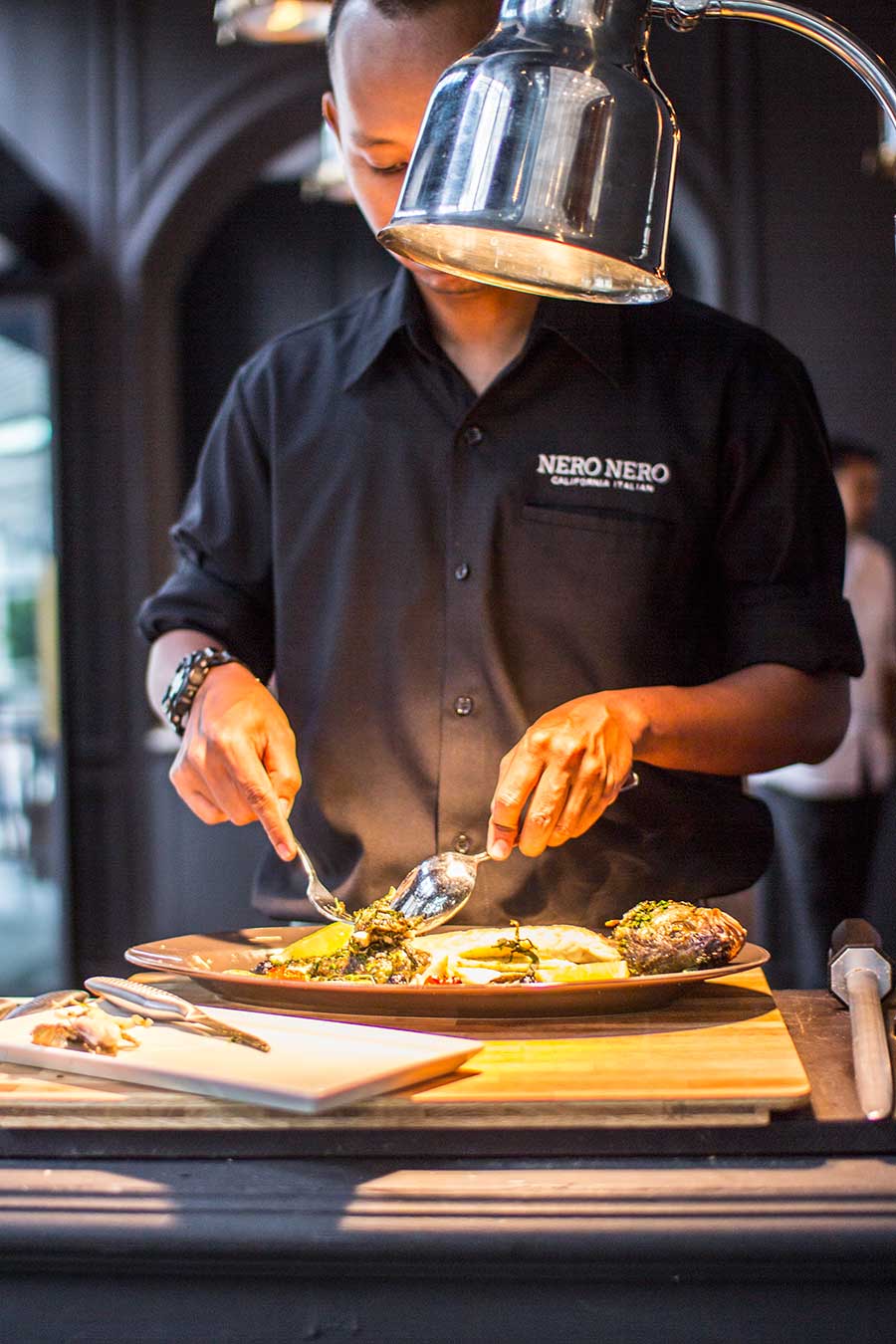 The fish is then taken away for filleting before serving.
The star of the show, hands down: an oven-baked whole Mediterranean seabass with potato, zucchini, cherry tomatoes and black olives that's impressive from the moment you set your eyes on it. (Ours was a beauty that even Chef Carmine stopped to admire!) The use of only the freshest herbs and ingredients made all the difference in this dish, minimally seasoned to delicate perfection that allows the soft, flaky meat to shine on its own. You won't have to worry about filleting as the excellent staff does it for you, but do keep an eye out for tiny bones.
Dessert – Tiramisu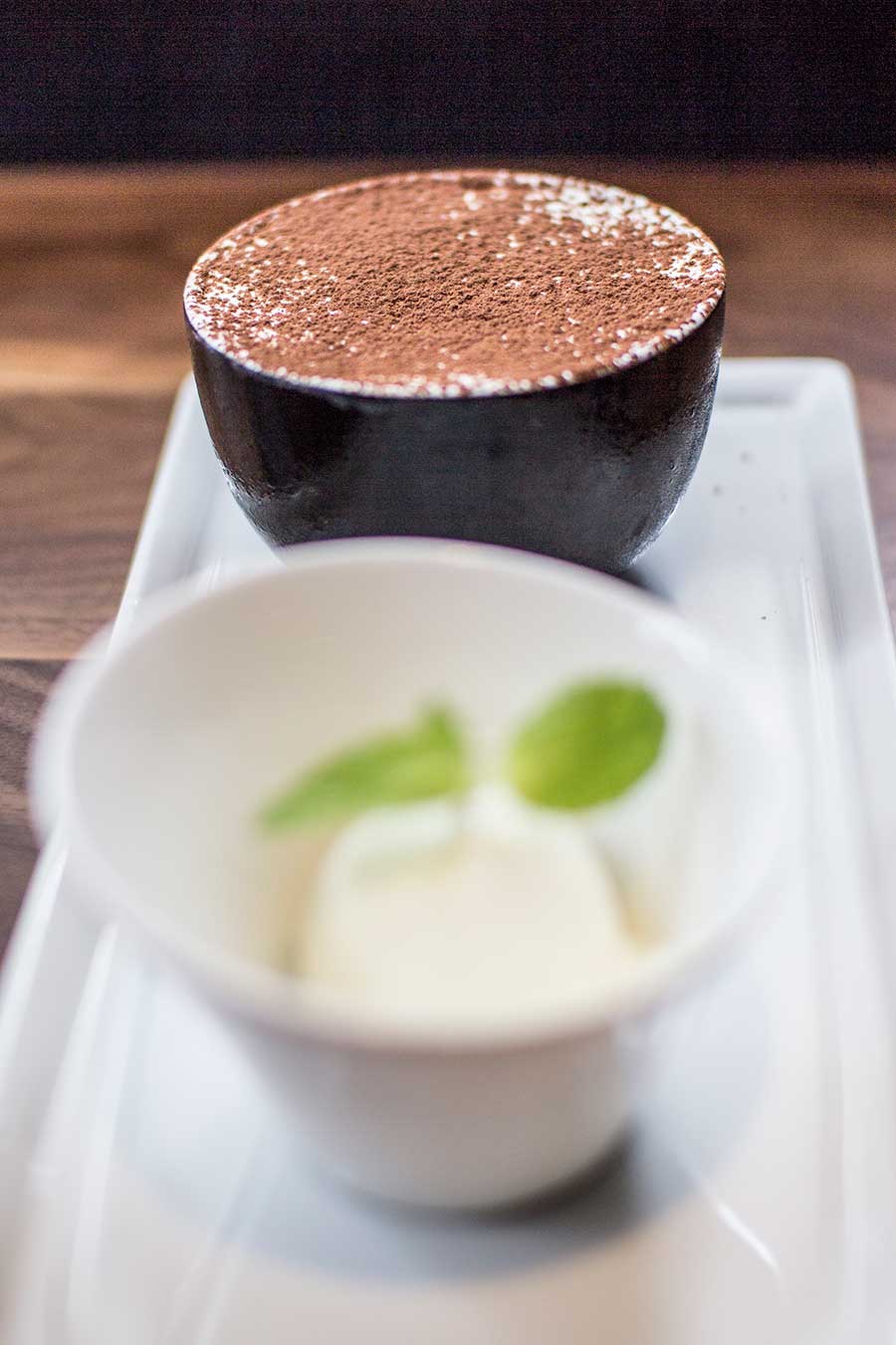 We approached the tiramisu with the apprehensive curiosity of non-coffee drinkers, but were delighted to discover that the espresso was in no way overwhelming, providing just a nice hint of caffeine to the classic dessert. In fact, Nero Nero's alcohol-free tiramisu is rather chocolaty and light thanks to generous mascarpone. It is served with top-quality vanilla ice-cream that does a great job of cleansing the palate if you're enjoying it with a warm beverage.
Nero Nero also has a respectable selection of coffee and tea, with a pastry counter in the works (if the house-serving focaccia bread is any indication, we're in for a treat!). Drop by at lunch for your pick of a menu evoking the tastes of Venice, Milano, Napoli and Roma (noon to 2.30pm), beginning at RM 24 with an additional RM12 for dessert. New signature, pairing menus will be on offer soon.
Though eager to check out the fully-fledged version of this restaurant, we're pretty pleased with the Italian fare on offer. Here, the standout ingredient is definitely an unbridled passion for the only the best restaurant experience.
Follow Nero Nero on Facebook or call 03-2011 3811/ e-mail info@neronero-dc3.com for enquiries and reservations.
Address: L3-02, Jalan Damanlela, Damansara City Mall, 50490 Kuala Lumpur
Opening hours: Noon till 11pm (Monday to Saturday) with daily Happy Hour 5-8pm 
Photography: Gan Yew Chin 
Update: Chef Carmine De Filippo has since parted ways with Nero Nero. Chef Giuseppe Lioce now leads the kitchen.