The classic French manicure is back, but with wild, vivid hues replacing white tips.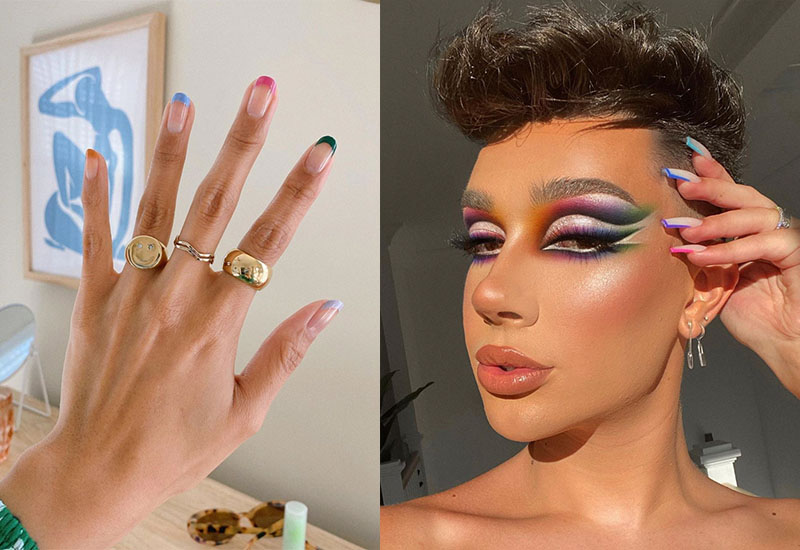 For those of you who have been waiting for beauty salons to finally reopen for business, we hear your squeals of joy. You may have already jumped at the first opportunity to get your haircut and eyelash extensions done, and are now looking for ideas for your next mani-pedi session. Good news: we have your back (read: nails) on the latter!
While classic monotone nails can never go wrong, why not skip the predictability and try a different look to usher in fresh vibes for summer? We've scoured the latest nail art trends to add a splash of colour and personality to your pins – scroll on for some ideas.
"The New French"
If you're familiar with the signature French manicure, think of this as "The New French" (as the internet is calling it). Instead of the usual white strip across the tip of your nails, opt for bright, striking colours to go with summer's dynamic palette.
Celebrities the likes of Kylie Jenner (not once, but on two separate occasions) and YouTuber NikkieTutorials have been spotted nail-ing this trend too:
Florals 
Matching your floral print outfits with equally cute flower-y nail designs is a no-brainer for summer. Petite, simple daisies are especially a favourite this season, as demonstrated by celebrity nail artists such as Stephanie Stone (whose regulars include Miley Cyrus and Lili Rienhart) and Alicia Torello (who works with brands like Chanel and YSL Beauty).
View this post on Instagram
View this post on Instagram
Cow print
Stand out while staying in your black and white comfort zone with cow print nails that effortlessly go with everything! Even Ariana Grande has given the look her stamp of approval. Plus, it goes with every nail type – whether round, squared, short, long or stiletto.
Gradient
Aside from an ombre gradient on each nail, the trend of painting each nail a different shade from a particular colour palette is everywhere right now. For a natural but better finish, pick a neutral palette such as coffee or beige. Alternatively, try pastels for soft, dreamy nails or muted greens and blues that are currently in-trend. 
View this post on Instagram
Neon hues
Coachella may be cancelled, but that doesn't mean you can't still rock neon on your nails. Popular brands like Nails Inc have released cool fluorescent shades in orange, pink and yellow so you can DIY fun looks at home too. Try one of these unique nail art ideas besides your run-off-the-mill monochrome neon dos:
View this post on Instagram
View this post on Instagram
View this post on Instagram