It's Happy Hour and you don't feel like social drinking at the bar or waiting a half hour to get a cocktail delivered to your place. What do you do? Sure, you can pour yourself a glass of scotch or drink a whole bottle of wine if it's one of those days…or you can concoct a pick-me-up that puts your bartending skills to the test.
Even if cocktail-making isn't on your bucket list, it doesn't hurt to try out a new hobby. Who knows, you may find a secret talent that allows you to enjoy a tipple and me-time at your own comfort and leisure. Plus, it could nudge you on the way to being the best party host ever (at least among your booze-loving pals). Here's everything you need to get started.
Base: Spirits and aperitifs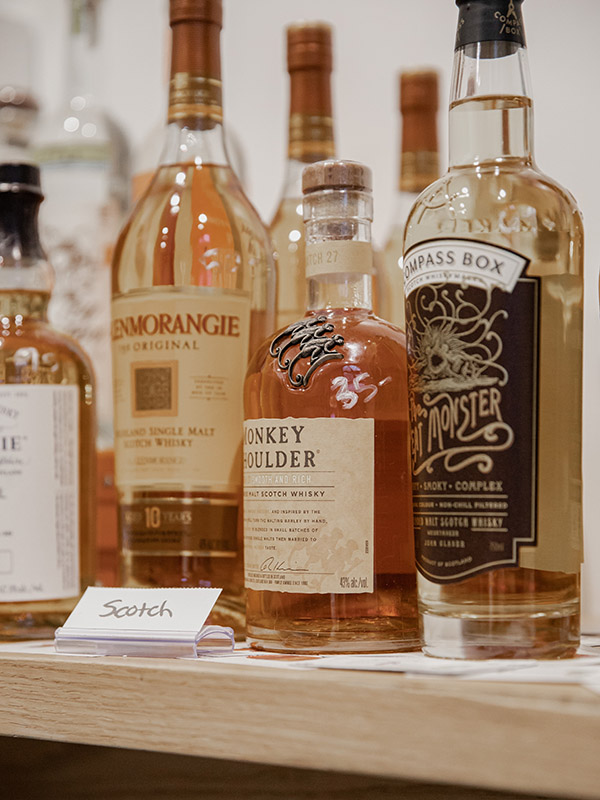 A home bar is nothing without booze, but there's no need to buy a dozen bottles before starting out. For amateur bartending, you only need one or two of your favourite bases to begin experimenting. The six staples in cocktail-making are vodka, gin, tequila, rum, whisky and liqueurs (Amaretto, Campari and vermouth, to name a few). A good place to start is to pick the base of your favourite cocktail (you can note which exact label your favourite bar uses as a suggestion) and try out different concoctions with that same base, then expand your liquor collection as you go along.
Modifiers: Juices, sodas and tonic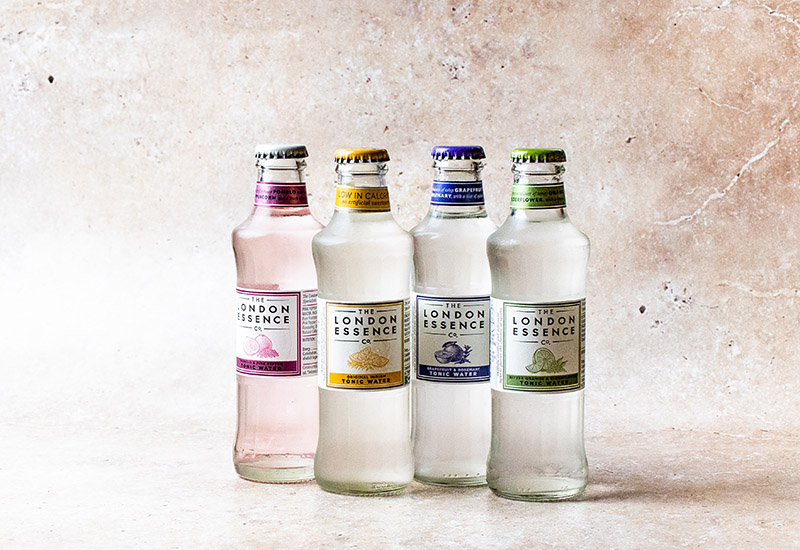 The second key component in any cocktail is the modifier (aka mixer), which includes fruit juices or cordials, sodas, tonic and ginger ale. You can make a range of cocktails (in the loosest sense of the term) simply by mixing a base and modifier, such as the classic Scotch and soda (whisky highball), rum and coke or gin and tonic. Some premium brands have very distinctive flavours, such as Fever-Tree, Fentimans and East Imperial's range of tonics, which you can play around with to discover what works better to your taste than others.
Flavouring/colouring: Bitters and syrups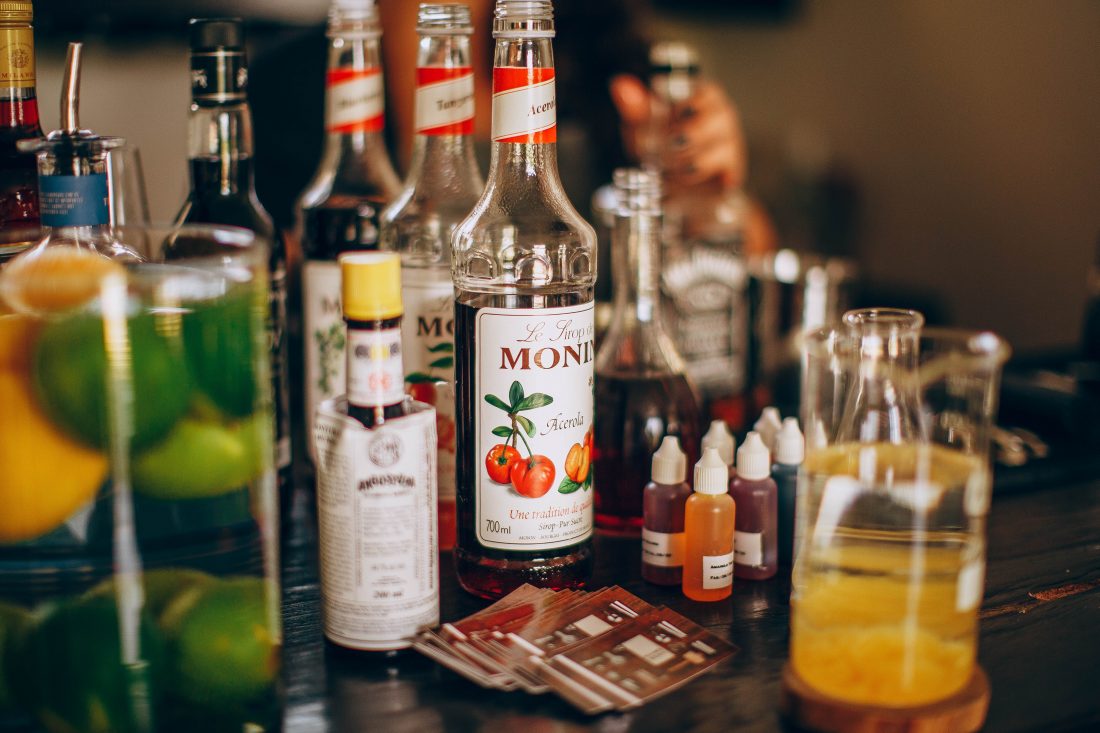 Bitters and syrups serve to add dimension to your drink or balance the sweetness and acidity. The latter can also be used for colouring to enhance the presentation of the drink (in case you might want to document your home bartending journey on Instagram). Angostura aromatic bitters and MONIN syrups are the most common in each category and can be used in a variety of classic cocktails, such as Old Fashioned, Manhattan and Daiquiri. If you don't have syrup stocked at home, you can make your own simply syrup with sugar and water or agave nectar as a substitute.
Tools: Bartending kit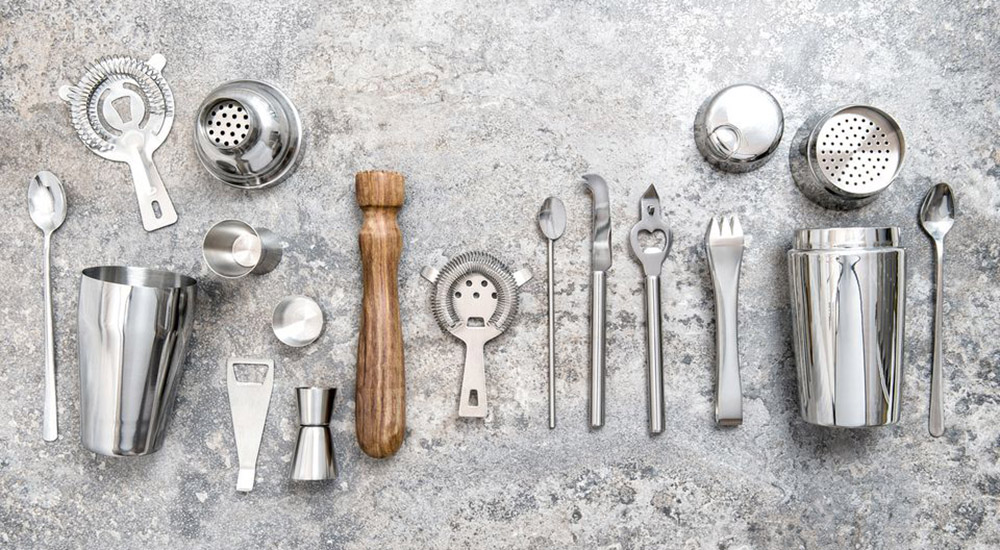 Once you've got the liquids covered, here comes the fun part: the tools of the trade. There are a lot of fancy bartending tools you can get, but the three essentials are the shaker, jigger and strainer. The most common shakers are the Boston shaker and cobbler shaker. The former can be slightly tricky for the beginner, so the latter is recommended if you're relatively new to mixing as it comes with a metal tin, a cap and a built-in strainer to simplify the process. Next, the jigger is an hourglass shaped measuring tool with a large end and small end. There are two types of strainers: the Hawthorne strainer, which is typically used when straining from a metal tin/shaker; and the Julep strainer, which is preferred when pouring from a mixing glass.
Other non-essential but useful tools include the muddler for grinding and smashing ingredients like fruits, herbs and spices to release their flavour; the bar spoon for a perfectly stirred cocktail; the juicer for making fresh juices; and the grater for preparing garnishes or fruit zest. It goes without saying to have a bottle opener and wine key in storage to open your booze bottles easily.
Garnish: Fruits, flowers, herbs and spices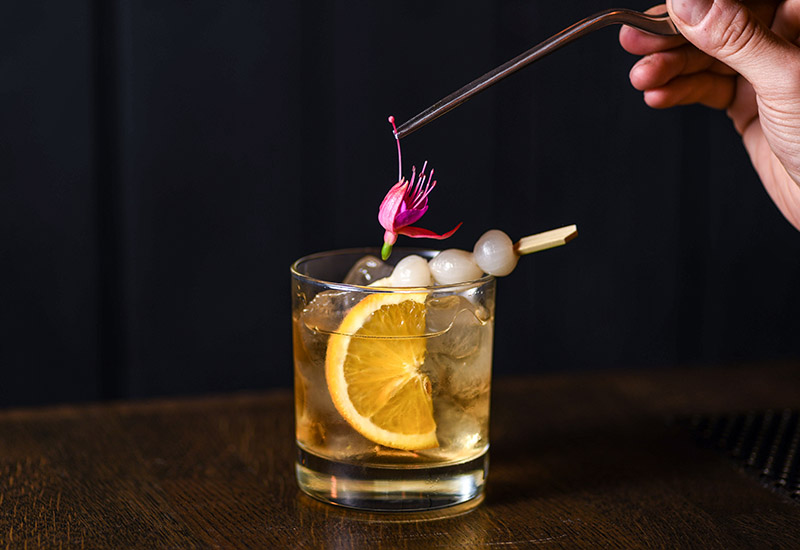 This is the cherry on the cake; the final touches that make a cocktail stand out from other beverages. Citrus fruits like lemon, lime and orange are among the favourites, as they add a refreshing zest to any cocktail while enhancing the overall presentation – whether in the form of a slice, wheel or twist. Berries also work great for a bite in between sips, as do melon balls, tiki-style pineapple chunks, candied fruit and cucumber strips (a G&T favourite). Herbs like mint, rosemary, basil and thyme offer a cool freshness and aesthetic appeal, whilst edible flowers boost presentation points. Some recipes for spicy blends include spices like star anise, cinnamon sticks or cayenne, whilst others – like the margarita – involve salting the glass rims. There's no hard and fast rule when it comes to garnishing, so have fun with it!
Glassware: Wine, cocktail, beer and shot glasses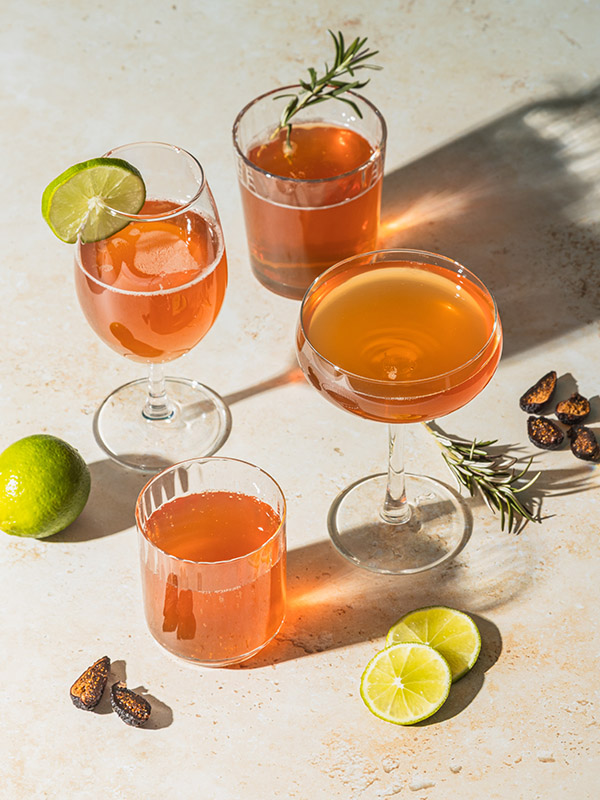 While you can use any existing glasses you have at home, the bartending and drinking experience is more enjoyable with the right glassware. This largely depends on the poison of choice. For lowball cocktails and spirits taken neat or on the rocks, use rocks glasses to allow the aromas of the drink to reach the nose. Tall glasses are great for highballs and long drinks with plenty of ice, whilst the martini and coupe are preferred, though not necessary, for cocktails served chilled sans ice (like the Martini and Manhattan). If you like, you can experiment with copper mugs and other fancy drinkware for fun, especially when hosting a house party.
All things ice
Last but not least, don't forget to stock up on ice! Most cocktails and liquor are best served with ice or chilled, discounting personal preference, so this ingredient is key. Though the regular ice cubes your freezer makes are fine, you may want to get additional ice ball molds, ice trays and perhaps an ice bucket for that extra pizzazz.
Happy bartending!