Since 2020, we've looked to wellness practices, the snazziest gadgets, and the craziest social media trends to help us maintain our health, wellbeing, and foster some semblance of normalcy. Now, get ready to embrace the latest food trend that may also make the routine of sipping on your morning cuppa, healthier.
Related: How TikTok is impacting the world in the age of the coronavirus.
Enter mushroom coffee. If coffee alternatives such as matcha or yerba mate do not satisfy your energy cravings, this seemingly funky drink promises a cup of everything you love and need from coffee, but without the intense caffeine crash as well as extra immune system-boosting benefits.
Interestingly, the mushroom beverage isn't just the latest trend birthed from the recesses of lockdown boredom. In fact, mushrooms and mushroom extracts have been used for centuries in Chinese medicine to help soothe ailments or support our overall wellbeing. Fungi such as Lion's Mane are sought after for its cognitive benefits, while the eryngii (also known as the King Trumpet or King Oyster mushroom) boasts anti-inflammatory and cholesterol-regulating properties.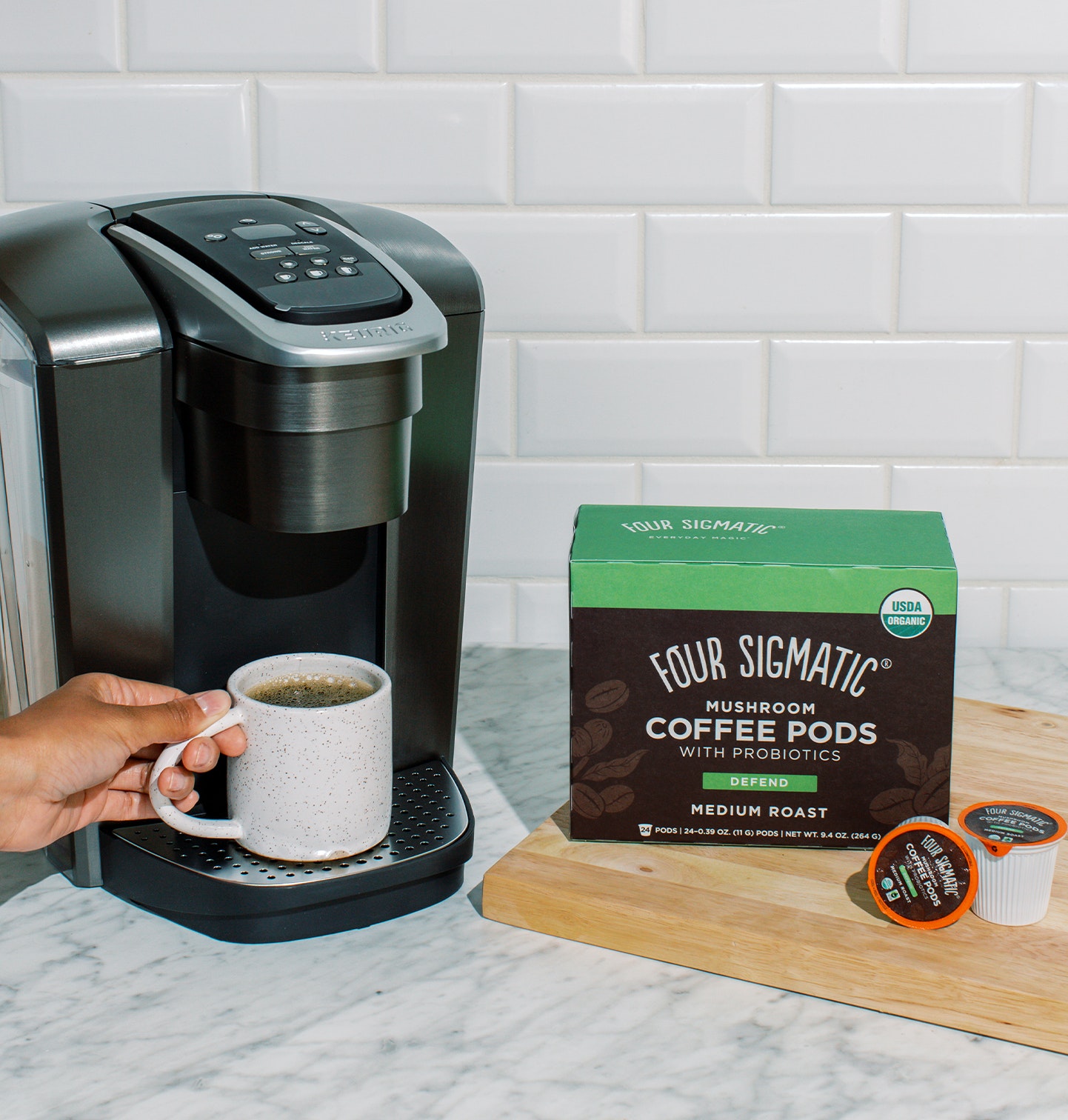 According to Finnish health food company Four Sigmatic – the world's current purveyor of choice for 'shroom coffee – Fins have been foraging and "brewing" Chaga mushrooms into "coffee" since World War II, when coffee was in low supply and coffee-drinkers needed a replacement.
But is it something that modern folks will jump onto – considering our improved appreciation for coffee as well as easy accessibility even to homemade, barista-level brews? Well, maybe.
Does mushroom coffee have actual coffee in it?
While the humble mushroom in its most natural form is delicious and one of the world's most popular umami bombs, it's rather comforting to know that mushroom coffee isn't actually made of 100% mushrooms. It's actually just regular black coffee combined with powdered medicinal mushrooms, and the benefits may vary depending on the fungi used in the mushroom powder.
Does it taste like mushrooms?
Quick answer, no not really. While mushroom coffee largely retains the taste of normal black coffee, those with more sensitive taste buds may pick up on the enhanced nuttiness and earthy notes from the mushrooms. Some may even enjoy the added depth of flavour.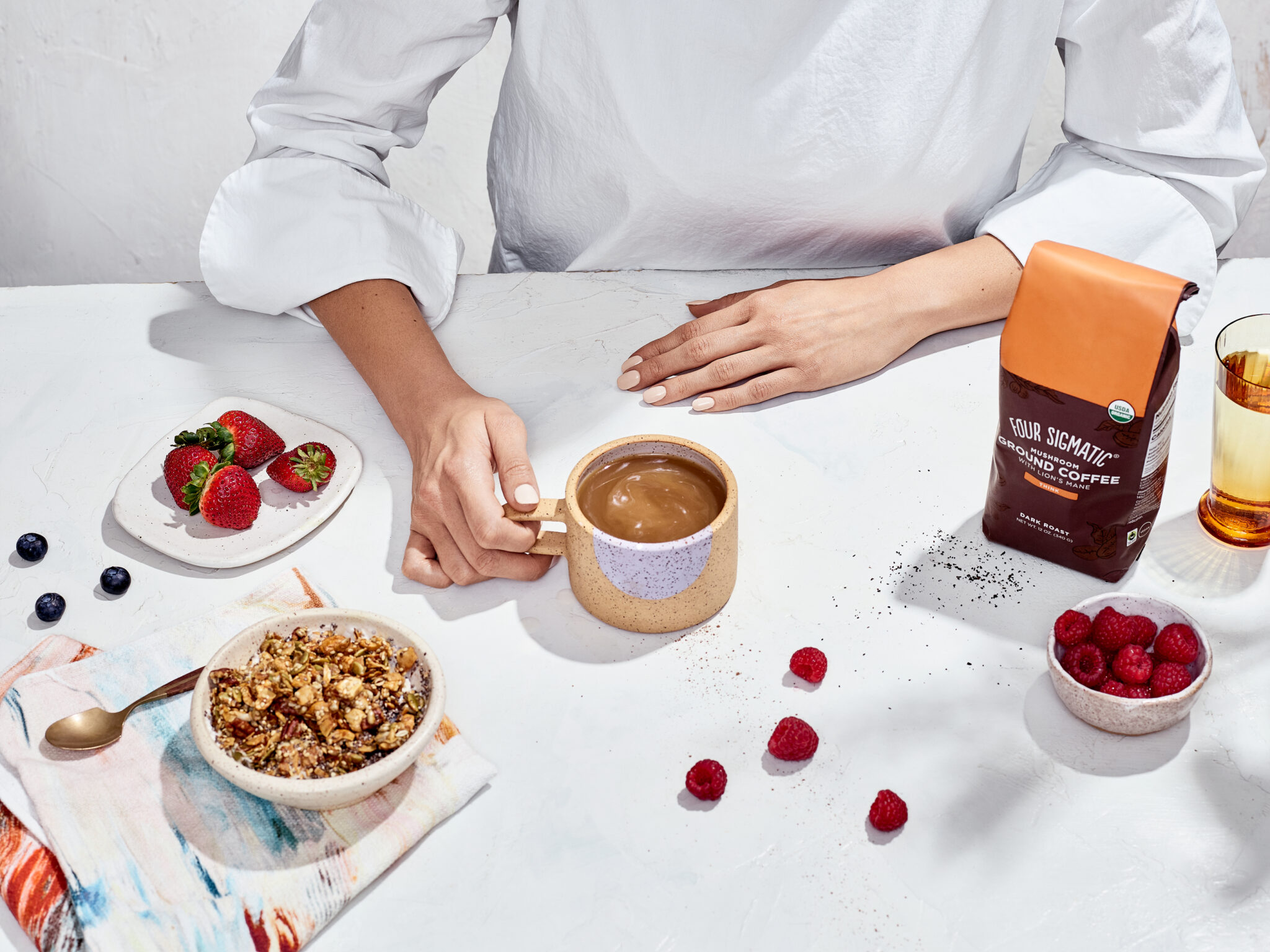 From helping to regulate the blood sugar levels to combatting the negative effects of oxidative stress, the benefits of mushroom coffee vary, depending on the fungi that's used in the mushroom powder. For example, Chaga mushrooms are used to fight inflammation and aiding in cholesterol control, while the nutrients in Lion's Mane mushrooms are touted for helping to repair nerve damage while lowering the risk of heart disease.
Other benefits may also include improved sleep quality, healthier skin, enhanced physical and mental performance, as well as better memory function. Drinkers will also get their usual energy boost, but without the strong caffeine crash that's associated with pure coffee, since mushroom coffee will have a lower caffeine content due to the ratio of mushroom powder to coffee beans.
If you're looking to give your daily energy a boost while enjoying some extra health benefits, perhaps mushroom coffee can be your daily replacement sans the irritability and jitters. And if you're someone who isn't particularly fond of eating mushrooms, this can be a great way to add this nutrient-dense food into your diet without actually tasting the fungi.
However, like pretty much everything in life, mushroom coffee isn't necessarily for everyone. It's best to consult your physician or doctor if you are considering medicinal mushrooms as a supplement – even if it's just in your cup of coffee, especially if you're unsure about your own nutritional requirements as well as the interactions you may have if you're on any medication.
Featured image: Getty