From psychological thrillers and action flicks to black comedy and borderline horror, these are some releases commanding a sense of poignant realism.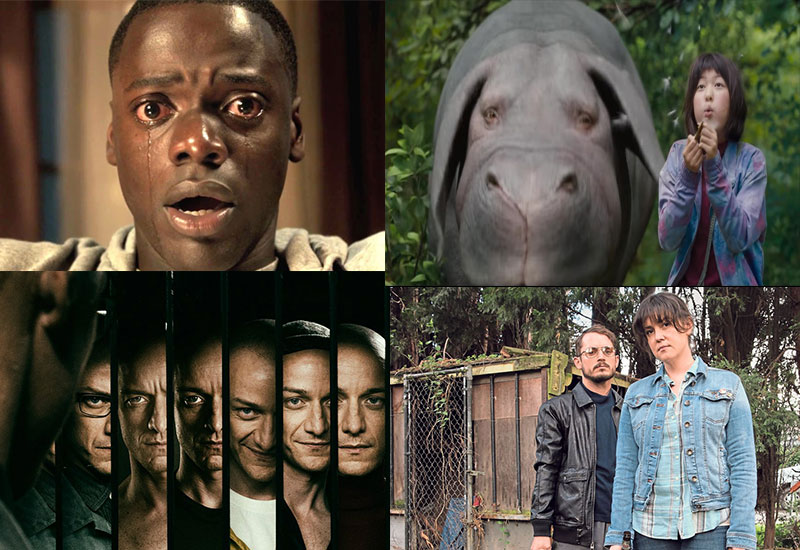 Whether it is a small or silver screen, we watch as a form of escapism.
But as forms of art, movies and series are heavily influenced by circumstances of the current time. They reflect issues that plague society: crime, greed, extremism, violence, social or mental maladjustment. In a world that is consistently pushing the boundaries of the strange and surreal, it comes as no surprise that although the ordre du jour in cinema and TV may not be wildly volatile, it is subject to constant – albeit subtle – change.
We're at the halfway mark of the year, and several darker movies  and series have already created ripples in the mainstream. We don't mean to be cynical, but if art is truly a reflection of society, it is totally understandable that audience members consume what is real, relevant and relatable.
Here's our selection of stellar 2017 releases so far.
Get Out
Reality is stranger than fiction, and Jordan Peele (yes, of Key & Peele comedic fame!) shows us just how far this is true. Following a young black man who goes with his white girlfriend to visit her family, Get Out combines sharp social satire with classic elements of suspense and horror. It's the psychological flick of the year (so far) that leaves you wondering just how well you know the people around you.
Reflection in the metaphorical mirror: At the height of America's Black Lives Matter movement, questions of race and prejudice force us to examine how deeply our biases are rooted in history.
Split
Once you get over how M. Night Shymalan has become the laughing stock of the horror genre, you might come to see that Split has all the makings of a promising thriller: mysteriously creepy antagonist, disturbing crime, poorly-understood medical condition, and a damaged protagonist forced to fight her demons or be swallowed by adversity. We think it is worth a watch if only to witness James McAvoy's humanising portayal of his character's multiple personalities. Oh, and (spoiler alert!) its ending coolly hints at an Unbreakable sequel.
Reflection in the metaphorical mirror: Although society has come a long way in addressing and treating mental health issues, many of us still don't have a complete understanding of why it makes people do the things they do – which sets us back in crime prevention and healthcare.
Okja
Acclaimed director Bong Joon-ho is no stranger to the oddly fascinating, using mood shifts and startling humour to brace strong subject matter – and he pulls off Okja with similar flair. When her genetically-engineered pet pig is taken away, a young girl Korean girl finds herself in an unlikely battle against a big, bad Western corporation, fighting time to save Okja from being turned into delicious meat.
Reflection in the metaphorical mirror: A reminder of the human condition, Okja hits home on important topics like sustainability and the potentially catastrophic workings of political corporations, with the gentle touch of love and friendship.
I Don't Feel at Home in This World Anymore
The stark contrasts between horror and comedy genres are ironically what make them work so well together as dark humour. What happens when a depressed woman teams up with her equally-offbeat neighbour (an utterly unrecognisable Elijah Wood) after being robbed? You get a gritty tale of the layman's revenge that challenges dearly-held notions of humanity, while reconsidering what it takes to be a survivor.
Reflection in the metaphorical mirror: In the midst of transforming gender dynamics and social norms, so many of us strive for an outdated sense of comfort – but is it possible to be 'normal' amidst all this madness?
TV
American Gods
Visual mastery meets avant-garde horror in the series adaptation of Neil Gaiman's bestselling novel, telling the tale of a brewing war between gods of old and new. We follow the grand story of an ex-convict-turned-sidekick, who is thrust into a wild, unfamiliar dimension following his release from prison and wife's tragic death. The eight-part debut season is a slow burn, but when it does catch fire, it is dizzying, daring and leaves us wanting more.
Reflection in the metaphorical mirror: This war is inevitable because the Old Gods fear they are losing influence in the new world, where money, technology, and fame offered by New Gods rule. This central conflict is a poignant examination of our priorities as the human race, and the lengths we go to fight for our beliefs.
Black Mirror
Netflix presents the third season of this silently popular postmodern drama, in a six-part anthology exploring the role of technology in growing anxiety and deteriorating relationships. Among others, we meet an unfortunate video-game guinea pig, a woman utterly consumed with being 'liked', and people who purchase an alternate afterlife. This season effortlessly swings from outrageous to insightful, using sci-fi fantasy to paint over-the-top prospects in an all-encompassing technological world.
Reflection in the metaphorical mirror: The digital dilemma is one we are entirely familiar with, especially as social beings facing moral conundrums, the bitter and twisted ways of fellow men, and uncertainty about the afterlife. Black Mirror affirms that if we don't become masters of technology, it will make slaves of us.
Images courtesy of Universal, Netflix and Starz.