Intriguing cocktails and complementary bites await at this space embodying youthful energy with a touch of classic nostalgia.
As the weekend rolls around, we often find ourselves hunting for a place to enjoy cocktails and conversation without having to deal with city centre crawls and crowds. Klang Valley residents are increasingly spoilt for choice, and now, we have another understated new offering to consider: Modern Society at Damansara City Mall.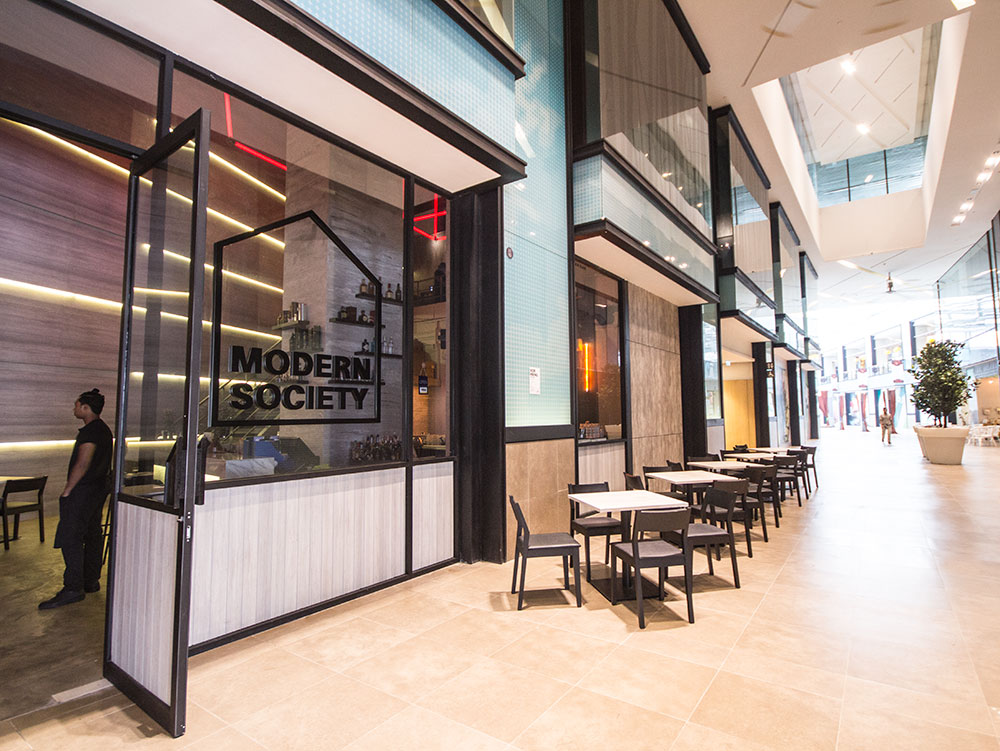 Newly opened and gearing for a full launch, this restaurant/ bar is tucked away in a cosy corner of the up-and-coming mall. It is first and foremost a watering hole, and the placement of the large, square Greek-marble bar smack in the middle unabashedly announces this identity.
"Modern Society is a habitat for modern, discerning social creatures that want to mingle and relax – a lifestyle space showcasing innovative food and beverage, art, music and attitude, all set against highest standard of design," says one of the owners, Hugo Ng.
High ceilings and walls celebrate the creative use of space in two main areas: The Gallery and The Loft. The Gallery is set for action and interaction, where you can enjoy a game of Beer Pong or Flip Cup with friends, while The Loft is a more intimate area overlooking the entire establishment, perfect for private functions or a quiet drink.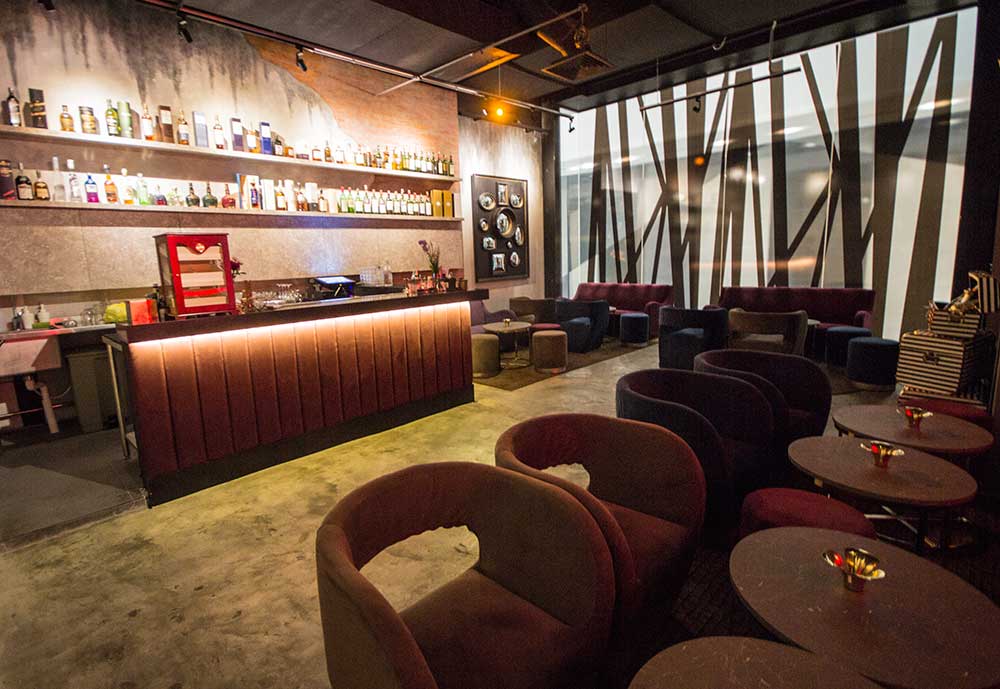 Hugo shares that Modern Society is envisioned to be a weekend spot where adventurous souls can find interesting fusion food catered to their favourite drinks, and cocktails catered to a range of palates.
Behind the bar you'll find seasoned mixologist James Fernandis, who describes himself as more of a 'throwback kind of guy' when it comes to his concoctions. In a time when DIY bartending is almost a lost art, Fernandis serves up clever, contemporary cocktails deeply rooted in the classics.
Liquid Poetry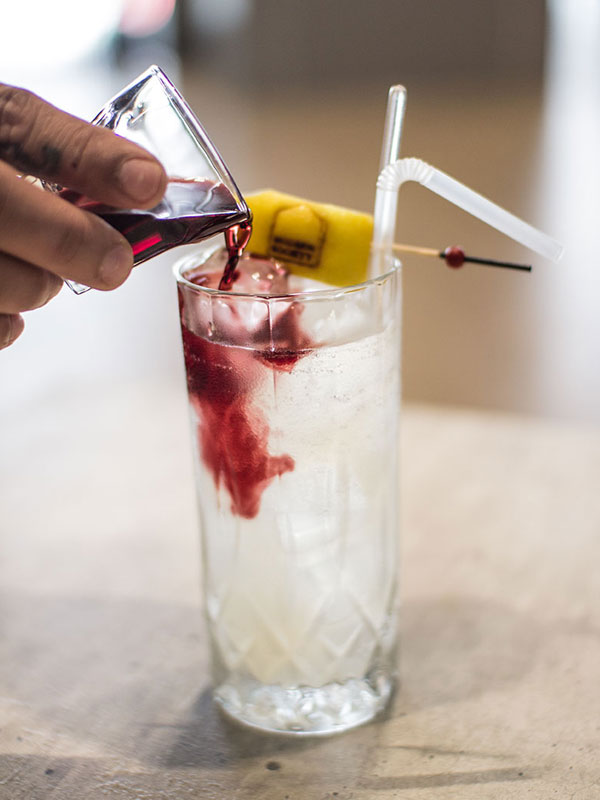 We are served this tall, intriguing mix of Malibu, elderflower liqueur and gin to complement the lunchtime bites. The accompanying shot of port wine is slowly poured into the tall glass, creating fascinating deep red swirls as it slowly takes over to give the cocktail a neutralising floral twist. The bittersweet drink is a perfect summer afternoon cocktail for the romantic in all of us, its mixed notes slow-dancing on our tongues, alluding to its name.
Rum Runner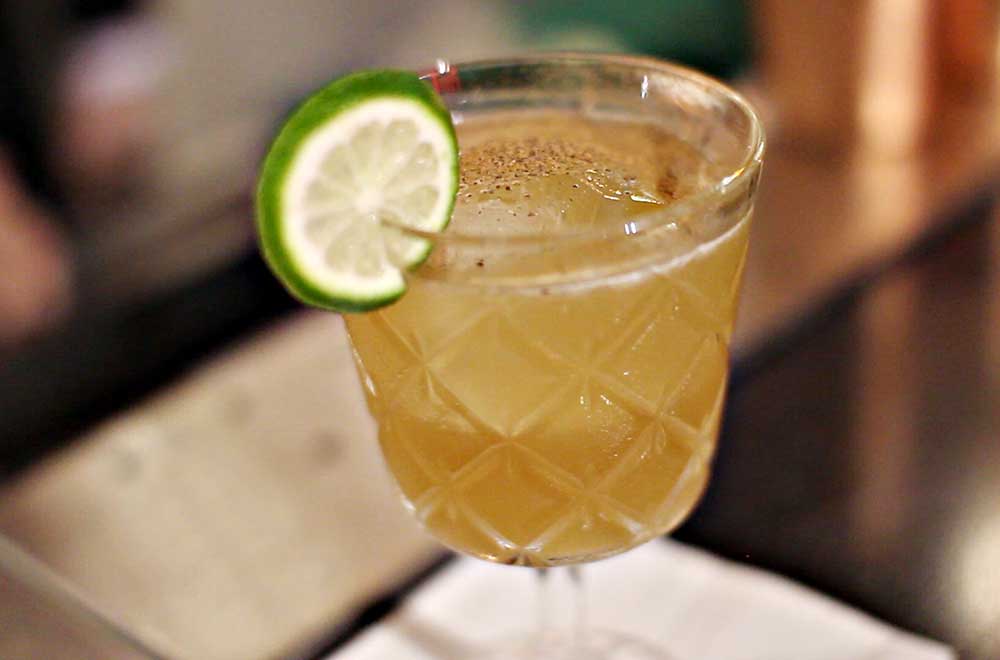 One of Fernandis' specialties, the Rum Runner is a proud product of the bartender's uninhibited experimental endeavors. It combines a homemade lime cordial with dark, spiced gold, Cuban and aged rums to create a potent mix that is tropical yet heavy. The cocktail is topped with a dust of nutmeg, which provides just the right sweet spiciness to complement this ingenious concoction. We are pleasantly surprised at how delicious it tastes going down, and how consistent the taste remains close to an hour after it is set in front of us.
The Modern Society experience would be incomplete without some treats from the kitchen, where Chef Daryl Johnny and team serves up small plates, snacks, salads, mains and desserts.
Appetiser – Modern Scotch egg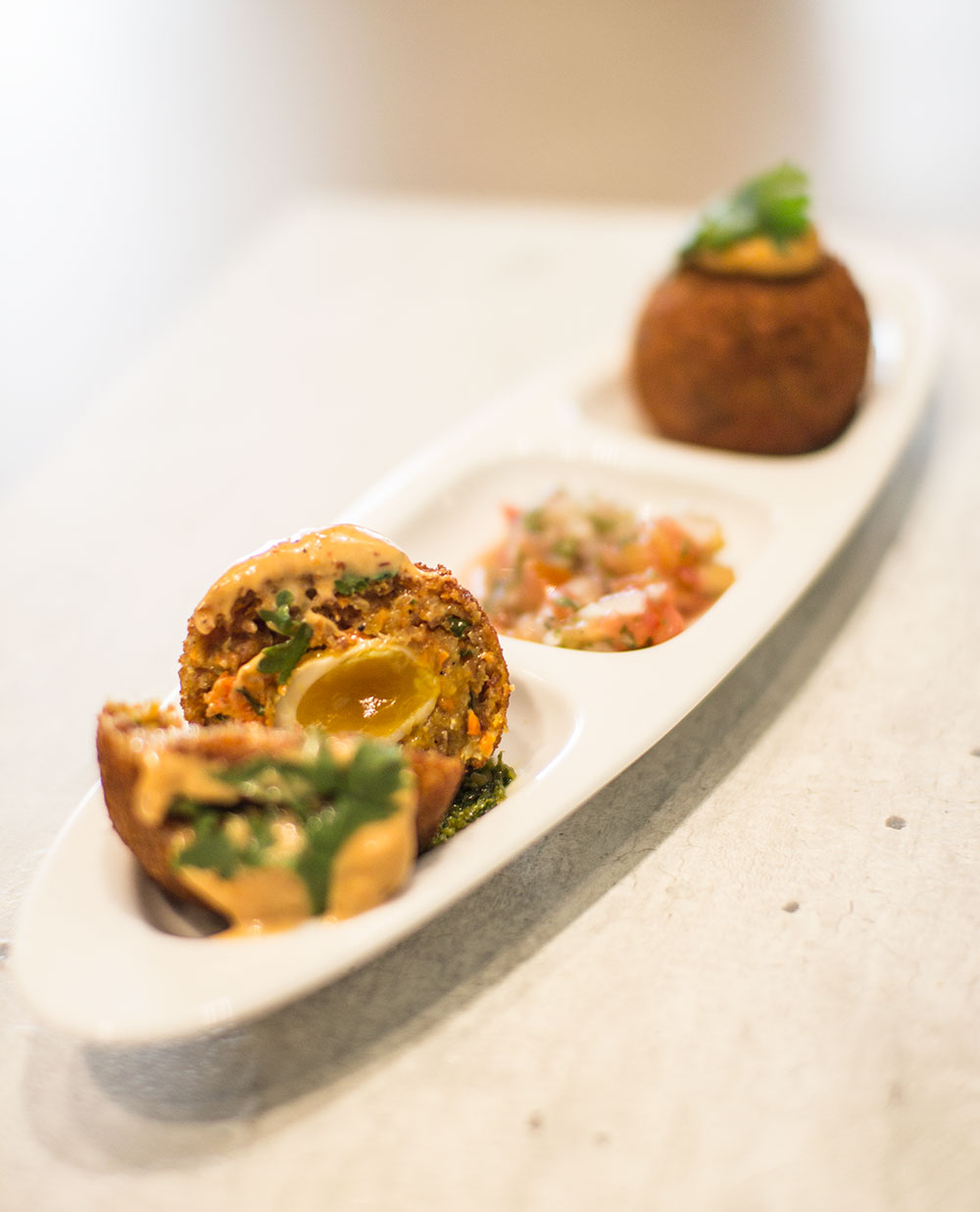 Biting into the ball, we are greeted with a rich burst of flavours from the Scotch egg. It is loaded with salmon belly, fish roe and beef bacon, complemented by a drop of Chipotle aioli and set on a coriander-paste base. The accompanying tomato salsa lends a sharp kick, altogether doing a pretty decent job of exciting our taste buds for the main courses.
Main – Foie gras risotto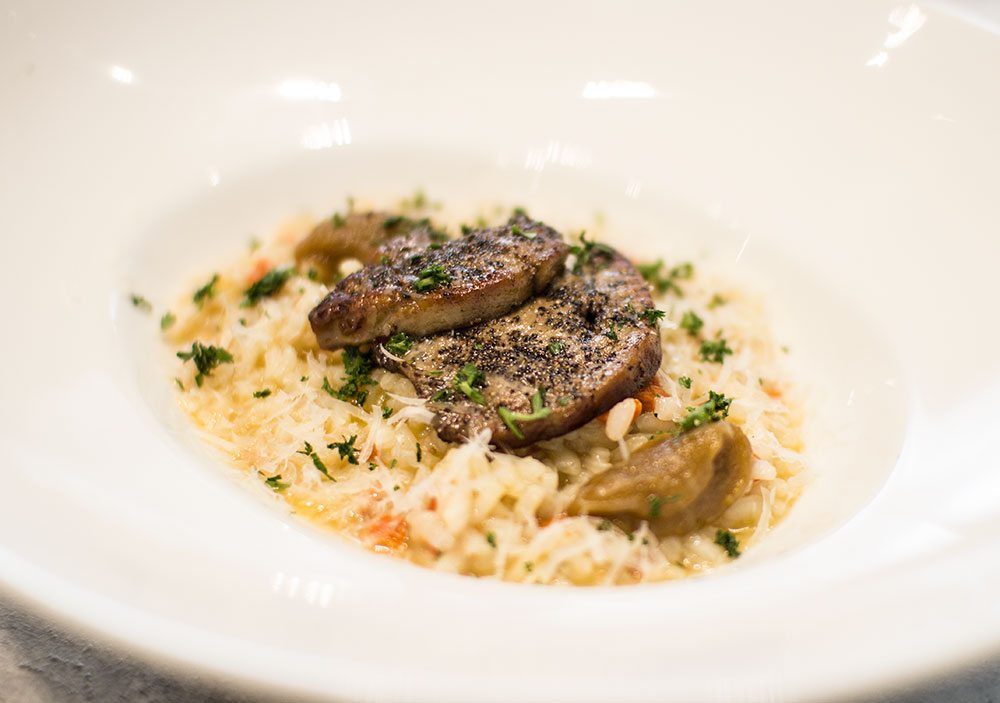 The menu is filled with novelty fusion items that echoes the dining ethos of Modern Society, one of them being this delightfully rich, sweet-savoury dish. Generous foie gras cuts sit upon a bed of risotto and chicken, with the goji berry broth and apple chutney sauce combining perfectly to lend a sweetness that cuts the strong aftertaste of the duck liver – which can otherwise easily become overbearing.
Dessert – Panna cotta
This instant favourite is creamy, heavy and flavourful, offering an initial taste of delicious vanilla that slowly leads to layers of slow braised strawberry and mint coulis. The panna cotta is a pretty sight that will not disappoint fans of the Italian dessert, and finishing our meal with it was a thoroughly satisfying experience complemented by Modern Society's colourful, soulful cocktails.
Look out for this exciting bar/restaurant, set for an official grand launch in July. For reservations and inquiries, call +603-2771 9710.
Address: Lot L1-10, Level 1, Damansara City Mall, 6 Jalan Damanlela, Pusat Bandar Damansara
Opening hours: (Ongoing soft launch period) Monday to Saturday, 11.30am – 2.30pm, 5pm – 3am (closed on Sundays)
(After full launch) Friday to Saturday, 10am – 3am & Sunday to Thursday, 10am till late
Update: This establishment is no longer open.
Photography & videography: Yew Chin Gan