Known as ruby chocolate, this new kid on the chocolate block could very well be your next favourite.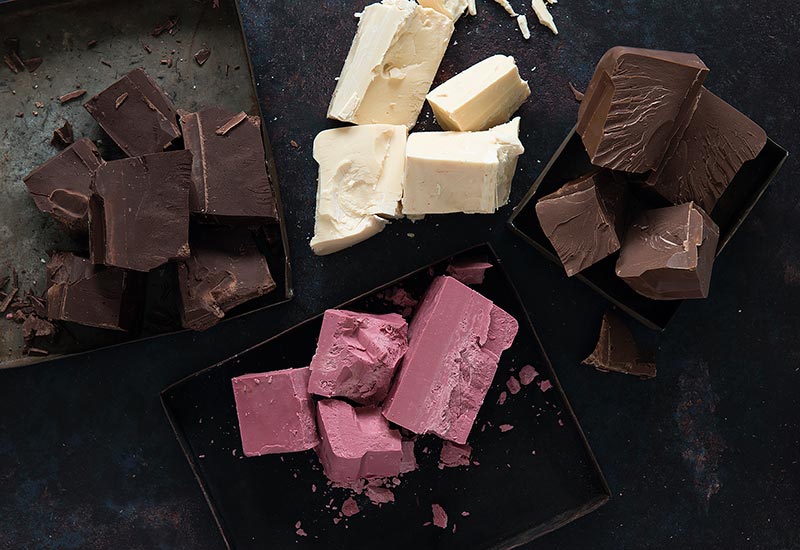 We all know the three types of chocolate – milk, dark and white – and we probably already have a preference. But did you know there's actually a fourth type of chocolate? Known as ruby chocolate, this new kid on the chocolate block could very well be your next favourite.
And no, this isn't another chocolate creation like your toffee caramel temptation or durian-inspired treat. It's completely natural and offers a distinctive taste and experience of its own. Here's three cool facts to know about this ground-breaking new bonbon.
It was first unveiled in 2017
Discovered by Barry Callebaut, a Belgian-Swiss cocoa company, the ruby chocolate was first unveiled to chocolate aficionados in a private event in Shanghai last year. This came after 13 years of research and development of the ruby cocoa bean, an existing cocoa variety found in Ivory Coast, Ecuador, and Brazil.
While the company has kept its recipe top secret, it maintains that there has been no use of colourants, additives or genetically-modified ingredients in its production. The first ruby chocolate product was only introduced to the US market by Kitkat earlier this year.
It's also dubbed the millennial chocolate
As anyone can guess, its name derives from its petal pink colour (though most rubies are more closely associated to red than pink). Coincidentally, that colour happens to be one that millennials are obsessed with – hence earning it the nickname, millennial chocolate.
But the term millennial also has other connotations to it. As Antoine de Saint-Affrique, CEO of Barry Callebaut told Bloomberg: "It's natural, it's colorful, it's hedonistic, there's an indulgence aspect to it, but it keeps the authenticity of chocolate. It has a nice balance that speaks a lot to millennials."
It tastes like berries
Part of what makes ruby chocolate unique is its sweet and sour, berry-like flavour. We were recently treated to an exclusive tasting of Harriston's adaptation of the ruby chocolate, and we must admit, it tasted unlike any of its family members.
Our taste buds and perception of chocolate were conflicted at first. Not that we haven't tasted anything else like it, but more so because its flavours were reminiscent of raspberry white milk chocolate – except there's no additional berries in the mix. It has a very smooth texture, with a tart tinge to its sweetness.
Don't just take our word for it. Thanks to Harriston's partnership with Barry Callebaut, Malaysians can soon be among the first in Southeast Asia to get a taste of this fourth chocolate. The homegrown chocolatier's ruby chocolate range offers three different variants: ruby chocolate bar, ruby chocolate thin strips and ruby chocolate coconut crunch bar.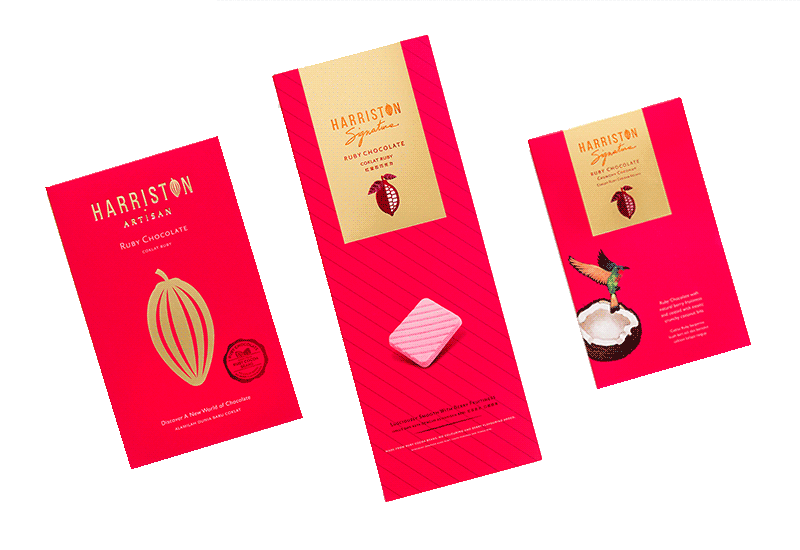 The three ruby chocolate variants will be available at Harriston Signature and Harriston Boutique outlets from 1 September onwards.
For more information, log on to harristonchocolate.com.