As the moon shines full on the 15th day of the 8th month of the Chinese lunisolar calendar, it's time to pour the tea and cut the mooncakes while the young light up the lanterns and the young-at-heart gather with loved ones.
Traditional mooncakes galore are aplenty, ensuring a celebration not short on baked or snow skin varieties, but if you're looking for something a little extra special, contemporary mooncakes are shaking things up for a modern celebration.
Creative pastry chefs and adventurous bakers have come up with offerings with healthier pastes, unique skins, new shapes and more.
Here are some for your consideration if you're looking to break convention without breaking tradition.
Oh Cha Matcha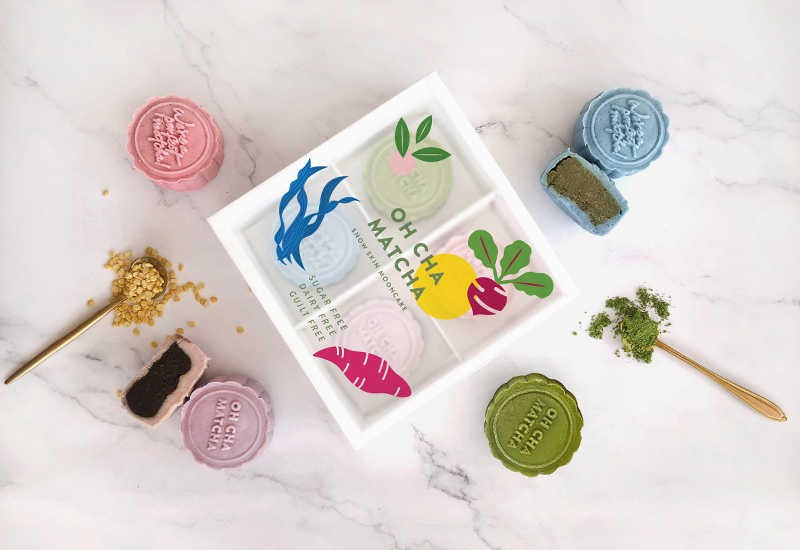 Oh Cha Matcha snow skin mooncakes are back with new flavours this year, each handmade with all-vegan and all-natural ingredients. Presented in a box of four pretty pastel pieces, the colours are derived from natural sources, including sweet potato for the purple, beetroot for the pink, spirulina for the blue and of course, green tea for the green. Inside, mung bean paste is flavoured with tea variants including hojicha and genmaicha for a treat that remains centred around tea, true to Oh Cha Matcha's brand DNA. The set is priced at RM60 for a box of 4.  W ohchamatcha.com
Yum.Cha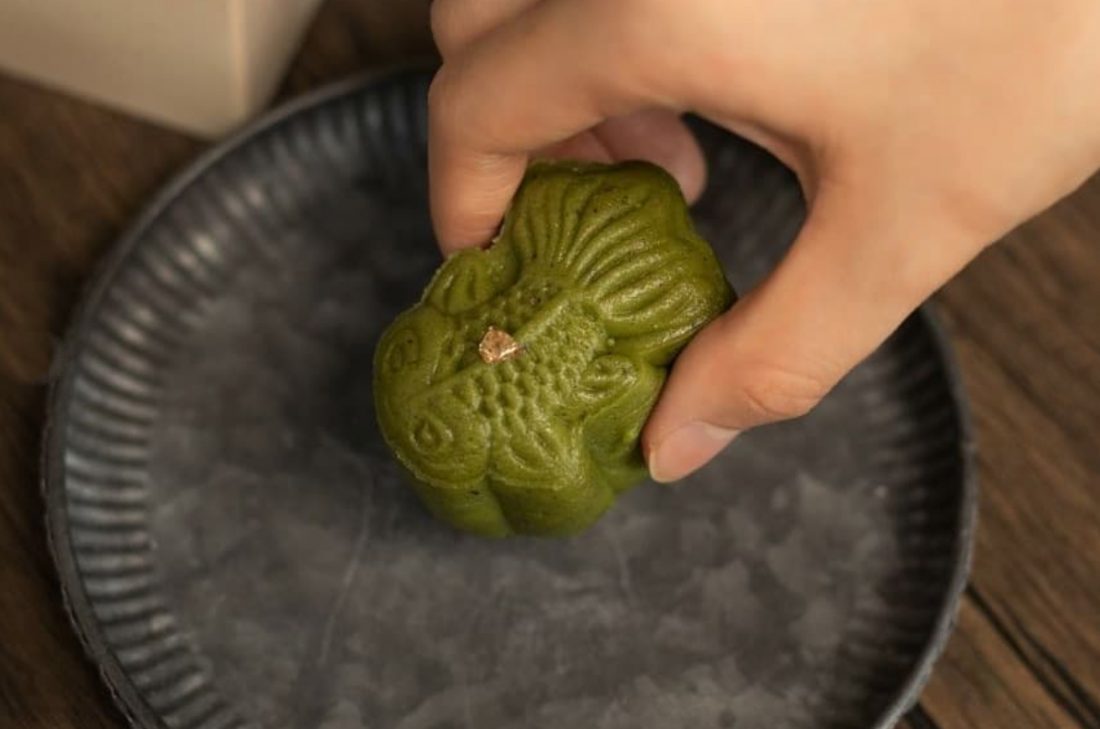 Yum.Cha has partnered with NikoNeko Matcha for its Cha.Kingyu mooncakes that it is calling "The Uncommon Mooncake Experience". Each mooncake shaped as a precious goldfish is made fresh daily using premium lotus paste, infused with matcha powder from NikoNeko. Flavours include Niko Ajisai Matcha Pistachio, Houjicha Cranberry, Genmaicha Goma and Yuri Matcha Anko. They are priced at RM109 for a box of four. DM them on Instagram to order or buy online on Beepit. W yumchamy.beepit.com
JCL Patisserie

JCL Patisserie lends a gothic touch to its mooncakes with a charcoal black snow skin. Inside, however, premium Musang King durian flesh makes for an indulgent treat with no preservatives, artificial colouring and flavouring. Bright and yellow the moment you bite into them, reminiscent of the the full moon on the night of the Mid-Autumn Festival, these creations are available for a limited time only. Pre-order now on their Instagram page @jcl.patisserie.
Wellnest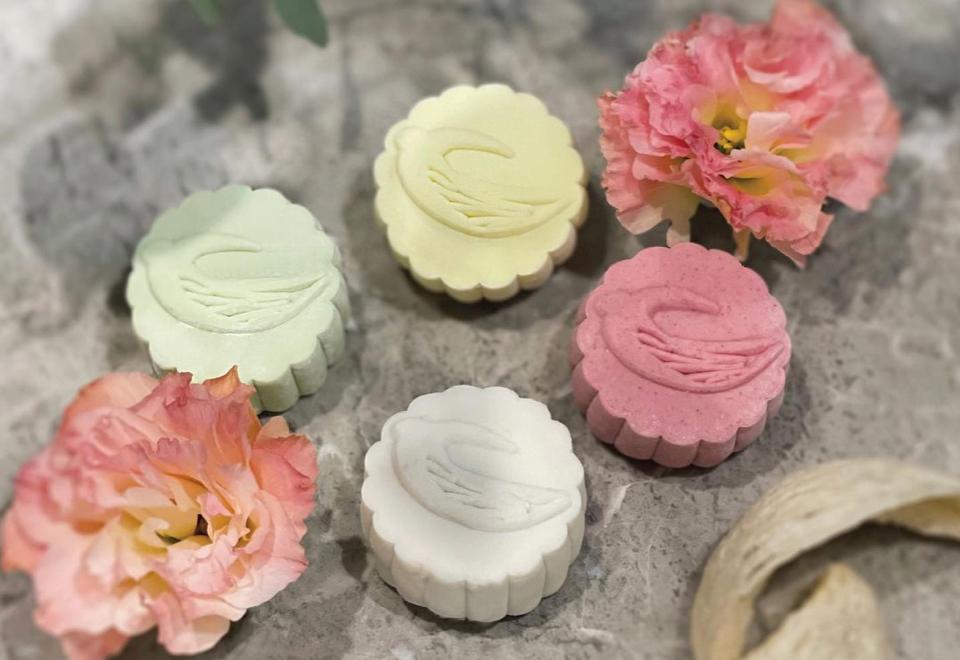 Premium bird's nest company Wellnest has found a way to incorporate the goodness of its bird's nest into pretty snow skin mooncakes of pastel colours for a taste of tradition laced with beauty. Available in Signature Red Dates, Kaya Coconut, Mango and Pandan Gula Melaka flavours, the mooncakes are available in boxes of 4 or 6 pieces, each filled with 100% pure bird's nest, and are handmade with no preservatives. They do delivery to Johor Bahru, KL and PJ, so place your orders by dropping them a DM on their Instagram page @wellnest.asia.
Valen's Patisserie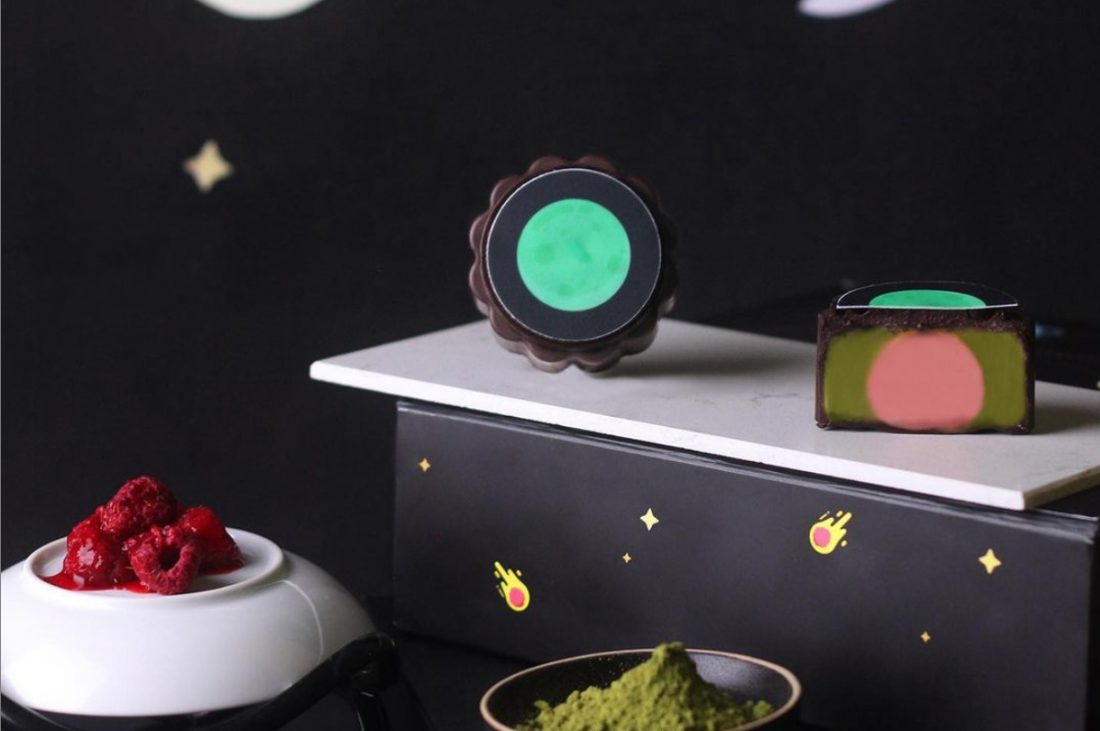 Inspired by its love for chocolate, Valen's Patisserie presents whole chocolate mooncakes made in dark chocolate shells. Inside, ganache of a multitude of flavours await from yuzu and white chocolate to coffee and hazelnut praline. Presented in an adorable space-themed packaging with rabbits that orbit moons in spacesuits, the chocolate mooncakes are certain to fly you to the moon as per the name of the collection.  Drop them a DM to place your order at @valenspatisserie.
A.Cross Creations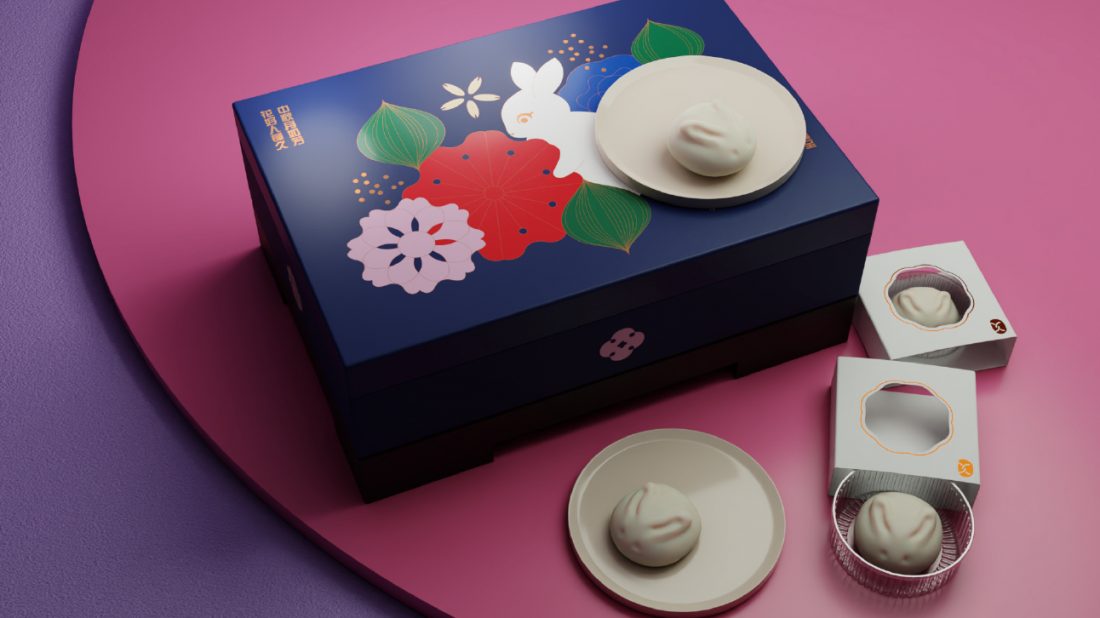 A.Cross Creations is proud to make its debut as a specialty gifting company with three  mooncake collections, among them including an adorable Fable Set that tells the story of Chang'e, the immortal goddess of the moon, and her companion, the Jade Rabbit. As such, its mooncakes are shaped into little bunnies that may just be too darling to eat and come with a DIY bunny lantern kit that you can build on your own. A.Cross Creations launches on 12 August 2021 so check back soon for more details when they launch. W acrosscreations.com
The Oriental Group

The Oriental Group returns with their award-winning baked and snow skin mooncakes but with a little something extra: Get a taste of Teochew and Shanghainese style baked mooncakes with their offerings, a hard find anywhere else.  This year, the group has added four new flavours to their range: Ying Yang Red Bean Snow Skin, Custard Jade Snow Skin, Black Sesame and White Lotus Paste Snow Skin and Custard Durian Snow Skin – totalling 8 delicious flavours to choose from. They are priced from RM16 – RM40 per piece and are available for purchase from all Oriental Group outlets or online as self pick up or delivery.W orientaltoyu.com
Unbox by Huff+Puff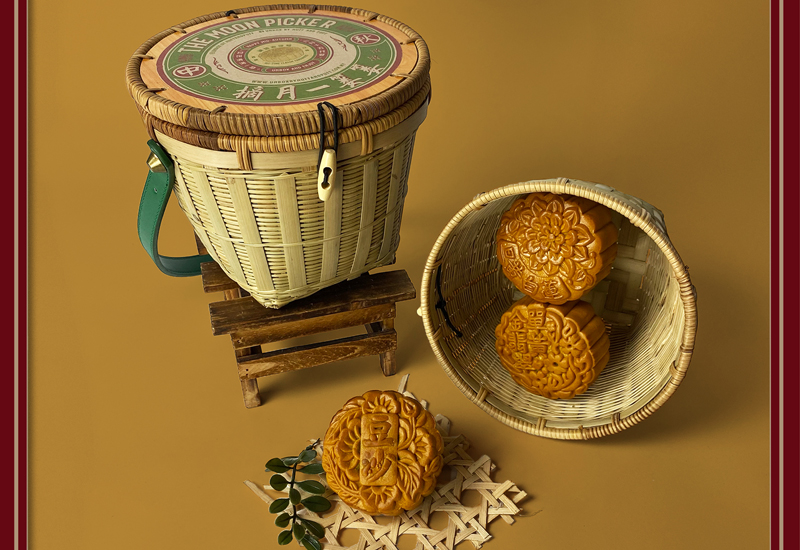 Unbox by Huff+Puff has more thematic mooncakes for this year's celebrations. Paying homage to the moon this year, it has released a set called The Moon Picker, inspired by the tradition of enjoying mooncakes paired with tea under the bright moonlight. The mooncakes are presented in a mini rattan basket resembling those used by tea pickers back in the days of old. With its strap handle, The Moon Picker set makes a perfect gift that can be reused as a cool carrier again after one is done with the baked red bean, white lotus and pandan paste mooncakes by Fai Fong Bakery. A set with three pieces of mooncakes (one of each flavour) is priced at RM158. W unboxbyhuffandpuff.com.my
Creme de la Creme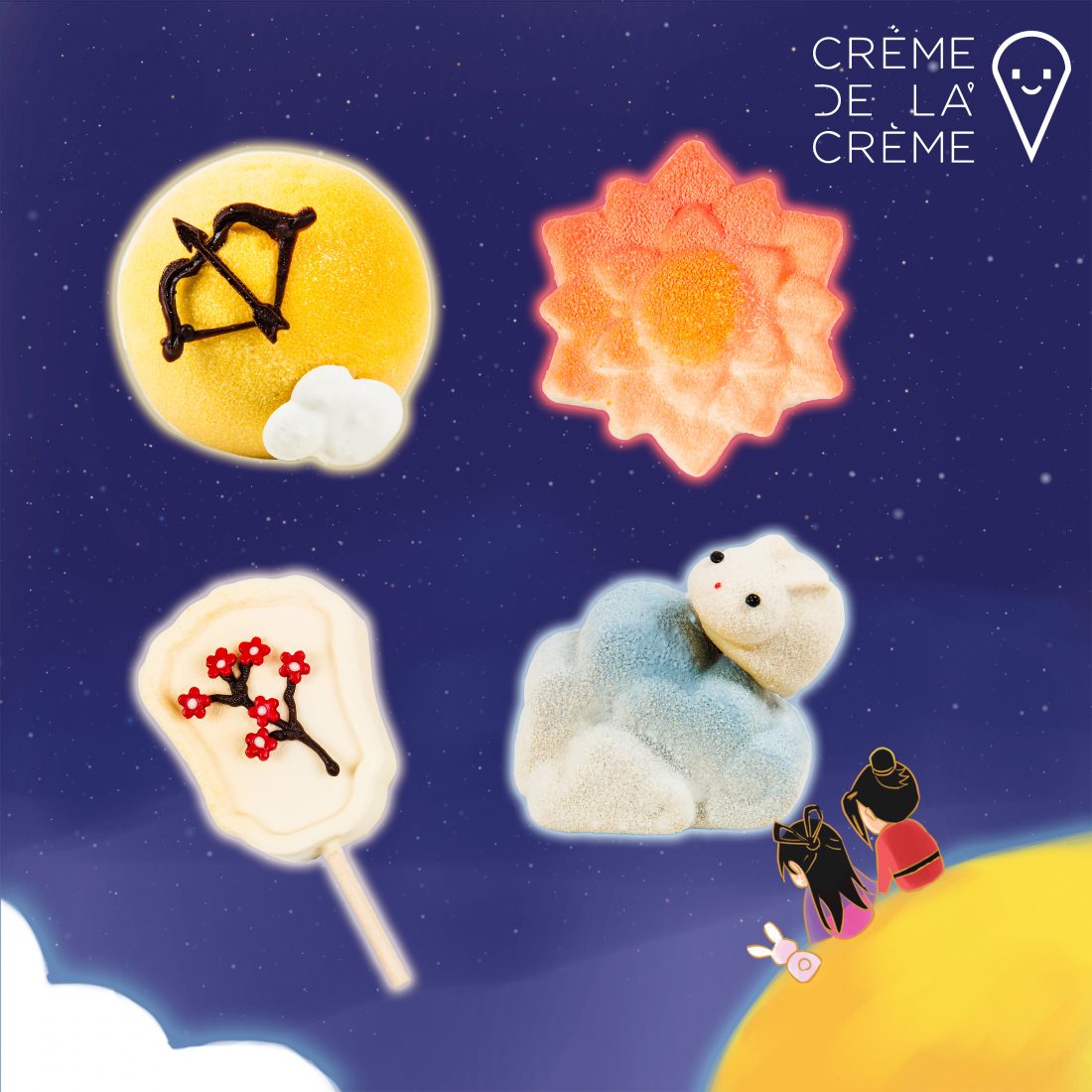 Crème de la Crème returns with its selection of ice cream mooncakes crafted into darling emblems synonymous with Mid-Autumn tales and fables. Hou Yi the Archer comes with pear ice cream as well as pear and dried longan compote, Chang Er's Fan pays tribute to the moon with salted egg yolk ice cream and lotus seeds, Jade Rabbit returns to its home among the clouds with rose ice cream, vanilla ice crem and white chocolate dip while the Lotus Flower enchants with Pu'er chrysanthemum ice cream, dark chocolate ice cream and yuzu sorbet. Available in a set of 4 for RM122, pre-order at the Damansara Uptown or 163 Kiara outlets. W @mycldc