Having recently teased the upcoming four-cylinder AMG C-Class, Mercedes has finally unveiled the Mercedes-AMG C43, which comes standard with all-wheel drive and is powered by an innovative turbocharged inline-four with hybrid aid that produces 402 horsepower. The new C43 models have been completely redesigned to accommodate the new engine, relying on the changes made to the sixth-generation Mercedes-Benz C-Class, which was released last year.
The 1991cc engine produces 201bhp per litre, surpassing the C43 40bhp's previous output of 402bhp, thanks to an electronic turbocharger that replaces the exhaust-gas turbocharger and a newly constructed belt-driven starter-generator that boosts reserves momentarily under full load. The power is sent to all four wheels via AMG's nine-speed multi-clutch automatic transmission. The Mercedes 4Matic all-wheel-drive system distributes power 31 percent to the front wheels and 69 percent to the rear wheels.
The four-cylinder engine in the C43 produces 402 horsepower and 369 pound-feet of torque, with a 48-volt, belt-driven starter-generator. The turbocharger's motor is powered by a 48-volt electrical system, which may recover energy during deceleration and provide a smooth start-stop function. According to Mercedes, the C43 will reach 60mph in 4.6 seconds and reach a top speed of 155 mph electronically limited when equipped with the standard 18-inch wheels.
The transmission is a nine-speed automatic with a wet clutch pack in place of a torque converter, and Mercedes' rear-biased 4Matic all-wheel-drive system is standard. The C43 is equipped with steel springs and adaptive dampers that may change their response depending on whether the car is in Comfort, Sport, or Sport+ mode. Rear-wheel steering is also standard on the C43. The AMG C43 features a unique grille with vertical slats and chrome-plated trim and a distinctive bumper with a diffuser at the bottom and round quad tailpipes can be found in the back. To complement the revised fascias, AMG even designed side skirts specifically for the C43.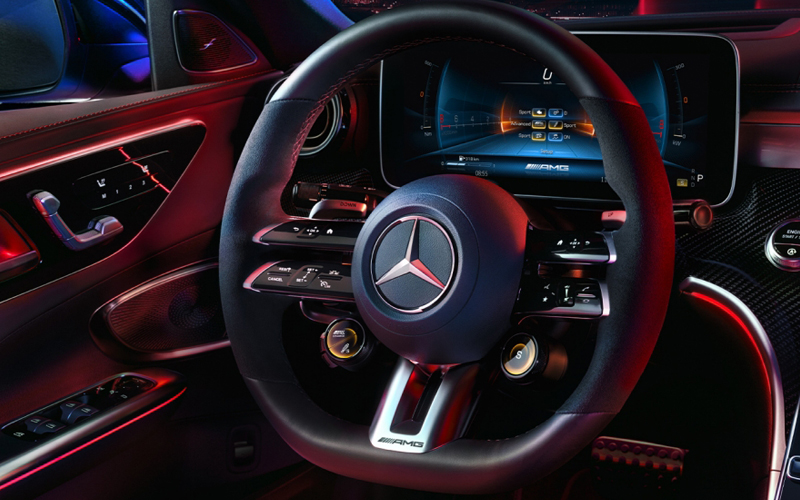 In the interior, there are MB-Tex and microfiber upholstery with contrast red stitching, red seatbelts, an AMG performance steering wheel, AMG pedals, AMG floor mats, and illuminated AMG door sills and also holds a 12.3-inch digital instrument cluster, while the infotainment system and vehicle controls are accessed via an 11.9-inch central touchscreen. Mercedes hasn't said how much the 2023 C43 will cost, but the company is expected to reveal that information closer to the vehicle's launch.