MB&F's collaborative Co-creations line that includes insect-shaped tripods, rocket pens, and robot clocks now welcomes its latest addition: a new limited edition version of its spaceship music box developed with REUGE.
The MusicMachine 1, released in 2013, paved the way for a new category of creative projects that explored the possibilities of design beyond wristwatches. Crafted in MB&F's singularly distinct style, the sci-fi themed piece subverted every expectation of what a music box should be, from its futuristic appearance to the songs it played. Tunes from Star Wars and Star Trek, along with Pink Floyd's 'Another Brick in the Wall' and John Lennon's 'Imagine' blasted from its two sleek cylinders.
The latest iteration, MusicMachine 1 Reloaded, retains these same songs, as well as a spaceship-inspired exterior featuring dual propellers and twin silver cylinders on outrigger landing gear, albeit with a few tweaks.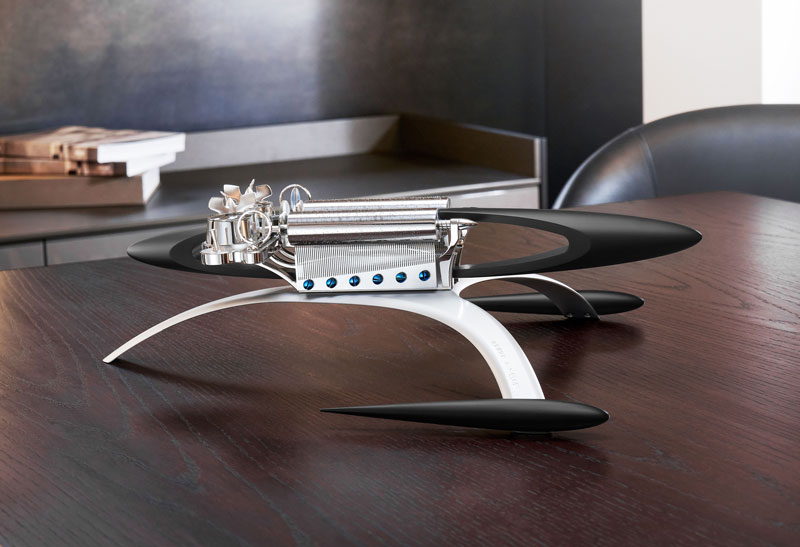 "The original design was done by young Chinese designer Xin Wang," explains Maximilian Büsser. "But we had Maximilian Maertens, who is designing a lot of new crazy cool stuff with us, work on this one with the idea of being a little bit more streamlined, a little bit more open."
Instead of the lacquered walnut material used in the original MusicMachine 1, the Reloaded version's main body is made of anodized aluminium. Energy generated from the coiled springs are transferred by the gear trains, putting the two cylinders containing music configurations into motion. 1,400 precision-placed pins then bring the songs to life by plucking the steel combs containing 72 hand-tuned notes.
MusicMachine 1 Reloaded comes in a limited edition run of 33 pieces in blue, 33 pieces in red, and 33 in black, and retails at RM87,500.
Source: MB&F and The Hour Glass