Everything that Martell does is underlined by audacity.
Such was the same for its latest virtual Chanteloup XXO  home dining experience that took guests on an experiential journey that was worth remembering from the comforts of their homes. From an unexpected delivery method to a unique menu infused with the exquisite flavours of Martell, the experience served as a testament to the audacity of the brand.
The Martell Chanteloup XXO Virtual Dinner experience kicked off a few days earlier with guests receiving their dinner sets consisting of a Martell tasting kit, a snifter glass and tableware, all of which were packaged in a Martell box and delivered by a special "visitor". With the possibility of drone deliveries becoming a norm in the near future here in Malaysia, Martell gave guests a taste of the future by deploying drones to deliver the Martell Chanteloup XXO Dinner sets over the weekend leading up to the dinner – a first in Malaysia.
The dinner itself was curated by Akâr Dining, a Modern French restaurant helmed by Japanese- and French-trained Chef Aiden Low, which combines both European and Asian flavours to create a multi-dimensional dining experience. Best known for transforming French classics into dishes that are exciting, original and distinctly Malaysian, Akâr Dining quickly ascended to become the "must-try" restaurant on everyone's list since its conception in 2020.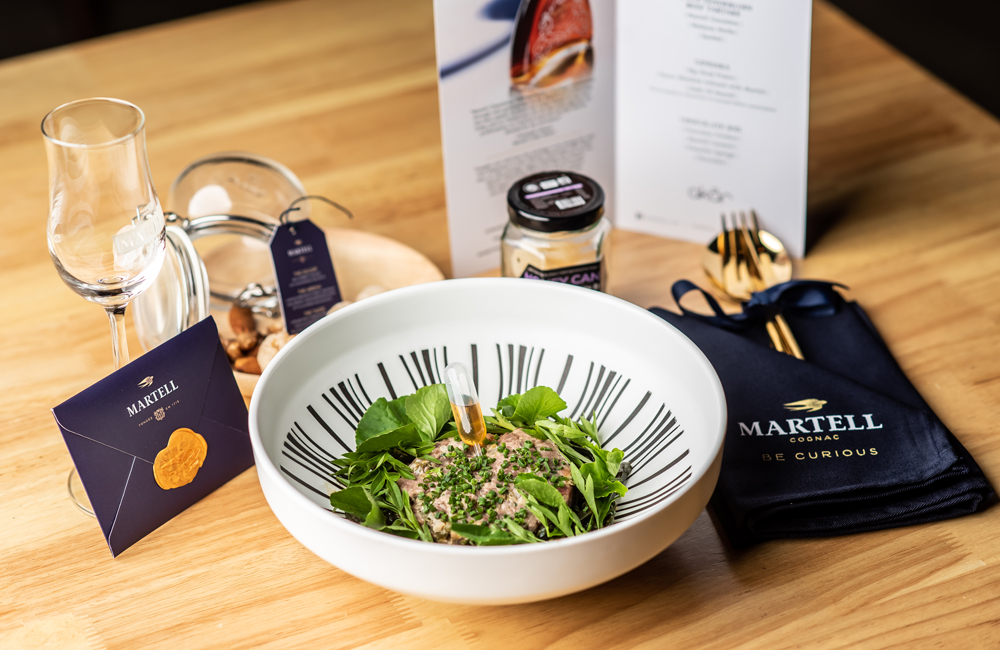 The 3-course menu incorporated Martell using various techniques:
MARTELL X AKÂR MENU
ANGUS TENDERLOIN BEEF TARTARE
Martell emulsion, Malaysian herbs, Sambal
GINDARA
Big Head Prawn, Sauce Matelote infused with Martell
CHOCOLATE SOIL
Chocolate Fondant, Martell Caramel, Pistachio Sponge, Chocolate
During the virtual event, guests were treated to a tasting of the Martell range led by Martell Brand Ambassador, Jean-Baptiste Gourvil. The variants featured were Martell Chanteloup XXO, Martell XO, Martell Cordon Bleu and Martell VSOP. Guests were also invited to participate in an interactive session during which they had to guess the flavours of the Martell Cordon Bleu.
The night concluded with a Lucky Draw, with two winners leaving with Martell Miniature Trio set and the Grand Prize winner getting a bottle of Martell Caractère, one of the only few available in Malaysia, along with a Martell Miniature Trio set.
Fans of Martell can stay updated on any upcoming Martell Dinners by following the Martell Malaysia Facebook page. For more information on Martell, visit www.martell.com/en-my/
(Source: Martell)