City-slickers and party-goers know a great night out is on the books when freshly shucked oysters, chilled seafood on ice and perhaps even decadent caviar are involved, nibbled on in between sips of champagne. The Marini's Group wants to elevate that a notch with a side of fashion at its latest dining-entertainment concept Maristar on the lower ground of the newly refurbished The Starhill.
Welcome to a lounge that has everything to see and be seen, while satiating your appetite for the delicious and stylish. A caviar and seafood bar sets the stage on the food end, while a bar quenches thirsts for all sorts of tipple from champagne to whisky and colourful cocktails.
In between, feast your eyes on a central flight of stairs where regular fashion shows will run, bringing lashings of glamour to not your typical night out.
KL-ites, ready yourself for a first-of-its-kind seafood bar and fashion lounge that brings together fine food and fashion in one stylish setting.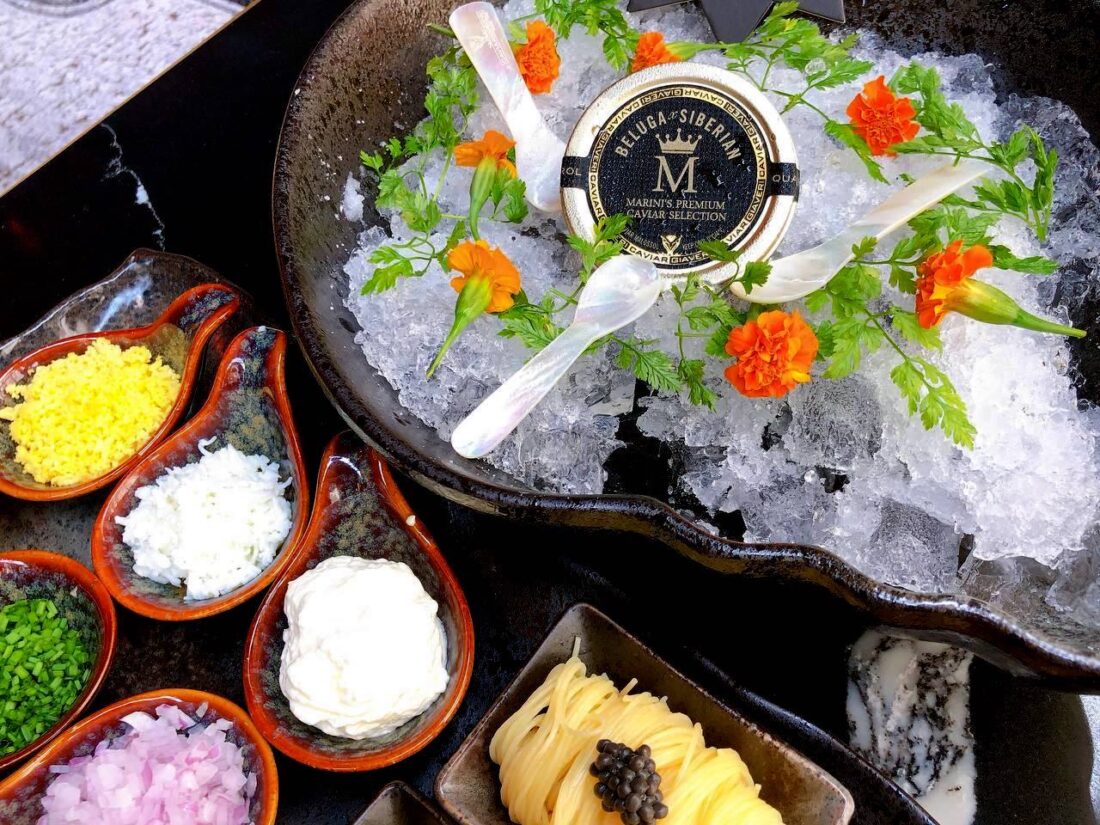 Nibble and Tipple
Seafood and caviar are aplenty, with the option to be picked from tall teetering towers of ice or ordered ala carte as standalone dishes. Should you be in the mood for caviar, indulge  with the full frills of sourcream, chopped shallots, red onion and toast bites which will be provided with each order of a tin.
Another popular starter is the cold angelhair somen, served with just the right amounts of caviar atop for sweet minerality of pasta and fish roe. Freshly cut sashimi also entice alongside skillfully cured fish for all the ways you can think of to enjoy seafood.
When it comes to the drinks, cocktails are shaken in the most colourful variety. All the classics are there alongside a host of vibrant flavours concocted by the skilled barmasters at Maristar. If you're a purist, a solid selection of spirits and liquor will not disappoint.

Ready, Set, Showtime
Don't expect a quiet night out at Maristar. It's a place made for fabulous, fizzy, high octave fun.
All eyes will be automatically drawn to a central staircase made for fashion shows, events or just swoon-worthy photos for the 'Gram. Take your front row seats from a medley of plush sofas or high tables – wherever you pick, you will be assured a vantage point, of you and the show that will take place.
For more private functions, it also has the luxury of two private dining rooms where intimate dinners and private parties can take place away from prying eyes.
Maristar is located at The Starhill, LG 08, Lower Ground, The Starhill 181, Jln Bukit Bintang, 55100 Kuala Lumpur. For more information or reservations, call 03-2386 6030. 
(Photos: Maristar)