Tattoos have long existed in various cultures since antiquity, when it was mainly done as part of a traditional practice, status symbol, or a mark for crime. Today, the negative connotations and taboos attached to it have thankfully lessened, and the art form has expanded into serving as a form of self expression, or a different way of art collection.
Though have you ever thought about who is the artist behind the ink? With World Tattoo Day just around the corner – FirstClasse pays tribute to the craft by getting to know 3 Malaysian tattoo artists across different styles on how they got started into tattooing, and how they developed their art.
And if you're familiar with the tattoo scene, you would probably have seen these names – or even gotten a tat or two from them.
Mae Oh, Black Canvas Tattoos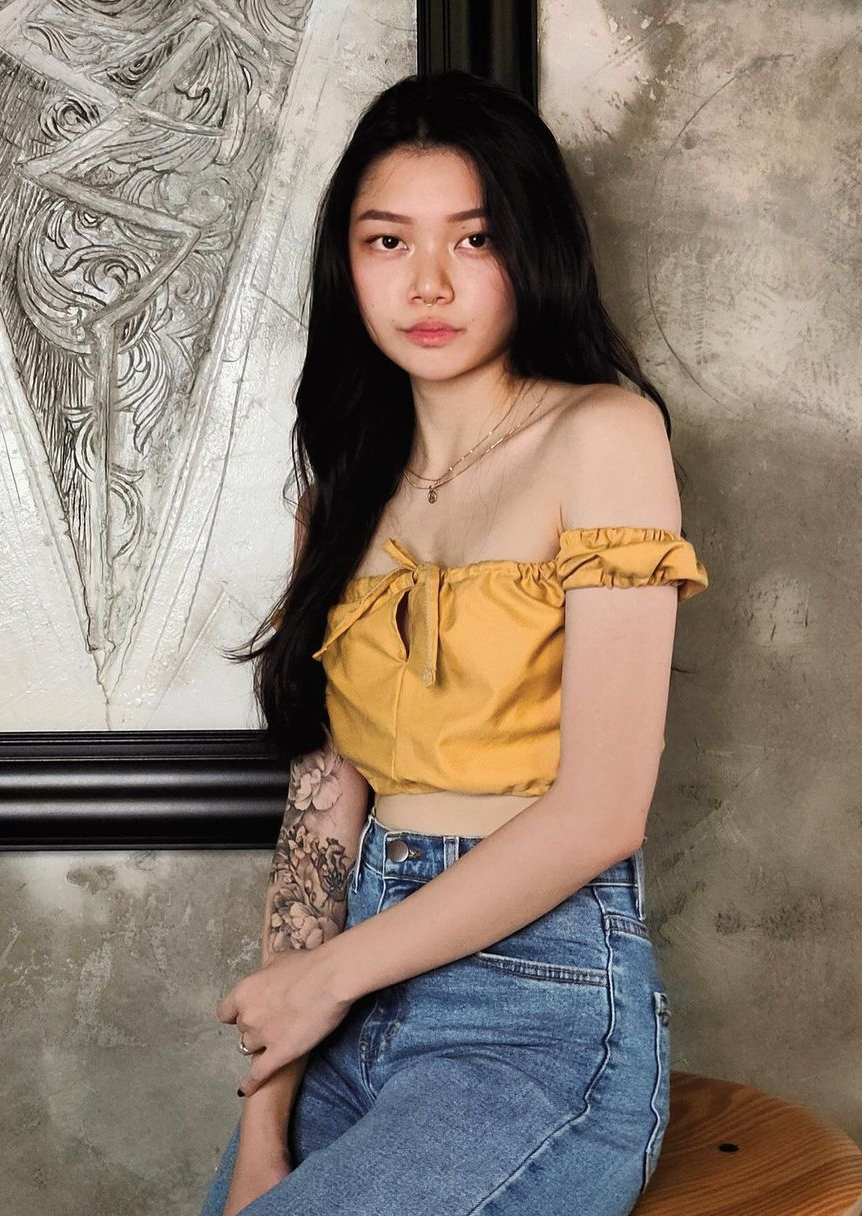 If you've seen tattoo pieces blossoming with gentle florals, soft lines, and organic shapes around on your Instagram – chances are they were done by Mae Oh. She's currently an artist at Black Canvas Tattoos in Cheras, a studio she also runs together with her partner and fellow tattooist, Ming Shern.
Interestingly, tattoos "never stood out as an exceptionally interesting subject" to her, having always been more inclined towards Fine Arts. Getting little pieces here and there were definitely in the works – not so much pursuing it as a full-time career. Her exposure with getting inked came in the form of having grown up around people who eventually got tattoos at certain points in their lives, making it feel like it was something "super cool" and "grown-up". This led to a pivotal point sometime during her college years, where she would meet her first tattoo.
"This was, I guess, at a time where I started to feel like I was becoming more 'adult', and so should have more independence over my choices – particularly my body," Mae shares. "To me, that action would've been the biggest, most significant decision I'd have gotten to make in my life. I was worried – but also absolutely thrilled by the prospect."
In fact, it was her current partner who gave Mae her first tattoo, and the decision to do it was completely unplanned. However, she found herself completely enchanted by the entire process – from the intimidating buzzing of the tattoo machine, to the meticulous steps required to insert ink into a human body.
"What started out as wanting to pop in and out with a rad little tattoo, ended up being hours of Q&A, and eventually him demonstrating how a tattoo was done," she recalls fondly. "The moment that tattoo was done, I was absolutely convinced that tattooing was one of the coolest, yet most misinterpreted art form in the world."
Despite her fascination, tattooing professionally had yet to cross Mae's mind, who first set out to have a "proper life" in the corporate world. However, working in a rigid and conventional environment left no room for her to explore her creative side. Instead, it stifled her creative freedom and overall happiness, until her partner – who saw her experience depression and knew about her artistic capabilities – suggested to her to pick up tattooing.
"I know I've mentioned him a few times but he is truly the one who roped me into this magical world – something I'll forever be grateful for," Mae expresses. Four years later, and now she's the go-to tattooist if you're looking for pieces that truly pay tribute to the beauty of nature. In her pieces, Mae appreciates the "hardcore", fearless nature of getting a tattoo, while instilling a sense of elegance and grace.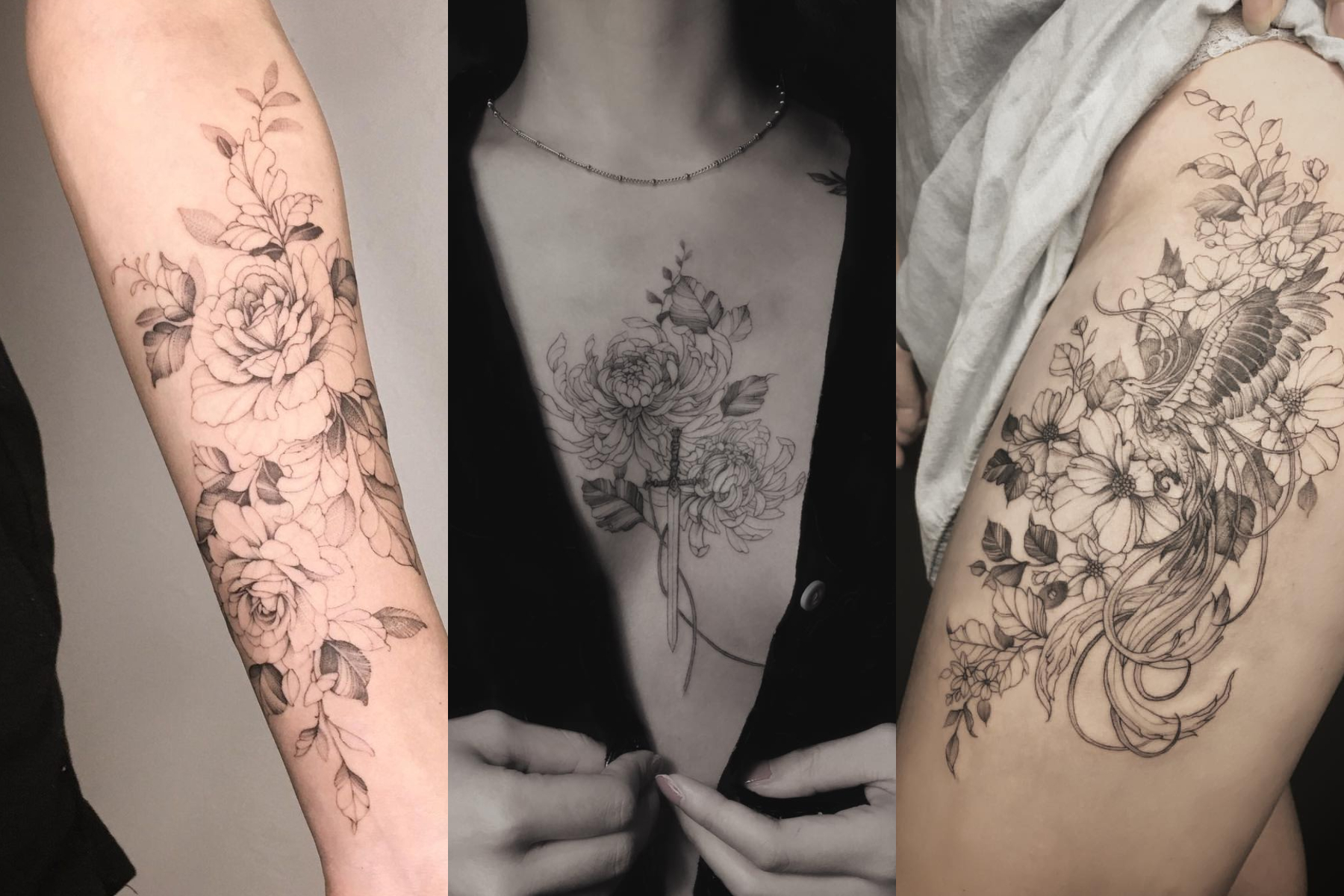 Four years later, and now she's the go-to tattooist if you're looking for pieces that truly pay tribute to the beauty of nature. In her pieces, Mae appreciates the "hardcore", fearless nature of getting a tattoo, while instilling a sense of elegance and grace. Inspired by the unconfined nature of plants, she inks highly flexible pieces that wrap seamlessly around her clients' bodies, creating highly flattering, delicate tattoos that look as if they were part of the skin since the beginning.
Today, freedom of expression is more prevalent than ever, and using tattoos as a medium is no exception, especially with social media serving as a catalyst for trends as well as a platform for artists. What once was associated with crime and gangsterism has now evolved into a modern day trend, and in a way, tattoos have also allowed Mae to rediscover and embrace a part of herself.
"To me, tattoos are a form of virtual expression of how someone identifies him or herself. Tattoos also have acted as something like a personal journal, or as a shield to cover existing physical imperfections and rediscover their confidence," Mae tells. "Personally, because I have quite a 'docile' appearance, tattoos have helped bring out the more 'fierce and confident part of me that I had found quite challenging to portray. I definitely feel much more like my 'true self' with my tattoos on display – sweet, with a couple handfuls of spicy!"
Check out Mae's elegant works by visiting her Instagram page here.
Reef Bryah, Wayang Kulit Tatu
Née Reja, but you may know him better as Reef Bryah from Wayang Kulit Tatu. For this Kuching-native, it was "love at first poke", having been introduced to tattooing by his older brother, who had already been practising the craft for years. He first experimented with the traditional method of hand-poked tattoos, before eventually venturing into the electric method.
"My brother's private studio was right behind my college – which explains why I wasn't in class most of the time, because I would spend a lot of time with him after class – and during class too," Reef reminisces. "In the beginning I was only there to draw, then slowly I would 'steal' some of his materials and [hand-poke] tattoo my friends."
It was only a matter of time until the would-be tattoist realised that he was studying something that he didn't enjoy, so then a 20-year-old Reef decided that it was time to trade the books for needle and ink, and since then he has never looked back.
Choosing your tattoo artists based on the style you desire is one of the things to note when deciding to get inked. As Reef had more of a versatile style in his early days, it was at Wayang Kulit Tatu when he was given the freedom to explore and study the style that's currently his niche: American Traditional.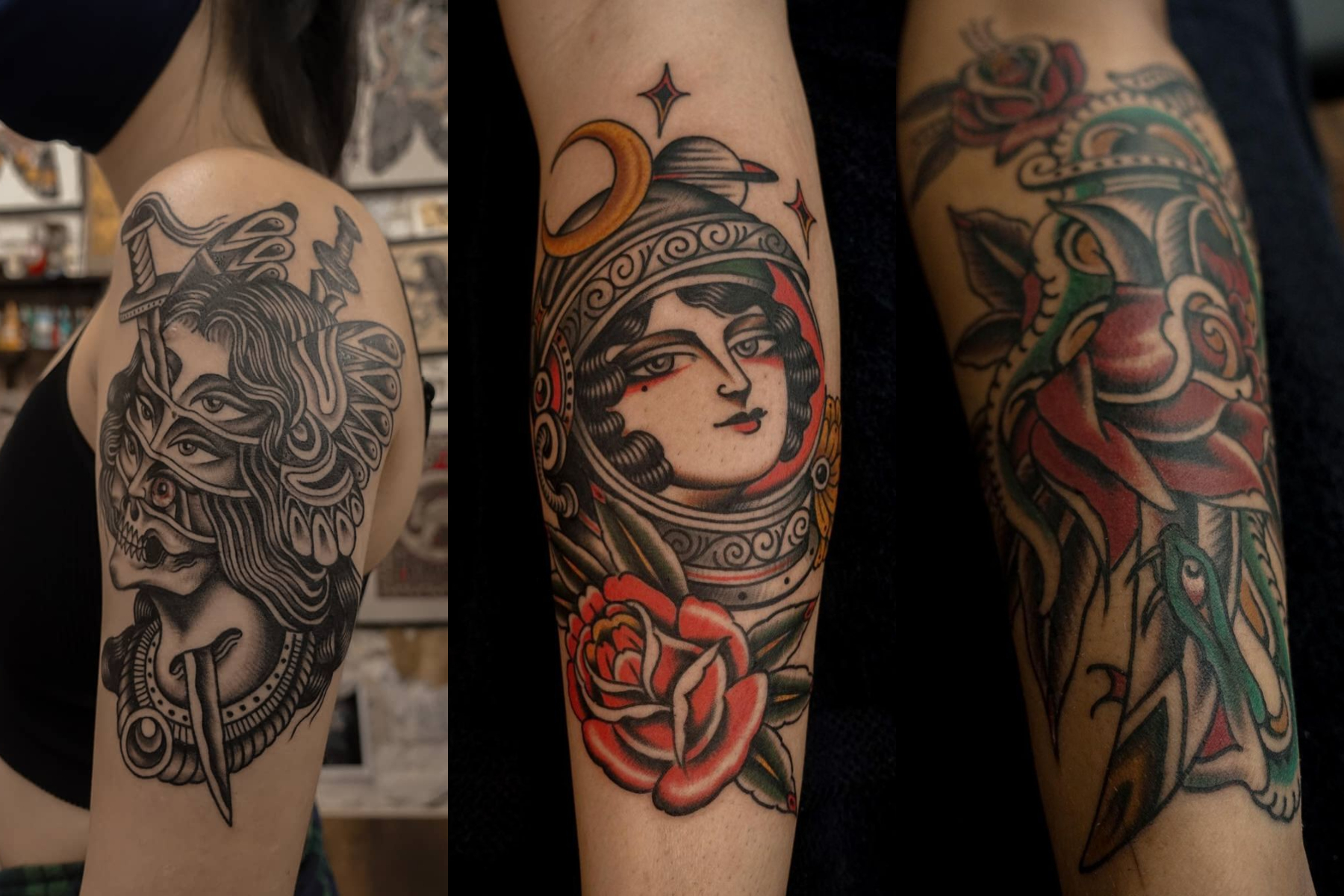 "From this shift, I was able to truly understand the design and artwork I'm doing and be creative about it. But back when I started out, I would just rip off another artist design, literally," he shares. "I have definitely evolved artistically and my appreciation towards the craft has gotten deeper."
Reef's style can easily be distinguished by his use of bold lines and traditional colour palette (think yellow, green, red, and black). While developing his style, he referenced artists from the 1900s, such as Christian Warlich, Amund Dietzel, Ben Corday, and Sailor Jerry. And it's not just the aesthetics that attracts him to this particular style, but also how it's able to withstand the test of time.
"I was drawn to traditional specifically because of the technicality of it. The boldness and the simplicity have a strong effect on its longevity," he explains. "Tattoos are meant to be permanent, so it should be made to last, even in 30 years or 100 years – our eyes should be able to see its imagery. If it can't be read or identified in 20 years, to me that's a bad tattoo."
What was considered an activity or art form reserved for subcultures or the "odd ones", tattoos are steadily gaining more popularity and acceptance today, thanks to society opening up to the idea that getting inked doesn't need to be linked to malice. Reef himself feels this dramatic shift, having come from a community that considered him "a failed citizen", or someone that you wouldn't let your children be around.
"I am okay with this idea because for me, tattooing is a rebel culture and our intentions are to be an outcast, so naturally opinions don't bother me," Reef shares. "Originally, we didn't belong in this social norm that has been created and set by society, but nowadays it's different. The tattoo world has brought itself up to a level where, everyone is allowed to express themselves. Yes, it does affect my generation, but positively. Tattooing has definitely changed the course of my life, and I will never replace it with anything else."
To check out more of Reef works, visit his Instagram page here.
From enigmatic kitsune masks to adorable Miyazaki-inspired creatures, Fin is a natural artist who, 12 years ago, found herself falling for the ink-and-needle life when she was pursuing a degree in 3D animation. Tattooing always felt like a natural evolution for Fin, as she found herself fascinated by the craft when she was younger, fuelled by her natural love for art.
After her final year in university, Fin threw herself into her tattoo apprenticeship, having done a short stint in Hong Kong before returning back to Kuala Lumpur. It was then she met Lynda Chean of Bangsar's Pink Tattoos, who she worked with for 5 and a half years.
"I found the most amazing and supportive friend in her," Fin expresses. "She gave me a genuinely fair chance at being a tattoo artist without any prejudice or hidden agenda."
After years of learning, adapting, and working, Fin now specialises in neo-traditional tattoos that often feature elements of nature, anime, and East Asian culture. Every piece she creates comes alive thanks to her incredible attention to detail and use of vibrant, vivid colours.
"Folklore has also always been something that commands my curiosity – especially Asian folklore," she adds. "The works of Miyazaki, Pixar, and Disney are things that I grew up watching. So throw all these things into a great big pot, and season it heavily with my imagination and my work is what you end up with!"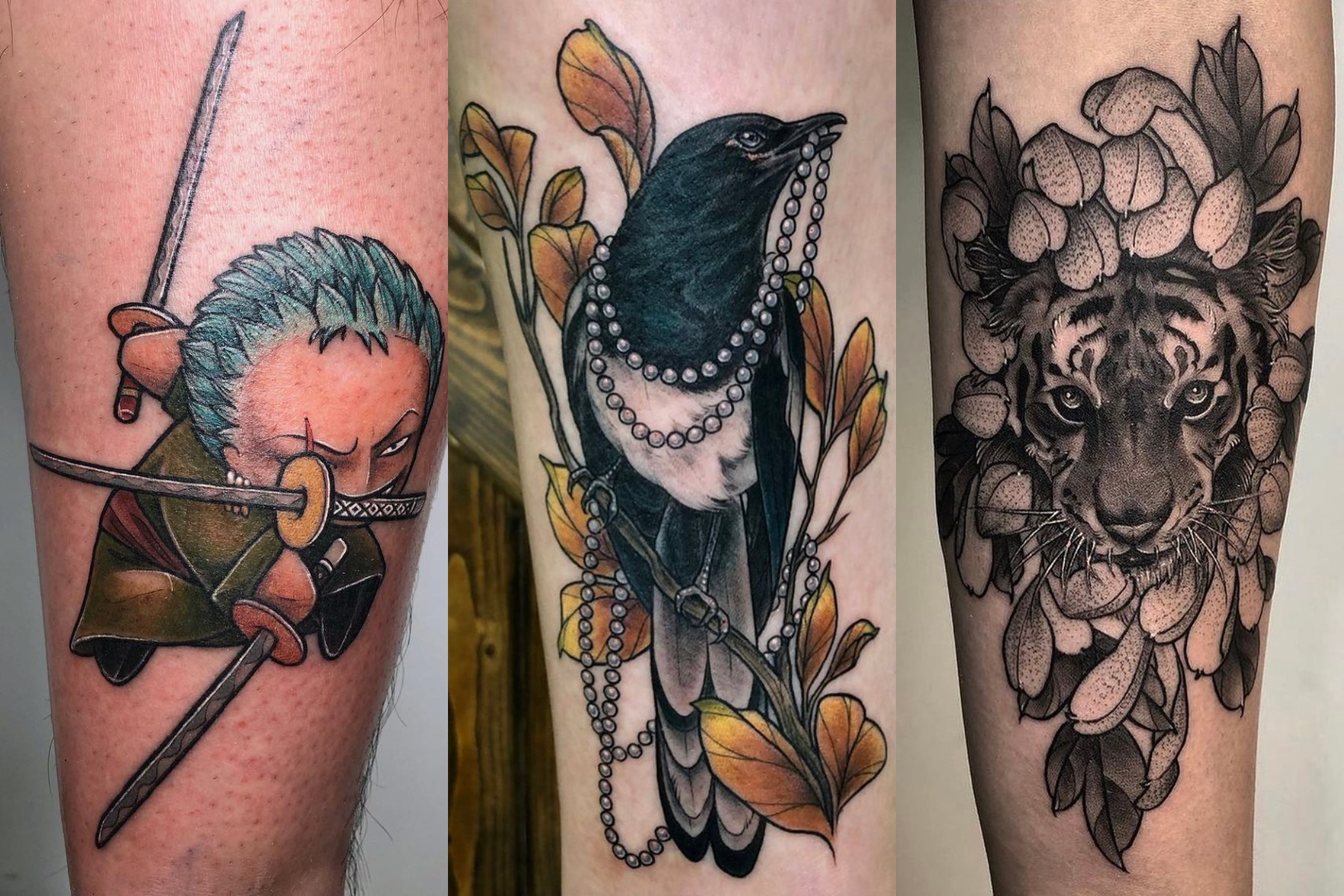 While Fin considers herself fortunate to have become a tattoo artist in a generation that's more open and accepting to tattoo culture, she acknowledges that in the past – when it was a predominantly male-driven industry – she had to learn how to grow into a very driven and resilient individual.
"For sure each gender has been stereotyped in their own way. I personally used to never want to post up any photos of myself, and always tried my best to remain ambiguous. I wanted people to recognise me for my work and not who I was or what I looked like. In this industry, your work speaks for yourself, so work hard, don't take shortcuts or sell yourself short. Then eventually it doesn't matter if you are a man, woman, or anything in between."
Whether you love it or hate it, social media has become such an integral part of our lives. And some of the people it has affected the most – mainly in a positive way – are artists, designers, and tattooists. The increased accessibility and visibility have allowed artists like Fin to truly showcase their works as something that's beyond just inked flesh.
"I'd say Gen X, Gen Y, and social media contributed to this shift. Tattooing is no longer this mysterious, magical, exclusive club thing. Now it's exposed to the world via Instagram, Pinterest, and Tumblr – where people seeing that tattoos can actually be these amazing and incredible pieces of art."
And speaking of social media, if you'd like to check out more of Fin's artworks and tattoos, visit her Instagram page here.