Though fear of stepping outside the home is resurfacing due to new clusters of COVID-19, many of us can't stand the thought of being confined to our homes for days or weeks on end (again). If not because of a love of travel or the outdoors, then for the sake of our sanity and a change of environment.
We've got an idea to remedy this dilemma: why not try glamping? A portmanteau of the words "glamourous" and "camping", glamping is one of the latest travel trends that involves camping in style. Glamping sites usually offer spacious tents, cabins or domes set amidst nature, with some, especially more luxurious ones, even including full-board meals and activities.
Not only do you get to spend time in the great outdoors, you can also escape the crowds at malls and public areas in the city. These 5 locations around Malaysia ensure a glamping experience like no other, complete with luxe amenities for you to break away from worries with your nearest and dearest!
Tiarasa Escapes, Janda Baik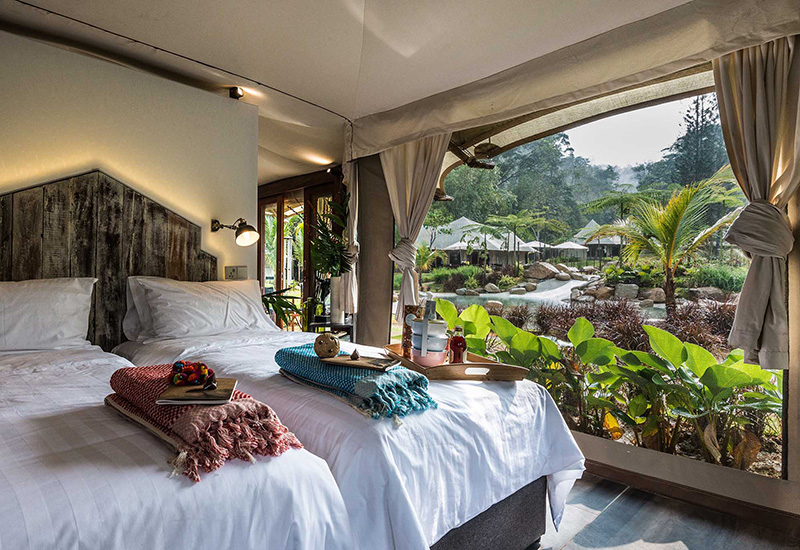 Nestled in the lush rainforests of Janda Baik, Tiarasa Escapes is the brainchild of famed local producer and director Tiara Jacquelina. To ensure minimal disruption to the land, the 7-acre retreat is designed and developed around the existing topography – rocks, brooks, jungle paths and all. There are 25 rooms spread across the site, spanning safari-themed tented villas to boho chic-designed treetop villas. Aside from basking in the views around the area or from your room, the resort-style glamping destination also offers a nature walk, a riverside picnic, communal bonfires and a moonlight cinema under the stars. W tiarasaescapes.com
Location: Persiaran Enderong, Kampung Janda Baik, 28750 Bentong, Pahang, Malaysia
Castra by Colony, Kuala Lumpur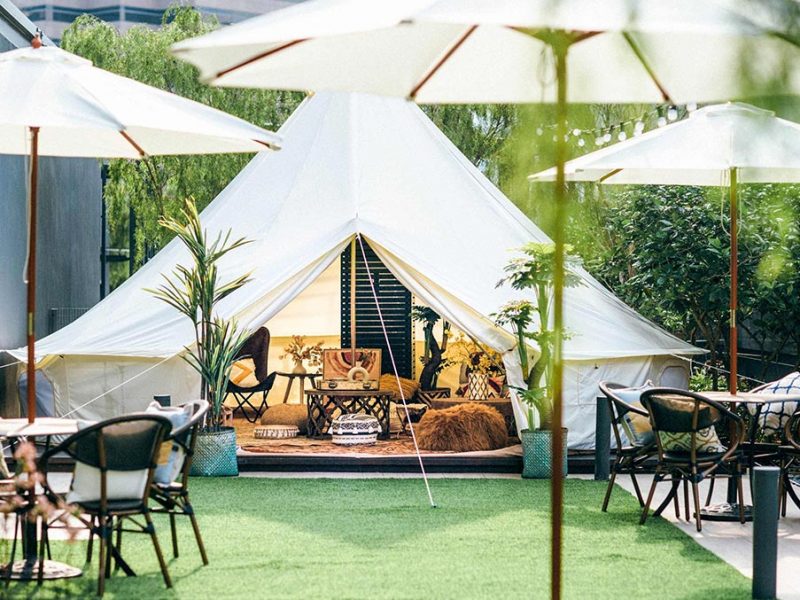 You don't have to go far from KL to experience glamping. Castra by Colony brings the outdoor experience to the heart of the bustling capital, so you can have a staycation in the city – minus the masses. Inspired by a boho chic aesthetic, the 4,510 sq ft bespoke glamping site features a spacious garden lounge, barbeque deck, and two Mediterranean-inspired luxe tents sprawled across a private terrace rooftop. Rustic wooden tiles, tribal motifs and greenery spruce up the tents, which are also equipped with HD TVs and high-speed WiFi in case you can't live without modern services. Plus, the BBQ deck comes with complimentary use of grilling tools, a fully stocked minibar and Bose Outdoor Speakers so you can throw a cool party. W colony.work
Location: Castra by Colony, Star Boulevard KLCC, Jalan Yap Kwan Seng
Glamz at Genting, Genting Highlands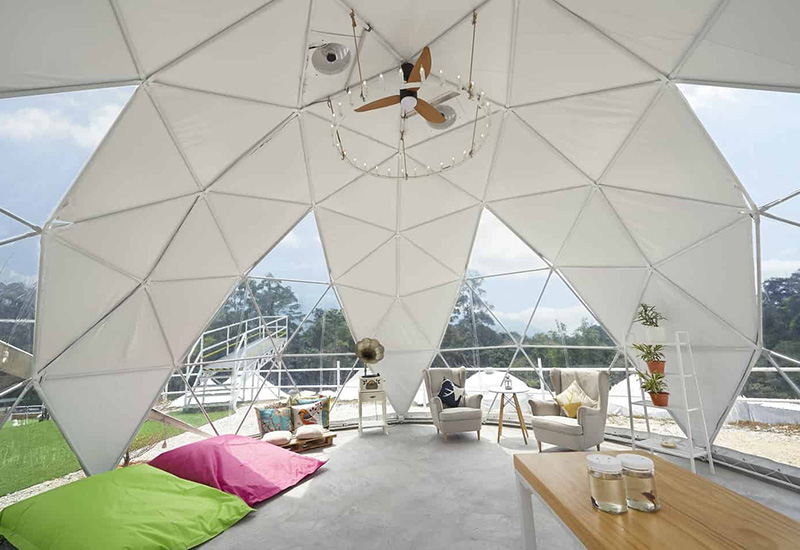 A fan of cool weather? Try this strategic spot tucked away on the slopes of Genting Highlands, where you can experience slumber in dome-shaped rooms facing a foliage juxtaposed against the night sky. There are bell tents for a modest traveller, as well as VIP Domes that come with private jacuzzis too. Guests can laze around the Scandinavian-themed common area or tranquil greenhouse that comes to life with fairy lights in the evening, book some "me-time" at the sauna and public jacuzzi, or grab a coffee at the café. Suggestion for dinner: rent the BBQ pit and throw a party (with plenty of space for social distancing) before stargazing as a nightcap. W glamz.com.my
Location: 1, Jln Meranti, 69000 Genting Highlands, Pahang, Malaysia
Dusun Bonda, Batang Kali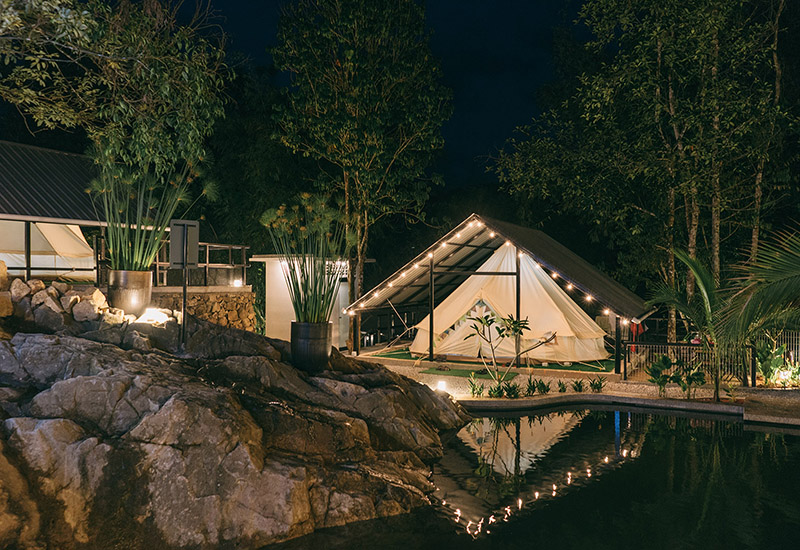 Dusun Bonda – which means "mother's orchard" in Malay – is a family-friendly villa and bell tent glamping site in Batang Kali. It was established by a Malaysian mother with the aim of recreating her childhood memories with her daughter, hence the name. Each studio or tent is roomy enough to accommodate four or more people, with views of either the pool, garden, hillside or nearby river. There's a man-made waterfall and pool, children's playground, and swings for parents to invest quality time with their children; as well as a kitchen, BBQ patio, and rooftop dining deck for DIY dinner parties. W dusunbonda.com
Location: Lot 2121 (2996), Jalan Ulu Tamu, Kampung Orang Asli Gurney, Ulu Tamu, 44300 Batang Kali, Selangor, Malaysia
Boulder Valley Glamping, Teluk Bahang
Nestled within the natural boulders in the hills of Penang's Teluk Bahang lies Boulder Valley Glamping – a site built on stilts and an appreciation for nature. Accommodations include safari tents, modern villas and glasshouse chalets, each offering modern comforts topped with undisturbed views of the forests and valley below. Guests are welcome to join a walking tour around the site or have a picnic at sun terrace for a breath of fresh air. What's more, there's a swimming pool and games room to keep the fun and entertainment going throughout the stay. W bouldervalleyglamping.com.my
Location: 8 Jalan Teluk Bahang, 11050 Teluk Bahang, Pulau Pinang, Malaysia
Featured image: Tiarasa Escapes