Louis Vuitton's highly sought after Artycapucine collection is back with its third installment, introducing the works of six new contemporary artists who have put their own inspired interpretations on the classic Capucines bag.
Six internationally acclaimed artists have been welcomed into the fold, each bringing their own unique aesthetic innovations to create a one-of-a-kind piece for the French fashion house. Similar to previous years' launches, each design in the Artycapucines collection will be limited to 200 bags each, and will be available in stores at the end of October this year.
The Capucines: a gift that keeps giving
The Capucines bag first made its debut in Fall 2013, proving to be a certified hit and going on to become one of Louis Vuitton's most loved styles. Named after the Rue De Capucine, the street in Paris on which the first Louis Vuitton store was opened in 1854, the bag features the signature fine craftsmanship that the brand is renowned for. As a contemporary creation, the design's clean lines and minimalist construction combines elegance with a functionality that complements a modern lifestyle. 
While the Capucines' design is loved for its simplicity and versatility, these very characteristics also make it an ideal canvas for new ideas and interesting adaptations. Seven years after its release, the Maison invited six of the leading names in the contemporary art world to reimagine the Capucines and make it their own.
The Artycapucines collaboration meant artists such as Alex Israel and Urs Fischer were given carte blanche to express their artistic vision using the Capucines, in line with the Louis Vuitton spirit of Savoir-Faire, which the brand defines as relentless innovation in design. In 2020, following the highly favourable reception to the inaugural Artycapucines launch, six more contemporary artists were asked to lend their skill and creativity, once again reinventing the Capucines. 
This year, yet another six artists will add their original pieces of work to the collage of exclusively customised, artfully crafted pieces by the collections' existing portfolio of well-known artists. Below we take a look at the stunning, inventive, powerful designs presented in the new Artycapucine collection; the handiwork of Gregor Hildebrandt, Donna Huanca, Huang Yuxing, Vik Muniz, Paola Pivi, and Zeng Fanzhi.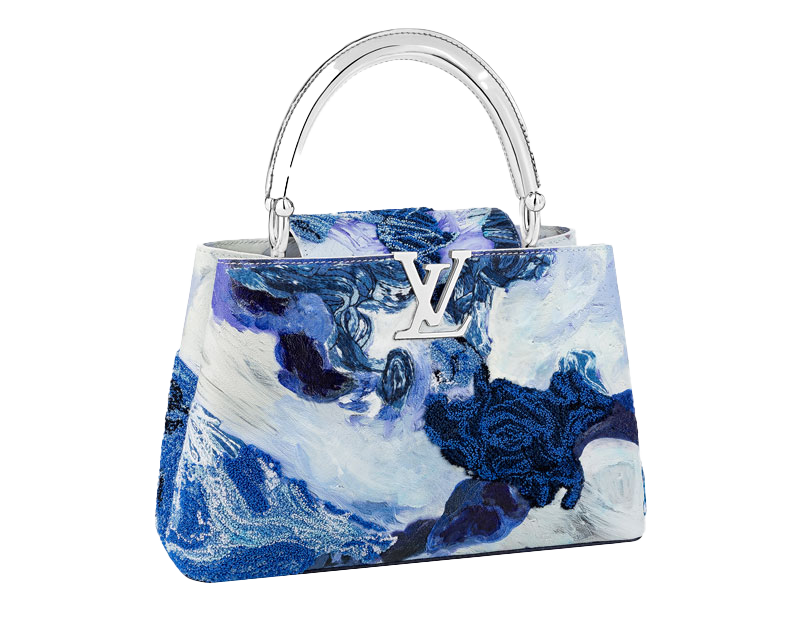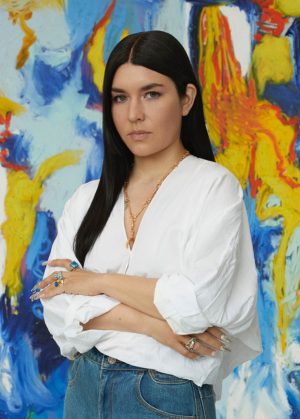 Based on the paintings Cara de Fuego and MuyalJol, Donna Huanca's Capucines is a continuation of her artistic exploration of the interactions between painting and the female body. The tactile effects of these artworks are 3D printed onto the bag's white leather, while the embroidery is hand-painted by Huanca to provide even more textural complexity to the intricate interplay of whites and blues. Harbouring a deep interest in the potential of the body as an artistic medium, this Chicago-born artist constructs immersive art installations to create visceral experiences that investigate themes of empathy, perception, identity and fragmentation.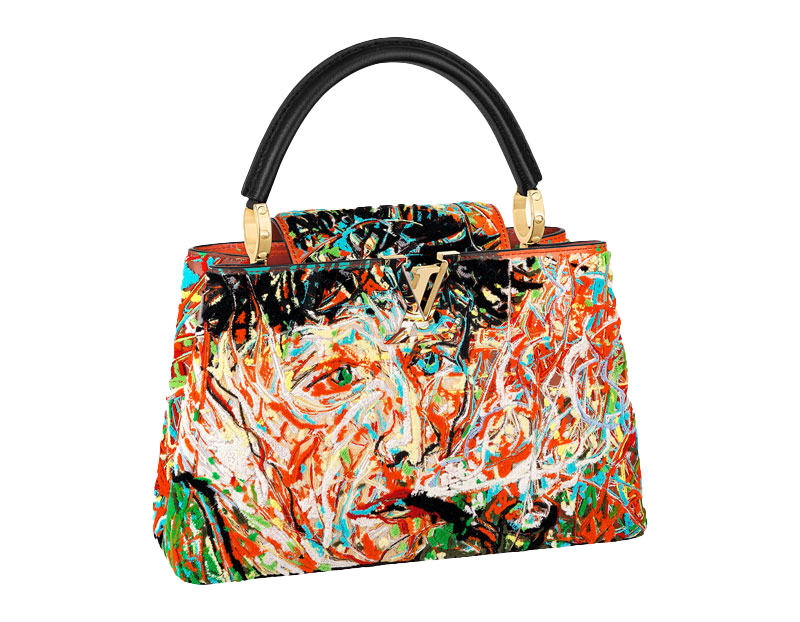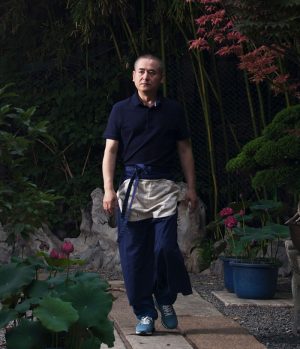 With highly worked brushstrokes and spirited layering of paint in threads of 43 different colours, Zeng Fanzhi's Capucines is based on his own reinterpretation of a self-portrait by Vincent Van Gogh. The vivid artwork was added to the bag's surface through a wide variety of embroidery techniques that include chenille-yarn tufting, resulting in over 700,000 embroidery stitches. Zeng's art is known for its synthesizing of the Chinese and Western art traditions, which is expressed through an ever-evolving style of painting ranging from rich, textured strokes to linear abstract techniques.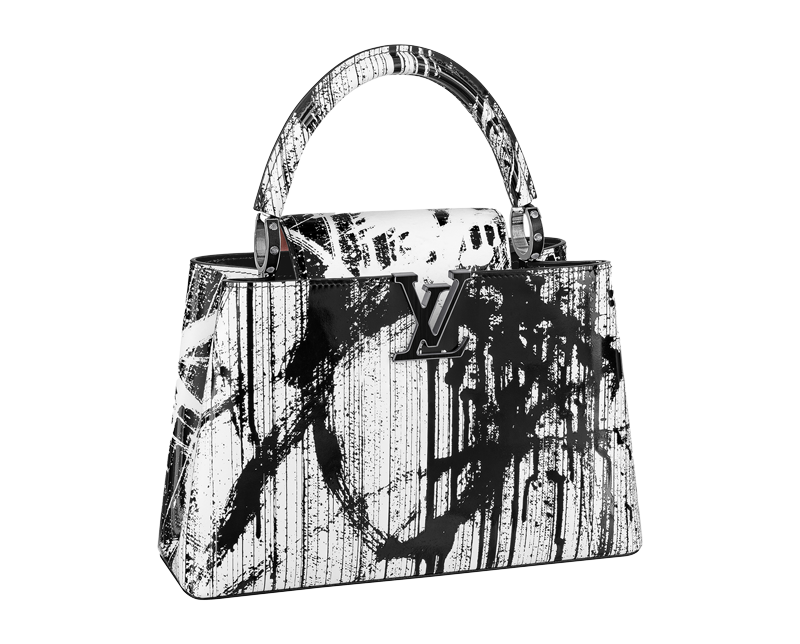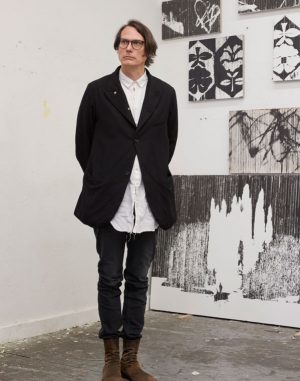 Gregor Hildebrandt's Capucines exemplifies his art's trademark 'rip-off' technique which forms striking patterns of black and white by utilising magnetic dust from old recording tapes. While the bag's leather exterior is screen-printed with a 'positive' black and white image on the front and a 'negative' one on the back, its interior surprises with a contrasting monochrome bright pink. Known for his love of using vinyl records and tapes to create minimalist, romantic art pieces, the German artist's work often features analogue-recording material and pop-culture references that tap into audiences' collective memories.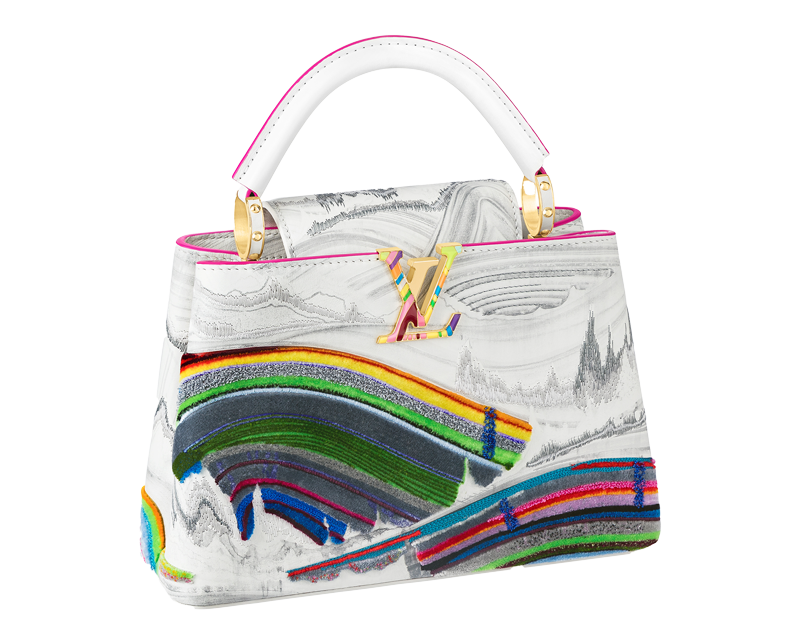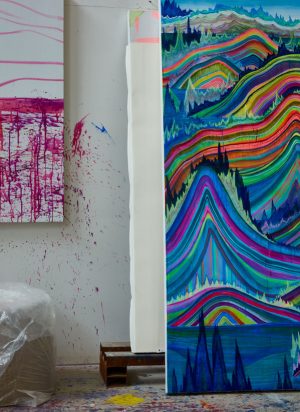 Based on a reworked version of his painting The Colossus Hidden Deep in the Hills, Huang Yuxing's Capucines displays a stylised landscape with rainbow-covered hills and an oval shape that's signature to his artwork. Densely filled point bouclette embroidery, woven into the tufting, recreates the accidental paint drops that characterise the artist's images. While Guang's art has its foundation in traditional Chinese gongbi painting, he uses striking colours and bold, unexpected techniques to construct fantastical landscapes of lakes, forests, mountains and rivers.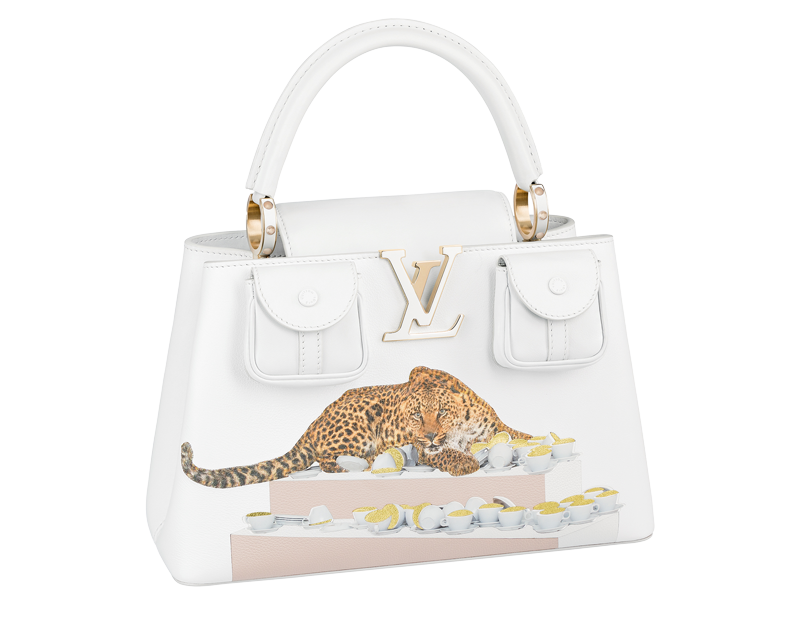 A masterpiece of intricate, labour-intensive leather marquetry, Paola Pivi's Capucines is based on her 2007 work, One Cup of Cappuccino Then I Go. The piece's distinctive leopard image is first embroidered on, and then overprinted to affect a fur-like look and feel. The many saucers and cups topped with the froth of cappuccinos are made in gold-coloured lambskin and real gold leaf. Often featuring anthropomorphic animals juxtaposed with unexpected situations, the work of this Italian-born artist playfully disorients the viewer, beckoning them to reevaluate their perspectives of the world.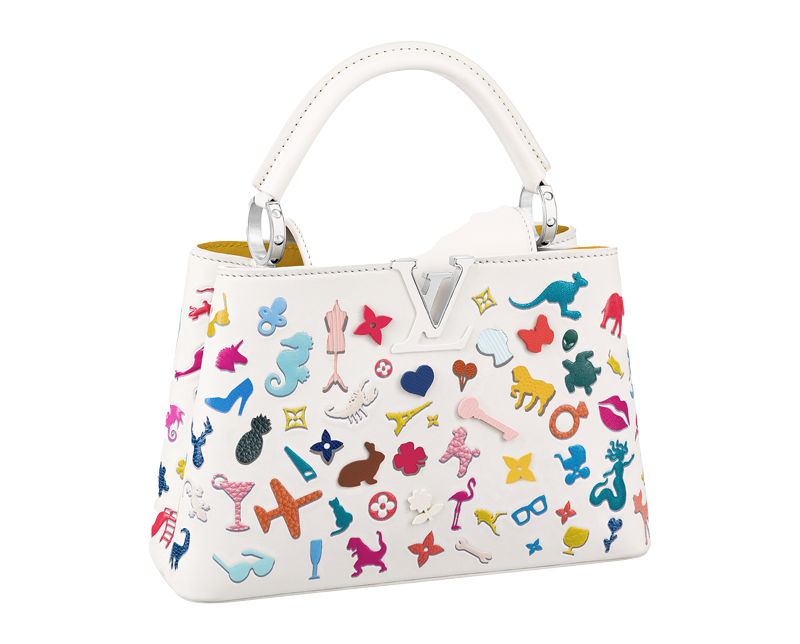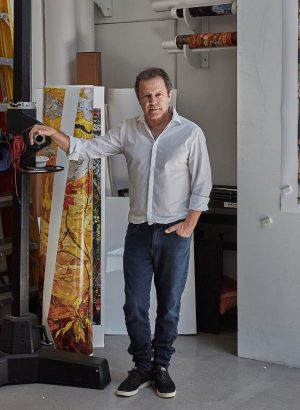 Vik Muniz's BB-sized Capucines is easily distinguished by its cheery exterior which features 154 icons that range from pineapples to elephants to the Louis Vuitton monogram flower, randomly placed all across the white leather. Muniz's environmentally conscious artistic practices are reflected in the incorporation of reused Heritage leather from Louis Vuitton workshops for the icons. The Brazilian-born artist, over the course of his 30-year career, has produced a variety of works that include film, photography and sculpture, using found materials such as chocolate, toys, and scrap metal.
Each bag in the Artycapucines collection will be limited to 200 pieces, and the collection will be available in stores worldwide at the end of October this year.