S
ome time back,
FirstClasse
was privileged with an invitation to sample the revised Volkswagen Tiguan Allspace SUVs line-up in a specially organised drive event organised by Volkswagen Passenger Cars Malaysia (VPCM). Dubbed the
#SUVW Mountain Run
, the outing allowed us to fully sample all variants of VW's staple and refreshed 7-seat SUV offering.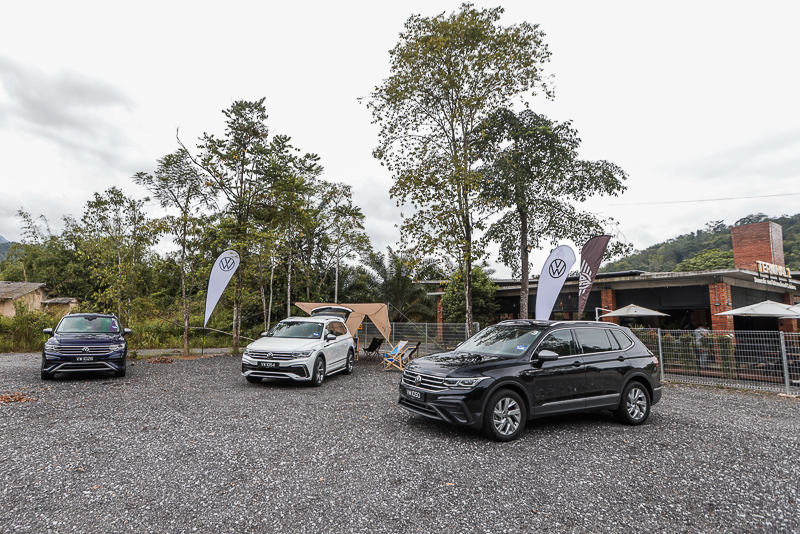 Our drive saw us explore some of the more picturesque locales of the peninsular such as Batang Kali, Janda Baik, as well as Genting Highlands. Aptly, these destinations allowed us to sample the Tiguan Allspace through some spectacular mountainous routes too – hence the 'Mountain Run' event naming.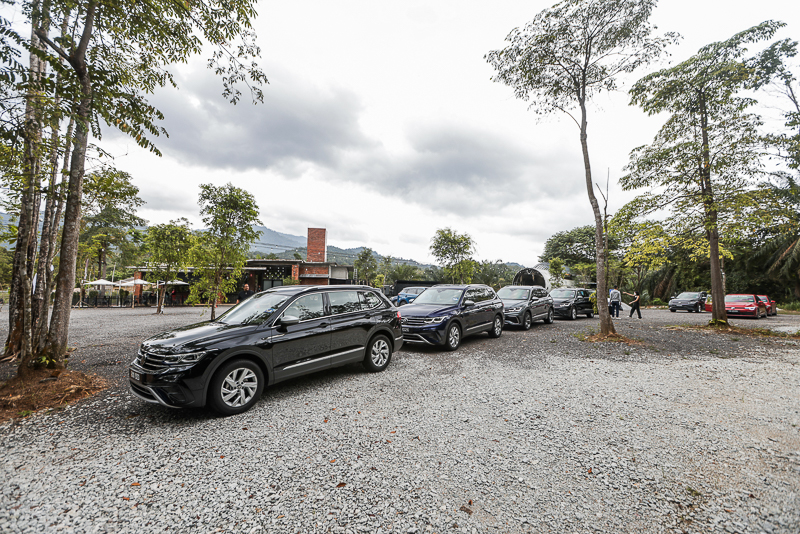 While the cars were the stars of this drive, they do little at eclipsing some of the exceptional cuisines – both local and international – and the atmosphere of some of the stops VPCM planned during our drive. There's plenty to highlight, but some stand-outs here included Batang Kali's famed Terminal 1 as well as Lemuni café in Janda Baik – If you're planning a drive through these parts, these spots are worth a visit, and you can take our word on this.
Back to the cars and, aptly, the drive through perhaps some of the peninsula's less travelled back roads proved to be an ideal way for us to have a feel of each variant of the Tiguan Allspace. The range currently consists of the base Life trimline, an up-specced Elegance, whilst a sporty R-Line caps things off.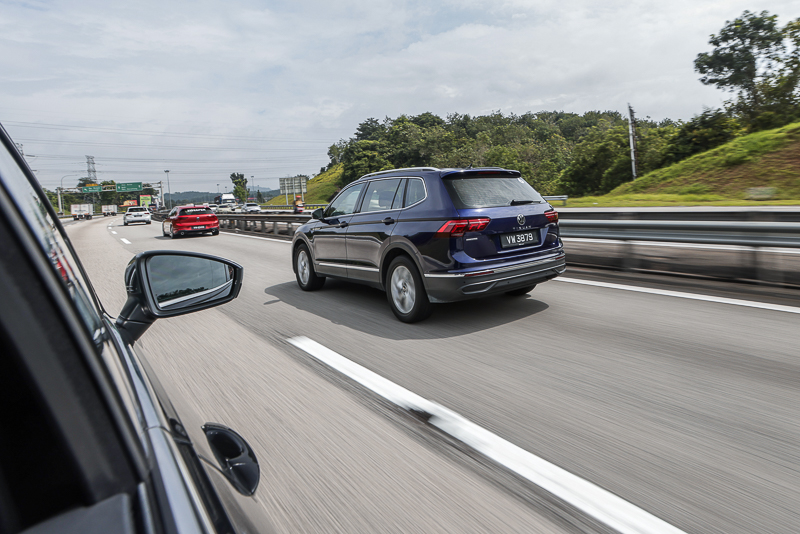 Our drive saw us driving the cars in the right order and, essentially, prospects eyeing up either the Life or Elegance variants are in for a treat. Both offer respectable performance stemming from the signature VW 1.4-litre 4-cyl turbo hearts and slick 6-speed DSG transmission. These see the front wheels driven with 148 HP and 250 NM of twist, in fact.
Despite the steep climbs we traversed along during our drive, this powertrain package in both the Life and Elegance are no slouches to say the least. Adding to that is the Tiguan's rather refined handling and driving dynamics, which made the drive both fun and less taxing.
While both variants appear identical, the difference in dash and cabin trim materials and design are what really sets them apart. Aptly, the up-specced Elegance lives up to its namesake, much of which fuelled by the comfort of the new 12-way powered front seats that also offer heating and ventilation features – the latter making the most sense in our climate.
Our favourite kit on board is of course the new 9.2-inch Discover Pro infotainment system that now offers wireless Apple CarPlay and Android Auto connectivity. This proved nifty, especially if you're the type to indulge in good tunes on a drive as us, and the affair is sweetened thanks to the crisp-sounding 8-speaker audio system primed in both variants.
As far as the cabin is concerned, we're certain keen prospects will gladly bask in the space present on board, which comfortably seats up to seven. Should the third row seats not be needed, then there's the class-leading boot space that should make daily affairs an ease – there are up to 1,775 litres available!
Evidently, both the Life and Elegance should sate the needs of many for both daily runabouts, as well as the occasional weekend adventure like a short outdoor camping trip – the latter was what we experienced first-hand with other invited journos, albeit briefly, during our drive.
Now, if you seek something a little more exciting, then perhaps the sporty Tiguan Allspace R-Line flagship should sate this need, as well as the need for more speed. That's because this variant gets a peppier 2.0-litre 4-cyl turbo instead, serving up 217 HP and 350 NM to drive all four wheels via VW's proven 4Motion all-wheel-drive (AWD) suite.
With hot-hatch-like power levels in the mix, the R-Line proved to be very brisk on the road, making it the clear favourite for those who enjoy spirited driving. Adding to this is the sportier style it possesses, much of which stems from its meaner-looking front and rear bumpers, and chrome exterior trims, not forgetting its snazzier and larger 19-inch wheels (18 inches in the Life and Elegance).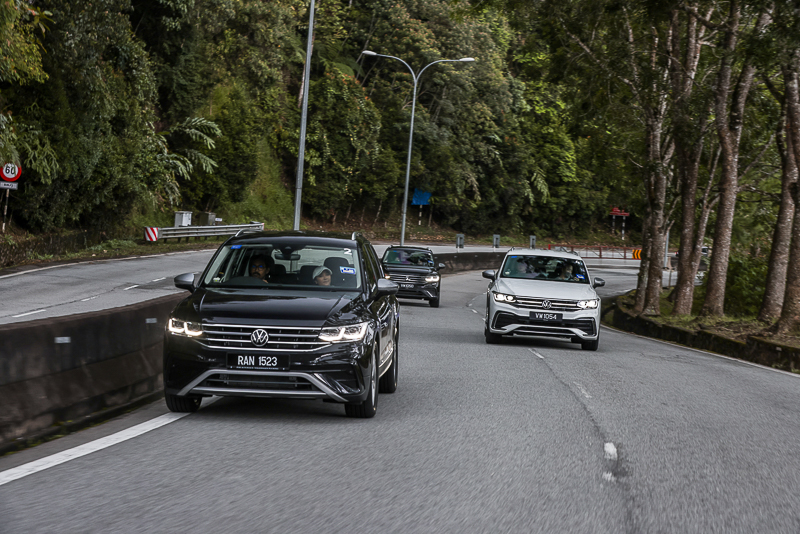 Moreover, the flagship also gets more toys, namely a powerful 10-speaker, 480-watt Harman Kardon premium audio system. Evidently, this variant isn't just made for fans of sporty SUVs, it's also made for audiophiles as well. No prizes for guessing which of the trio is our stand-out favourite, then.
Obviously, for its sportiness and higher-grade specifications, the Tiguan All-Space R-Line does come at a hefty price – RM237,073.60 in fact, sans insurance. Aptly, this makes both the Life and Elegance duo more attainable propositions at RM160,590 and RM189,590 respectively (sans insurance).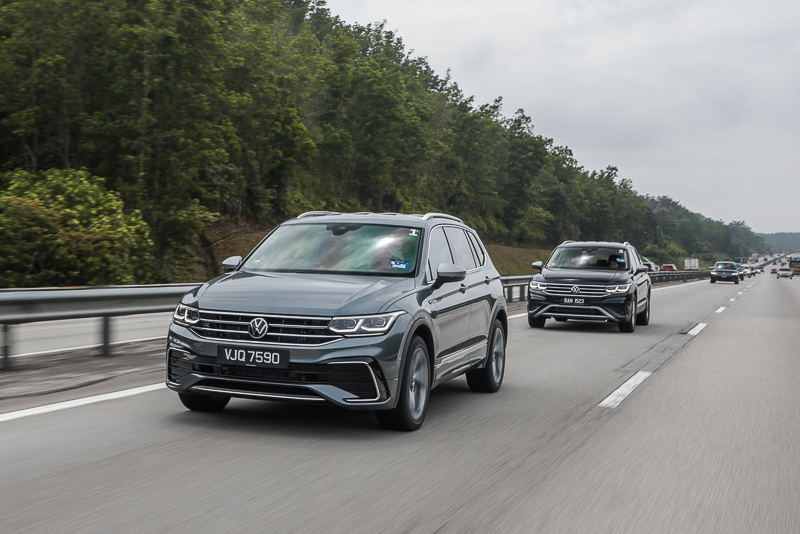 It's also worth noting here that the base Life variant recently enjoyed a price reduction of about RM13,000 too, thus making it all the more appealing. Moreover, no matter which variant you opt for, there VPCM's 5-year, unlimited mileage, 5-year roadside assistance, plus 3-year free maintenance coverages ought to provide long-term peace of mind.
Clearly, VPCM has specced the Tiguan Allspace range well enough to warrant a serious look. The only question left for keen prospects then is are you ready for the #SUVW life, then?