On July 21st 2023, it is predicted that Greta Gerwig's Barbie—starring Margot Robbie as the main Barbie, and Ryan Gosling as the main Ken—will be remembered as a watershed moment in cinema history. 
Because just after Warner Brothers released the first trailer, we saw a myriad of meme-able character posters depicting the Barbies and Kens, displaying a much more loaded cast than we originally knew, thus driving fans insane.
In a series of tweets, we saw Dua Lipa as Mermaid Barbie, Hari Nef as Doctor Barbie, Ritu Arya as Barbie with a Pulitzer, Issa Rae as President Barbie, and much more (also hi, Will Ferrell). 
Meet our Barbies and Kens ✨#BarbieTheMovie pic.twitter.com/KO2pwszXNJ

— Barbie Movie (@barbiethemovie) April 4, 2023
But even with a lineup of star-studded casts, one couldn't help but notice all of the apparent outfits throughout the 2-minute trailer, which gave us a little peek into the realm of Barbie World. The clip is filled with bright, sexy pink fits, co-ord sets and retro neon fits, just like the Barbiecore fad of 2022.
According to Wealth of Geeks, online searches for Barbie doubled in the hours following the release of the latest teaser. Searches for 'Barbie Fashion' surged by 106%, while searches for 'Barbie Style' jumped to 142% and views for 'pink outfits,' Barbie's signature colour, increased by 174%.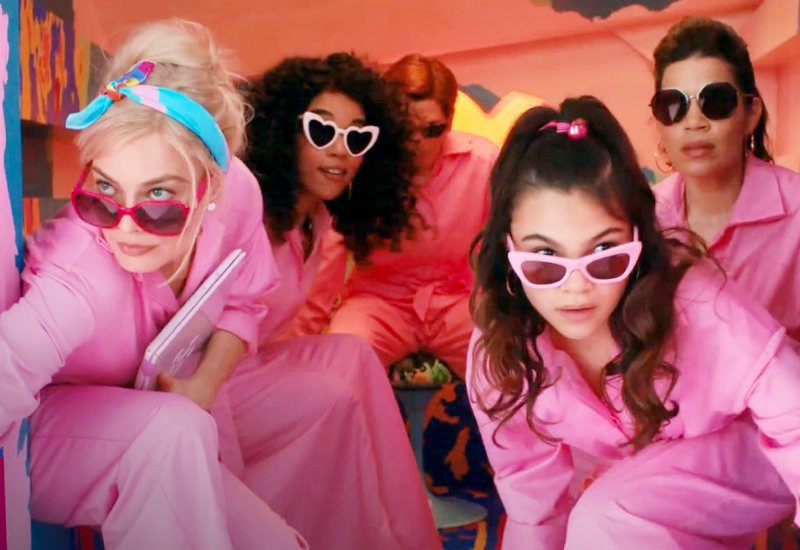 We're not surprised, considering Barbie's identifiable appearance has been a fixture of pop culture for decades. Fans are eager to copy Barbie's distinctive style, signalling that pink hues, flowy dresses, and flashy prints are expected to make a huge reappearance this year. They also began congratulating the costume department after seeing Barbie step into the frame sporting a pair of baby pink heels with a pompom glued above. One fan quote, ''Barbie only wore original designers & she's her own brand!.''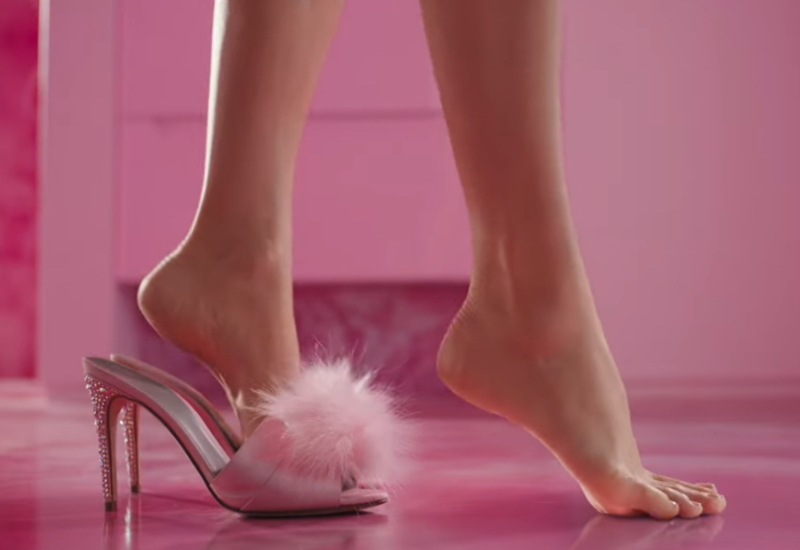 While one user tried to argue that the production missed an opportunity for a high-fashion collab, many came to the production's defence saying, ''Have you ever played with a Barbie? Why would a doll have Versace shoes?'' and another one Tweeted, ''Barbie was never about just high fashion though, it was about how there are endless possibilities for women in any field despite what anyone says.'' 
Next, we finally got a closer look at Barbie's Vivid Pink Bell Bottomed, from the viral behind-the-scenes photos last year. The bottom was completed with a matching vest and cowboy boots. The bubblegum pink-white dress is also a popular favourite. During the beach fight scene with all the Kens, Barbie can be seen wearing a gingham-print dress with a matching hat and sea-clam-themed earrings and necklace.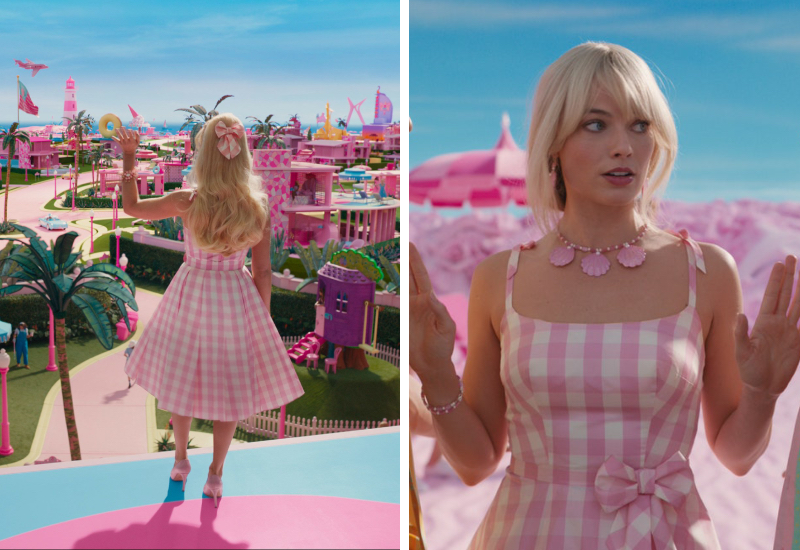 Speaking of The Ken(s), the same applies; they were dressed in a pink and green striped matching set, Hawaii shirts and denim jackets that expose the abs, and distinctive bleach-blonde hair. Yet, Ken's pink jacket emblazoned with Barbie's emblem is guaranteed to create a sensation when the film is released. With that said, we would like to request the franchise to drop the jacket as an official merchandise.