Lee Sinje shares why MIFFest is a festival that's close to her heart, fuelled by a cause that made her who she is today.
Lee Sinje doesn't look like she's aged a day since her breakout role in her first movie Betelnut Beauty in 2001. She is on set with her twin boys, dressed in a strapless floor-length gown of pristine white, and working the camera with her signature quiet way – by letting her eyes do the talking.
Occasionally, she stops the commotion to check in on how the photos are turning out. She gives an input and the team scrambles to try it out. Her close to two decades in the industry has cultivated in her a razor-sharp attention to detail without overlooking the basic essence of her art form – humanity.
All this makes her a fitting spokesperson for our inaugural Malaysia International Film Festival (MIFFest) that took place in February of this year. Already, the first and only film festival recognised by the Perbadanan Kemajuan Filem Nasional Malaysia (FINAS) has been renewed for its sophomore year, due to take place in February 2018.
Lee squeezes in 20 minutes with us to share why herein lies a festival that's close to her heart, fuelled by a cause that made her who she is today.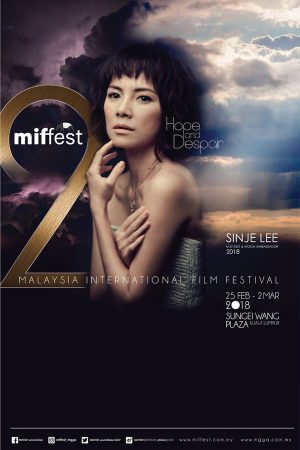 Coming full circle
As one of the most recognised names in the Malaysian film industry, Lee knows the importance of having a platform on which new and young talent can gain that little bit of exposure. Every opportunity counts.
"I've always hoped that Malaysia will have its own movie awards festival," tells Lee in her fluent Mandarin, laced with a Taiwanese accent where she is based now. "The film industry is not only an art form but it is also a culture. It connects people so I'd like to use this film festival to connect industry people in Malaysia to bring forth more opportunities."
She is also well-versed with how hard it can be for a newcomer to learn.
"This is a very competitive industry; to get recognition is not easy, and if opportunities arise, you have to already be fully prepared to take it," she shares. "When I was in high school, we did not have the access or resources to good, artistic movies."
She hopes MIFFest can fill that gap in bringing in foreign films from which aspiring actors and filmmakers alike can benefit from.
"I am very proud of our first national film festival because I found that most of the films that were released during the film festival were very good films," she adds. "I have watched the best foreign films during that festival. I was very touched that I get to watch so many good movies in my own country."
Some of the highlights of next year's festival include a focus on female directors, presenting a medley of movies to the theme of 'Hope & Despair', as well as a focus on Southeast Asian film and filmmakers.
"MIFFest and MGGA aims to make significant contribution to excavate and support the rising power of Asian cinema. We hope to attract more international filmmakers to look into our locally-produced films as it could enhance the understanding and expose the wonderful cultures of Malaysia," says chairman of MIFFest and MGGA, Joanne Goh
Joanne Goh continues to chair the festival as well as its gala night whereas Wen Tien-Hsiang and Kim Dong Ho remain the advisor of the team.
MIFFest is now accepting submissions. The festival will run from February 25 – March 2, 2018, culminating in a Malaysia Golden Global Awards Gala Night on March 3, 2018. Log on to the official website here for more information.