It is a 75-minute all-encompassing pampering session for the eyes, nose, ears and, of course, skin.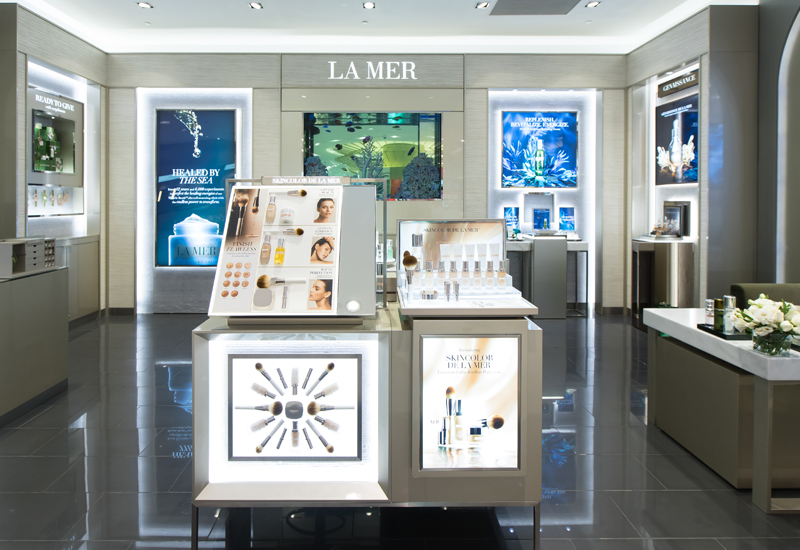 When it comes to relaxation, few things hit the spot as effectively as the ocean, with its calming waves, soothing blues and sedating rhythm. In the city, acquiring a spot of serenity as such may be hard to come by but we may just have something better.
The La Mer Cabine in Pavilion KL seeks bring to guests on an immersive journey to melt away all worries (and wrinkles) by means of the healing powers of the sea. Its most popular treatment, the La Mer Custom Facial, is 75 minutes of complete rejuvenation both for the mind and body, personalised  for each guest based on your skin concerns.
The secret ingredient here is, of course, La Mer's precious Miracle Broth, delivered through a customised sequence of products to not only pamper the skin, but treat the rest of your senses. It proves to be a delightful all-encompassing experience for sight, smell, sound and touch, as we discover during a recent visit.
Pretty as a sea horizon sunset on the eyes
Despite its location on the bustling third floor of Parkson, Pavilion KL, the La Mer counter extends like an sanctuary oasis for tired feet and bodies to seek refuge. Shining countertops boast La Mer's best-selling products and glistening posters of various elements of the sea transport you immediately to a calmer state of mind. Everything seems designed as a small nod to the main ingredient that has built the brand such a cult following – hand-harvested and -fermented sea kelp.
Calming as ocean spray on the nose
As you near, the signature 'La Mer scent' is apparent. A rejuvenating mild fragrance with a fresh tinge of green brings to mind fresh ocean spray on warm temperate summer days. The scent intensifies when you enter The Cabine where your treatment will take place, understandably so as here is where is stored the bulk of the magic in jars and bottles. The crisp white sheets tempt you with the same pleasant fragrance as do the soft white towels and robes, working its magic in destressing you even before the treatment begins – or has it?
Enchanting as the song of sea nymphs on the ears
Once the doors close behind you, you'll be enveloped wholly and completely in an enchanting ocean-inspired soundtrack within the Cabine. True to the theme, sequential melodies of waves and water lull you to sleep and conjure dreams of underwater worlds. Staying awake will prove to be a chore, but luckily, you won't have to past your therapist's initial questions of what your main skin concerns are, if only to customise the relevant La Mer solutions for you.
Gentle and purifying as the waves on the skin
Upon identifying my main concerns as dry skin with some darkening under the eyes, the best part begins. My makeup is removed, face, cleansed, dead skin cells, scrubbed off before my tired skin is perked with the La Mer Treatment Lotion. Prepped and ready to absorb goodness, the La Mer Revitalising Hydrating Serum is massaged on next before generous doses of the La Mer Intensive Revitalising Mask is slathered on to inject much needed hydration. While it is left on work its magic on my face, my arms and shoulders are treated to a delicious massage with the La Mer Body Cream.
Even the massage techniques used mimic the ebb and flow motion of ocean waves. My therapist gently but firmly presses, kneads and strokes the vital points of my face and neck not only with her hands and fingers but also her wrists and lower arms, in wave-like motions. Organic, fluid and timed to the tempo of the ambience music, it feels like my entire being is being rocked to nautical Heaven and back.
Special care is directed at my eyes – the La Mer Eye Concentrate is massaged on with the now signature metal applicator that come with each jar. Two are used together in rhythmic tandem to not only help the skin around my eyes absorb the concentrate, but also to encourage blood flow.
My 75-minute session wraps with one last coat of the star cream – the Creme de La Mer – before I  make myself muster every ounce of my willpower to sit up and climb off that therapy bed.
I told you, this spa experience is a lot more than just a facial – it's a full sensorial pampering.
This 75-minute Custom Facial is priced at RM400 and is available strictly by appointment only at Robinsons, The Gardens Mall and Parkson, Pavilion KL. Call +603 2201 4104 (The Gardens Mall) or +603 2141 0452 (Pavilion KL) to book your slots.