Take an exclusive first look around the newly opened KARL LAGERFELD Pavilion Kuala Lumpur flagship store and discover its latest Spring Summer 2020 collections.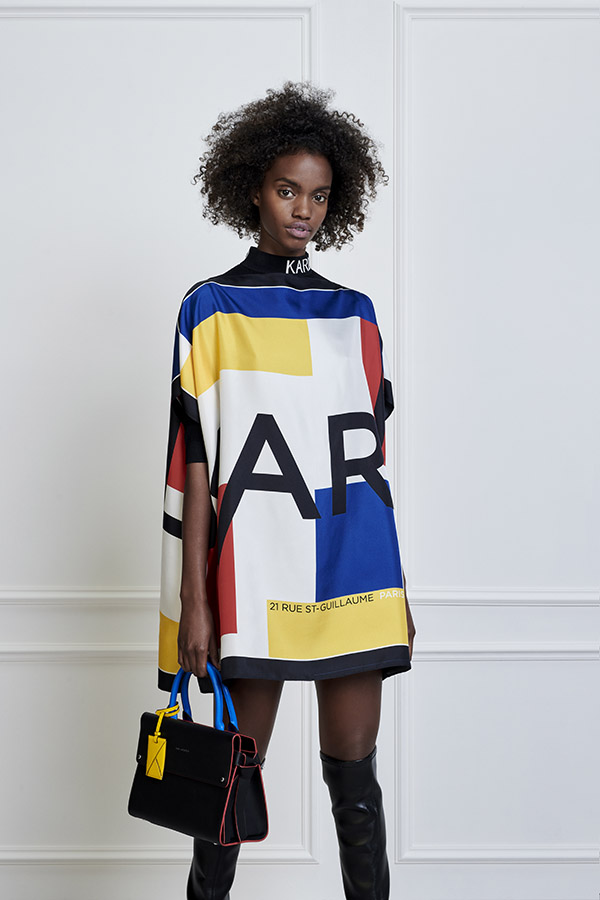 After much anticipation, the KARL LAGERFELD flagship store is finally open in Pavilion Kuala Lumpur, operated through a franchise partnership with ArchiLuxury Group – a Southeast Asia-based master franchisee specialising in international luxury retail brands.
Bringing the legacy of the namesake designer from the cobblestone streets of Paris to the humming heart of Kuala Lumpur, the iconic Maison beats in line with the vision and aesthetic of its founder – featuring a contemporary, forward-looking spirit synonymous with his universal symbol of style.
Perpetuating Kaiser Karl's belief that "fashion is an attitude more than a clothing detail," the newly opened store embodies his signature aesthetic of Parisian sophistication with an effortless, rock-chic edge.
Inside the store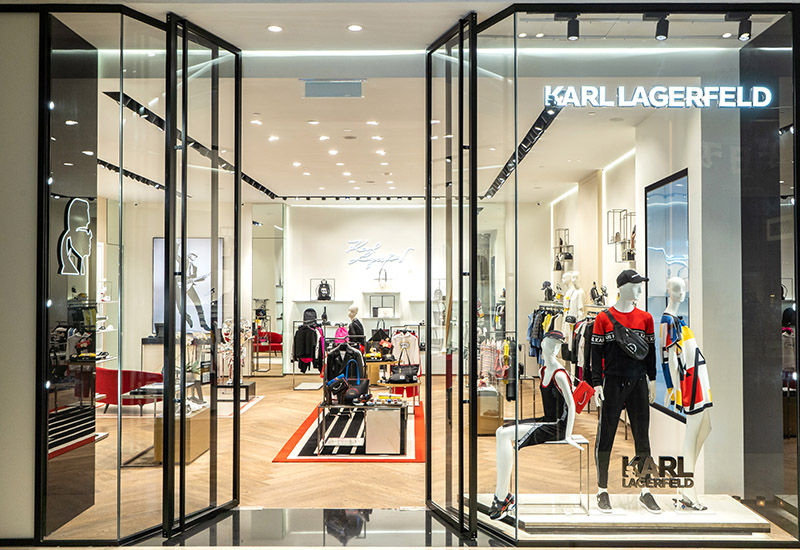 Inspired by the late designer's own office and home, the store's interiors exude a welcoming, modern yet sophisticated ambience. Marble, chrome and brass accents highlight the space, whilst carpets with red borders mimic that of the framed sketches of his work.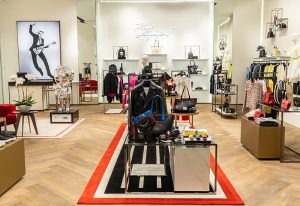 The wall panels pay homage to traditional French architecture and the décor of the KARL LAGERFELD Parisian headquarters on Rue Saint-Guillaume, accentuating the brand's DNA. Also underlining the fact are the large antique mirrors that form the focal points within the showrooms.
To complete the decor, there's an  oversized metallic Tokidoki standing next to a red chair resembling Karl's own – offering an Instagrammable spot for customers.
Discover the Spring Summer 2020 collection  
Unveiled together with the opening of the store is KARL LAGERFELD's latest Spring Summer 2020 collection, which draws inspiration from the Bauhaus movement that shares Karl Lagerfeld's German roots.
One of the late designer's favourite eras and artistic movements, the Bauhaus movement has long permeated and shaped modern art. From its initial applications in architecture and expressionism, the concept later expanded across various mediums, materials and disciplines – spanning fine art, industrial design, textiles, theater, science and culture.
"Karl decided on the theme of this season before he passed; he loved the Bauhaus art movement," says Carine Roitfeld, Style Advisor of the Maison. "It's all very Karl — very strict, very sober and very perfect. It's everything that Karl liked. It's simple but not boring. It's streetwear with a touch of Parisian chic."
Echoing the design cues of the Bauhaus style, the collection highlights contemporary shapes, silhouettes and colours.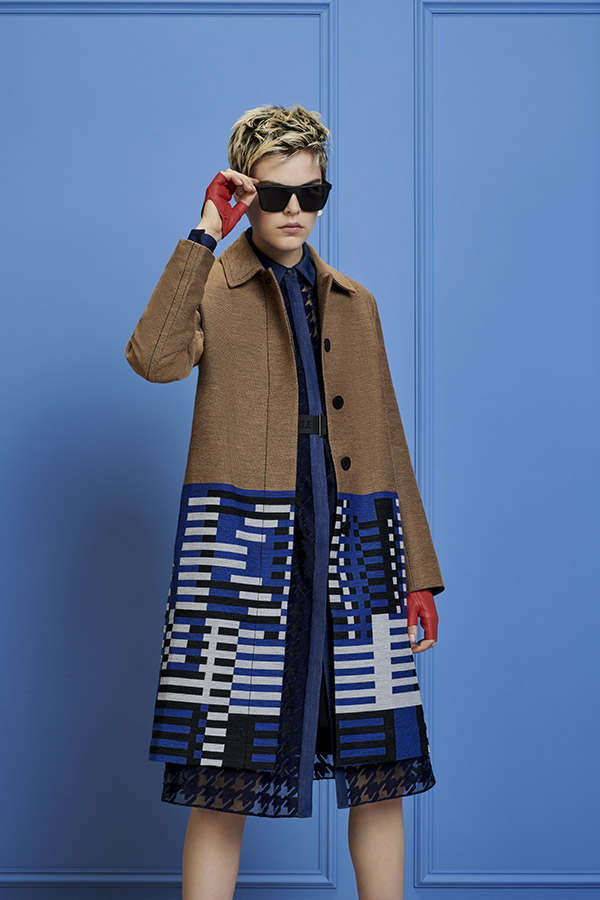 Square + Blue: The patterns and typography signature of both Bauhaus and the brand's aesthetic appear across the collection, translated into striking KARL LAGERFELD logos. Among the key outerwear pieces include a parka with a poster graphic at the back, a tan mac coat with a blue jacquard Bauhaus pattern on its bottom half, as well as a blue hybrid dress-jacket. Elsewhere, square shapes form colour-blocks on a poplin top and dress.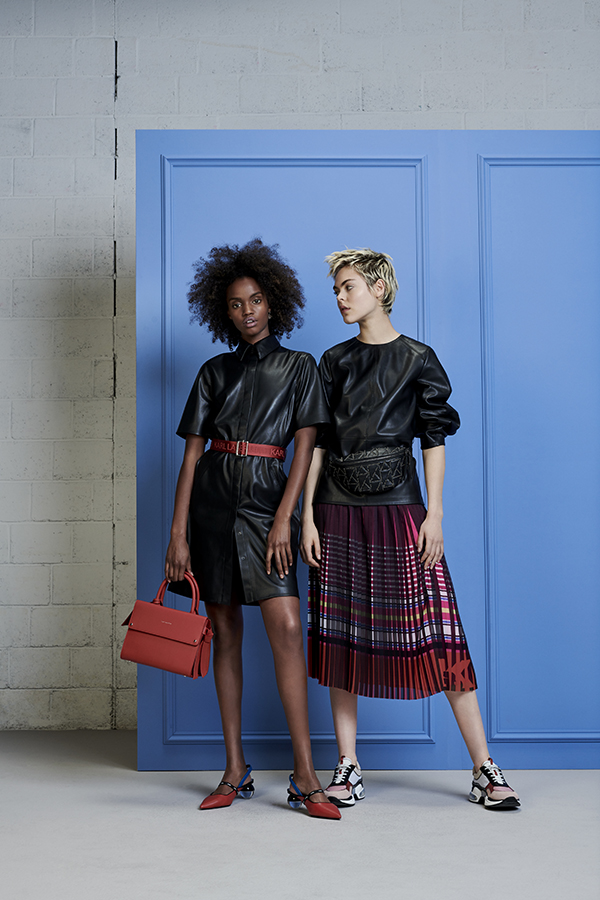 Circle + Red: Circular elements subtly surface in the details of selected pieces, such as colour-block skirts and a pleated dress with circular prints. The colour red recurs across dresses and skirts, contrasted against a core palette of black. There's also a houndstooth blazer in red, yellow and blue that comes with a matching skirt; in addition to a silk blouse and bottoms with photo-printed bouclé patterns.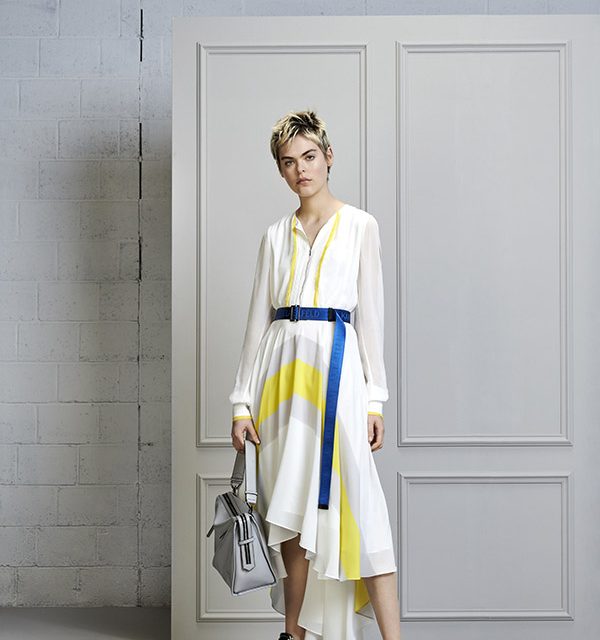 Triangle + Yellow: Sunny yellow hues complete the RTW collection, accented by white and metallic silver shades. Silk dresses and skirts signal triangular influences with their A-line silhouettes. For the breezier summer days, there's a tailored blazer made from triacetate fabric on its front and silk georgette on its back to offer a lightweight feel; along with a white lace coat that can be layered over the broderie or cotton dresses.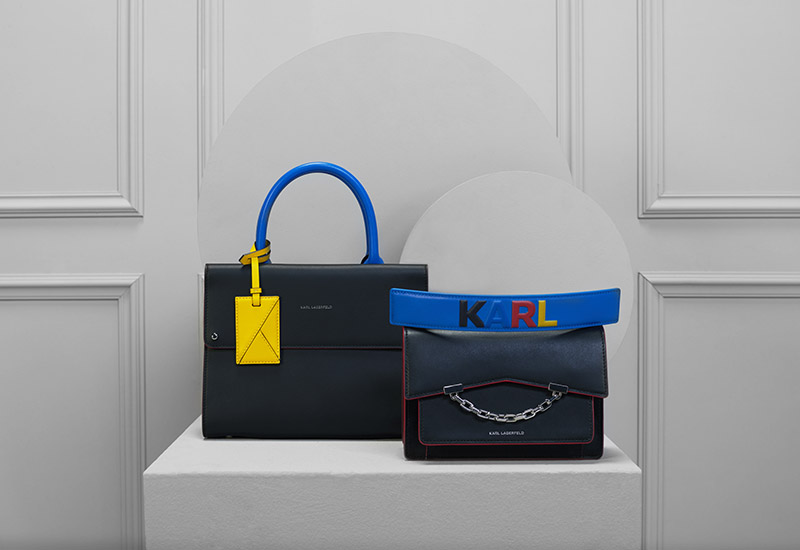 As for accessories, the new K/Studio range features a redesigned K-quilting pattern on a camera bag, hobo, shoulder bag and bum bag. Meanwhile, the K/Signature collection has two additions including the new K/Signature Soft and the K/Signature Stitch, available as a shoulder bag, crossbody or backpack. Inspired by Karl's lucky number, the Karl Seven returns in two new silhouettes: a top handle design and a clutch which doubles as a baguette bag. Lastly, the K/IKON range has added three new styles: a shoulder bag, a backpack and a large top handle bag.
Take a closer look at the KARL LAGERFELD Spring Summer 2020 lookbook and key products of the collection in the gallery below as well as in store at the KARL LAGERFELD store located in Pavilion Mall.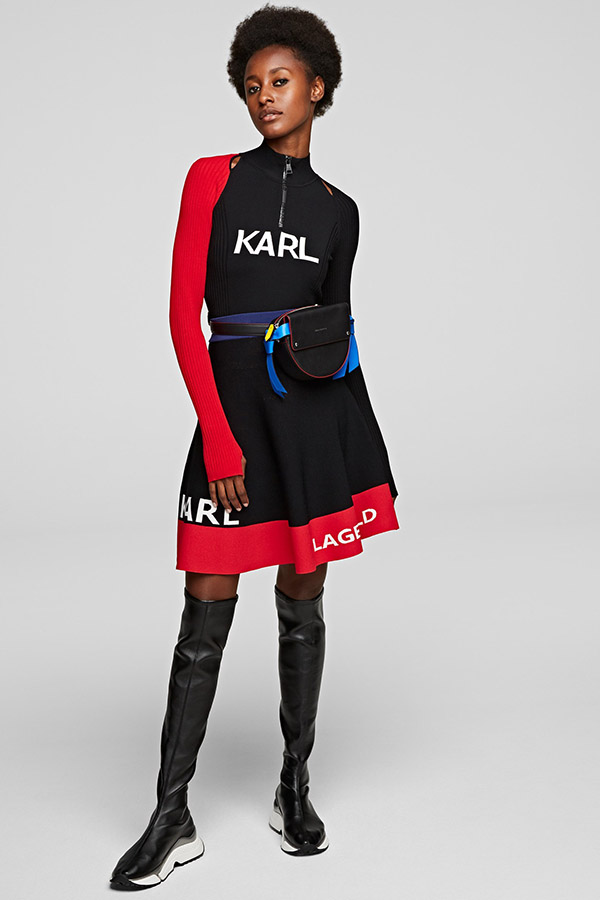 Bicolour Logo Zip Neck Knit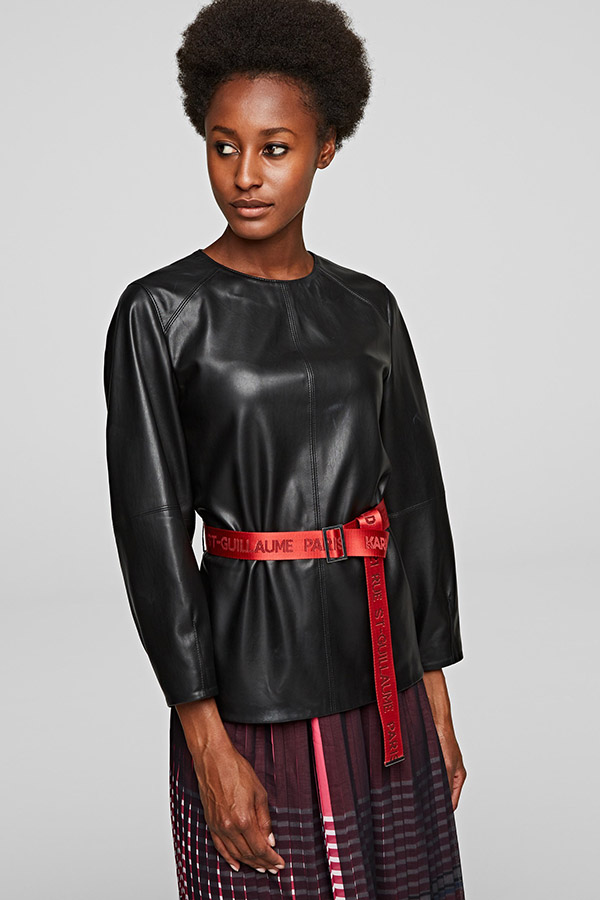 Faux Leather Top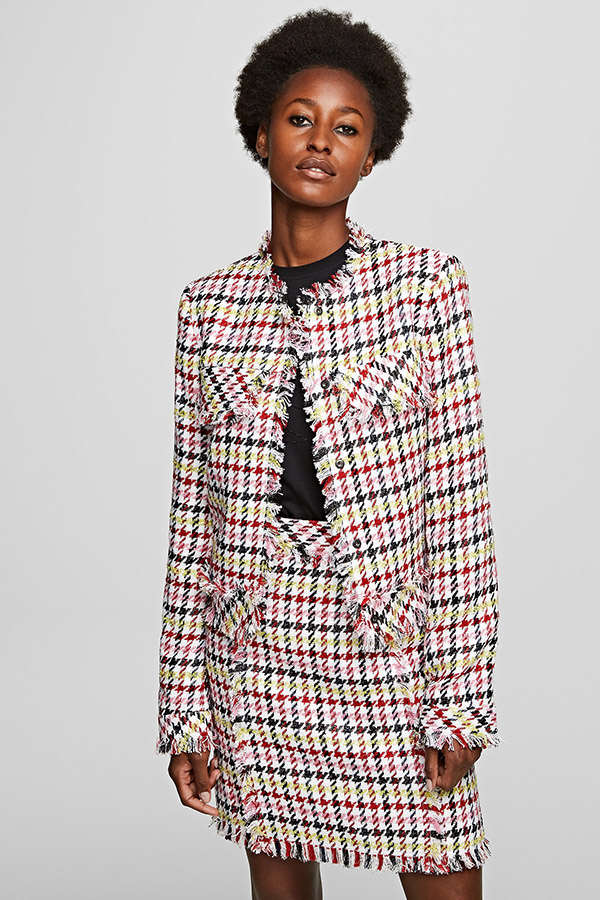 Houndstooth Boucle Jacket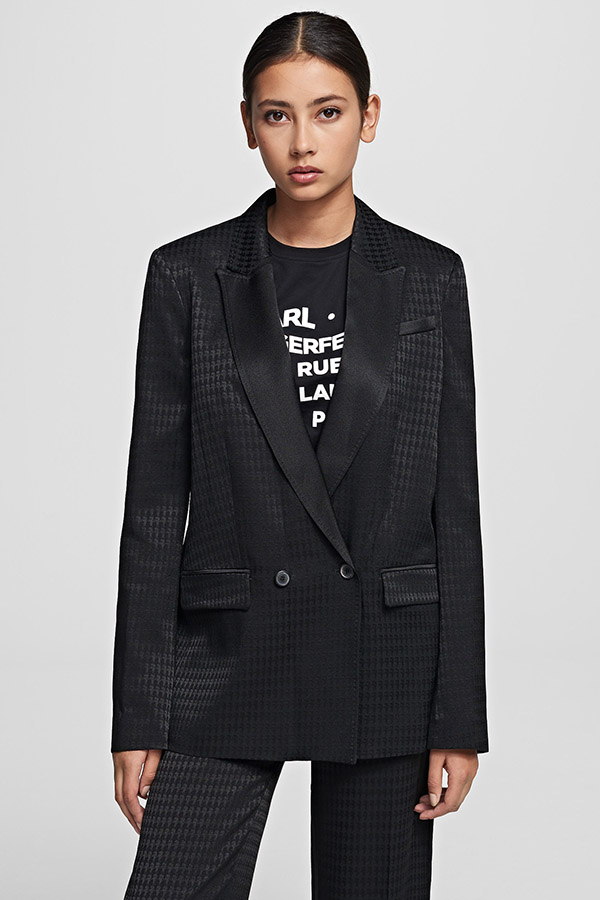 Kameo Belted Blazer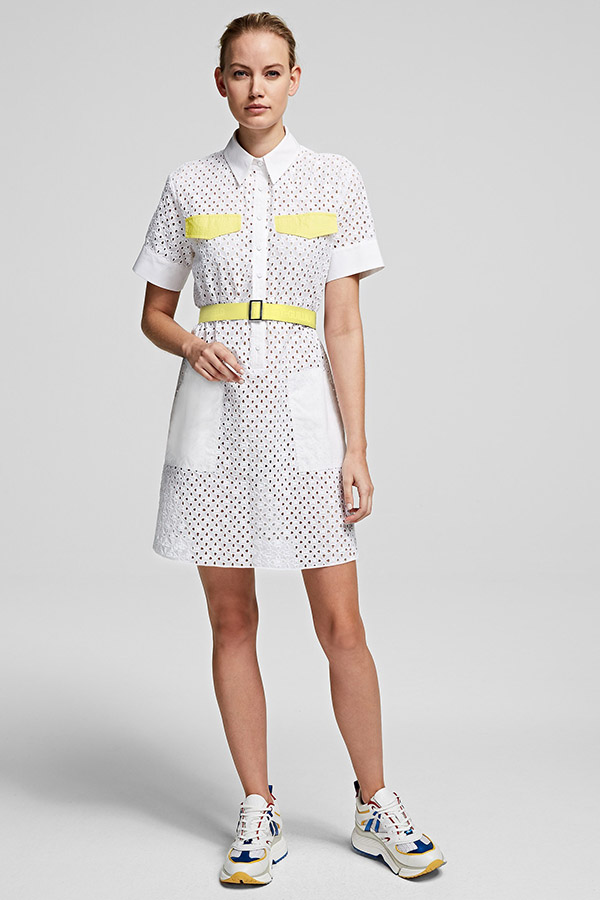 Karl Broderie Anglaise Dress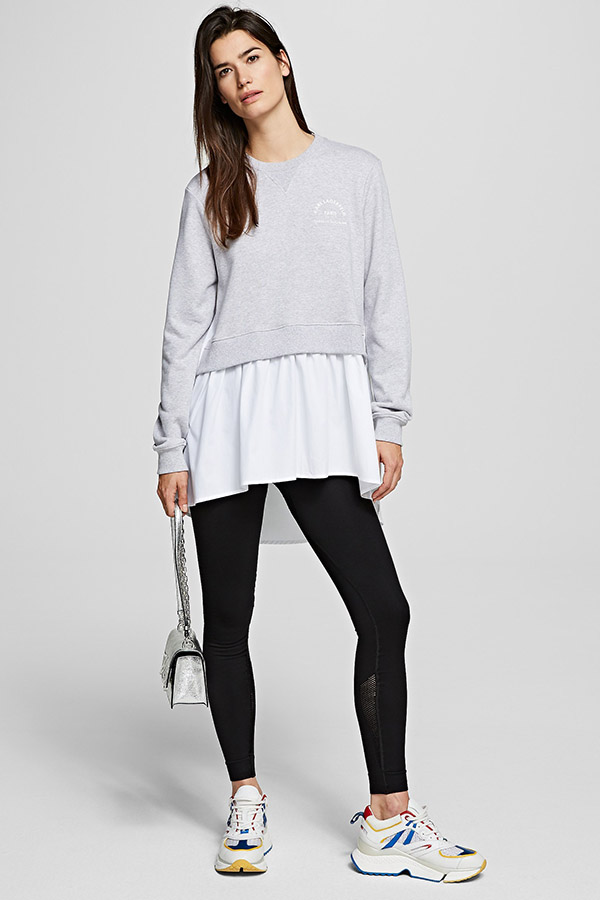 Logo Sweatshirt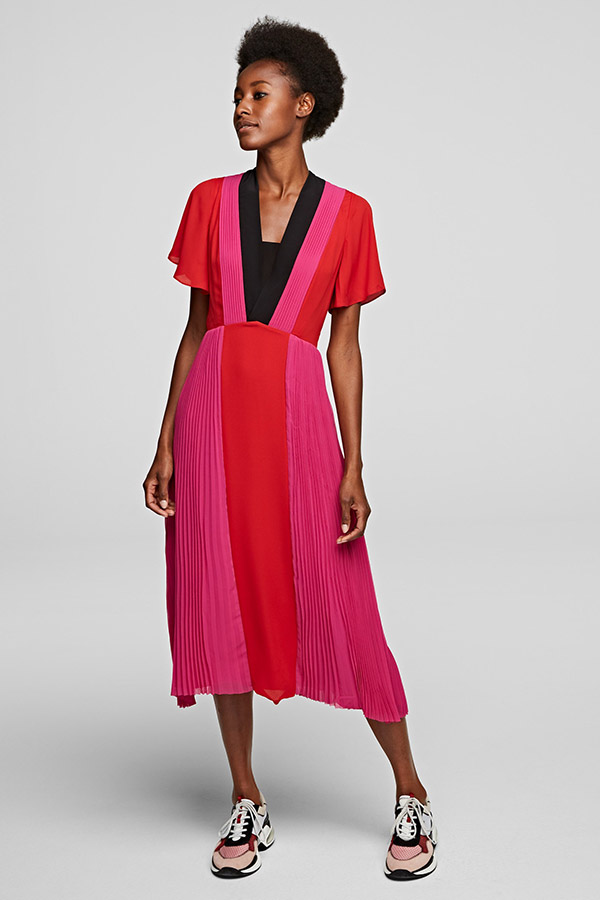 Pleated Colour Block Dress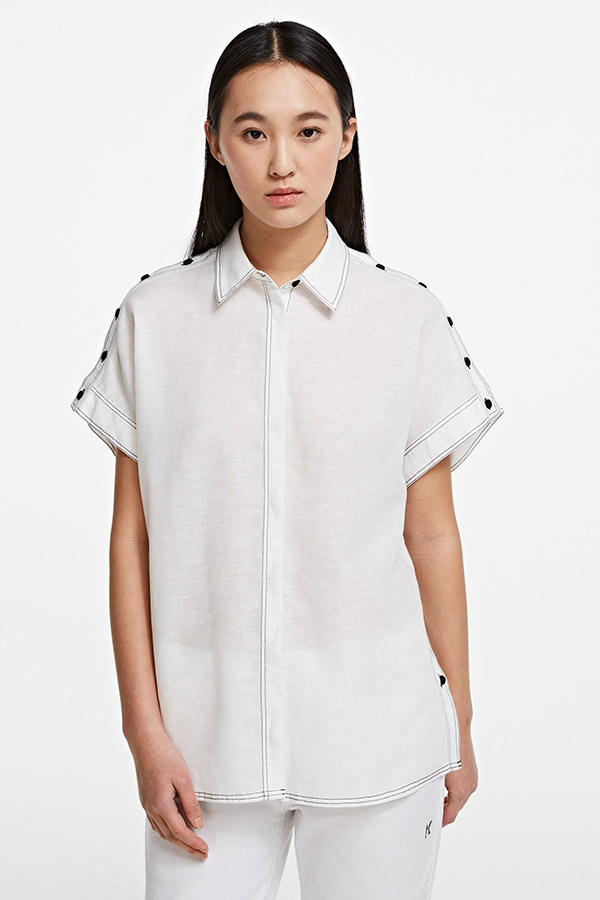 Short Sleeve Linen Shirt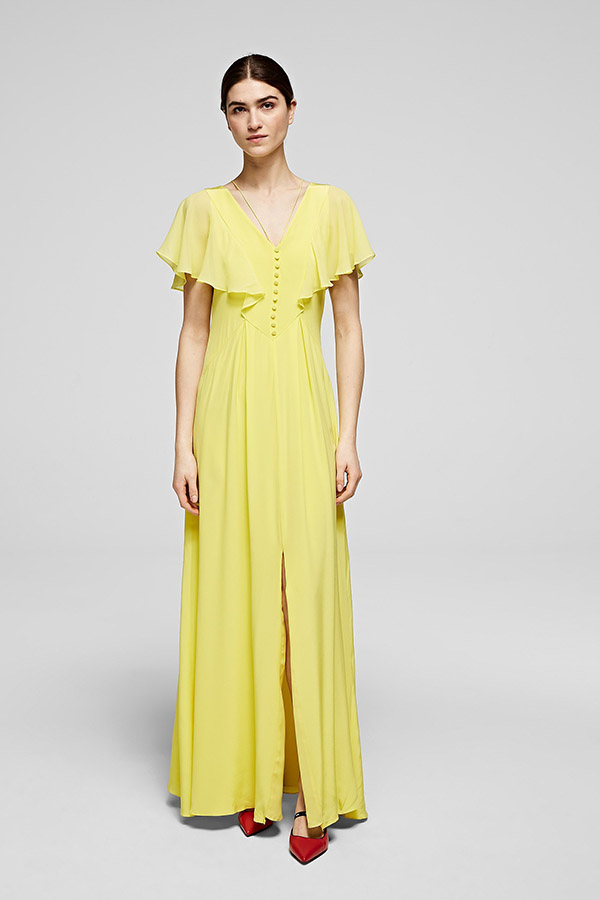 Silk Maxi Dress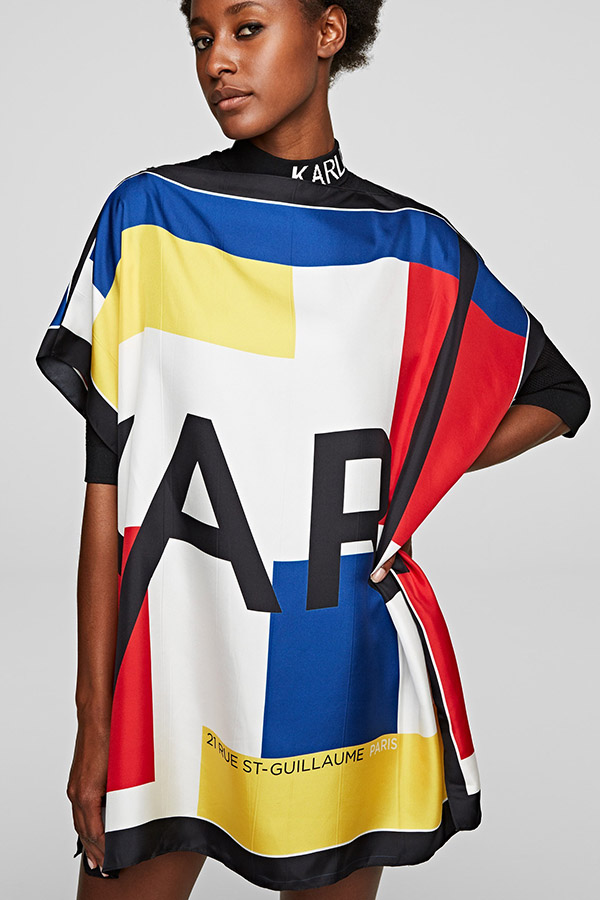 Silk Scarf Tunic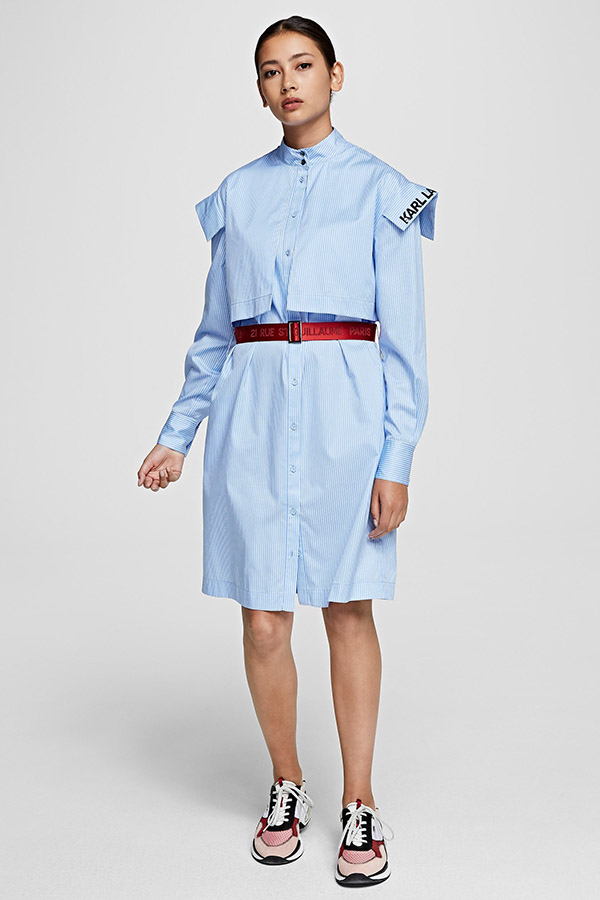 Stripe Poplin Shirt Dress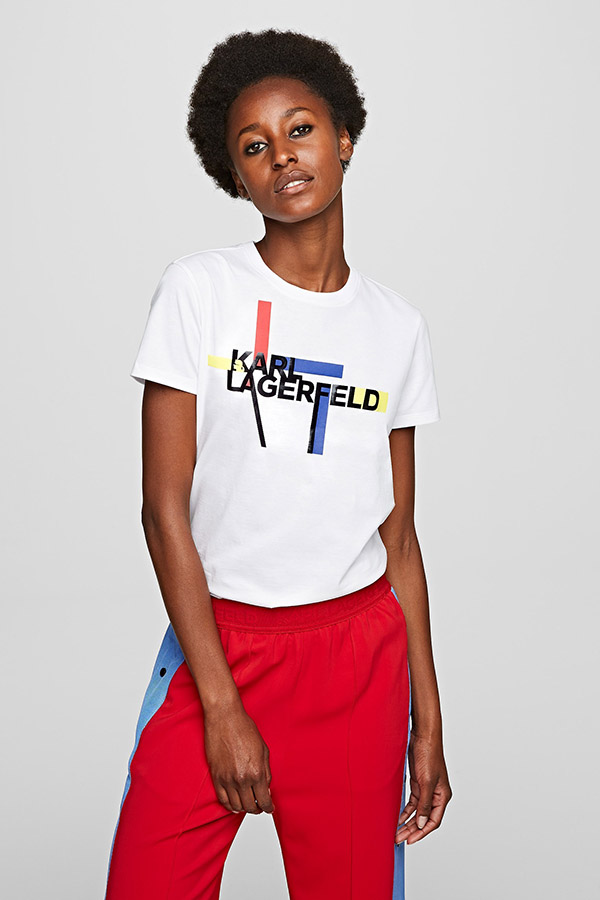 Bauhaus Logo T-shirt
(swipe left for more)
Meet KARL IKONIK
Fans of the brand can now also get their hands on the best-selling KARL IKONIK collection, featuring a graphic representation of the legendary designer in his signature attire: sunglasses, fingerless gloves and a tuxedo blazer. Select styles also feature his famous feline, Choupette.
First launched in 2017, the collection has grown to become a worldwide hit, spotted on celebrities the likes of Gigi Hadid, Hailey Baldwin, Nicki Minaj, Paris Hilton and Barbara Palvin.
The latest KARL IKONIK offering consists of a range of t-shirts, premium sweats, bags and footwear — appearing in a classic black and white palette, with vibrant pops of colour throughout. These are complemented by a range of lifestyle items such as notebooks, mugs, hats, laptop sleeves, travel accessories and more.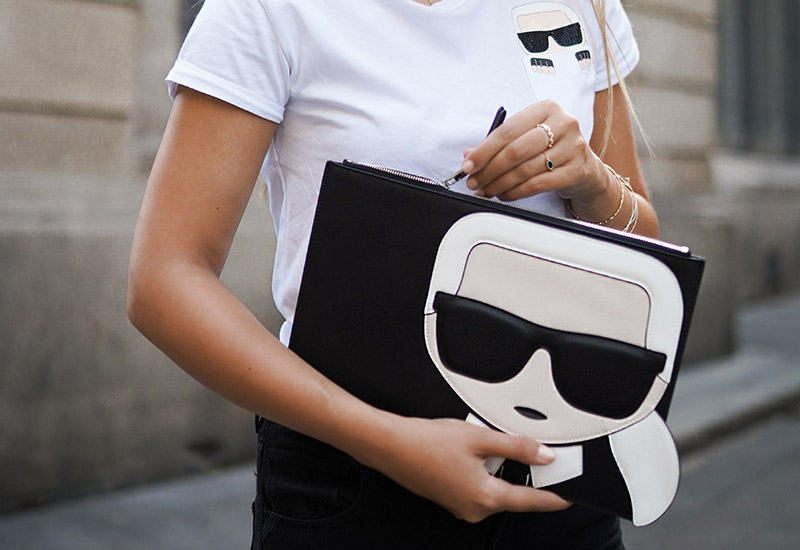 Shop the collections in-store at the newly opened KARL LAGERFELD boutique in Pavilion Kuala Lumpur or online at archiluxury.com and enjoy free shipping. Additionally, with the purchase of RM1,500 and above, customers are able to receive a complimentary KARL LAGERFELD Jute Shopper.
Location: Lot 2.69.03, Level 2, Pavilion Kuala Lumpur
Photos: KARL LAGERFELD