It didn't take long for criticism to pour in when news broke that Karl Lagerfeld would be the subject of this year's Met Gala. The Metropolitan Museum of Art announced that it will celebrate the late designer's work and impact on the fashion industry at a glittery event on May 1st titled, Karl Lagerfeld: A Line of Beauty. 
The "Kaiser", who passed away in 2019 at the age of 85, played an impactful role in fashion throughout his almost seven-decades-long career with stints at Chanel (where he was credited for reviving the fashion house from the brink of bankruptcy), Fendi, Balmain and Chloé among others. But the German fashion designer was not one to shy away from the odd controversy with his outspoken views on subjects ranging from #MeToo, migrants and LGBTQ rights. 
While the Met Gala announcement may have sparked a new wave of outrage at the late designer, there's no denying Lagerfeld was a creative genius that made a significant impact in the fashion industry. He also had an unlikely taste in music for someone his age. 
In 2006, Vogue and Lagerfeld collaborated on a music album filled with the designer's hand-picked tunes called, Vogue Presents Karl Lagerfeld: My Favourite Songs. The result is an indie-fest album packed with artists such as Super Furry Animals, The Pipettes, LCD Soundsystem, Goldfrapp, Caribou, Stereolab and many more. For any millennial reading this, be sure to listen to the playlist on Spotify for a trip down memory lane.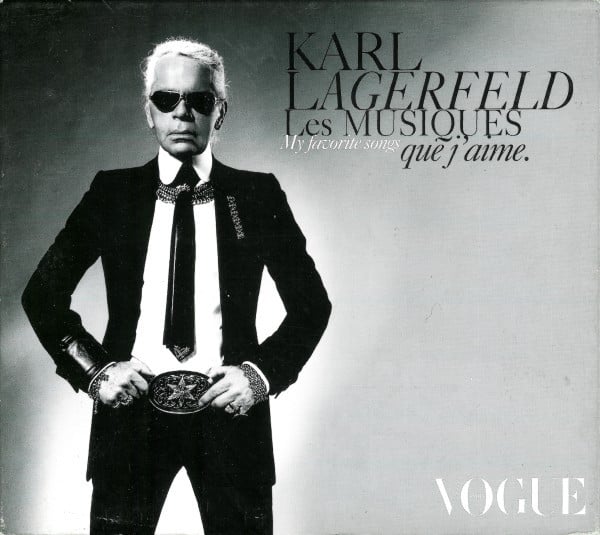 Lagerfeld is also known to highlight unexpected underground artists such as Chromatics, Hercules & Love Affair and talents such as the British cellist and composer Oliver Coates and English music producer A.G. Cook. 
The fact that Lagerfeld would keep over a hundred iPods and even hired the services of an "iPod nanny" to take care of the devices is the stuff of legend. He even made a cameo appearance in a Jean-Roch and Snoop Dogg music video, designed the artwork for Florence and the Machine's Shake it Out single and even collaborated with Pharell Williams on numerous projects for Chanel. 
As Lagerfeld himself once famously remarked, "Music gives colour to the air of the moment." It wouldn't be complete to talk about the impact Lagerfeld had in the fashion world without highlighting the audio that played in the background throughout his career.