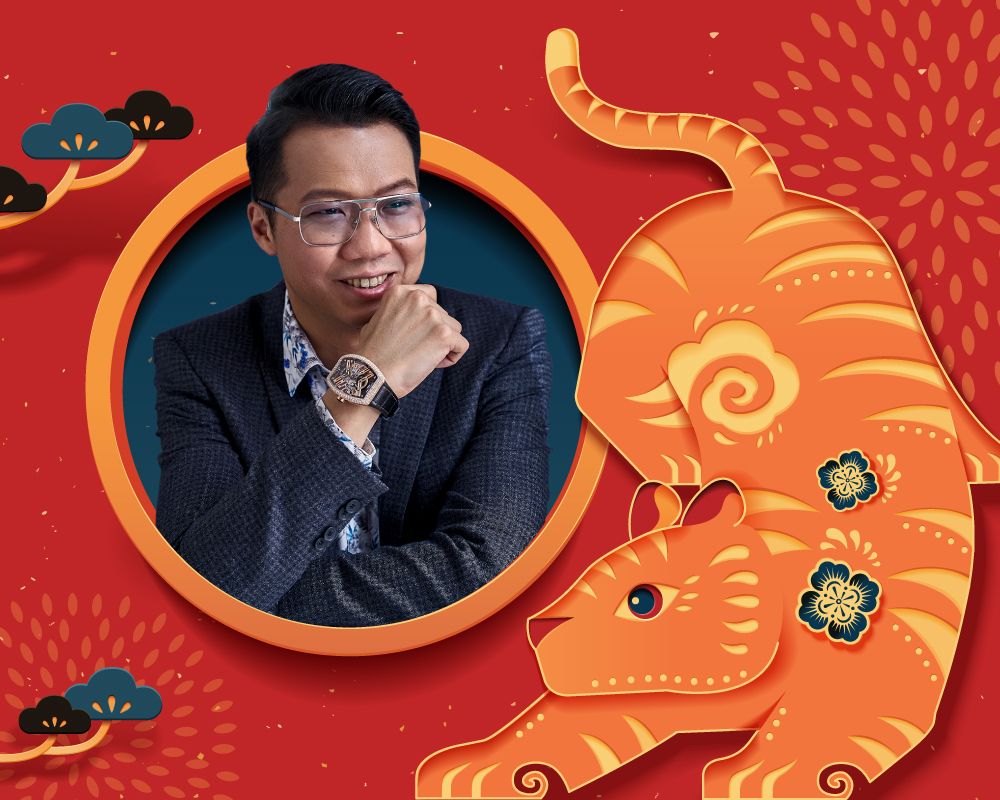 On the first of February 2022, the Water Tiger will take over from the Ox in the 12-year cycle of the Chinese zodiac. Known for its courage, ferocity and regality, the Tiger and its year are looked forward to by many with hopes for a fearlessly positive year.
"There are only 12 animal signs, but there are infinite possibilities depending on how you navigate the year of the Water Tiger based on your strengths and gifts," shares Joey Yap, principal consultant of the Joey Yap Consulting Group.
In preparation for the year ahead, here are his nuggets of wisdom for the 12 zodiacs.
Tiger
 2022 will be a very busy year for tigers. Many will have their eyes on you, so stepping up and doing what you must should come naturally. However, this can in turn set you back in your love life or personal relationships with others. Learning the art of time management will certainly help you throughout the year. Financially, you could have had better years, so you may want to think twice before making any big money decisions. Practice caution when investing or spending. Besides wealth, also be on the lookout for both your physical and mental health. The amount of work you're going to be doing, may cause some stress, so at least try to take it one day at a time. 
Rabbit
For rabbits, this new year could be one filled with love and warmth if you allow it. Spending time with loved ones-family and friends, would bring you immense joy, light and security. An added bonus for those of you who are single, your peach blossom star is stronger than ever. 2022 is your year to make moves. With regards to wealth, opportunities will be aplenty. That being said, seize the day when the day arrives. Nevertheless, finding a mentor or nobleman to help you along the way, could also work in your favour. Career aside though, pay attention to your mental health for your chances of feeling isolated and alone could also be higher. 
Dragon 
It's a year of reflection for dragons as 2022 dawns. Whether it's in terms of relationships or wealth, taking time to think before acting is crucial this year. Following your gut is always advised, but that doesn't mean being too hasty about important decisions. When in doubt, reflect first. In brighter news, you will be receiving some good financial gains this year, so with regards to wealth, everything will be turning up green. However, you may want to take extra precautions about the things you consume, for an improper diet can bring back unwanted diseases for this animal sign. 
Snake
Unfortunately, stressed-out snakes may be the key term for this animal sign come 2022. Thus, it is vital that you do whatever you can to remain calm and collected. Avoid yourself from being mentally-strained. Personal relationships, whether filial or romantic also do not appear too well in 2022 for the group of you. Hold off of on any major investment/money deals and focus your energies on maybe picking up a hobby, or even just looking after yourself physically, emotionally as well as mentally this year. 
Horse
Horses will do splendidly this year in terms of wealth and career. Due to this, expanding businesses, making investments or generally anything money-wise will be the right move to make in 2022. Your busy schedule will keep you on your feet, however, that could also come in the way of your personal relationships, for the lack of time spent with others. Horses may go through hormonal changes throughout the year, and this can in turn mess with them both physically and emotionally. Keep in mind that these changes are merely temporary. 
Goat
Overall, the year 2022 happens to be a great year for fellow goats. Whether it is in wealth, relationships or health, everything appears to be positive throughout the year. However, this isn't to say there isn't a couple of trials and tribulations here and there. For instance, grab business opportunities which come, but do not overspend your money. Good time spent with family and friends, but do not forget to care for the elderly of your home. An ability to enjoy good health, but be sure to practice all habits in moderation. 
Monkey
Monkeys will not have things easy in the various different sectors of life throughout the year. However, the good news is that, this animal sign has always been one who knows their way around solving problems, regardless of its nature. So, whether it's wealth, relationships or health, persevering and coming out on top can be assured. Expect money losses this year, but also be smart about the ways in which you can best make money. In terms of love, it could be a year of betrayal, watch your back, and ponder before you decide to react. 
Rooster
Wealth is looking especially favourable for roosters in the year 2022, thus making the best of those opportunities would be a good move to make. Many would come in search for the group of you this year for guidance. Be ever ready to give, but also be sure to accept help when you need it. Having someone assist you with financial aspects will not put you at a disadvantage. Your relationships this year though, may not be as lucky as your wealth and career. You could feel like things between you and a significant other getting monotonous, so maybe find exciting ways to change that tune. Besides that, also watch what you eat/drink. 
Dog
For dogs, it is important to take 2022 as a year to understand yourself, your emotions, thoughts and actions. You could be feeling very misunderstood this year, and not exactly be open to sharing things you feel and think. However, this can be detrimental to your health and the relationships you share with others. That being said, do your best to spend time with your loved ones and do your best to express yourself. Wealth wise, dogs could have a great year if they are careful about what they spend on. However, one wrong move, and things may not look so pretty anymore. Beware. 
Pig
Pigs would have a relatively pleasant 2022. In terms of wealth, there will be ample of opportunity for a career expansion, and with it more money. All you would need to do is network and be aware of those who can help you reach the top. Besides that, peach blossom luck also appears to be rather strong for pigs this year. For those of you who are single, 2022 may gift you with someone you're interested in. Keep your eyes open. However, you would also need to pay extra attention to your health this year. Stay away from drinking, smoking and snacking. Instead, put your energies into working out and staying hydrated. 
Rat
For rats, it would be a trying year ahead. However, it is important to keep in mind that with great power, comes great responsibility and eventually great success. Perseverance is the word to remember throughout 2022. But, relying on loved ones-friends and family, can help ease the burden and make things bearable, that's for sure. Pay attention to your wellbeing this year, for rats are more prone into meeting with accidents in 2022. 
Ox
Another animal sign to have a good year ahead would be oxen. The group of you would be able to enjoy good wealth, especially if you're a business owner. 2022 is the year you'll welcome new clients, customers or even fans. In terms of love, you may find someone you fancy in 2022, but try to play it cool and not be too aggressive in your approaches. The one downside is that it can also be a stressful year ahead, so do what you must to put your body, mind and soul at ease. Should you find yourself feeling lonely and unwanted, remember that you matter.