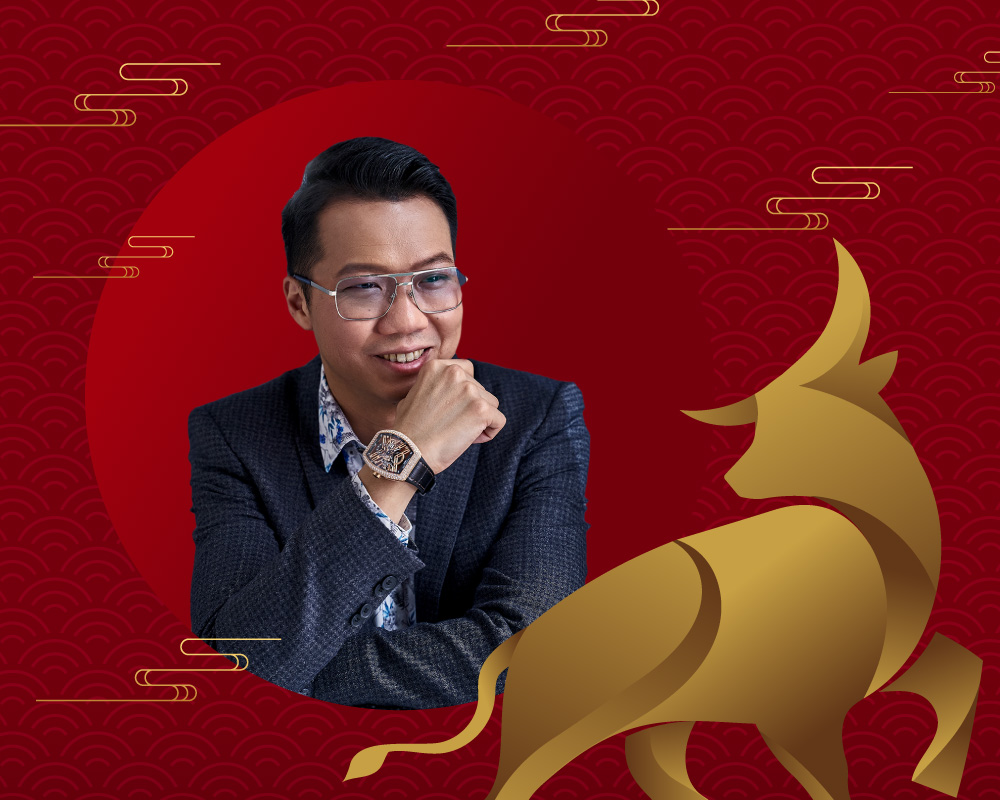 On the twelfth of February 2021, the Metal Ox will take over from the Rat in the 12-year cycle of the Chinese zodiac. Known for its diligence, persistence and honesty, the Ox and its year are looked forward to by many with hopes for a bullish year given the trying one that was 2020.
"There are only 12 animal signs, but there are infinite possibilities depending on how you navigate the year of the Metal Ox based on your strengths and gifts," shares Joey Yap, principal consultant of the Joey Yap Consulting Group.
In preparation for the year ahead, here are his nuggets of wisdom for the 12 zodiacs.
Ox
This year is potentially an exhausting one with work getting hectic and demotivation and fatigue resulting from the stress of it all. It is important to focus on long-term goals instead of present troubles. Additionally, wealth luck wouldn't be shining so carefully rethink any financial decisions. For relationships, it could be a year of solitude despite the many companions you will often be surrounded by.
You will find yourself attracting and retaining the attention of many who can potentially connect you with your goals and put you centrestage. Career advancement is on the books, as is renewed confidence and independence, especially if you work in sales and marketing. Your creative side will be tapped into. However, you will find yourself with petty squabbles with loved ones which can unexpectedly bring negative impact to your health and wellbeing. Get ready for a lot of change, which can become trying if you're uncomfortable with it. Trouble and distractions will be aplenty, but focus on your goals and the storm will soon pass.
Tiger
This year can potentially bring ailments to your health if you do not get proper rest and exercise. Plan your time and energy wisely as big projects are in the pipeline on the career front. It is advised that you also make small adjustments to your wealth and strategise wisely before investing in anything. The good news is that 2021 will bring a lot of love into your life.
It is a year of romantic tidings, meeting new people and boosting social activities. You will find yourself strengthening current relationships – especially romantically – while attracting new people into your life platonically. Your problems will solve themselves and your goals will be achieved with the help of impactful people in your life. However, be wary of negative influences that can lead you astray. Look after your belongings and avoid dangerous places whenever possible to avoid losing important assets. There might be feelings of loneliness and isolation this year, which can tip the scales of balance of your health. Watch your eating habits to avoid this.
Rabbit
Your health this year is completely dependent on the choices you make so pay close attention to what you eat, especially things you may be allergic to. Negative energy might come aplenty in the work environment so avoid gossip and dispute. Don't lend money unnecessarily to others as your source of income reads rather unpredictable this year. At the same time, your romantic life doesn't look too good so instead of looking for the right person out there, look inwards and find yourself.
It looks to be achallenging year for the Rabbit, with elderly relatives needing more support and attention from illnesses, injuries or even death. Watch out for gossip from petty people and naysayers. Stay true to yourself, persevere and good things will shine through.
Dragon
Mood swings are in the charts, affecting your health. On the bright side, positivity is shining on your career, where you will definitely be enjoying a lot of success. Keep in mind, however, that nothing comes free so be prepared to put in the hard work for your dues and avoid uncertain investments that may look too good to be true. For female dragons, your peach blossom luck is in full bloom, so this year is the year to go out there and look for your partner.
There is a big window for collecting wealth this year, especially with assistance from women in your life. You will be bestowed with the strength, courage and power to achieve the things you have restrained from prior to this. Success is high on the charts. However, for those easily stressed out, you will find yourself very vulnerable during this time. The confusion and uncertainty of the coming year will see people coming to claim everything you owe them so be sure to take care of it swiftly and efficiently to prevent prolonged mayhem.
Snake
It isn't the best year on the health front for snakes with a weakening of your immune system resulting in inability to properly sleep. In the workplace, you could finally be recognized by your superiors. You might experience some monetary loss but with the right help, that problem can easily solved. In your relationships, realise that controlling someone or constantly being suspicious of them will get the both of you nowhere.
Your hard work will bear fruit easily this year, increasing your opportunity for authority at work. Expect a rise in ranks, an increase in income, possibly even a promotion. You'll find yourself easily removing obstacles with the help of those closest to you. With your career at an all-time high, this is a good year to make and save extra money provided that you do not be impatient and anxious, which could trigger instability. You could be extra emotional this year, especially with your spouse as suspicioun surrounds you.
Horse
Physically and emotionally, you could be exposed to minor accidents, instabilities and illnesses,  but things are looking good on the career front. Work extra hard and you will be noticed for your extra efforts coupled with new ideas. To increase your wealth luck, improve on your communication skills. When it comes to love, husband and wife relations as well as familial bonds are at an all-time high in 2021.
This year will see you on the receiving end of new relationships, help and support. By attempting to lessen your problems and reduce the impact of negativity in your life, you will find yourself able to resolve past issues with ease. Take this year to pay more attention to elderly relatives for they could need health support from common illnesses. There will be a lot of outflow of money, more than what's coming in, so be careful of your spending. Above all, unexpected intimacy is on the charts, which is a good thing if you're single.
Goat
You could be experiencing some health-related issues this year, especially in regards to your digestive system, liver and skin. Career-wise, you'll be swamped with work that might drain you to your core. A slow move to the top is predicted, but patience and perseverance is key. On the wealth front, things could be looking rather stagnant with no significant growth, so pay more attention to management skills to avoid a crisis. There will also be big changes in your relationship; to overcome hurdles, listen more and speak less.
Goats will experience an extra edge with problem solving and the ability to turn negatives into positives. People will be willing to help you out as well. This year it would be a good time for investments, so stay on the look-out for some good deals. There could be loads of changes coming in the new year, depending on the choices you make. You could find opportunities to either spend or lose money, and there will be a tendency to spend aimlessly, which can have a long-term impact. Invest the money wisely and you can acquire great assets. There will be challenges ahead, but with hard work, your goals can very well be achieved. You may also offend others easily, so be wise with your words and those who surround you.
Monkey
Health this year looks to be good overall, but you are advised to practice good work-life balance to avoid any physical, emotional or mental issues. With the support of your superiors and colleagues, your work life will also look good this 2021. Hard work will usher in more opportunities in the form of wealth because you will be rewarded accordingly but do not be so quick to expand your business, as time isn't quite on your side. Relationships will be the least of your worries, as you form better bonds with your spouse and other specific people who walk into your life this year.
Noble people are significantly present in your life this year, who will help you achieve happiness and your goals by strength of your relationships. It is a time of benefits but also responsibilities. Lead this year, otherwise you might find yourself lonely and in solitude. Your peach blossom luck is also good this year, representing happiness and the right time to look for someone to build a long-term relationship. If you're already in a relationship, now is the time to strengthen it. Some down side include minor accidents and the potential to offend others, especially over trivial matters. You might also find yourself forgetful this year, so remember to write down important details and use technology to your benefit.
Rooster
You could be prone to moodswings this year so try and keep your emotions in check. It would also benefit your career to learn how to stand on your own feet, although you will have others helping you along the way. Keep in mind that hardwork will equate to appreciation, and make extra effort to save money this year instead of expanding your business or diversifying your investments. On the relationship front, mutual respect, communication, love and care make for the building blocks to a lasting love.
You will be blessed with the gift of problem solving as well as popularity this year. You will finally see the solution to multiple problems pertaining to financial, relational and health situations, resulting in you spending the year making a good name and reputation for yourself. Resultantly, you will be see the rewards of financial gain, bonuses or even an increase in profit margins. Do not be impatient and reckless as it could undo all you have achieved by landing you in accidents and injuries, especially in water related physical activities. You may find yourself with the inability to make up your mind in 2021.
Dog
You might get easily depressed this year so try to make an effort to always remain calm. There is room for growth in your career in things that may seem unfamiliar and uncertain, but once you get the hang of it and you put in your due diligence, the chips will fall into their own place. Your wealth isn't in the best place so watch out for money traps and plan your finances well. With relationships, you could be frustrated with a long distance predicament with your significant other, but stay strong and keep yourself occupied to ride it through.
With assistance of friends and colleagues, this will be a year of prosperity where you will find yourself nurturing good commitments and removing any obstacles in your path. However, be wary of problematic relationships relating to dispute and slander. You could find yourself easily offending people, so just try and find exciting things and positive people to surround yourself with. Also be aware of the words you put out there especially in regards to others.
Boar
The year will be filled with emotional ups and downs so try to find comfort in yourself. You won't be getting more rewards from doing more work but do your duties well nonetheless and be sure to not overestimate your abilities. It is recommended that you move around this year to activate your wealth luck. Do proper research before investing in anything. In regards to love, try not to make mountains out of molehills; your problems really isn't as big as you deem it.
Help will be offered where you need it with the presence of noble people in your life to aid you with your goals and success. It will lower stress and help you attain what you need to do. You might also find yourself travelling excessively, crossing borders and states, for work or education. This will also be the year you make money from what you do, whether it be international business, online or from a different industry completely. You will get the jumpstart you need to start a new business, but avoid funerals as that could impact your wellbeing. You could also be exposed to minor diseases, which may likely be life-threatening.
Rat
Health is looking good overall, save for minor issues due to stress from work. This is because your career is due to enter a new phase where there will be new challenges ahead requiring new skills from you. You will find your solution with your colleagues and your superiors. Consider exploring your artistic side to trigger wealth and gain profit from new skills. Things look grandiose on the love front with marriage on the horizon if you're already in a long-term relationship.
There will be many willing to offer their help, love and support to you this year so connect with those of higher authority, form partnerships and seek approval in various aspects of your life. You will have the ability to understand complicated matter, learn how to solve problems better and generally become better versed with leadership. Focus on yourself the and pick up necessary knowledge along the way. It is advised that you detox, practice healthy regimes and go for frequent health check-ups, otherwise you could be faced with both mental and emotional anguish. Be prepared.