It features more than 280 stores sprawled across 10 stories totalling 135,700-square metres and connects three out of four existing Changi terminals.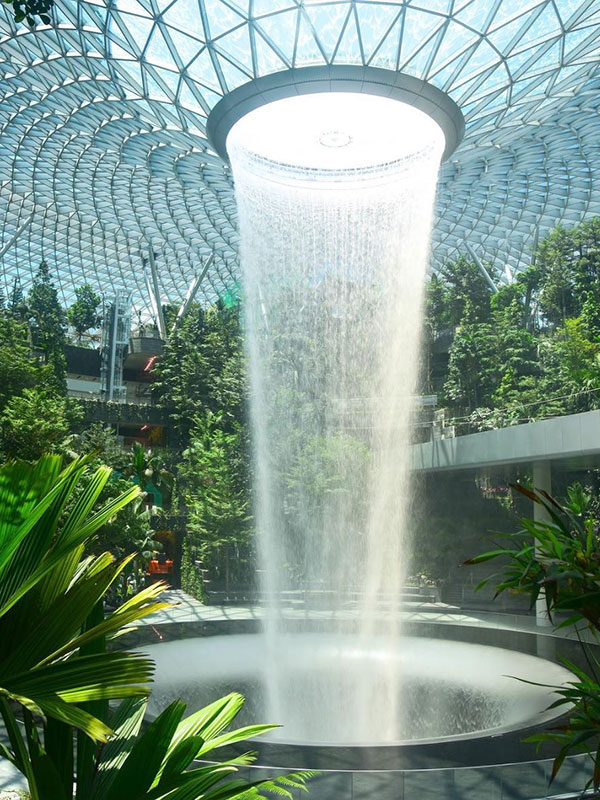 Singapore's Changi Airport has remained the undefeated champion on the Skytrax list of the World's Top Airports – the global airport authority – for seven consecutive years. With the opening of the airport's latest gem, the Jewel (pun intended), not only does it promise to extend its lead, it is redefining the blueprint of conventional airports altogether.
After four years of construction, the Jewel officially welcomes guests inside its doughnut-shaped building today. Designed by internationally acclaimed architect Moshe Safdie, the Jewel cost SG$1.7 billion (approximately RM5.19 billion) to build.
It features more than 280 stores sprawled across 10 storeys totalling 135,700-square metres and connects three out of four existing Changi terminals, as well as the air-traffic control tower. The result: a commercial and entertainment hub that evolves an airport into a tourist destination in itself.
Take a look inside the multi-use complex and discover its star attractions below.
Forest Valley
At the heart of the building is the Forest Valley, a lush green paradise home to more than 2,000 trees and 100,000 shrubs. More impressively, a 40-metre tall Rain Vortex – the tallest indoor waterfall – forms the centrepiece of the forest and no doubt, the entire complex.
Rain Vortex
The iconic waterfall will also be the setting of a light-and-sound show – an element of entertainment the Lion City has long been recognised for at tourist hotspots such as Sentosa Island and The Shoppes at Marina Bay Sands.
Canopy Park
A 14,000-square metre Canopy Park occupies the Jewel's top floor, welcoming all to play, dine or relax under the captivating glass canopy and surrounded by lavish greenery.
Designed to be a recreational wonderland for all ages, the park consists of garden trails (like the Petal Garden above), giant slides and mazes, sky nets and a 165-foot-long canopy bridge. A few of these attractions are already open to public, but a larger part of the park is still underway and will only be open from June this year.
Changi Experience Studio
Starting next month, visitors will also get to explore an interactive and immersive space offering a virtual expedition through the past, present, future and behind-the-scenes of Changi Airport. The experiential studio will feature innovative projections and exciting games with more than 20 different touchpoints to uncover fun facts and highlights of the world's leading airport.
On top of all the above, the latest Changi addition boasts the first YOTELAIR Hotel, featuring 130 cabins; the Changi Lounge, which is set to improve air-sea connectivity for cruise passengers; and an 11-cinema IMAX theater. Other amenities include early check-in services, baggage storage facilities, free WiFi and free power bank loans for 12 hours.
For more information, log on to the official website here.
You may also like: 24 hours in Marina Bay Sands Singapore