Japanese Iced Coffee lets you enjoy all the glorious aromas and flavours of freshly brewed coffee while beating the heat.
Coffee lovers all know that Cold Brew coffee has gained popularity over the recent years, thanks to its refreshing quality and smoother, sweeter result. However, sometimes we can't really be bothered waiting for 12 to 18 hours for the coffee to steep, stuffing our already overcrowded fridge, and it can result in some loss of the aromatics and flavours we wish to get from a strong, just-brewed cup of coffee.
This is when we turn to Japanese-style Iced Coffee. Also known as flash-brewed coffee or an ice brew. Compared to the typical Cold Brew, Japanese Iced Coffee takes up less time (especially compared to Dalgona coffee), is far simpler to make, and you get the entire sensorial experience while enjoying a tall glass of cold coffee on a hot day.
Basically, the principle behind Japanese Iced Coffee is simply brewing a super strong coffee directly over ice. The hot drip will gently melt the ice, diluting the coffee to your desired strength while also cooling it down instantly.
Japanese Iced Coffee vs Cold Brew
While Cold Brew is great for making big batches of iced coffee that's rich-tasting, chocolatey, and almost floral, Japanese Iced Coffee brings a much brighter and cleaner taste that's beautifully complex. Leaving your coffee in the fridge for too long can sometimes result in a rather muddy taste that's reminiscent of wet cardboard. Japanese Iced Coffee fixes this by bringing out the complex aromas of the coffee beans when brewing with hot water, before chilling the coffee instantly, "locking" all the flavours in before oxidation begins to slowly degrade the batch.
You may need to make a fresh batch every day, but since it takes up so little time and you get to enjoy freshly brewed iced coffee each morning – who's complaining?
Let's get brewing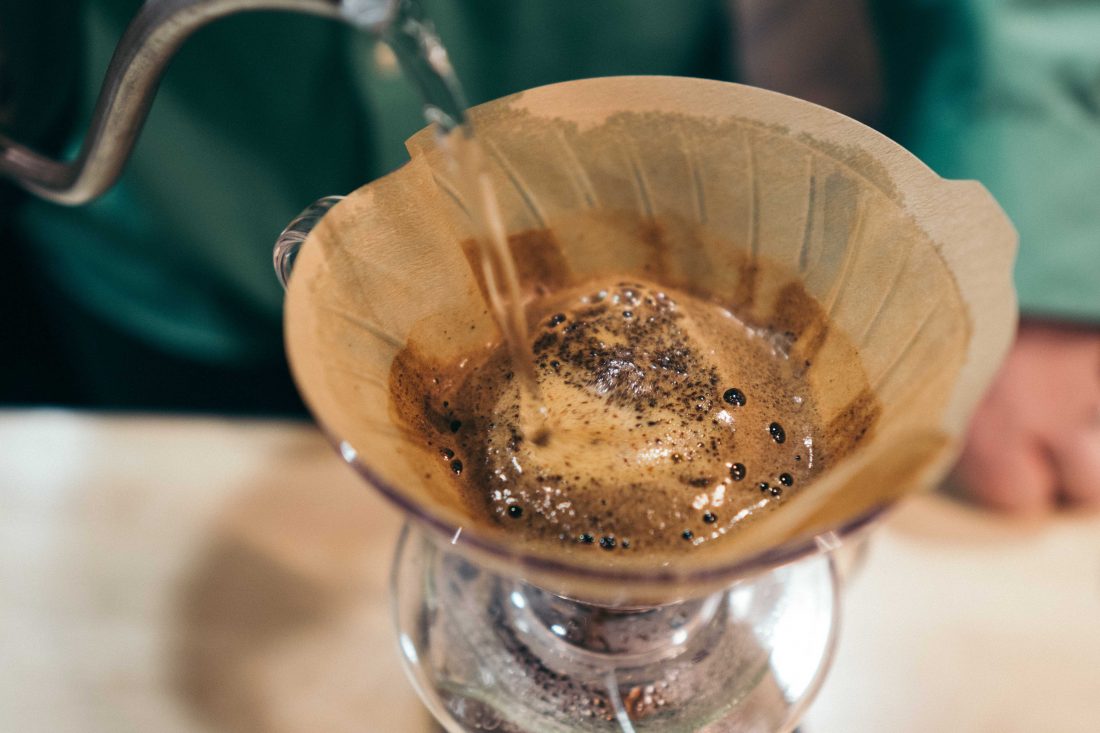 To make two servings of coffee, gather 160-165 grams ice, 315-340 grams hot water, and 30 grams coffee beans. While your water is boiling, grind the coffee beans (or use pre-ground) to a medium-fine texture, resembling coarse salt. Then proceed to add the ice into your coffee server or Chemex, and place your ground coffee into the filter. Do note that if you're using a paper filter, you'll need to rinse it over the Chemex with hot water before adding ice.
Next, pour a little bit of hot water over the coffee grounds, and leave it be for 30-45 seconds for the coffee to bloom. This allows the coffee to 'breathe', ensuring you capture all the subtle aromatics of the coffee while purging it of carbon dioxide, so you don't end up with sour coffee. After that, continue to pour the rest of the water over the top slowly and in even, circular motions.
Once you've finished pouring all your hot water, gently swirl the Chemex to melt the remaining ice, before pouring the coffee over a glass of fresh ice. After that, just kick back and enjoy a perfectly-made glass of Japanese Iced Coffee. Perfect for scorching hot days and midday slumps.
Images: Unsplash