Azira Shafinaz, Sophia Liana and Cik Manggis are the very #Supergirls they stood for when De Fam debuted – and they're more "Panas" now than ever.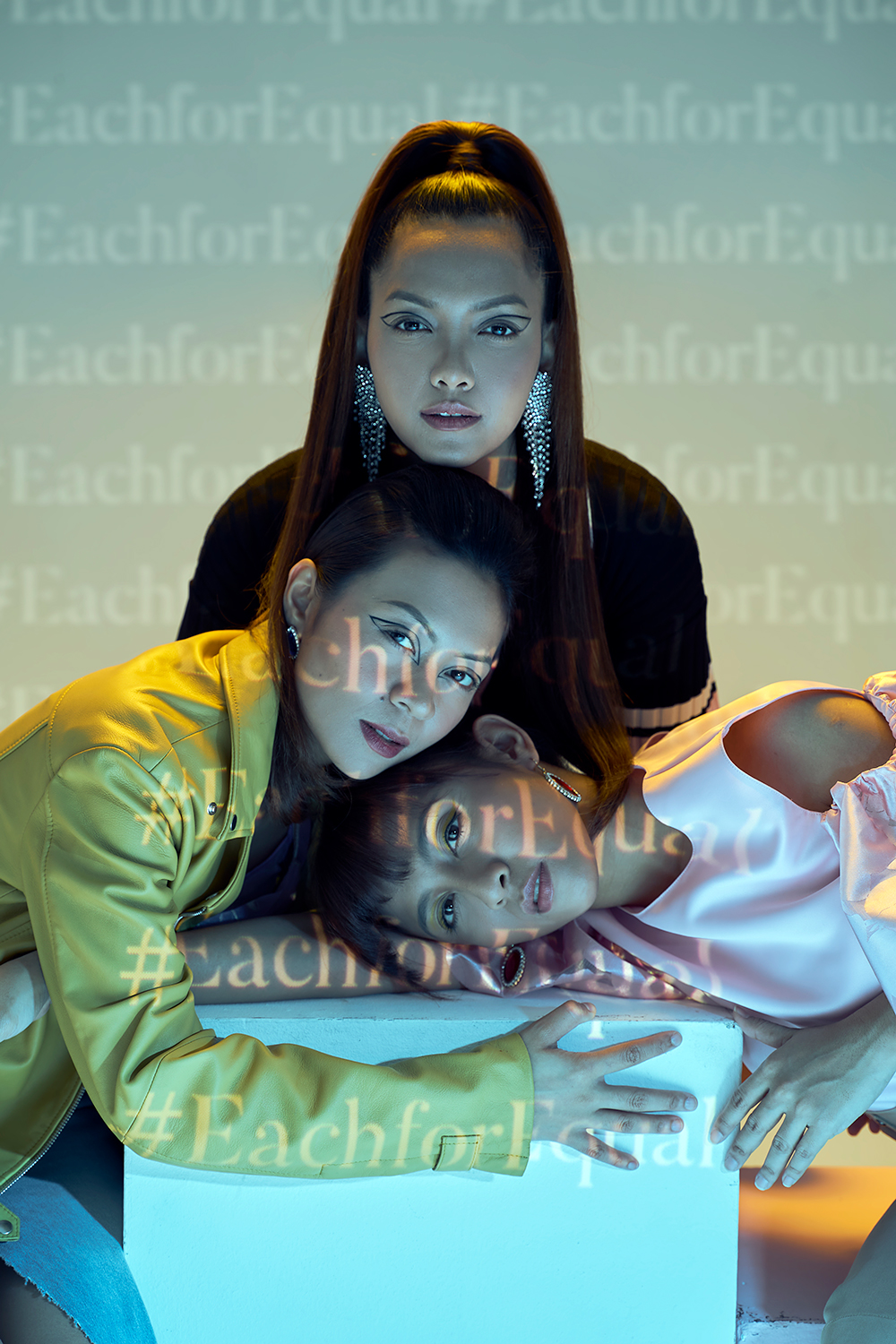 Behind their harmonised vocals and electrifying dance moves, De Fam is the epitome of friendship goals. It shows from the way they finish each other's sentences during our interview – at times breaking into synchronised laughter at an inside joke – to their undying support of each other in their individual pursuits.
Take how Azira Shafinaz and Cik Manggis (real name Nurshazwani Shamsuddin) backed Sophia Liana (Fya) during her competition in the local reality show, Dansa Dan Sing 2020, teaming up for a heart-thumping performance that the 29-year-old contestant considers her best round on the show.
The night before our scheduled photoshoot, they showed up again for the competition finale, where Fya emerged as champion. Nothing spells true friendship like being there when it matters, and this was one of many instances they proved so.
It's the strength of their bond that saw them through their greatest challenge as Malaysia's first female pop group: two years without a release (due to personal issues with their former record label).
"We still survived, even with just a few songs, so we knew that people still supported us," Azira tells.  "At the end of the day, you have to believe in yourself, in what you do. That's why even though we were stuck, we didn't stop."
Now five years strong with their latest single hitting over 2.7 million views on YouTube since its release in September 2019, Azira, Fya and Manggis are the #Supergirls they stood for when they debuted – and they're more "Panas" now than ever.
Friends turned FAMily
"I met Sophia and Azira in 2010 at a dance studio called Funky Fresh. I was a Malay traditional dancer before and that was my first attempt at trying modern dance," Manggis, the eldest of the three, recalls of how their friendship started.
The two younger members had started dancing at the studio two years prior, having reconnected after attending tuition classes together in secondary school.
"I was a tomboy back then, I didn't have girlfriends," she goes on chirpily, "I didn't know how to befriend girls and I think they [Azira and Fya] probably thought I was weird, but somehow we got along. We always did shows together, so we got closer from there."
The shows included dance stints for other local artistes such as Dato' Siti Nurhaliza and Taufik. At one point, they were offered to work on a lyric video for Caprice's hit single 'Xde Hal Bro'.
It turned out to be a success and birthed the idea for them to create a YouTube account under the name De Fam – De being a homonym for "The" and Fam standing for their initials: Fya, Azira and Manggis.
"We want to be the voice of women empowerment – that's our identity." – Cik Manggis
"De Fam is not just a name, it represents who we are and where we came from. It represents the Funky Fresh Family where we started dancing together," Fya explains.
From there, a lip-synch dance cover of Iggy Azalea's "Black Widow" went viral with 100,000 views on YouTube and 500,000 views on Facebook within a week. It wasn't long before record labels came calling. They went on to release their debut single '#Supergirls' in 2015, then under Tune Studios.
On the meaning of the song, Manggis explains: "We wanted to be different – everyone was singing about love, but we wanted to spread the message of love in a different approach. #Supergirls is about loving yourself and loving women.
"We want to be the voice of women empowerment – that's our identity. We don't want people to just listen to our song because it sounds good, we want to inspire people."
Sure enough, its lyrics addressing 'all my girls, single ladies and my super mum working girls' that 'you've got the power to stand up today' was met with high praise and positive feedback, especially from female listeners.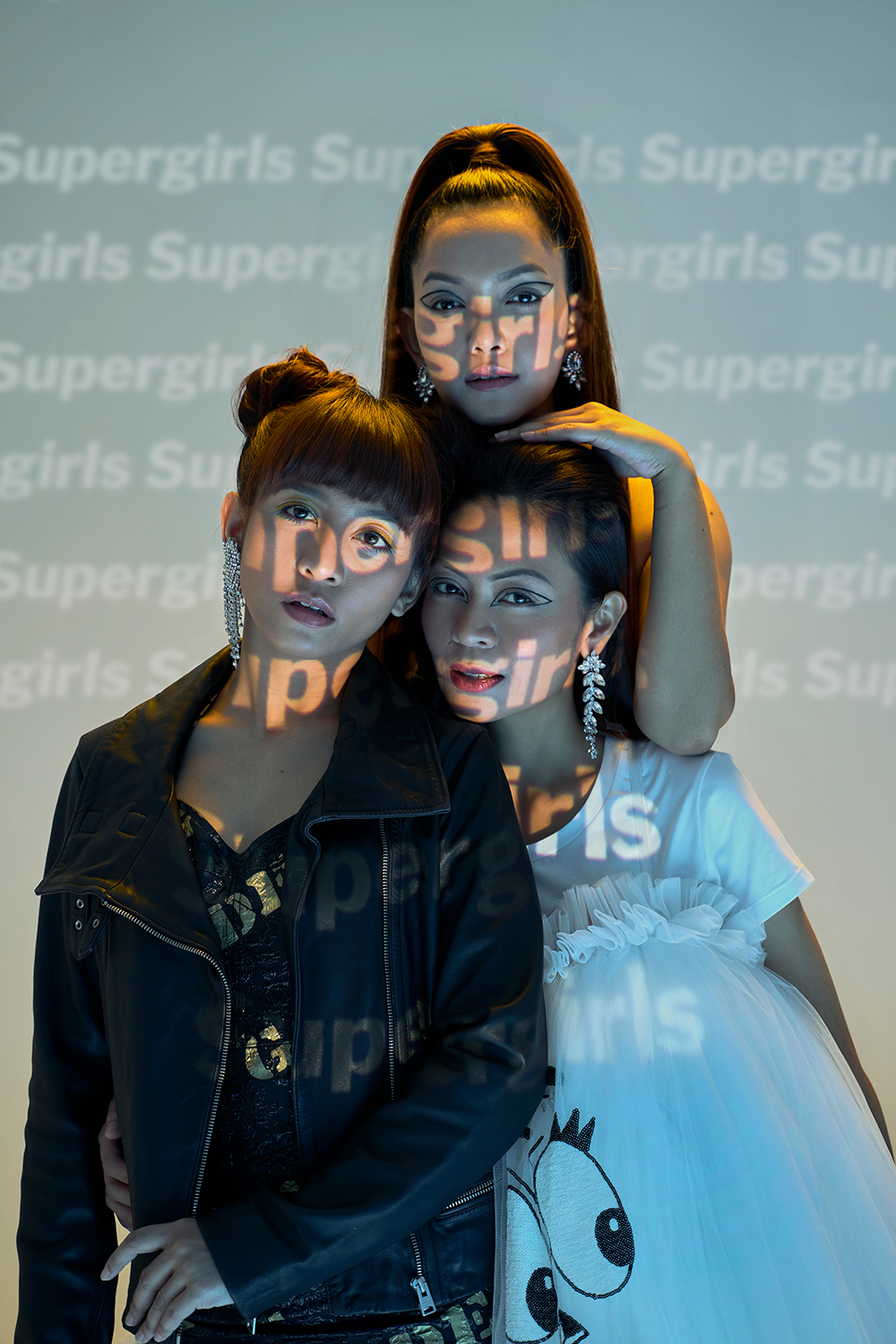 "You've got the power to stand up today"
Standing up for women isn't a one-single feat for De Fam though; it's a cause the three women live to fight for every day.
"A lot of people think that it's very easy – just put three girls out there, dance, sing and people will go crazy. But it's not as easy as it seems," Azira starts. "They think that we can only get this far because we're girls with good looks and that talent doesn't really matter when it comes to this industry. But for me, that is wrong. Beauty fades, but talent remains. If you don't have any talent, what are you going to bring to the table?"
If anyone were to doubt her talent, let it be known that the youngest member of De Fam has checked acting, singing, dancing and more recently, hosting, off her list of achievements – and she's only 27. She's got theatre and entrepreneurship in mind next, so naysayers had better watch out.
"I look up to my mum because she is a very hardworking and successful person who never stops doing new things. I feel like I'm the younger version of my mum, because now I'm always asking 'what's next?'" she beams.
For Fya, the challenge was in proving that women can be just as good as men at the rap game, if not better.
"People think that rapping is very hardcore for women, but if you actually twist it in a female way, you can actually beat them [the men] up. For me, you don't have to swear or say things that are necessary. I believe you can show people that you can do it in your own way and be good at it," she attests.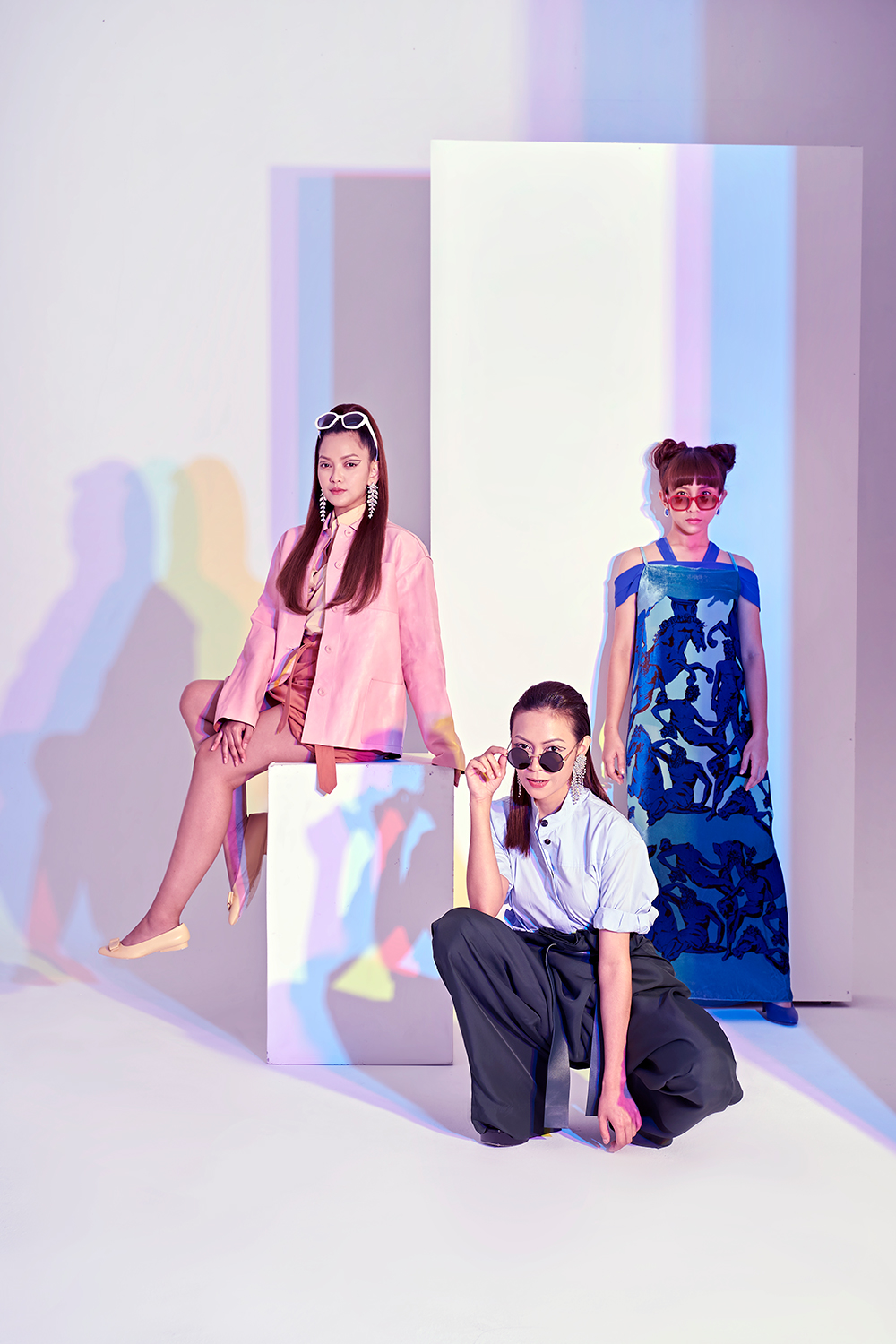 Like Azira, the 28-year-old multi-hyphenate credits her mother for her self-sufficiency: "I grew up with my mum as a single parent so I look up to her a lot on how she managed [my siblings and I] since young until now. She's a strong woman, and because of that, I've become stronger too – just by looking at how she solves her problems."
Things were quite different for Manggis, who grew up with a single father from the age of 3. Her father was a drummer for a local band in the '60s, while her mother was a singer.
"My dad didn't encourage me to be an artist, maybe because he didn't want me to go through what he went through. It's not easy to be in this industry – you have to be very strong. Maybe he thought I wasn't strong enough at the time," the film graduate lets on.
You can say that talent ran in her blood, but her strength and determination are her own – and she braved through the obstacles her father had anticipated with Fya and Azira by her side.
As for her role model, she gushes, "When I was young, I really wanted to be like Ciara, I wanted to dance like Ciara. But I didn't just want to be a dancer, I also wanted to be a choreographer and have my own studio so I can recruit more Ciaras!"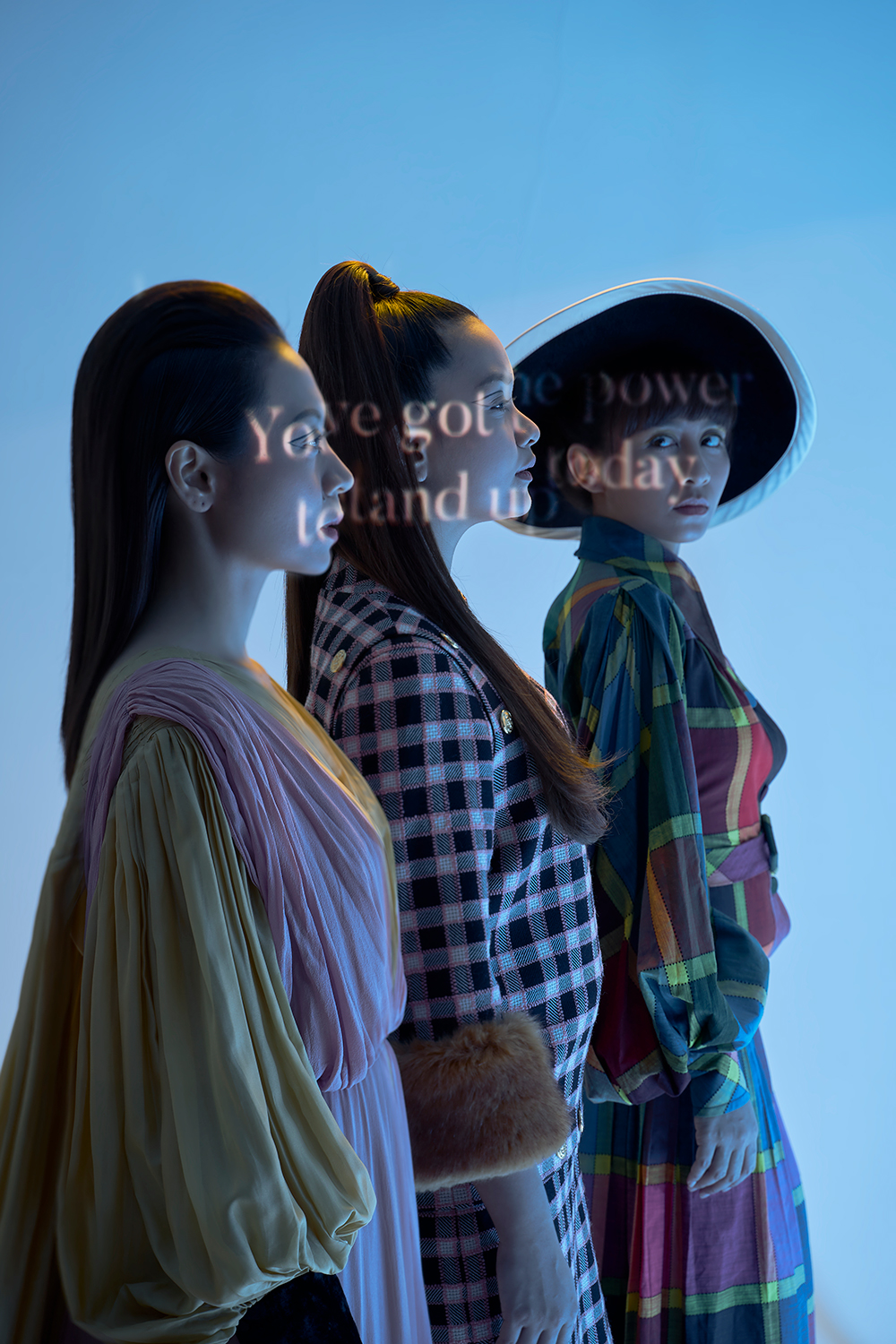 #Supergirls, now and always 
Looking back on the past five years, the trio admits they have grown tremendously both as individuals and as a unit.
"Azira is very good in her own field of acting. Manggis is very good in social media and I think she has this unique ability of doing very good videos that have commercial value. As for me, I think I've learnt to understand music better now than before," Fya shares.
Despite the two-year hiccup, they never stopped pursuing their dreams, filling the gap with other opportunities instead. Understandably, rumours had circulated that the group were splitting. But the girls were quick to refute the false speculations.
"Before we created the group, we were really good friends, so why would we want to throw that away just for money or fame or anything else? I don't believe in that," Fya stands firm, and her fellow members echo her sentiments.
"Whatever you want to achieve, just do it. You don't need any approval from anyone." – Azira Shafinaz
For now, De Fam is proudly working towards their next single and after that, their first EP. Did they ever imagine they would get this far as a Malaysian girl group? No.
Did they dream big dreams anyway? Absolutely.
If there's one thing this says, they believe it's that women are capable of achieving what they want – even in a male-dominated field – if they dare to dream and work equally as hard to achieve it.
"Whatever you want to achieve, just do it. You don't need any approval from anyone. Just believe in yourself and go for it," Azira encourages.
"It's really important to not compare yourself to someone else because you may have what others don't, but what others have, you may not have. Everyone is special in their own way. We need to accept each other and all our flaws and strengths, so that we can all grow as powerful women," Manggis puts it.
Azira, Fya and Manggis are still the #Supergirls they stood for when they debuted – and they're setting an example for the next generation to step up in their own right.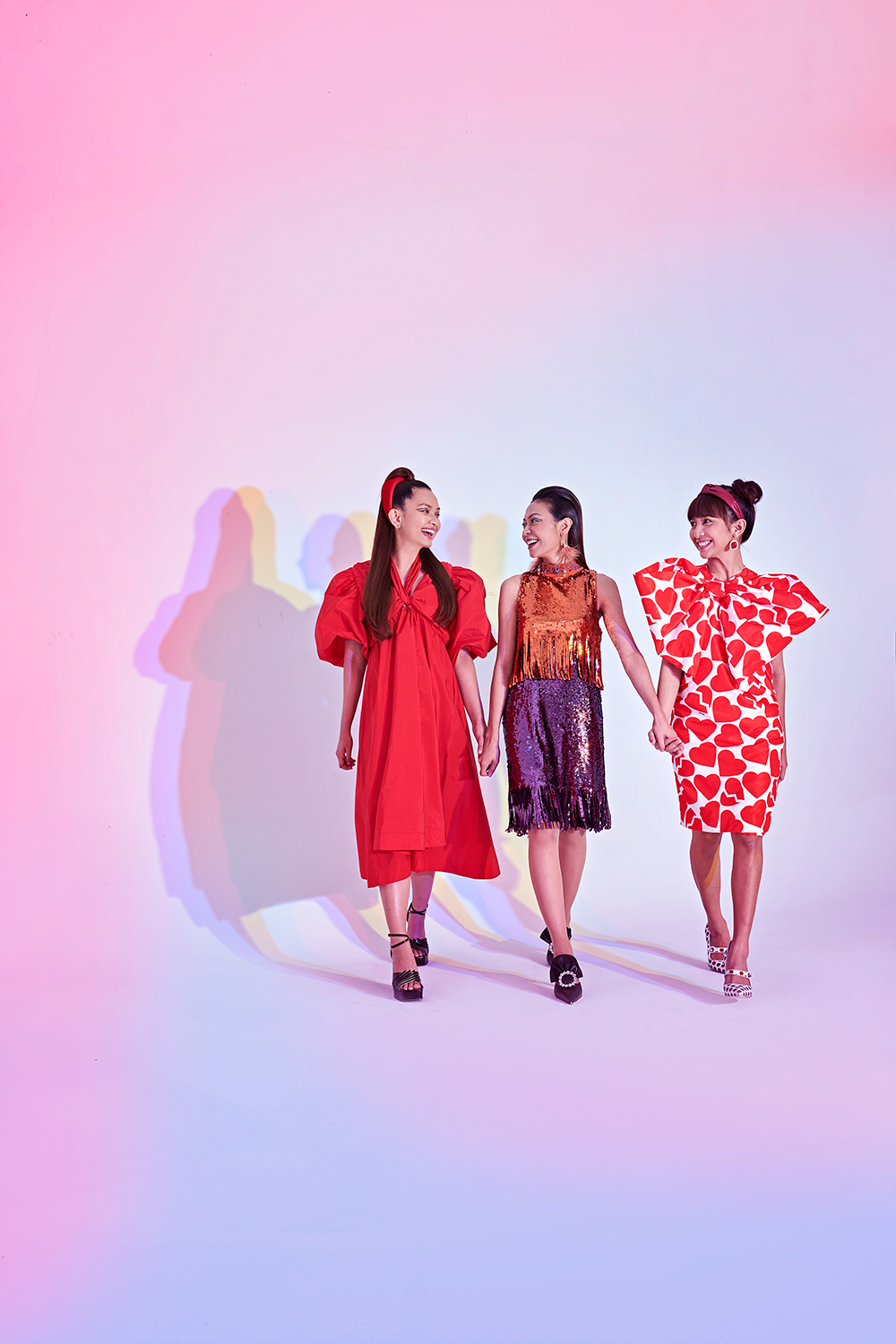 Photography: Edmund Lee from Vinca Photography
Art direction: Anson Siau
Hair: Derren Fong of Shawn Cutler
Makeup: Decorte