Expanding its popular Pilot's Watches collection, IWC Schaffhausen has announced the launch of three new chronographs directly inspired by its collaboration with U.S Navy Squadrons. 
Although the company has worked with selected squadrons of the Navy since 2018, this new release will be the first time the designs will be made available to non-pilots.
The ceramic models, each corresponding to a specific squadron, all display the respective squadron patch on their dial. Featuring attention grabbing details, the military units are referenced most clearly through the use of each particular squadron's paint colour scheme.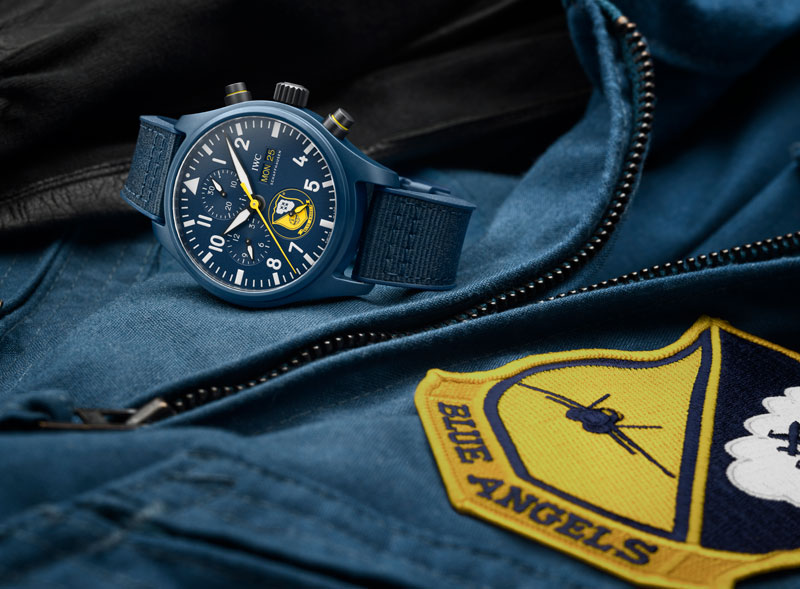 Since it joined forces with the U.S. military three years ago, the IWC has been designing watches for the aviation units of Navy and Marine Corps, through in-depth dialogues with 247 active and 100 inactive squadrons. Working closely with a number of squadrons, the brand has proudly produced special editions that are only available to present and former members.
According to Christoph Grainger-Herr, IWC Schaffhausen's CEO, this programme in partnership with the military is a crucial one that gives IWC's engineers and designers the valuable opportunity to exchange ideas with elite pilots from the armed forces.
"These pilots put our watches to the test every day in the harsh environment of the jet cockpit. Their feedback is invaluable for us not only to improve the quality and durability of our timepieces but also to create unique and appealing designs," the CEO explained in a statement.
Hardly a newcomer in making watches for military aviation service members, the manufacturer has in fact been collaborating with pilots ever since it engineered the first Pilot's Watch 85 years ago. The brand's mil-spec service watches, such as the Mark 11 for the British Royal Air Force, were made possible by this ongoing cooperative partnership.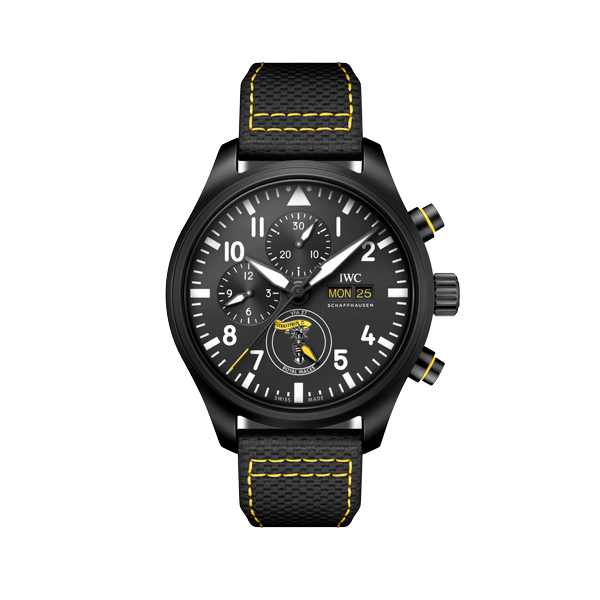 Durability meets precision
The Pilot's Watch Chronograph Edition 'Royal Maces', comes in its corresponding squadron's black and yellow colour scheme. Similarly, the 'Tophatters' model is produced in black and red shades, and the "Blue Angels" showcases the squadron's blue and yellow colours. On the titanium backs of the navy-inspired models, wearers will find engravings of the corresponding squadron's crest and lettering.
All three new chronographs boast a black zirconium oxide ceramic case, while their pushers and crown are made from Ceratanium, an IWC-developed material that's as lightweight as it is tough and scratch-resistant. Powered by the IWC-manufactured 69380 calibre movement, the watches combine robustness, reliability and precision.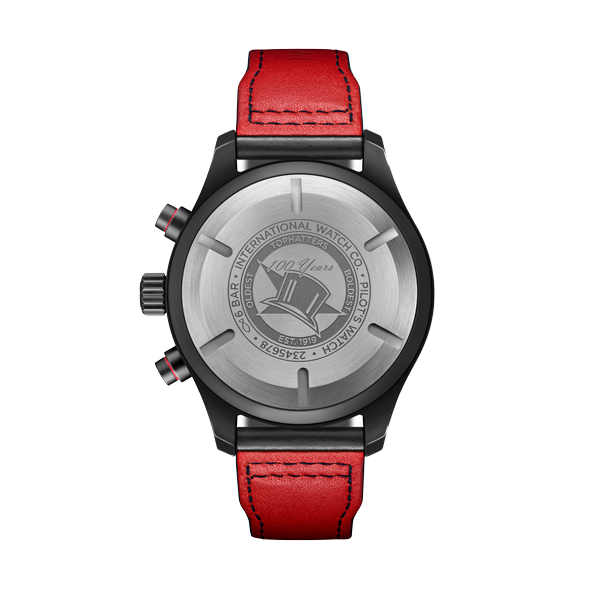 To learn more about the new additions to the Pilot's Watches collection, visit iwc.com